Spectacular Green Fireball Lights Up Oregon Valley Through Washington Coast
Published 03/24/23 at 5:50 AM
By Andre' GW Hagestedt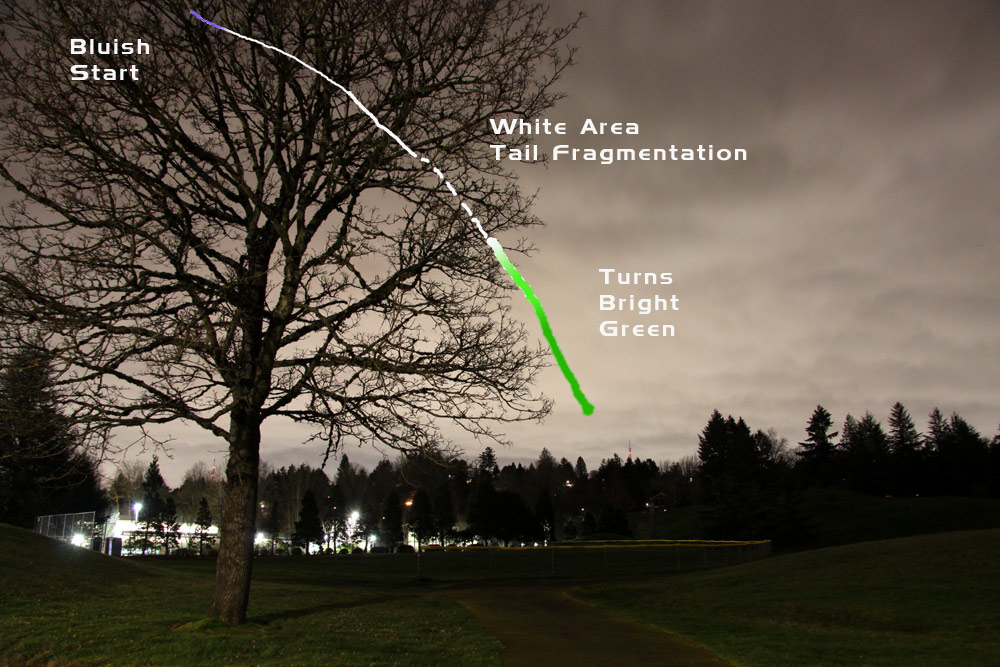 (Portland, Oregon) – It was bright white, then neon green, and it came from the skies. (Above: illustration / diagram of the fireball as it was seen in Portland's Gabriel Park – Oregon Coast Beach Connection)
An absolutely stunning sight took place above the skies of Oregon and Washington in the overnight hours of Tuesday morning, as a confirmed fireball tore across a clear, starry evening, starting out as a whitish streak and culminating in a massive neon green ball with a thick, glowing tail behind it. A total of 12 reports came into the American Meteor Society (AMS), which took a little less than 20 hours to confirm it was a fireball and not a meteorite or some other object.
It happened at 2:30 a.m., almost on the dot, reported from as far south as Salem, into Portland, Vancouver, Yakima, the Seattle area and as far north as Sequim on the inner Washington coast. No reports came from the Oregon coast, eastern half or southern Oregon. The outer Washington coast had no accounts as well.
No photos or video of this – yet. There is a glimmer of hope there, however.
NOTE: PLEASE CHECK YOUR FRONT DOOR CAMERAS IF YOU'RE POINTED NORTH BY NORTHWEST. 2:29 a.m. to 2:34 a.m., Tuesday morning, March 21. Then alert Oregon Coast Beach Connection at the contact page.
As a journalist, you're not supposed to insert yourself into a story, but in this case I have no choice. I – Andre' Hagestedt, editor and owner of Oregon Coast Beach Connection - saw it as well in Portland's Gabriel Park (while on a quick late-night walk). Even more against the odds: I was one of three people to see and report another fireball on March 19, 2021, almost two years to the day and just 20 minutes earlier than this one. See Fireball Puts on Rare Show for a Few in Oregon, Washington - But Not Coastline. Seeing this once in your life is fairly rare – twice in your life, and within two years, is freakish. We'll get back to that.
There was a 13th sighting noted on Oregon Coast Beach Connection's Facebook page, this time from Oregon City.
On the AMS site, it is officially known as Event 1705-2023, and the descriptions are fairly similar, although some eyewitness accounts vary quite a bit. Yet most contain the fact it was a bright yet deep green but usually noting no termination flash – or at least very little.
The difference between a meteor or meteorite and a fireball is that the former two are brief. Otherwise known as "shooting stars," they streak across quickly.
It becomes a meteorite if it falls to Earth. Meteors are usually just the size of a grain of sand.
This type of fireball did not – at least apparently – blow up or fragment in the air. That would make it a bolide, in astronomy terms. The one I saw in 2021, breaking up and even lighting up the sky, counted as a bolide.
According to NASA: "A fireball is an unusually bright meteor that reaches a visual magnitude of -3 or brighter when seen at the observer's zenith. Objects causing fireball events can exceed one meter in size."
Alton Lukens is an astronomer who works at University of Oregon's Pine Mountain Observatory in Bend, and he filled in some blanks.
"It had to be a dense meteor to make it that deep into the atmosphere," he told Oregon Coast Beach Connection. "You'd be surprised how small an object can be to make a fireball. It can be as little as 30 centimeters across. Basically, a golf ball-sized object can look quite grand as it burns up."
Lukens may hold an important key here: the observatory takes 20-second shots of the sky with five seconds between captures. He said he'll soon check the images and hopefully find this.
The AMS entries show something really interesting, which I had wondered about when I saw the broad geographical range. From Salem, McMinnville, Portland, Vancouver and over to Yakima, all witnesses say the thing moved from top left to right downward. I thought: at one point could the northernmost witnesses see it move from a different direction?
Indeed, Sequim, North Bend and McCleary all show "From up right to down left." So the fireball's entry point was probably somewhere near the middle of Washington State.
The McCleary entry indicated possibly hearing an explosive sound shortly after.

The illustration shot above – sorry, it's a tad comically crude – shows the exact spot where I stood in Gabriel Park when I saw it. This night shot was taken the evening after, when things clouded up.
The first I saw of it seemed a bit blue, I think, and I thought it was an awfully bright aircraft. It was also moving extremely fast for a jet, but really slowly for a shooting star-type object. I first saw it through the trees, when it quickly turned a whitish yellow, suddenly taking on a trail. This was where the tail was at its longest, and that's where it started getting fragmented.
Quickly it transitioned to a glowing green ball with a thick, green trail behind it. That became a deeper green yet neon and almost as bright as a quarter moon. Then it sort of fizzled out with a touch of white, right near the radio tower of NW Ptown (you can see it if you zoom in).
All in all it took about four or five seconds, and many of the reports echo some or most of this description.
It all happened slowly enough that I could realize what I was seeing, and there was time to cup my hand over my mouth in astonishment, saying out loud: "Oh my God, I'm seeing this again?" It fizzled out near the end of those words.
So what was this made of? And why did it burn these colors?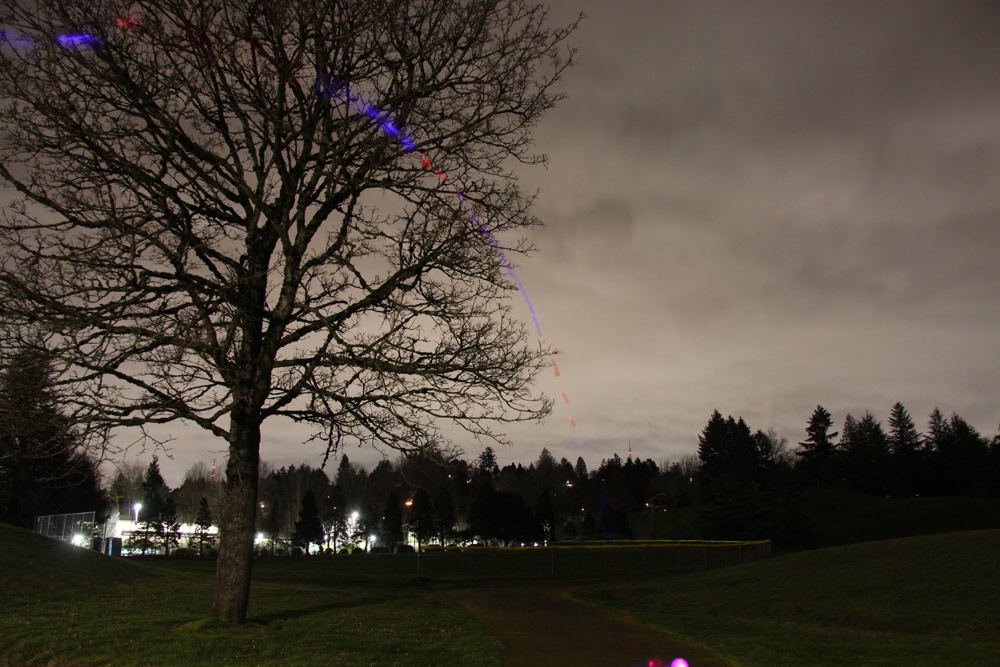 Same scene, this time using a blinking ball toy and chucking it. It's comically quirky, but I managed to imitate the trajectory of the fireball - just with wrong colors. The layout is a little reminiscent of Genesis' "Wind and Wuthering" album cover, interesting because it's Gabriel Park.
Astronomers often point to green being a product of magnesium. Oregon State University astronomy professor Randall Milstein had some ideas as well.
"Based on your description of the color changes I would speculate it was likely an iron-nickel meteor," Milstein told Oregon Coast Beach Connection.
I asked Lukens what were the chances of a person seeing two in a lifetime, and he admitted that was rare. Even rarer is seeing it again two years later. He also laughed: "That is quite lucky. If it happened a third time I'd start to get suspicious."
Oregon Coast Hotels in this area - South Coast Hotels - Where to eat - Maps - Virtual Tours

More About Oregon Coast hotels, lodging.....
More About Oregon Coast Restaurants, Dining.....


Andre' GW Hagestedt is editor, owner and primary photographer / videographer of Oregon Coast Beach Connection, an online publication that sees over 1 million pageviews per month. He is also author of several books about the coast.
LATEST Related Oregon Coast Articles
Back to Oregon Coast
Contact Advertise on Oregon Coast Beach Connection
All Content, unless otherwise attributed, copyright Oregon Coast Beach Connection. Unauthorized use or publication is not permitted