What Lurks Beneath Oregon Coast Beaches? Get Ready...
Updated 04/09/23
By Oregon Coast Beach Connection staff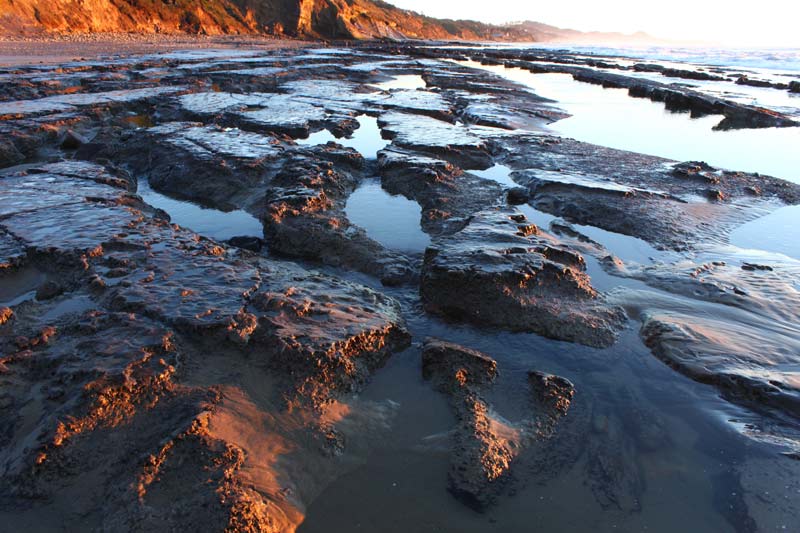 (Oregon Coast) – What lies underneath the Oregon coast?
Agates, yes. Bedrock and a few shipwrecks, yes. Also, at least one old timey mail car. Plus, bugs, crabs, clams and a whole biosphere of wee little critters. (Above: bedrock at Moolack Beach, Newport).
There's so much more, however. So much about the Oregon coast beneath your feet that would surprise. Many of these goodies only show in winter, if sand levels get low enough. Others you'll never see at all. It depends on the place, so here's a brief list.
Entire Oregon Coast:
Ghost Forests. Neskowin isn't the only spot to find ghost forest stumps, and it's not even the only place to find them year-round. It's just the one that gets talked about the most.
There are 45 locations along the Oregon coast where you could find them, including a few on the southern Oregon coast. Over half are in the central coast area, in and around Newport and south of Lincoln City. There are also quite a few to be found just south of Cannon Beach, in and around Arch Cape.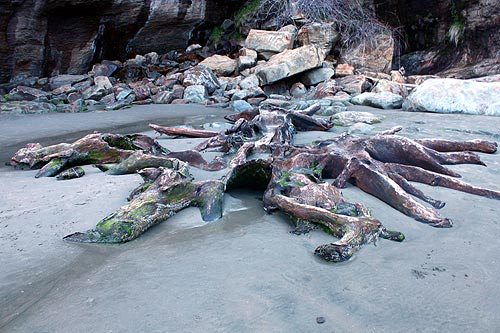 These ghost forests are nothing short of jaw-dropping, if you know what you're seeing. At first, they appear like old manmade pilings in the surf, as if it was an old pier structure left abandoned. But they are parts of a forest that can be thousands of years old. Radiocarbon dating of these stumps has put them as old as 5,000 years to some as young as 1400 years old – depending on the location.
Those at Coos Bay have a different story: Unheralded Ghost Forests of South Oregon Coast / Coos Bay in Photos
Agates and Agate Beds. The entire coastline has them, but the tricky part is they shift and change like crazy. They may appear one minute in an area like D River in Lincoln City or Bob Creek near Yachats, then they're gone and you'll find them around Arch Cape or down near Bandon. It depends on currents and sand levels, and yes, they can appear in summer. Although it's usually much more fruitful hunting in winter.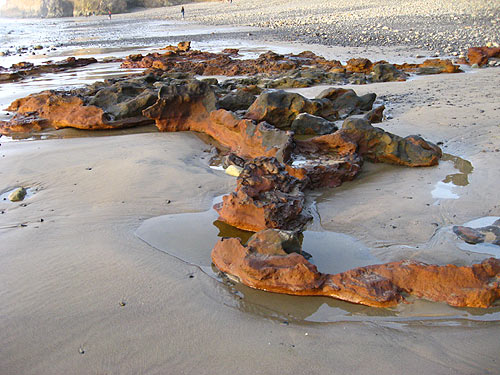 Red Towers. This generally shows up more around the northern Oregon coast when sand levels get extremely low – but they have been known to pop up around Newport, the south coast, near Yachats and more. These really wild, Dr. Suess-esque red towers are conglomerations of iron and other elements that form surreal reddish structures beneath the sands. They are odd-shaped structures that resemble mushrooms a bit.
Fort Stevens State Park – Warrenton. Trippy and unusual fact: much of this area did not exist 100 years ago. Building of the jetties at the Columbia greatly shifted the currents and added hundreds of feet of shoreline and sand in some areas. See Fort Stevens State Park: The Shocker Underneath This Oregon Coast Historical Site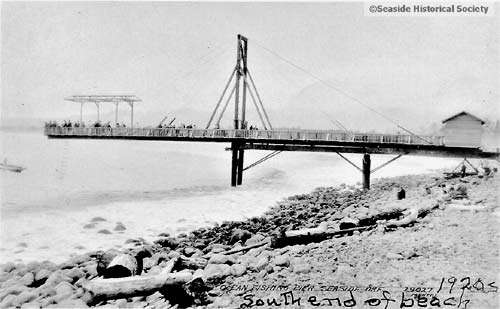 Seaside. There's about 150 feet of sand before you get to solid Earth.
Contrast that with Cannon Beach, according to north coast geologist Tom Horning, who said the sand is only about three feet above the hard rock surface. Other spots around the Oregon coast can show their bedrock fairly often – albeit briefly – when winter storms scour out sand levels.
At Seaside, however, you'll never get to see bedrock. Strangely, however, if you go to the southern end of town, you can see what the town once looked like over 100 years ago (again, changed by the jetties up north).
Manzanita. It's possible there are parts of a few shipwrecks here along with more beeswax from almost Revolutionary War times. A Spanish galleon wrecked around here and left gobs of unused candle-making material, which was found for centuries until about the '60s.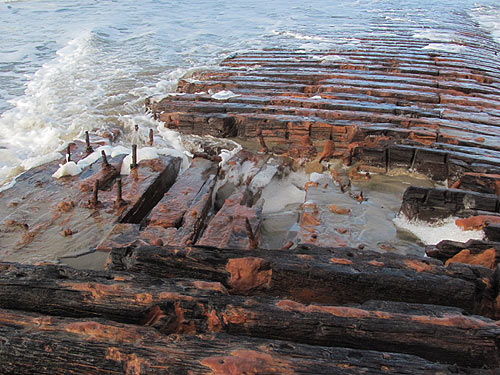 Rockaway Beach. Two remarkable bits of history hide here. One is the shipwreck of the Emily G. Reed, which hit the mouth of the Nehalem River in 1908, back when there was no jetty. The other is the remnants of an old wooden wall.
About 100 years ago, there was a natatorium at Rockaway Beach where the main wayside is now. They built a bulkhead of wood to re-channel the creek slightly, or at least keep it from shifting into the building. "It was about three feet wide and 8 to 10 feet tall, with 2 x 12 inch planking on the sides and even a covered top," according to local historian Don Best.
When sand levels get low, you can see a semi-circle of wood pilings there. It resembles a ghost forest, but it's not. It's manmade this time.
The Reed snapped in half when it crash landed, with part of it lodging just south of the wayside and another up at Nedonna Creek. Its old rusted bones were covered by sands finally in the '30s, only to appear periodically until 2010. Then, thanks to ever-lessening sand levels, it started popping up again every two or three years.
Bayocean – Cape Meares. The stunning secret about this enormous spit along Tillamook Bay is that there was once a small resort village here. It had five miles of roads interlacing and numerous attractions. However, it had all disappeared by the '70s and nothing remained.
Reportedly, some foundations and part of at least one large tank lurk beneath those sands.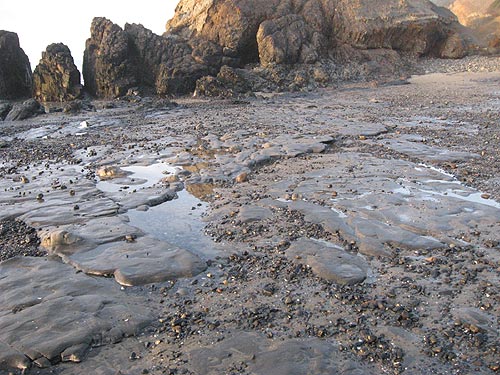 Cape Kiwanda. Just north of there sits McPhillips Beach, where sand levels – on rare occasions – get so low you can see the bedrock of this area. This is extremely unusual for most of the Three Capes region. This bedrock is a unique combination of different material (called a conglomeration), similar to the material that makes up the underside of Newport, a lot of Lincoln City and the Devil's Punchbowl.
Lincoln City. The bedrock here contains agate veins in some spots. There's a big basalt-looking blob a ways from the SW 33rd St. access, and you may spot colorful veins of jasper and other material lurking in rocks just below the tideline. There's also a shipwreck in Siletz Bay and a wild shipwreck tale at Cascade Head.
Depoe Bay. The basalt rocks of this area (and many other coastal shelf spots like Yachats) can be hundreds of meters deep. That's a lot of lava.
Newport. Moolack Beach is known for bedrock of the Astoria Formation that shows itself in winter (that same stuff beneath the Three Capes, Lincoln City, etc). These have fossils embedded in them, and it's utterly amazing to gawk at. See the photo at the top.
Waldport. Back in 2007, sand levels dived so low that all manner of freaky finds were made. Among them were an old mail carrier truck from the '30s. Presumably, that's still buried there.
Yachats and Southward. Carbon dating has shown these jagged black rocks go as far back 36 million years ago, starting with the old volcano that is now Cape Perpetua. Other lava layers piled on top as well, including the Columbia Basalts of around 18 million years ago. Oregon Coast Hotels for this event - Where to eat - Map - Virtual Tour

More About Oregon Coast hotels, lodging.....
More About Oregon Coast Restaurants, Dining.....

LATEST Related Oregon Coast Articles
Back to Oregon Coast
Contact Advertise on BeachConnection.net
All Content, unless otherwise attributed, copyright BeachConnection.net Unauthorized use or publication is not permitted