Oregon Coast Agate Hunters Delight: Lincoln City's Subterranean Jasper Veins
Published 08/06/2018 at 4:31 AM PDT
By Oregon Coast Beach Connection Staff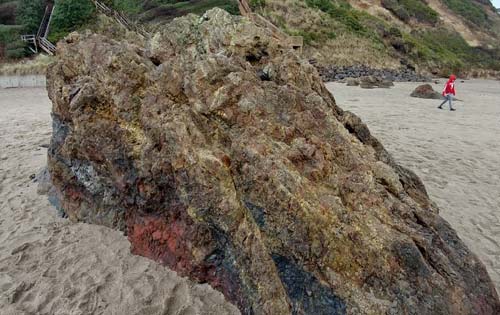 (Lincoln City, Oregon) – There's a hidden agate factory beneath the sands of one central Oregon coast town. Indeed it's all over the Lincoln City area, extending from the nearshore forests to the ocean just offshore, churning out gobs of the little colored nuggets that people love to collect so much. (All photos courtesy Laura Joki/Rock Your World).
The difference is in Lincoln City you can spot some of the action taking place, or at least the source.
Laura Joki runs Rock Your World gem shop in Lincoln City, a sort of eclectic place of anything to do with gems, rocks and jewelry made from such things, as well as other earthbound esoterica. She's also a geology expert on the area, and a major rockhound. In fact, she leads agate-hunting clinics in Lincoln City during some parts of the year, taking members of the public out on guided walks filled with facts.
One part of these tours is taking a look at two of the jasper veins visible in Lincoln City. One of the big ones is out in the open a little more often than the other. Usually, however, both aren't visible unless sand levels get below a certain level, allowing you to peek down lower and closer to the bedrock that holds all that lovely sand you're used to dipping your toes in.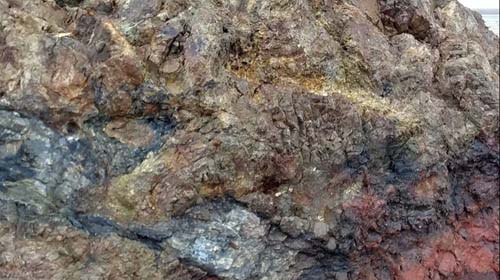 The two geological wonders lurk far up into the Nelscott district, at a section where there's only cliffs and no beach accesses. It winds up rather remote, so you have to walk a ways from about the SW 33rd beach access. Both are an eruption of some kind left over from millions and millions of year ago.
One is a dike eruption, meaning it was a layer of magma (or molten lava) that filled into a crack or weak spot in surrounding rock. Then some change left part or all of it exposed. The other is a dome eruption, meaning it was a large mass of lava bubbling up from the open Earth all on its own.
The dike eruption spot is the more often visible example.
"I can take people to this big eruption and you can actually walk around, and as you walk around you can actually see agates growing in the vessels or bubbles in this eruption on the beach," Joki said. "I can say: This here is where the gemstones are coming from and why."
They aren't the only sources of jasper along this beach. Joki said she's spotted them in the tidepooling areas around this part of the central Oregon coast. There's apparently one sometimes visible just beneath the water near Siletz Bay. The sources that shed these gems are located all over the beaches of Lincoln City, some parts of the inland areas and just offshore well beneath the waves.
Exactly how these veins of jasper get created is a bit complex, but it comes down to a fairly simple formula of clay, hot geyser water (or undersea water heated by eruptions) and magma with a heavy silica combining to create jasper.
That kind of magma is actually called rhyolite.
"Silica plus mud equals jasper," Joki said, simplifying it further.
The dome eruption spot and the dike magma spot have some different qualities.
"Rhyolite magma has broken through the old sea floor, which is now land, what we're standing on today, and it erupted out of that sea floor," she said. "And with the hydro thermal waters that come up along its side, the dike eruption transported jasper up the side. With the dome eruption 25 yards to the north, it actually has its jasper down the middle of it, more of a throat-like water-based eruption, where it flowed through like a geyser."
The dike spot looks mostly like a giant black blob in the sand with some discolorations to it, if you look closer. But in reality it's the spot of a full-on eruption, probably around 28 million years old – and probably related to when Cascade Head was a volcano.
All this was underwater at several points in time, but when this eruping happened it was in a period of uplift.
This bedrock that all of the Oregon coast from Yachats to Astoria sits on is called the Astoria formation. It's a form of mudstone, which came into being about 18 million years ago. That means these globs of agate-producing frozen magma predate this area by about ten million years.
Therein lies an interesting tale.
The dome spot, Joki said, stands 12 feet from the mudstone to its top.
"I have a pic of it scoured down to the mudstone," she said. "Because it's silica rich, and silica is harder than steel, it created mudstone harder than the other mudstone around it."
Joki said the dome is visible some summers, but not always. In 2017 it wasn't; this year it is. The dike eruption section is only visible when sand levels drop enough in winter.

Much of the Oregon coast is an area where you can find fossils. They fall out of the cliffs and come up from the bedrock, all of which was at one time under the sea. Lincoln City and other parts of the central coast can produce some rarities found in few other places in the world, however, when you mix fossils with some of the unique volcanic action around here.
"It has deposited silica throughout fossils," Joki said. "That's why you find fossils filled with agates. That's not a common thing. You find them trapped in basalt in India. But pretty much nowhere else. Here you've got shells filled with agate material. Clam bellies and snail bellies where the insides have fossilized with agate material." Lodgings in Lincoln City - Where to eat - Maps and Virtual Tours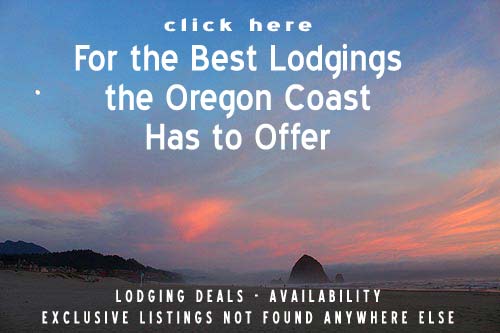 Below: agate-filled fossils embedded in the rock (photo Joki)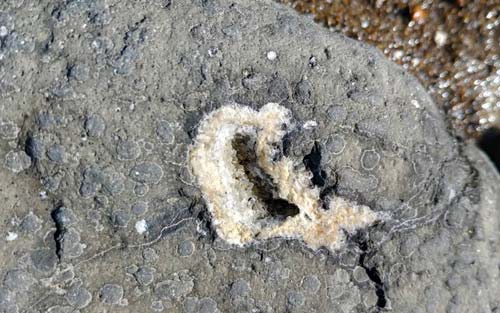 More About Oregon Coast hotels, lodging.....
More About Oregon Coast Restaurants, Dining.....
LATEST Related Oregon Coast Articles
Back to Oregon Coast
Contact Advertise on BeachConnection.net
All Content, unless otherwise attributed, copyright BeachConnection.net Unauthorized use or publication is not permitted