Talk in Cannon Beach Looks Back at Ten Years of Oregon Coast Marine Reserves
Published 01/05/23 at 5:29 AM
By Oregon Coast Beach Connection staff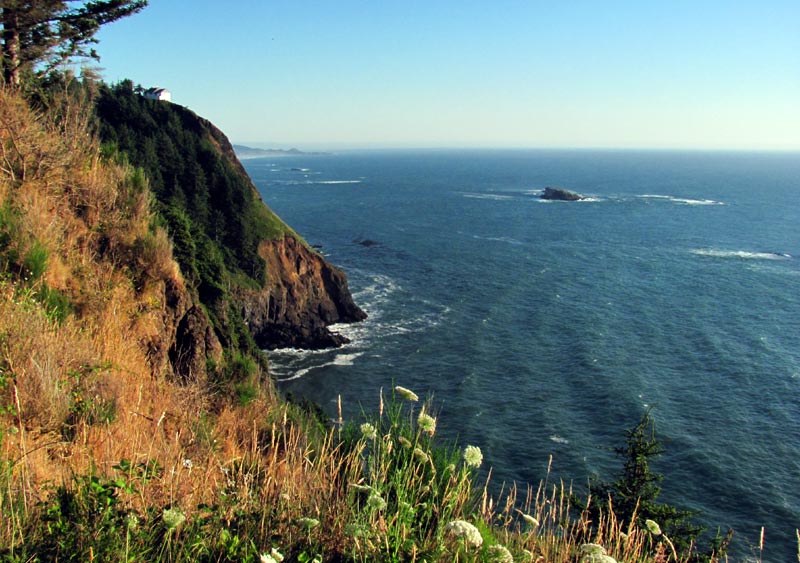 (Cannon Beach, Oregon) – Ten years ago, state officials began a new means of stewardship of the state's ocean waters and the wildlife that lives beneath the waves of the Oregon coast. In 2012, Oregon's Marine Reserves were first established, with the Otter Rock and Redfish Rocks Marine Reserves kicked into life. (Photo Oregon Coast Beach Connection: Otter Rock Reserve area seen from Otter Loop Road)
More came into being in 2014 and 2016, including the Cape Falcon site on the north Oregon coast.
Now, as that first decade is marked, state wildlife officials and scientists are looking back at what has been learned and examining how to adapt in the future.
To help celebrate this landmark and to help educate, January 11 brings an event to Cannon Beach where Oregon Department of Fish and Wildlife staff will present highlights of the region's marine reserves, focusing on ecological research.
The presentation is the latest installment of the World of Haystack Rock Library Lecture Series, happening at the Cannon Beach Library (131 N. Hemlock St, Cannon Beach, Oregon) at 7 p.m. You can also join virtually via Facebook Live. It is free.
Lindsay Alyeswork, Marine Reserve Program Leader with Oregon Fish and Wildlife, will give the talk entitled "10th Anniversary of Oregon's Marine Reserves: What we have learned?"
Aylesworth is the newly appointed Marine Reserves Program Leader, based out of the ODFW office in Newport on the central Oregon coast. She has been in that role for the interim since 2022, and before that she served as Marine Reserves Ecological Project Leader for five years.
For some 13 years Aylesworth has worked at the conjunction of science, policy and marine resource management issues. Before coming to ODFW, she had worked on a wide variety of issues affecting the near-shore marine environment, including international policy and trade of marine species, bycatch in the fisheries of the Pacific Islands, coral reef ecology and research on endangered species. Graduating from the University of British Columbia, she had studied marine species in Asia where data was highly limited, helping to open up scientific knowledge in that realm of study. On top of that degree, she has a Master's in coastal environmental management from Duke University, and served as a Fulbright Scholar in Brazil.
The Friends of Haystack Rock puts on the World of Haystack Rock Library Lecture Series, which happen every second Wednesday of the month from November to April. See the event link here.
Upcoming talks:
February 8th Mitchelle St Martin. Title: Reintroduction of Sea Otters to the Oregon Coast
March 8th Josh McInnes. Title: "Transient Killer Whales of the Outer Coast of Oregon and California"
April 8th Roy Lowe. Title: "Monitoring Migratory Birds in Lincoln County, Oregon Through Citizen Science"