Video: What It's Like to Get Near Terrible Tilly, N. Oregon Coast Mystery Island
Published 08/23/23 at 6:47 a.m.
By Oregon Coast Beach Connection staff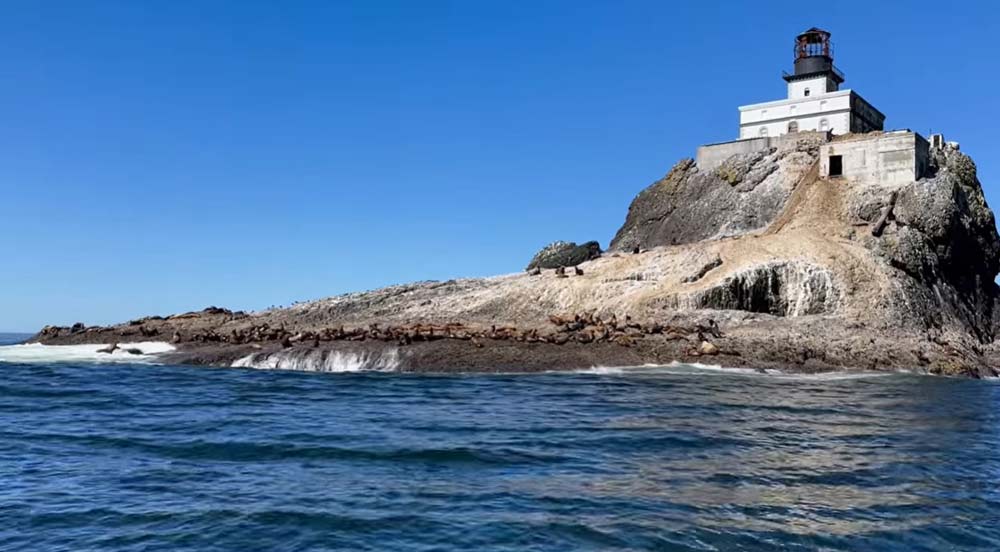 (Cannon Beach, Oregon) – Without a doubt, this is the dream of many. Indeed, it's a bucket list item: to get even just near this mysterious lighthouse on the north Oregon coast. Terrible Tilly – officially known as Tillamook Rock Lighthouse – is the most remote of places mankind has touched on along this coastline, a place only a handful of the human population have ever walked on. That's something that will be true for likely perpetuity. (Photo Tiffany Boothe / Seaside Aquarium)
Even getting close to it is extremely rare. And yet for some people, this lightning has struck at least three times.
Tiffany Boothe of Seaside Aquarium has come close to this curious landmark three times that we know of at Oregon Coast Beach Connection (we were there for one of those moments, as one of us flew over in a plane with Boothe years ago). Most recently, she whizzed past it in a boat with US Fish and Wildlife personnel on a trip to monitor tufted puffin populations.
This is an annual jaunt for some at USFW, she said. They head out to sea to look for the famed and fancy bird in all kinds of places.
Relax to some Tilly time. The Tillamook Rock Lighthouse has a rich and rocky history. After local officials discerned that the area required a lighthouse, and that it should be built on Tillamook Rock, a master mason from Portland by the name of John R Trewavas was hired to do the survey. On September 18th 1879, while attempting to land on the rock, Trewavas slipped and was dragged to his death in the sea. The incident is one of a few that would lead to the lighthouse's nickname "Terrible Tilly." After the death of Trewavas, locals felt the endeavor was foolhardy because the location was too dangerous. Hence, they refused to work on the project. Charles A. Ballantyne, Trewavas' replacement, resorted to hiring men alien to the area who were unaware of the Rock's reputation. Furthermore, he sequestered the crew at Cape Disappointment until construction could begin, so that locals wouldn't scare them away from their task! Official construction began on October 21st, 1879. Landing men and supplies on the rock was dangerous at best, and entailed threading a 4.5 inch thick line from a small, single-masted boat, through a ringbolt on the rock and then back. The crew would use pulleys (picture a clothes-line) to move cargo along the line in a suspended sling. With the boat rolling and pitching in the swells, the line was never taut, and the fellow being transported was often drug through the icy waters. Construction took 575 days. Finally, on January 21st 1881, the tower was lit for the fist time, and four keepers were assigned to the lighthouse. The first principle keeper, Albert Roeder, lasted only a few months before he resigned, citing that too much of the "sad sea" did not agree with him, and vowing that it would be a long time before he "made himself a hermit again." Incidentally, storms brought flying rock and debris crashing through the lantern room, and on numerous occasions the light was broken. In 1957, after 77 years, Tillamook Rock Lighthouse was decommissioned.

Posted by Seaside Aquarium on Monday, August 14, 2023
"Tim Halloran, a USFW volunteer, has been monitoring tufted puffins at Haystack Rock since 2012," she told Oregon Coast Beach Connection. "He is able to count and document their activities from shore, however he is unable to see any puffins that might be nesting on the back side of Haystack Rock. Once a year, typically in August when the weather tends to be more corroborative, USFW will take a trip to Haystack Rock to survey the backside."
Haystack Rock in Cannon Beach is the most visible spot on the Oregon coast where they come to nest, doing so from April until September or so. With the population in trouble, wildlife officials consider it a priority to keep tabs on how many they are here.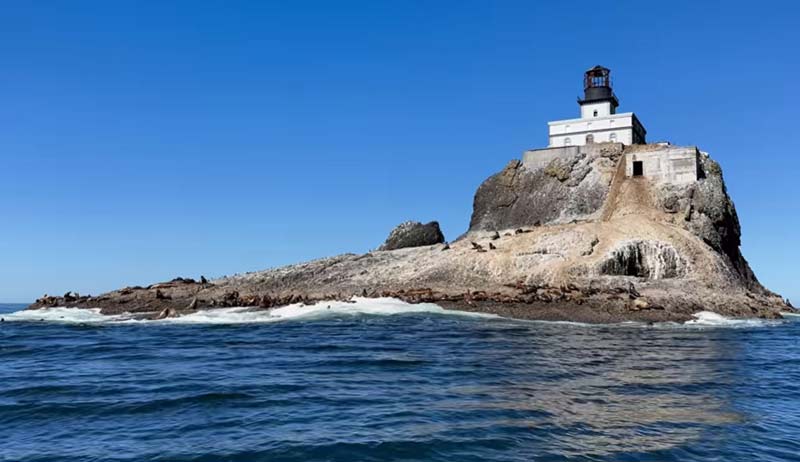 Photo Tiffany Boothe / Seaside Aquarium

Doing so wound up including this incredible experience.
"This year we wanted to take a look at places that in the past had nesting puffins, such as Chapman and Ecola Point," she said. "A quick trip out to Tillamook Head Lighthouse was included. While Tillamook Head Lighthouse is privately owned, it is still part of Oregon Islands National Wildlife Refuge and is home to seabirds and sea lions."
Indeed, on the video you can see plenty of those barking, boisterous creatures – and hear them.
Just getting this close to the old lighthouse – now for sale, actually – has got to be an exceptional thrill. The vast, dramatic history of this place just oozes from the rockface.
Yet Boothe and the crew stayed focused on the mission.
"We were able to count 8 puffins on the back side of Haystack Rock but did not see puffins anywhere else," Boothe said. "On Tilly we observed brown pelicans, cormorants, western gulls, Steller and California sea lions.
Yet apparently no puffins were found there as in the past.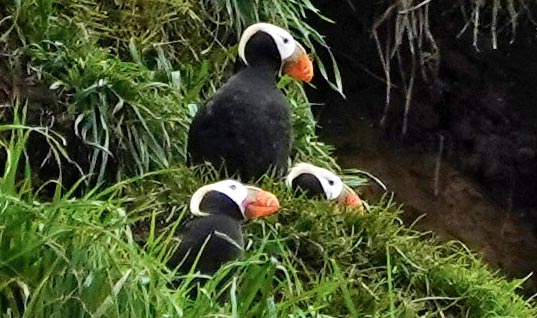 Courtesy Haystack Rock Awareness Program
Oregon Coast Hotels in this area - South Coast Hotels - Where to eat - Maps - Virtual Tours
"Tufted puffins have become a topic of concern," Boothe said. "The tufted puffin decline along the Oregon coast has been dramatic since 1979. The estimated population in 1979 was 6,600. The same count was last taken in 2021 and only 553 birds were recorded. The Haystack Rock population has declined from 400 in 1979 to 74 in 2022."
Luckily, there are some populations on the south Oregon coast as well, but those numbers were not available.
In Cannon Beach, they are celebrities.
"Tufted Puffins spend six months of the year on the open ocean returning to Haystack Rock in the spring," Boothe said. "The same puffin pairs return to the same burrows on the rock to raise a single puffling. The puffins make multiple daily trips to capture prey for their growing chick. As ocean temperatures rise puffins must fly further and dive deeper to capture food."
More About Oregon Coast hotels, lodging.....
More About Oregon Coast Restaurants, Dining.....


Andre' GW Hagestedt is editor, owner and primary photographer / videographer of Oregon Coast Beach Connection, an online publication that sees over 1 million pageviews per month. He is also author of several books about the coast.
LATEST Related Oregon Coast Articles
Back to Oregon Coast
Contact Advertise on Oregon Coast Beach Connection
All Content, unless otherwise attributed, copyright Oregon Coast Beach Connection. Unauthorized use or publication is not permitted