Washington Coast Travel Guide, Map, Updated Info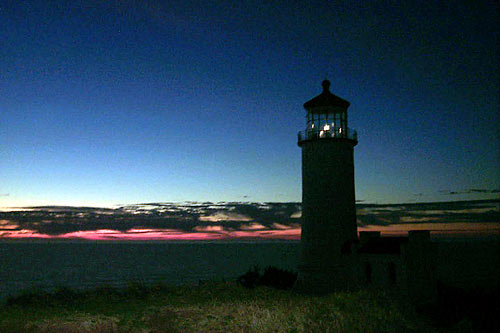 Washington Coast Guides - Washington Coast Map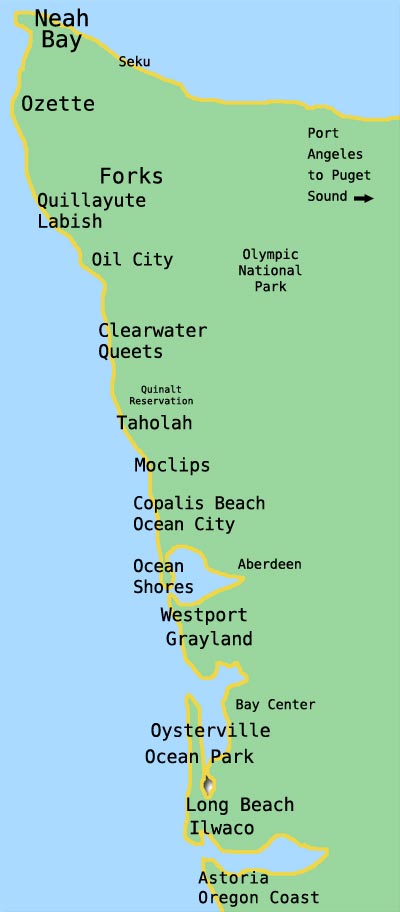 Neah Bay (Waatch, Washington as well)
Oil City, Washington
Moclips and Pacific Beach Washington
Grays Harbor, Washington (Aberdeen, Moclips, Pacific Beach, Ocean Grove, Iron Springs, Ocean City, Oyehut-Hogans Corner, North Bay Washington, Westport Washington, Ocosta, Markham, Cohassett Beach, Grayland)
Experience Westport Washington
Grayland Beach State Park on Washington Coast: from Camping to Striking Sights Grayland Beach State Park near Westport is a delightful mix of these elements
North Cove, Washington
Tokeland, Washington
Bruceport, Washington
Bay Center, Washington
Long Beach Peninsula - Oysterville, Nemah, Ocean Park, South Bend, Long Beach, Seaview, Ilwaco

LATEST Washington Coast Articles, Updates
May Space Spectacular: Eclipse, Morning Planets, Meteors for Oregon / Washing...
Meteor showers, full lunar eclipse, more, from Brookings to La Push. Sciences
Pink Discovery in Tidepools: the Colorful Sculpins of Washington / Oregon Coast
A sampling of sculpins along the Oregon coast and Washington coast. Marine sciences
Two Meteor Showers Overlapping Above Oregon / Washington Coast, Another Peak ...
Right now are the Lyrids and the Eta Aquariids, which peak soon. Sciences
Beach Cleanups on Washington Coast and Oregon Coast, April 23
Both beach cleanups now coincide with Earth Day. Washington coast events, Seaside events, Manzanita events, Pacific City events, Lincoln City events, Newport events, Yachats events, Reedsport
Dangerous High Surf Warnings on Washington Coast, Oregon Coast
Breaking waves up to 24 feet or even 34 feet in some areas
Big Eclipses Coming to Oregon / Washington Coast Next Month, Next Year
Total lunar eclipse in Or/Wa in May, near-full solar eclipse 2023 on S. coast. Weather
'Skinny Whales' Remain Issue on Washington / Oregon Coast, But May Be Lessening
Scientists still don't know what's causing it. Marine sciences
One Thing the Oregon / Washington Coast Have in Common with Mars
The oddest, smallest things can bring much broader questions and answers. Sciences
Washington Coast Mermaid Festival Makes Grays Harbor Its Epicenter
For about a week near Westport it will be all about mermaids. Washington coast events
What Spring Equinox Means on Washington / Oregon Coast
Sunday, March 20, with the exact moment of spring at 8:33 a.m.. Washington coast events. S. coast events, sciences, astronomy
Washington Coast Opens Up More Razor Clam Dates in March
The next round getting the go-ahead March 16 - 22. Washington events
Wreck of Strathblane on Washington Coast A Deadly, Haunting Yet Forgotten Tale
One of the worst shipwrecks of the Washington / Oregon coast in that century
Waldport's Pat Boone Inn: Oregon Coast Finance Tale That Reached Ocean Shores...
An odd bit of history for the Oregon and Washington coast involving a celebrity. Sciences
Abundant Razor Clams on Washington Coast Bode Well for New Dig Dates
Washington has tentatively scheduled 25 razor clam digs
Oregon Coast Crews Attend to Giant, Beached Whale on Washington Side
The gray whale was 39 feet long, had orca battle scars and was killed by a ship. Marine sciences
The Terror of Post-War Mines on Beaches: Oregon, Washington Coast History (pa...
1949 and going into 1950, quite a few Japanese mines were found
World War II Mines an Explosive Problem on Oregon / Washington Coast in '50s ...
In the first two years after the war 117 mines are found in this region. History, Coos Bay
Best of Romance-Themed Landmarks on Oregon, Washington Coast
A Valentine's theme in one way or another. Sciences, travel tips
Failed Satellites Burning? Look Up on Oregon Coast, Washington Coast
Some 40 satellites have failed and are burning upon reentry. Weather
Washington Coast Clam Digs Get Go Ahead for Feb. 14 - 18
Long Beach, Mocrocks, Copalis and Twin Harbors
That Thing They Don't Tell You About February Weather on Oregon / Washington ...
It's nicknamed the 'mini spring' of February and it's back
When the Ocean Burps on Oregon / Washington Coast - It's Beautiful
Large patches of brown stuff lying around can actually be a treasure trove. Marine sciences
322 Years Ago This Week: Cascadia Tsunami Hits Oregon Coast, Washington Coast
A history of coastal geologic history: how scientists uncovered the event
Warm, Sunny Skies for Washington / Oregon Coast - But Also Sneaker Waves
Temps close to 60 in some places, some sneaker waves and stagnant air
Tsunami Advisory Over for Washington / Oregon Coast - Images, Video
Surges coincided with an already-raucous ocean and sneaker waves. Weather
Curious Bits About Sand Dollars on Oregon / Washington Coast You Didn't Know
People know little about them: some surprising facts about the little critters. Marine sciences
Razor Clam Lovers Will Love This Week on Washington
Coast Clam digs for January 14 through 20 will go on as planned. Washington coast events
Flooding A Possibility to Likelihood Along Parts of Oregon Coast
Flood watch for northern coast and south Washington; flood warning for Coquille
Caution Urged: King Tides Bring Flooding, Steep Seas to Oregon / Washington C...
Final round of king tides Saturday through Monday; high wind warning
Quadrantid Meteor Showers Coming Up for Oregon Coast, Washington Coast
They will peak just after New Year's Day, on January 2 and 3. Sciences

Search over 7,000 Pages for Oregon coast subjects, articles or lodging...
Back to Oregon Coast
Contact Advertise on BeachConnection.net
All Content, unless otherwise attributed, copyright BeachConnection.net Unauthorized use or publication is not permitted