Covering 180 miles of Oregon coast travel: Astoria, Seaside, Cannon Beach, Manzanita, Nehalem, Wheeler, Rockaway, Garibaldi, Tillamook, Oceanside, Pacific City, Lincoln City, Depoe Bay, Newport, Waldport, Yachats & Florence.
05/24/07
Oregon Coast Tour in Pictures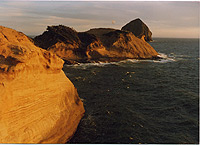 Pacific City's Cape Kiwanda
(Oregon Coast) – It's one of the most engaging places in the United States, so much so it's a hot subject of travel writers all over the country these days.
362 miles of it meander along the ocean, between Astoria and Brookings. The Oregon coast is a rugged, wild and sometimes weird and surreal place, full of interesting dichotomies. One minute, the surf is raging in front of you, along a craggy rock shoreline or a vast beach where nary a soul can be seen. Take a few steps back towards the land, and you may find somebody's gargantuan piece of oceanfront real estate glaring at you or a scrumptious upscale restaurant. Civilization is, at times, a few feet away from the lonely beaches. Other times, it's a good mile or two drive away.
There are enormous cliffs and sea stacks that dot the shores, soaring high above it all, or long strands of soft sand and fluffy beach dunes. There are tons of rocky blobs creating labyrinths of ancient basalt on some beaches, often creating places where the tide pools far outnumber the human beings. In other places, enormous rock structures and headlands create exploration possibilities that make you forget that you aren't Lewis and Clark after all.
This photographic tour features links to hundreds of photos and begins south, in the middle of the Oregon coast, near Florence. It then progresses northward. There are thousands of Oregon coast pictures in this website, with many spotlighted in the Virtual Tours. There are links all over this page to this vast gallery of pictures and photos.
Here's a sampling of the virtual tours, various places along the coast and of this enormous gallery of Oregon coast pictures: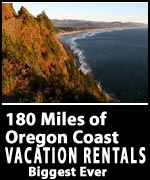 Heceta Head Lighthouse
Just north of Florence, this beauty is known as the world's most photographed lighthouse, and for good reason. This stately beauty is visible some 21 months out to sea and has been around since the 1890's. Its giant light was just replaced in 2000.
During the summer months, you can get tours of the lighthouse. When it's windy, you can feel the building creek and bend just a little as you tread that old, metallic circular staircase.
There are trails wandering up behind the lighthouse as well, which make for great photographs.
The old lighthouse keeper's quarters is now a bed & breakfast and is said to be haunted.
One of the more spectacular annual events surrounding the lighthouse happens in December with the caroling, lights and the open house at the Heceta Head Lighthouse Keeper's Inn. There's a sing-a-long procession after dark up to the lighthouse that is nothing short of ethereal.
Yachats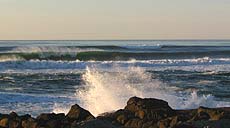 Wild, untamed Yachats
Yachats is definitely one of Oregon's more stunning scenic vistas, and one heck of a charmer of a village. Upscale, intriguing, restaurants populate this place in great abundance, as well as some interesting lodging. It has an unusual character for any place on Oregon's coast, managing to be rugged and untamed in many ways yet still exude an unparallel sense of class.
It's no secret that it's called the ``Gem of the Oregon Coast.'' But Yachats has its secrets. There's more to this engaging area than meets the eye - even the eyes of many regulars. You need only spend a little more time poking around and you'll find a variety of interesting to oddball stuff: beach-oriented goodies that go well beyond Yachats' already steady supply of craggy, rock-filled beaches, amazing eateries and intriguing accommodations.
Check out its funky buildings, often with a new age flavor to them, or the beautiful, atmospheric and historical examples such as the log cabins of the Shamrock Lodgettes.
There are some structures in the Yachats area which have maritime themes in rather unusual ways as well. The Yachats Inn was constructed to look like a ship from a distance, when viewed from the hills above the town.
This tiny village knows how to live it up. Every Fourth of July it cuts lose with the La De Da Days. There's also a major classical music festival during the summer, a month-long Christmas celebration and the scrumptious Mushroom Festival every fall.
The town has an interesting past as well. Some of that started thousands of years ago.
There are some spots just south of the town where ancient Indian middens have been discovered. These are piles of shells and other "rubbish" tossed away by local tribes who lived here over various millennia. Archeologists are having a field day with this stuff and learning much from it. The locations of these are secret, however, to avoid being disturbed and ruined.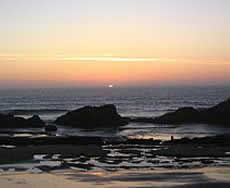 Seal Rock
There's maybe a quarter mile of a town here, but it contains a couple of treasures. Check out the yum-o-rama Japanese cuisine of Yuzen. And the kids will love bouncing around the beach or the craggy, complex rock structures of Seal Rock State Park.
Seal Rock began its days as a budding resort town back in the last century, but various failed deals and a railroad line from the valley that never happened resulted in this tiny town surrounded by wondrous, unspoiled natural attractions.
BREATHTAKING CLIFFTOP IN NEWPORT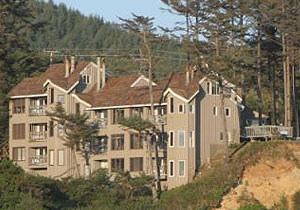 STARFISH POINT Newport - Offers only the finest in luxury condominium lodging. Every unit is focused on the beauty of the sea and the beach.
All units boast two bedrooms, two bathrooms, designer kitchens, wireless broadband Internet, fireplaces, Jacuzzi's and private decks. Friendly staff dedicated to high quality and superb customer service. 140 NW 48th Street, Newport. (541) 265-3751. (800) 870-7795. www.starfishpoint.com
Newport
It's part touristy, part party town, a slightly upscale resort, a sometimes surreal bit of small town Americana and a treasure trove all in one, filled with an enormous array of natural delights and stunning beauty. It's easy to get lost in the crowds and the tourist spots, but it's not too difficult to find solace on a deserted section of beach or pier somewhere.
Newport is rich in history, and it continues to be committed to keeping its past alive as it constantly expands and changes with modern times. There are restaurants and attractions for every budget and taste, and an often-freakish nightlife that may leave you laughing until you cry. It's an unusual combination of manmade and natural recreation and of varied, even contradictory means of repose.
Depoe Bay
This lovely little village curiously straddles the roles of natural wonder and strip mall, while still managing to ooze a strong sense of serenity and beauty. Whatever civilization takes away here nature more than makes up for it in fun and scenery.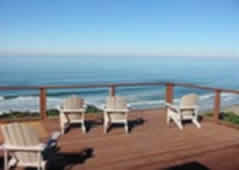 A1 Beach Rentals, Lincoln City. Perfect for large family vacations all the way down to a getaway lodging for two - with over 25 vacation rental homes to choose from. A breathtaking collection of craftsman or traditional beachfront homes, or oceanview houses – from one to seven bedrooms. In various areas of Lincoln City and overlooking the beach, with some in Depoe Bay. All kinds of amenities are available, like hot tubs, decks, BBQ, rock fireplaces, beamed ceilings and more. Some are new, some are historic charmers. Lincoln City, Oregon. 1-(503)-232-5984. www.a1beachrentals.com.
Along the highway, countless shopping and eating opportunities populate the landward side, while the seaward side makes for some amazing discoveries. Numerous curio shops, art galleries, wine tasting in a "cave" and scrumptious eateries create a touristy vibe to this otherwise virginal sampling of coastline, but you can often find oddities and pleasantries you can't purchase anywhere else.
Whale watching tours abound along this street, as well as fishing charters.
An annual highpoint in Depoe Bay is the Indian-style Salmon Bake, held every September. Salmon is cooked not just the old-fashioned way – but the really ancient way: in the manner of local tribes. They carved out a pit for the fire, then leaned sticks up against each other and barbecued the fish that way.

Road's End State Recreational Site, Lincoln City
It's at the north end of Lincoln City where the real surprises often lie. Land's End Road will lead you to Land's End State Park, and from there you can continue north through a neighborhood of cabins and expensive homes until you come to the last public beach access. This spot allows for perhaps two cars to park there and is approximately half a mile from the looming cliff.
The cliff, across the Siletz River from Cascade Head, possesses the rock structure known as Wizard Rock. At anything but a high tide, this moody, slightly spooky, pointed rock can be seen. But at a low tide, you can go around Wizard Rock and find a rarely touched section of beach, filled with small caves, pristine, glistening sand and inviting, angular rock forms and haystacks to climb and carouse on.
Like the hidden parts of Oceanside to the north, this beach provides quite a Gilligan's Island experience, and it's walked on far less by humans than that spot. Plus, there's something so idyllic and peaceful about this place you can easily convince yourself you're one of the first to ever have set foot.
Winema Beach
This is an intriguing mixture of a clandestine beach spot, a rock climber's paradise and a playground of endless sand. On Highway 101, between MP 94 and Oretown, Winema Road sits inconspicuously on the west side.
Once there, you'll find all sorts of oddities in the cliffs – most notably the giant rock structure plopped in the middle of the tideline. It too is perfect for climbing, with a tiny patch of grass welcoming you at its top.
Head another mile or so north along this beach and you'll reach some very secretive areas of the Nestucca Bay.
Oceanside's Secretive Beaches
About nine miles west of Tillamook, the beaches here are often shielded from the wind by the headland called Maxwell Point - about 100 yards north of the parking lot - looming above like a tall, dark, watchful god (which also boasts a noteworthy cliff top motel). To the south, it's about three miles of sandy beach leading straight to Netarts Bay, with not much else other than rocks, boulders and driftwood piled up next to the vegetation line. About a mile down, you'll find some minor trails meandering through the brush underneath the Three Capes residential development, and if you're lucky, oddly colored slabs of rock become visible if the tide is low enough.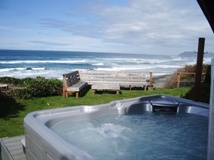 Arch Cape Property Services. Dozens of homes in that dreamy, rugged stretch between Cannon Beach and Manzanita known as Arch Cape. Oceanfront and ocean view , or just a short walk from the sea.
All homes are immaculate and smoke free; some pet friendly (with a fee). Some with broadband, indoor or outdoor hot tubs, fireplaces, decks, and fire pits or barbecues. Call about tempting winter specials that go until March (not valid holidays, however). www.archcaperentals.com 866-436-1607.
Because of its relative protection from northwest coastal winds, the beach at Oceanside is often a great spot for sunbathing or for any activity which requires getting away from the cold.
The real fun of Oceanside's beach lies inside Maxwell Point, however. The concrete tunnel here is a gateway to a stunning, secret world. Entrance into the tunnel is somewhat unadvisable recently, because of falling rocks from the cliffs.
But if conditions are calm, on the other side sits a stunning beach where enormous boulders and weirdly shaped sea stacks give the entire area a feel like something out of the old ``Star Trek'' series.
The entire area is cluttered with stuff to play on as well as a sense of the serene and the surreal.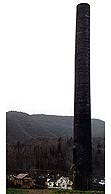 Smokestack at Garibaldi
Gigantic Garibaldi Landmarks
If you're coming from the south, two salient features of this tiny town become quickly apparent. The gigantic "G" resting high on a hill above the town conjures the letters spelling "Hollywood" above Tinsel Town – but it makes you wonder if they simply ran out of room or money for the rest of the letters.
If you're coming from the north, the G isn't visible until you get into town. It is sometimes lit up at night. And shortly after the 9/11 attacks, Garibaldi residents showed their patriotism by lighting it up with red, white and blue lights.
The other unmistakable attribute of Garibaldi is the giant smokestack, which immediately pops into view from either direction. This remnant of an old paper mill is roped off to the public. But it's so big there's actually a tree growing on its inside.
The gargantuan black tower looms over Lumbermen's Park as well. It's very close to MP 56.
Beaches of Manzanita
There's nothing like standing on this beach and having to strain your neck to look up at mysterious, ethereal Neahkahnie Mountain looming above you.
A wide and beautiful sandy beach fills the eye here. Although at the beach's northernmost access – near Neahkahnie Rd. – it quickly becomes large cobblestones until it ends at the base of Neahkahnie Mt. some 200 feet down.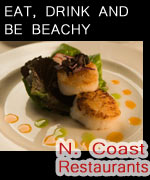 The most obvious beach accesses lie past its downtown and at the bottom of the main road, Laneda Rd. But there are numerous hidden ones south of there, between the homes, along the beachside roads. These eventually dead-end at a back entrance to Nehalem Bay State Park.
In this tiny town that's full of culinary pleasures, wondrous new objects can pop up on the beach at sufficient minus tides. Depending on the amount of sand lying around that time of year, different rock objects appear on an otherwise smooth, barren beach.
There's also some magical things to be found in Manzanita, such as the esoteric legend of the mystical "Wheeler Moment," named after the small town nearby. The story goes this whole Nehalem Bay area is a bit like that strange island on the "Lost" TV series, where odd things just seem to happen, unspoken wishes seem to get granted, and there's a startling regularity of serendipity.
Cannon Beach
This charmer of a town is home to many artists on the coast, and it's purported a few national celebrities have cabins here as well. This artiness shows, partially in the city council's rule that most buildings be dressed up in cedar shingles, giving the whole town a sense of the rustic yet refined.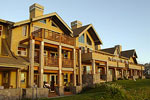 The Ocean Lodge. There will not be another property built like this in Cannon Beach in our lifetimes. Rare, premiere ocean front location; handsome, dramatic architecture and tasteful, fun (nostalgic) beach interiors. Overlooks Haystack Rock. 100 percent smoke free. Imaginative special occasion packages. Massive wood burning lobby fireplace. Library w/ fireplace, stocked with impressive book collection. Pet and family friendly. Lavish continental buffet breakfast. In-room fireplaces, mini-kitchens. Jacuzzi tubs in select rooms. DVD players, complimentary movies. Morning paper. Warm cookies. 888-777-4047. 503-436-2241. 2864 Pacific Street. Cannon Beach, Oregon. www.theoceanlodge.com
This artiness also shows in the abundance of quaint businesses around town, from whimsical shops selling kites, clothes and gifts, to its galleries, fine cuisine in a variety of price ranges and the many flower pots hanging everywhere. Some of the restaurants and bars even have outdoor seating – a daring, if not very urban-thinking move on the coast.
Sure, it's touristy in some ways and certainly packed with people most of the time. But there's a coziness and beauty to this place that's hard to forget.
There are annual festivals during the year that shouldn't be missed, including various kite festivals in summer, the Haystack arts program and the grand sand sculpturing contest every June. In November, Cannon Beach goes bonkers with the Stormy Weather Arts Festival, where galleries, artists and musicians flood the town all weekend.
The famed Haystack Rock here has the honor of being the third largest sea monolith in the world.
Seaside
With its beautiful promenade (built in the 20s), a long stretch of wind-sheltered beach, its charming streets, its somewhat gaudy carnival atmosphere and a lengthy history of being one heck of a party town, Seaside has something for just about anyone.
Portlanders have vacationed here for more than six generations, creating a history that is rich and colorful. The promenade – more than a mile long - is proof of this, as are the visits to this area by explorers Lewis and Clark. Well, sort of, anyway. There is a monument to the pair sitting in the middle of the picturesque and famed turnaround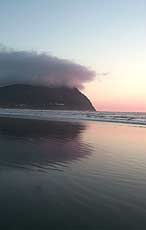 The town has all the amenities you could ask for: scrumptious, sometimes innovative cuisine, major grocery stores, a liquor store, a large movie theater complex and an outlet mall filled to the brim with 60 stores.
Seaside is notorious for kicking into high gear around Spring Break, so be prepared for massive crowds of collegiates and high schoolers. Summer, too, brings at least as many young folks as it does families, giving the town an interesting dose of youthful madness. In August, as everyone heads to the beach for a last minute vacation, even weekdays acquire a buzzing, crowded state, and late at night, the beach is often dotted with bonfires surrounded by partying kids and young adults until dawn.
There's much more to this town, however. The secret beaches at the extreme southern and northern ends provide a myriad of hidden delights few places on the Oregon coast can match. The northern end has more unbroken sand dollars than you'll find anywhere. Natural and native people's history comes alive at the jaw-dropping Gateway to Discovery. The hiking possibilities around here are incredible.
Gearhart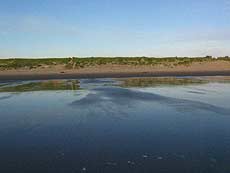 Several streets in this village end beach accesses. If you're driving the back roads between it and Seaside, it's often hard to tell you're in another town. It looks much like a suburb of Seaside in many ways.
From here northward to Warrenton – just shy of Fort Stevens State Park – are beach accesses where driving your car on the beach is legal. Camping on the beach is not, however, partially for the obvious reasons involving cars and people lying around sleeping. These drivable beaches go on for about ten miles.
Astoria
Astoria is one big crazy surprise after another. It's not the beach, per se, but it doesn't have to be to wow you. Its rustic charm will mow you over as you enter from the south, as you cruise north on Marine Drive and suddenly find yourself surrounded by a massive cluster of stately and yet sometimes shaky-looking homes that look lost in this century (but happily so).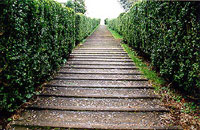 But there's more to the area than Astoria.
At this, the very Northwestern end of Oregon, the state gracefully spills into the Pacific Ocean and the Columbia River via the grand but weathered charm of Astoria and its stately Victorian architecture. It's in this area where Lewis and Clark spent over 110 long, wet days; where the world's most photographed shipwreck lies; and it's one of only two places in the continental United States that were fired upon by a foreign power before the Sept. 11 terrorist attacks. It's a mixture of an old Scandinavian fishing village, a fascinating historical reminder of our country's military might and where America's British roots are still evident.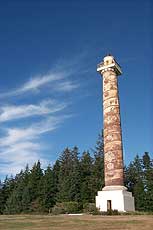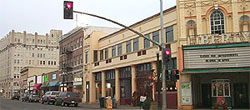 With steep hills, an abundance of Victorian homes and a long-standing maritime tradition - all situated where the Columbia River meets the Pacific Ocean - Astoria has a vibe somewhere between San Francisco and Portland back in the sixties. It's a town where being shanghaied was a major worry once, way back in the 19th century. It's a place that the British and the Americans fought over for a brief period. It was also the first town in Oregon, and the first city established west of the Mississippi.
And it's where the past seems to imperceptively smack into the present, blending in a way that makes the thick, oozing sense of history here indistinguishable from the modern aspects of the town. And it's a curious mix of hipness and history, somehow achieving both in some spots.
As you cruise these tight, almost claustrophobic streets filled with bulging Victorian mansions, it's often not hard to imagine you're wandering back in time somehow - and it's easy to forget what century you're in.

D Sands Condominium Motel, Lincoln City. Free, fresh baked cookie upon check-in is just the start. All rooms beachfront and up against Lincoln City's most famous stretch of beach: the D River. Each room comes as a suite or mini-suite, and has a kitchen and balcony or patio. Some w/ gas fireplaces, while all have a DVD Players; movies to rent come with free popcorn. Heated indoor pool, a spa, and this fabulous beach is lit at night. Rooms sleep from two, four to six - including a deluxe fireplace suite. Gift certificates orspecial occasion packages. www.dsandsmotel.com. 171 S.W. Highway 101. 800-527-3925.

Tradewinds Motel, Rockaway Beach. All rooms are immaculate and have TV's, VCR's and in-room phones w/ data ports. Oceanfronts have queen bed, a double hide-a-bed, kitchen, cozy firelog fireplace and private deck. Both types sleep up to four people. Others are appointed for a two-person romantic getaway, yet still perfect for those on a budget. Elaborate oceanfront Jacuzzi suite has two bedrooms, kitchen, double hide-a-bed, fireplace and private deck, sleeping as many as six. For family reunions or large gatherings such as weddings, some rooms can connect to create two-room and three-room suites. Some rooms pet friendly. 523 N. Pacific St., Rockaway Beach. (503) 355-2112 - 1-800-824-0938. www.tradewinds-motel.com
LATEST OREGON COAST NEWS STORIES
Oregon / Washington Coast Flood Watches: Landslides, Road Washouts Possible
Sat and Sun: be cautious driving, large waves then sunny for king tides this week. Weather
Aftermath of December 7 Shifted Life on Oregon Coast: World War II Patrols, B...
This could've been the frontline to any invasion. Sciences, Coos Bay, history, Oceanside, Seaside, Cannon Beach, Arch Cape, Yachats, Bandon, Lincoln City
Two Road Washouts on N. Oregon Coast Could Drastically Affect Traffic, Agenci...
Miami Foley Road could create a two-hour commute. Garibaldi, Tillamook, Oceanside, Manzanita, Nehalem
Oregon Coast Shipwrecks: List of Those You Can See - and Cannot
From Astoria down to Brookings, deep history and details of shipwrecks. History
Commercial Dungeness Crab Starts on Half of Oregon Coast
Opens Dec 16 from Cape Foulweather to the California border. Marine sciences
Two Stellar Oregon Coast Winter Views at Cannon Beach Include One Sizzling Sp...
Watch king tides, storms from here, walk Lewis 'n Clark history. Cannon Beach lodging, Cannon Beach hotel reviews
Florence Winter Music Fest Readies to Heat Up Oregon Coast at End of January
Seven bands on January 26 and 27, with a kick-off January 25
More of N. Oregon Coast's Wreck of Peter Iredale Showing Than Ever Before: As...
Many have never seen this much of the historic icon
Ecola Point's Pictorial Past: Old Cannon Beach up to Modern Oregon Coast Disa...
From thousands of years ago to major landslides, storms. History
Winter's Dramatic Changes on Oregon Coast Can Include Shipwrecks, Caves, Enti...
Even the configuration of a beach can shift. Marine sciences
Large Section of Oregon Coast Back Open to Razor Clamming, Including Tillamoo...
Seal Rock to Cannon Beach. Marine sciences
Surf Hazards Through Wed on Oregon / Washington Coast with 20-foot Waves; Aur...
An unusually-long warning period, large waves and Aurora (if we could see it)
Little Lincoln City Motel is Historic Oregon Coast 'Motor Inn'
Features Dec Special Prices - Whistling Winds Motel in Lincoln City is nearly a century. Lincoln City hotels, Lincoln City reviews
Large Patches of Dead Oregon Coast Birds Usually Not a Concern, But Virus Pos...
It's mostly just tidal action, but carcasses may have a virus. Sciences

Back to Oregon Coast
OREGON COAST VIRTUAL TOUR
Explore Every Beach Spot in Hundreds of Oregon Coast Pictures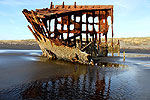 Astoria

Where the Columbia meets the Pacific, Land of Lewis & Clark and loads of atmosphere & history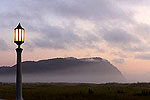 Seaside
The Promenade, Tillamook Head, family fun & broad, sandy beaches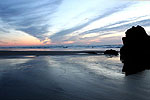 Cannon Beach
A mysterious lighthouse, upscale yet earthy, a huge monolith, fine eateries & an art mecca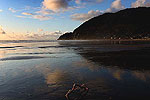 Nehalem Bay
Manzanita's beaches, Nehalem and Wheeler's quirky beauty; laid back Rockaway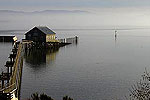 Tillamook Bay
Garibaldi, Barview, Bay City, Tillamook & an oceanfront ghost town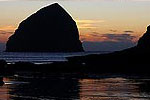 Three Cape Loop
The hidden secret of the coast: Cape Meares, a lighthouse, Oceanside, Netarts and Pacific City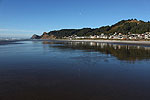 Lincoln City
& the Corridor of Mystery
Miles & miles of unbroken beaches, Cascade Head, Neskowin and manmade attractions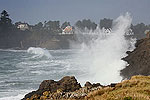 Depoe Bay
A spouting horn downtown, freaky hidden cliffs and whales, whales, whales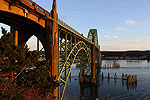 Newport
Time-tripping Nye Beach, a bustling bayfront, marine science-central and two lighthouses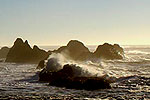 Waldport / Seal Rock
Pristine, even secretive sands and wild geologic landmarks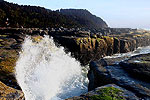 Yachats
Constantly dramatic wave action, a mix of the rugged & upscale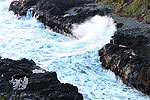 Upper Lane County
25 miles of deserted beaches & oodles of wonders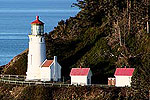 Florence
A lighthouse, ancient bayfront and miles and miles of fluffy dunes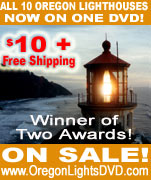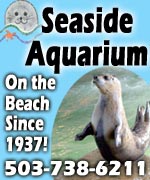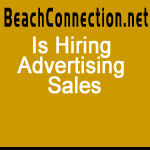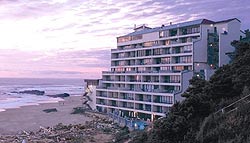 Inn At Spanish Head, Lincoln City. Lincoln City's only resort hotel built right on the beach with all oceanfront rooms - nestled against a rugged cliffside overlooking a soft, sandy beach. Dine in penthouse restaurant and bar, for casual meal or candlelight dinner. An array of seafood specialties, juicy steaks and other Northwest favorites, including decadent Sunday buffet. Rooms range from bedrooms to studios to 1-bedroom suites with microwaves and refrigerators to full kitchens. Also, wi-fi, spa, saunas, exercise room and year-round heated swimming pool. Kids will love the game room and easy beach access. Full-service conference/meeting rooms for that inspirational retreat; extensive wedding possibilities. 4009 SW Highway 101, Lincoln City. 1-800-452-8127 or 541-996-2161. www.spanishhead.com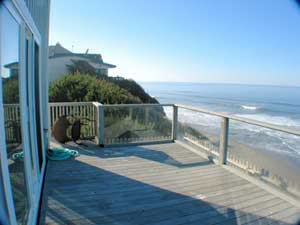 Lincoln City Vacation Homes Something for everyone: smaller homes with a view to a large house that sleeps 15. All are either oceanfront or just a few steps away – all with a low bank access and fantastic views. Most are in the Nelscott area; one is close to the casino. You'll find a variety of goodies: fireplaces, multiple bedrooms, dishwashers, Jacuzzis, washer/dryers, hot tubs, cable TV, VCR, barbecues; there's a loft in one, and another sprawling home has two apartments. Pets allowed in some homes – ask first. Each comes with complete kitchens. Most have seventh night free. Prices range from winter $85 to summer $230 per night. www.getaway2thecoast.com. 541-994-8778.
Weiss' Paradise Suites & Vacation Rentals - Seaside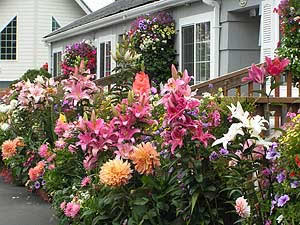 Unique Luxury Accommodations in Seaside. 1BR Suites, 1BR & 2BR Duplex Units and 3BR Houses, units for 2-8 people. Rent entire property for 20-26. Close to beach, river and Broadway St.
Suites are designed for two adults; vacation rental units for families. All units have kitchen and many have fireplace, deck and jetted tub. Comfy robes, slippers, luxury bath amenities, quality linens and more. 741 S. Downing St., Seaside. 800-738-6691. www.SeasideSuites.com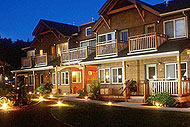 Inn at Cannon Beach. Beautifully wooded natural setting at quiet south end of Cannon Beach. Great during winter storms with a new book by the fireplace – or when the sun is out for family fun and beach strolling. Handsome beach cottage-style architecture. Lush flowering gardens and naturalized courtyard pond. Warm, inviting guest rooms. Continental buffet breakfast. Warm Cookies. Family and Pet Friendly. Welcome gifts. Smoke-free. Complimentary Wireless Connectivity. Wine and book signing events. 800-321-6304 or 503-436-9085. Hemlock At Surfcrest, Cannon Beach, Oregon. www.atcannonbeach.com.