The Thrills of Oregon Coast's Three Capes Loop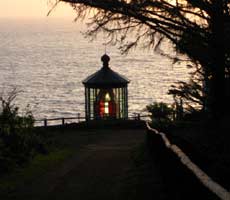 (Oregon Coast) - Three capes, a couple of tiny towns, a collection of hidden spots, one lighthouse and some one-of-a-kind natural oddities: these are the wonders in abundance along this 25-mile stretch of Oregon coast. It's here where 101 veers away from the beaches, and the coast road is instead this winding, twisting journey through thick, lush forests interrupted by the occasional explosion of stunning ocean vistas, all the while just a little ways away from a bundle of beaches that are guaranteed jaw-droppers. See full virtual tour and maps of the Three Capes Route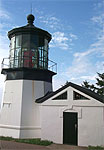 Oregon tourism is taken to another level here, just west of towns like Tillamook, and some you've possibly never heard of, like Hebo. At its northern end, it all starts about nine miles from Tillamook, at Cape Meares. A lighthouse, a weird natural anomaly and a few hidden trails all create a whole new world to explore in this relatively small State Park – all a trifle north of MP 4.
Take the paved walkway to the Cape Meares Lighthouse, a stumpy specimen that is the smallest lighthouse on the Oregon Coast, standing only 38 feet high. But size isn't important here as it stands on a 200 ft high cliff, more than making up for its own lack of height.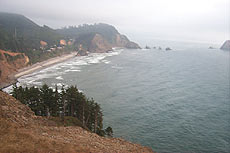 Looking at Oceanside from Cape Meares
Inside, this 1890 beauty sports a gift shop and a wrought-iron spiral staircase which leads you to the lens - a kaleidoscopic carnival of colors when the sun hits it just right. It's open during touristy times of the year.
Another short trail brings you to the Octopus Tree, a freaky, huge organism which has grown eight very large limbs (until one was whacked off during a storm in the early `90s). The tree was featured in Ripley's Believe It Or Not for years.
From Cape Meares, it's a few short miles down Meares Loop Rd. to a wild little clandestine beach called Short Beach. Look for Radar Rd., just a tiny bit north of MP 4.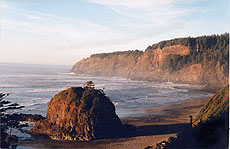 Short Beach
Short Beach (which once boasted an actual radar station) is chock full of scenic yumminess, starting with the large, bulbous rock structure plopped at the tide line, sporting a small patch of trees on top. On one end of the cove, the weird rock structures near Oceanside poke out from behind the cliff. At the other end sits the Cape Meares lighthouse and another small sea stack. A massive waterfall spills gently into the ocean - just out of reach of the beach, and there's also a rocky cove within this cove.
Access to the beach is through a sprawling, wonderful creation called the "stairway of 1000 steps," put together by locals to keep people from busting their heads, as they did via the old access, which was a precarious slippery slope of mud.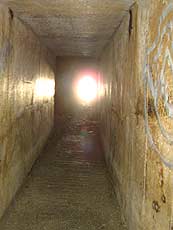 Tunnel through Oceanside
Then, you come upon Oceanside, where the wonders never seem to cease. It's an old, rustic hamlet that smacks of another time, dripping with weather-beaten cuteness and charm – and it hides two major culinary wonder in the form of the upscale Roseanna's Café and the Anchor Inn and Grill.
The beaches here are often shielded from the wind by the headland called Maxwell Point, which allows you access to its hidden secrets on the other side via a mysterious little tunnel. On the other side sits a stunning beach where enormous boulders and weirdly shaped sea stacks give the entire area a feel like something out of the old ``Star Trek'' series.
The entire area is cluttered with stuff to play on as well as a sense of the serene and the surreal.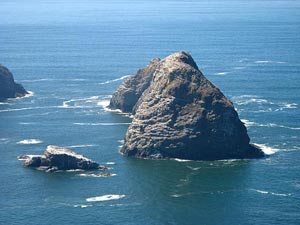 Above Oceanside is another stunning discovery that's not very well known. At the very top of town sits a gravel patch the locals don't want you to know about. From here, you can actually look down on the famous Three Arch Rocks. It is the single most expensive chunk of real estate in all of Tillamook County.
Along the way, some charitable local soul has built a small bench on the edge of the roadway with the words ``Enjoy'' inscribed on it. Enjoyable indeed, but that word doesn't quite cover what you'll get out of this: the bench is brilliantly placed so you can obtain a stunning view of the Pacific Ocean as well as Short Beach to the southeast.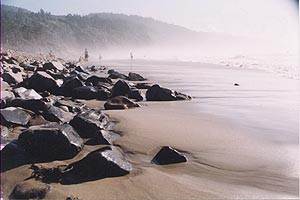 Heading south again you'll pass the tiny, but burgeoning, community of Happy Camp, with a large mass of breathtakingly beautiful condos and home springing up. There's also Netarts, another picturesque bit of fun tucked away from the usual coastal routes.
It's another few miles down the road and you'll encounter Cape Lookout State Park. The beach at this popular park is mostly one immense, sandy stretch, going on for nearly five miles to the north into Netarts Spit. Parts of the beach dip steeply into the tide line, causing the waves to crash loudly and abruptly, then quickly running out of steam and altogether creating an intense, natural spectacle.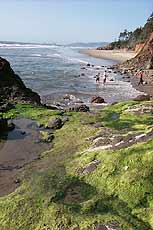 The campground here boasts 191 campsites (two accommodating the disabled), one electrical site, four group camping areas, a reservable picnic area, a meeting hall, four yurts, 54 full RV hookup campsites (maximum 30 feet), full restroom and shower facilities as well as a waste disposal station.
Just south of the entrance to the park is Anderson's Viewpoint, now newly paved with a bigger parking lot. If this doesn't fit your definition of a Kodak moment, nothing will.
You'll soon come to Cape Lookout, with three major trails. The Cape Trail makes a five-mile loop around the entire cape, winding up at the tip of this majestic outcropping where, if the weather permits, you can catch sight of Cascade Head and Cape Foulweather - some 40 miles to the south.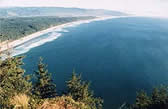 View of Sand Lake from Cape Lookout
About a half mile down the Cape Trail - at one of the first railed lookout spots - there's the Crash Sight Memorial, where a World War II B-17 bomber slammed into the headland in 1942.
The South Trail veers off to the left of the Cape Trail, taking you down to a hidden cove and a secluded, very sandy beach - eventually connecting to the Sand Beach campground area about four miles to the south. The North Trail leads you down to Cape Lookout State Park and the picnic areas, about two miles of walking.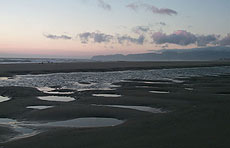 Tierra Del Mar
Sand Beach Campground and its multitude of dunes lies just south of here, where ATV enthusiasts abound because of the sprawling dunes - so expansive they are known as the ``Other Dunes on the Oregon Coast.''
Next, the road connects to Sand Lake Road going either south or east, and after a few winding twists and turns you'll come to the teeny weeny community of Tierra Del Mar. Here, the beach abruptly pops into view: a long, nearly endless expanse of sand with golden, sandstone cliffs above it in a few places.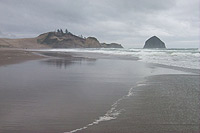 Cape Kiwanda State Park is a mile or two south of here, a sparkling little gem that's ago pretty much a secret. It's accessible via a one-lane street tucked off to the side the road - about a mile north of Cape Kiwanda's parking in Pacific City. This frequently solitary spot features a large sandstone and basalt structure which protrudes out from the cliff face right up to the ocean, providing all kinds of opportunities for climbing or for hiding from the wind. There's even a tiny cave. At lower tides, its tip is exposed and large, freaky basalt columns emerge, letting you explore them.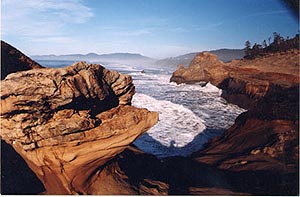 At the southern tip of the Three Capes Loop is the cute but now not-so-rustic hamlet of Pacific City, which is undergoing so many changes and additions it looks nothing like it did even ten years, perhaps even five years ago.
It's home to the sweeping, golden and wind and sea ravaged cliffs of Cape Kiwanda, known as the most photographed chunk of the Oregon Coast - and you need only see them from a distance to understand why. This gargantuan sandstone structure jutting out into the sea comes complete with a whopping sand dune towering above it and the other Haystack Rock on the coast (not to be confused with the Haystack in Cannon Beach).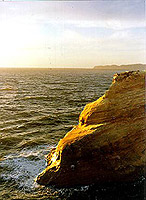 The entire area is one remarkable package of natural fun and frolic, rambling on for several hundred feet in different directions and hiding numerous wonders all over. There are numerous hidden nooks and crannies to explore, with various sections looking a lot like an alien world.
Just south of Pacific City, 101 becomes the main coastal highway again, leading you past weird and wonderful spots like Cascade Head and Neskowin, eventually dumping you into the tourist mecca of Lincoln City.
More About Pacific City, Oceanside, Netarts, Tierra Del Mar Lodging.....
More About Oregon Coast Restaurants, Dining.....
LATEST Related Oregon Coast Articles
Back to Oregon Coast
Contact Advertise on BeachConnection.net
All Content, unless otherwise attributed, copyright BeachConnection.net Unauthorized use or publication is not permitted