Oregon Coast Geology, Science of Geography, Rocks Oregon Coast -
geological history for Astoria, Seaside, Cannon Beach, Manzanita, Nehalem, Wheeler, Rockaway, Garibaldi, Tillamook, Oceanside, Pacific City, Lincoln City, Depoe Bay, Newport, Waldport, Yachats and Florence.
Search here for specific Oregon Coast Geology articles, subjects
Oregon Coast Geology Reference Articles, Geological History
Places Where Things Explode on the Oregon Coast Get an oceanic eyeful in Yachats, Depoe Bay, Cannon Beach, Oceaside and more
A Different Side of Common Oregon Coast Landmarks Familiar places on the Oregon can take on a whole new look if you move around, geological history
Live Earthquake, Tsunami Updates from Oregon Coast, Washington. B.C., California, Alaska - Keep up on earthquakes and tsunami alerts as they happen for the entire west coast: California, Oregon, Washington and Canada's British Columbia
Cannon Beach Geology:
North Oregon Coast Cliff Face Speaks Volumes of Geologic History If one cliff in the Cannon Beach area could talk
Oceanside/Three Capes Geology:
Cape Meares Lava Flows - Oregon Coast Attraction Tells a ...
Cape Meares Lava Flows - Oregon Coast Attraction Tells a Frightening Geologic Story - The sheer wonders (and the terrifying truth) of how
Lovely Oregon Coast Sights Have Frightening Beginnings - Beach ...
If you'd like to learn more about the weird and wonderful world of Oregon coast geology, you can attend some programs that outline some
Rockaway Beach Geology
Rockaway Beach Twin Rocks Geology - beginnings of Rockaway
Newport, Oregon Geology: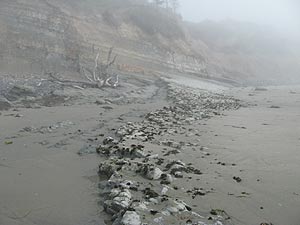 Hidden Beach on Central Oregon Coast Filled with Mysteries, Scientific Delights It's part adventure in a Lewis & Clark vein, part visual feast and part scientific exploration.
Oregon Coast Residents Recall Intensity of Tsunami Evacuations Friday morning's tsunami evacuations yielded thousands of tales of potential refugees along the coastline
Same Oregon Coast Beach, Three Distinct Visions One Freaky Geology Lesson - Hug Point, on the north Oregon coast, is one of those wildly distinctive wonders that yields more and more the further you delve into it
Freaky Oregon Coast Facts: Geology of Pacific City's Haystack Rock How tall is it and what is the geologic origin
Yachats Geology
Yachats Geology: Wonders and Frights of Central Oregon Coast About 50 million years ago there was (and still is) a kind of soft spot in the Earth's crust that allowed all sorts of enormous lava flows to erupt
Central Oregon Coast Cave Tells a Varied Geologic Tale An ancient story of towering volcanoes, searing lava flows for hundreds of miles, continents drifting over millions of years - Neptune State Park, near Yachats
All Oregon Coast Tide Pools (where to find them - guide to every single tide pool)
Oregon Coast Camping Guide (every campsite on 180 miles of Oregon coast)
Bizarre Landmarks and Landscapes of the Oregon Coast The true hidden spots of the coast provide the real fun of discovery
Weird Discoveries are in the Details on Oregon Coast The craziest things can lurk in some of your favorite, regular beach stops and spots
Sand Levels Revealing Some Ghost Forests On Oregon Coast Winter has not conjured up much on Oregon's beaches this time around
Latest Oregon Coast Geology News

Oregon / Washington Coast Travel, Tourism, Science, Entertainment News - Bre...
Covering Washington / Oregon Coast Travel, Entertainment and Science: La Push, Raymond, Ocean Shores, Westport, Long Beach, Astoria, Seaside, Cannon Beach, Manzanita, Nehalem, Wheeler, Rockaway, Garibaldi, Tillamook, Oceanside, Pacific City, Lincoln City, Depoe Bay, Newport, Waldport, Yachats, Florence, Reedsport, Winchester Bay, Coos Bay, Bandon, Gold Beach, Brookings

Fencing Moved Atop Oregon Coast Landmark as Cape Kiwanda Sinkhole Dangers Grow
Geologists' report indicates it needed further safety measures. Pacific City, sciences

Oregon Coast Study: Cape Kiwanda Sinkholes Breaking It Into 'Islands'; More F...
Cause of sinkholes, Cape crumbling into sea stacks; other unique finds. Sciences, geology

Curiosities of Yachats: Holes in the Oregon Coast, Gushes to Clams That Dig R...
Surprises lurking at almost every turn. Geology, travel tips, Yachats events, Yachats hotels

Magnitude 4.5 Quake Off South Oregon Coast Thursday
The 4.5 quake happened about 200 miles from Reedsport

What is Tillamook Head Geologically? Deep Inside N. Oregon Coast Headland at ...
All that lava, over numerous eruptions, filled up an underwater canyon. Sciences

What Are the Highest Elevation Viewpoints of Oregon Coast? From North to South
Cannon Beach, Seaside, Manzanita, Oceanside, Lincoln City, Depoe Bay, Yachats, Gold Beach, Port Orford. Weather, geology

Three Small Quakes Off Southern Oregon Coast
About 100 miles off Port Orford; no tsunami alert issued. Sciences, geology

Is Cannon Beach's Haystack Rock Biggest Anything? No: Oregon Coast Geology
It's a lovely favorite for good reasons, but not a record-breaker. Sciences

Intriguing U.S. Coastal Travel Destination with Ocean Geysers, Mysterious Ste...
Things like to explode, gurgle, sometimes implode, and puzzle. Geology, S. Oregon Coast

2nd Sinkhole on Top of Cape Kiwanda Spells Bigger Dangers, Says Oregon Coast ...
A larger chunk of this headland may collapse, geologist says. Science

One Week Later, Rare Sand Shapes Atop Oregon Coast Cape Are Fading But Evident
Geologists had actually discovered something new here, coming up with a name. Sciences

New, Rare Sand Feature Atop Cape Kiwanda Wows Oregon Coast Geologists - Video
Near the top are these elegant lines, which geologists had never seen. Sciences

Striking, Fiery Science of Depoe Bay and Newport: Oregon Coast Lava, Gray Wha...
What are resident whales, crazed lava flows, what's missing. Marine sciences, geology

New Research Into Sneaker Waves On Oregon Coast / Washington Coast Shows How ...
A few more insights into how these dangerous phenomena get generated. Marine sciences, geology

Lincoln City's Legends: Headless Man, Glowing Cave, Oregon Coast Shipwrecks /...
Yet sometimes these have roots in real history. Sciences, history, geology

Oregon Coast Geologist Weighs In on Kiwanda Sinkhole: Why, How and Its Future
A large sinkhole opened up, and that is likely to get bigger. Sciences, geology, Pacific City

N. Oregon Coast's Cape Kiwanda Develops Dangerous Sinkhole - Video
Why the geology here means this could get worse. Sciences

Curiosities of Yachats on Central Oregon Coast: Funky Holes to Hissing Noises
Plenty of oddball little surprises in this vast stretch of rocky ledges. Travel tips, geology

Small Quake Rattles Off South Oregon Coast, 112 Miles from Bandon
It struck off Friday morning, clocking in at a magnitude 4.5. Geology
"site:www.beachconnection.net geology" - Google News
Google News

How Bandon's Face Rock Was Created A Wild S. Oregon Coast Geologic Tale - Ore...
2 Mar 2021 at 8:00am
How Bandon's Face Rock Was Created A Wild S. Oregon Coast Geologic Tale Oregon Coast Beach Connection
Hug Point Geologic Oddities, Layers, Walking Tour - Cannon Beach, Oregon Coas...
21 May 2018 at 4:25am
Hug Point Geologic Oddities, Layers, Walking Tour - Cannon Beach, Oregon Coast Virtual Tour Oregon Coast Beach Connection
Oregon Coast Beach Connection News: Geologic Wonders of Oregon Beaches Make F...
23 Oct 2016 at 8:47am
Oregon Coast Beach Connection News: Geologic Wonders of Oregon Beaches Make Freaky History Lesson Oregon Coast Beach Connection
Haystack Rock Sunset, Height, Geology; and Brooten Road, Through Pacific City...
21 May 2018 at 5:47am
Haystack Rock Sunset, Height, Geology; and Brooten Road, Through Pacific City Three Capes Loop Virtual Tour ... Oregon Coast Beach Connection
N. Oregon Coast's Seaside Has History of Startling Geological Changes - Orego...
21 Jan 2016 at 8:00am
N. Oregon Coast's Seaside Has History of Startling Geological Changes Oregon Coast Beach Connection
Oregon Coast Geology Fun Facts: Behind the Look of Cape Kiwanda - Oregon Coas...
30 Dec 2012 at 8:00am
Oregon Coast Geology Fun Facts: Behind the Look of Cape Kiwanda Oregon Coast Beach Connection
Central Oregon Coast Cave Tells a Varied Geologic Tale Upper Lane County - Fl...
15 Jul 2011 at 7:00am
Central Oregon Coast Cave Tells a Varied Geologic Tale Upper Lane County - Florence to Yachats Virtual Tour Oregon Coast Beach Connection
Is Cannon Beach's Haystack Rock Biggest Anything? No: Oregon Coast Geology - ...
4 Jul 2023 at 7:00am
Is Cannon Beach's Haystack Rock Biggest Anything? No: Oregon Coast Geology Oregon Coast Beach Connection
Oregon Coast Geologist on Cape Kiwanda Sinkhole: Why, How and Its Future - Or...
27 Jan 2023 at 8:00am
Oregon Coast Geologist on Cape Kiwanda Sinkhole: Why, How and Its Future Oregon Coast Beach Connection
Manzanita Talk Covers Geology of N. Oregon Coast Rivers - Oregon Coast Beach ...
2 May 2015 at 7:00am
Manzanita Talk Covers Geology of N. Oregon Coast Rivers Oregon Coast Beach Connection
Once and Future Doomsday: the Creepy Super Volcano and Oregon Coast - Oregon ...
29 Aug 2018 at 7:00am
Once and Future Doomsday: the Creepy Super Volcano and Oregon Coast Oregon Coast Beach Connection
Search for Oregon Coast Subjects, Articles
OREGON COAST VIRTUAL TOUR
Explore Every Beach Spot in Hundreds of Oregon Coast Pictures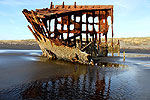 Astoria

Where the Columbia meets the Pacific, Land of Lewis & Clark and loads of atmosphere & history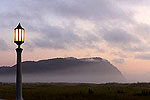 Seaside
The Promenade, Tillamook Head, family fun & broad, sandy beaches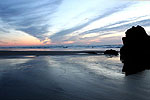 Cannon Beach
A mysterious lighthouse, upscale yet earthy, a huge monolith, fine eateries & an art mecca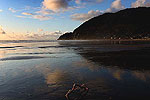 Nehalem Bay, Manzanita, Wheeler, Rockaway
Manzanita's beaches, Nehalem and Wheeler's quirky beauty; laid back Rockaway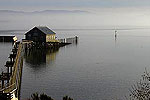 Tillamook Bay
Garibaldi, Barview, Bay City, Tillamook & an oceanfront ghost town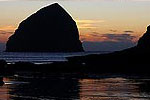 Three Capes Loop, Oceanside, Pacific City
The hidden secret of the coast: Cape Meares, a lighthouse, Oceanside, Netarts and Pacific City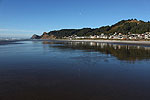 Lincoln City
& the Corridor of Mystery
Miles & miles of unbroken beaches, Cascade Head, Neskowin and manmade attractions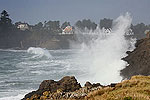 Depoe Bay
A spouting horn downtown, freaky hidden cliffs and whales, whales, whales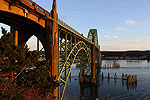 Newport
Time-tripping Nye Beach, a bustling bayfront, marine science-central and two lighthouses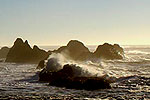 Waldport / Seal Rock
Pristine, even secretive sands and wild geologic landmarks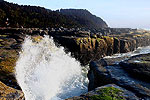 Yachats
Constantly dramatic wave action, a mix of the rugged & upscale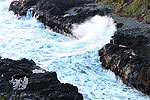 Upper Lane County
25 miles of deserted beaches & oodles of wonders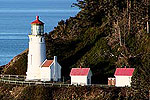 Florence
A lighthouse, ancient bayfront and miles and miles of fluffy dunes