Cannon Beach's Silver Point: N. Oregon Coast Cliff Speaks Volumes of Geologic History
Updated periodically
(Cannon Beach, Oregon) - If one cliff in the Cannon Beach area could talk, it would have incredible stories to tell. Indeed, its stories would go back millions of years.
Most visitors to the coast never see this oddballchunk of cliff, and yet possibly thousands visit each day to the overlooks just above it: a scenic highpoint for just about everyone passing by called Silver Point – the big famous pull over spot just south of Cannon Beach that are some of north Oregon coast's most popular.
Down below, it's an interesting hidden beach, and a popular place with many local surfers. The smallish sea stack here has a big sea cave carved out by the ocean, and a reef here does odd things to the waves, creating a spot where the breakers will move north to south (instead of coming in towards the beach), looking like some mysterious creature darting back and forth in the water.
The cliffs are a curious sight, with a multitude of layers that are varied shades of gray, and it very much looks like these are grooves carved into the rock by some gargantuan geologic force.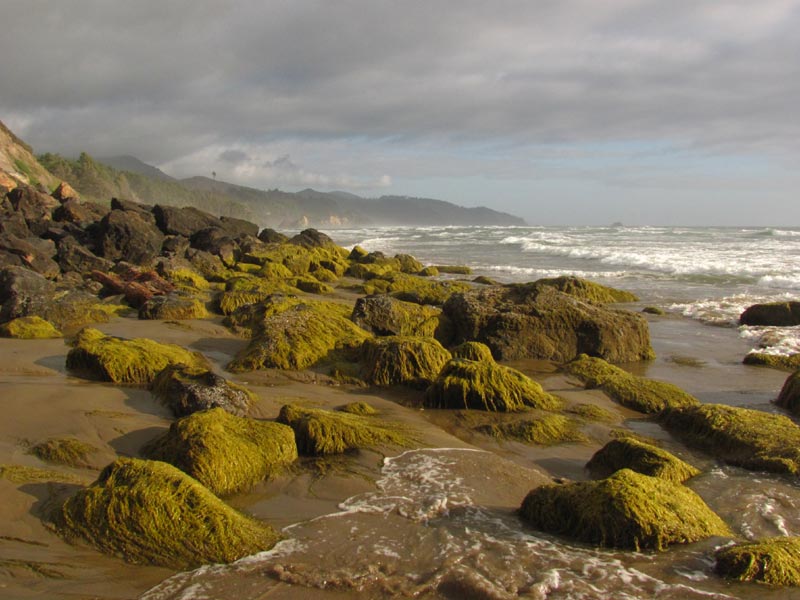 Below Silver Point is also typefied by a lot of debris from the cliff and boulders. The cliff is still eroding, sometimes with sizable rockslides.
The truth is a complex story that highlights some of the wildest factoids about the coast, from the fact this place used to be under the sea, to the startling volcanic action that seared through this area millions of years ago and created things we now know and love, like Cannon Beach's famous Haystack Rock.
First, know that the beach you're walking on, and the vantage point above that's so popular, used to be part of the bottom of the sea. The layers you see are then part of a series of heavy water flows that would shoot across this seabed.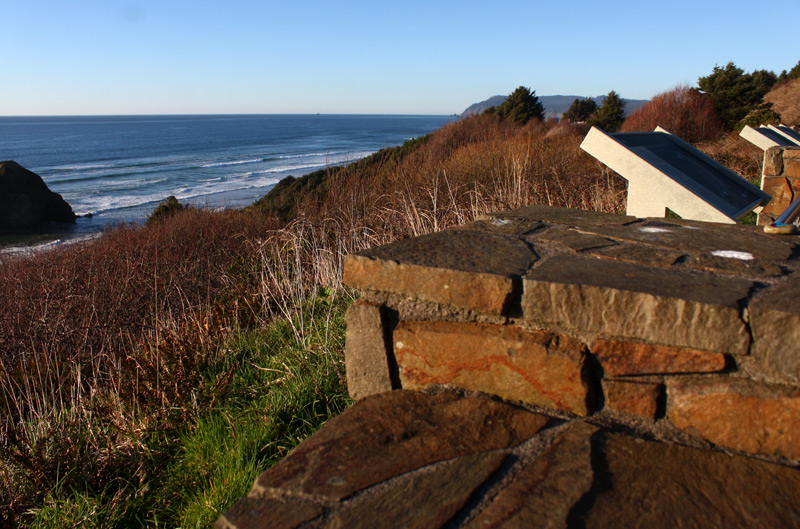 Most know Silver Point by this view
Tom Horning, a geologist from Seaside who regularly pokes around the north Oregon coast, said Silver Point is primarily mudstone, but with sediments of interbedded turbidte making up those layers.
"Turbidites form from surges of dirty water that pour down the submarine slope from a high spot, such as the edge of the continental shelf or the edge of a submarine fan-delta," Horning said. "They are thin slurries that form when the sediments mix with water as they flow down slope. Velocities can reach over 60 mph as they flow, and they can spread out across the abyssal plain for over 200 miles."
In other words, these layers and all those sediments formed a kind of concrete.
A lot of other stuff is mixed in these layers as well.
"The sands are light-colored," Horning said. "The silts and muds are darker in color, pigmented by abundant carbon from wood chips, reeds, leaves, etc. The turbidite channels tend to taper out laterally against the incised sea floor sediments, and they are usually overlain by dark laminated sediments. Between turbidites are rather dark, very fine-grained clay sediments that are draped over everything else, usually the product of winter storms and dirty river water."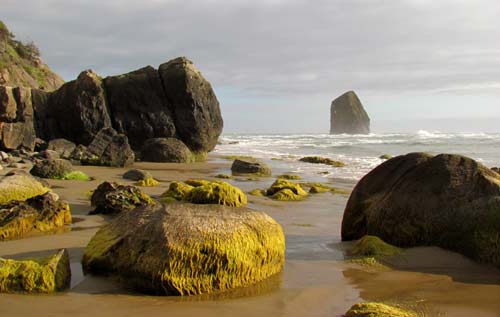 There was a point more than 60 million years ago, when the Oregon coast didn't really exist as we know it. The coastline itself was a good 75 miles away, closer to what is now the I-5 corridor and places like Silverton. The drifting of the continents brought the coastline to its present state. But even as recently as ten million years ago, this whole area rose and sank and rose again several times, oscillating between being the seabed and being at sea level.
There were plenty of times in pre-history much of the coast was even farther out west than it is now, but so much has eroded over the eons.
"Maybe 3,000 feet of sedimentary rock has been eroded away from the Silver Point area," Horning said. "The mountains would have extended perhaps five miles farther to the west, maybe more. With slow uplift and continued erosion, the rock washed away, reducing the elevation of the land to its present state. Notwithstanding the oscillations in sea level which exposed the ocean floor for 20 miles to the west and then reflooded it, the processes of uplift and erosion have been going on for at least 10 million years, probably faster earlier on and slower more recently."
There is sizable evidence that the Ice Age some 10,000 years ago lowered sea levels in this area considerably, so that the beaches may have been a few miles farther west than they are now.
Somewhere around 18 million years ago or so, a series of enormous lava flows plodded their way across prehistoric Oregon (some awesome evidence of this is solidified in the rocks of Silver Falls State Park). These lava flows eventually reached the sea, and helped create big landmarks like Tillamook Rock, Neahkahnie Mountain, Cape Meares and Yaquina Head around Newport. These massive lava flows inched along slowly, but sometimes as high as 30 feet in some spots, destroying forests and anything else in their path.
Perhaps one of their most curious actions was something called "re-eruptions," which formed the famed Haystack Rock, as well as Twin Rocks in Rockaway Beach. These lava flows were so powerful they would push their way down and down through soft sediment even under the ocean – in the seabed. They would then re-erupt on the ocean floor, creating those sea stacks we know.
Horning said these layers at Silver Point could contain a lot of harder stuff in spots, called "lenses."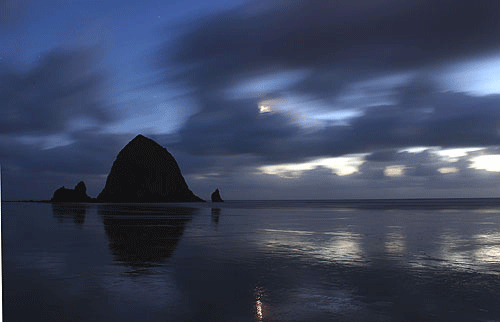 Haystack Rock was formed by "re-eruptions"
"When lavas intruded into these sediments, they sometimes encountered gravel lenses and could not push through them, so they flowed around them," Horning said. "The lavas are part of the Columbia River flood basalt flows, about 15.5 million years old. They flowed into the ocean, following the submarine channel of the Columbia River, and invaded the soft sediments to spread out underground, where they bumped into hard things, like these lenses, ultimately occasionally erupting onto the ocean floor as secondary submarine volcanoes, like Haystack Rock."
Meanwhile, these curious layers seen at Silver Point are being formed again on the sea floor off the Oregon coast right now, maybe creating another curiosity for some beach tourist millions of years from now.
"What you see at Silver Point is what is being deposited presently about 35 miles to the west," Horning said. "Perhaps it too will be uplifted and eroded in the next 10 million years."
Hotels in Cannon Beach - Where to eat - Cannon Beach Maps and Virtual Tours

More About Oregon Coast hotels, lodging.....
More About Oregon Coast Restaurants, Dining.....

LATEST Related Oregon Coast Articles
Back to Oregon Coast
Contact Advertise on BeachConnection.net
All Content, unless otherwise attributed, copyright BeachConnection.net Unauthorized use or publication is not permitted