Oregon Coast Residents Recall Intensity of Tsunami Evacuations
Published 03/15/2011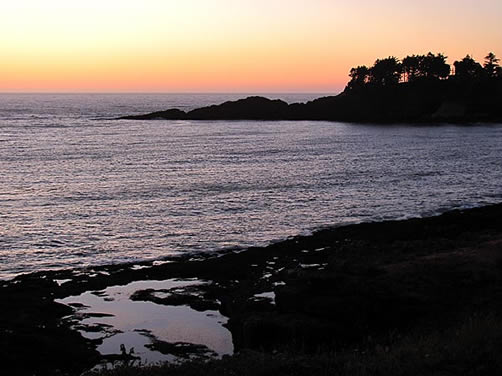 (Oregon Coast) - Friday morning's tsunami evacuations yielded thousands of tales of potential refugees along the coastline - all a mix of chaos and orderly function; and of most things working and some things not.
In Florence, the alarms went off around 3 a.m. In Seaside and Cannon Beach, it was closer to 5 a.m., but evacuations by bullhorn began closer to 1 a.m. In Lincoln City and most parts of Tillamook County, sirens fired off around 5 a.m. (Above: Depoe Bay).
Some places never had the sirens go off.
Traffic on the coast range highways became a little problematic, reverse 9-1-1 calls fired off left and right, social media mentions about the Oregon coast went bonkers throughout the night – and the web traffic was so heavy with those keeping track of announcements from officials that Oregon Coast Beach Connection's site crashed numerous times.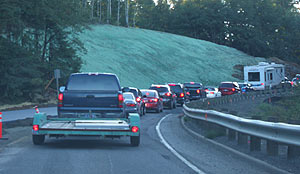 Highway 26
In general, however, civil authorities were pleased with the smoothness of the reaction and the lack of panic, in spite of brief moments of near chaos on the roads and the occasional individual doing extremely unwise things and getting trapped by strong surges.
The tsunami luckily resulted in not much more than a few slightly larger-than-normal wave surges, although these did some damage to Depoe Bay. The extreme south coast had it worse, with millions of dollars in damage to ports in Port Orford, Gold Beach and Brookings.
In Garibalid, the siren system worked periodically. In tiny Oceanside, the horn wasn't even hooked up yet and authorities relied on bullhorns and knocking on doors.
The stories of evacuations range from rather intense to non-eventful.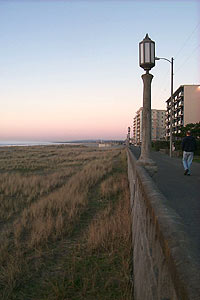 Seaside
Evacuations went smoothly in Pacific City, said Tara Thayer, of Open Nest Vacation Rentals. "We were incredibly prepared," she said.
Between 2:30 a.m. and 3 a.m., Warren House employee Shawn Lamunyon called Oregon Coast Beach Connection's Portland office and said the roads were busy with people trying to head out. But in Seaside, where at least one extra gas station opened up to keep up with the demand, there were near-traffic jam conditions with people in line to get gas. Later TV reports showed lines 20 cars deep at times, as this was the only gas available for residents of other nearby towns like Cannon Beach and Manzanita.
By this time, Lamunyon had packed up some belongings and his massive dog Wookie and was hightailing it for the hills. To where?, he was asked.
"I don't know yet," Lamunyon said.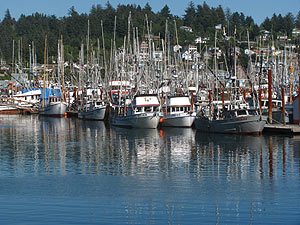 Newport's Yaquina Bay
Around this time, emergency vehicles were going around with bullhorns asking Cannon Beach residents to leave.
Manzanita's Brian Hines was on vacation a good 100 miles away from the coast, at the Mount Angel Abbey in Mt. Angel, east of Salem.
He was surprised when a pair of musicians staying there went into a bit of a panic over the tsunami alerts, and they were convinced they would have to leave Mt. Angel. He was even more surprised to find tsunami escape route signs on the highways in that area.
"I think there was more panic there than in Manzanita," Hines said.
Hines was awakened by a friend watching TV in the middle of the night in Portland, who told him about the sudden change to a tsunami warning. Hines called his wife and alerted her to the possibilities.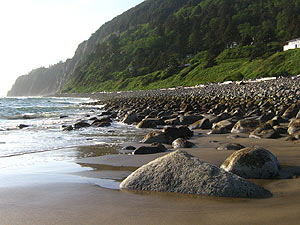 Manzanita
Sirens went off in Manzanita several times after 5 a.m.
Traffic on the routes inland became iffy at times because of some icy conditions on the higher elevations of Highway 26, Highway 6, Highway 18 and Highway 126. Later on Friday morning, as Hines was returning to the north Oregon coast, he noticed the Red Cross had set up a meals facility at one of the rest stops.
Melissa Stetzel, at Nehalem Bay Winery, was becoming increasingly worried and sent to a text toOregon Coast Beach Connection around 2 a.m., saying "Trying to decide what to do."
Winery owner Ray Shackelford was keeping his employees apprised in the middle of the night, including calling Angi Wildt down in Depoe Bay, who works at their sister winery there.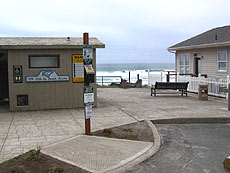 High points above Lincoln City beaches
In Lincoln City, around 3 a.m., Zona Nelson of Lincoln City Vacation Homes hadn't heard sirens go off yet, but she was planning to move out at that time.
Nearby, Michele Franck, owner of Oregon Beach House Rentals, had numerous guests at low lying beach areas, like the D River area.
"I was trying to contact guests at sea level about 2 a.m. with no luck so I sat up, napped, watched news, walked around outside," she said. "Don't know what I was looking for but kept an eye to the west."
Around 3 a.m., Lincoln County Emergency Management personnel told Oregon Coast Beach Connection they were readying the sirens and telling people to get at least 50 feet above sea level.
Higher ground spots like the Lincoln Beach area (just north of Depoe Bay) and Lincoln City's Road's End wayside were filled with people all night. The grocery store at Lincoln Beach opened up in the middle of the night to accommodate evacuees.
Around 3 a.m., Franck said she had awakened a few guests and told them about what was expected, and that the evacuation was still voluntary. Some did choose to leave and head back to their hometowns.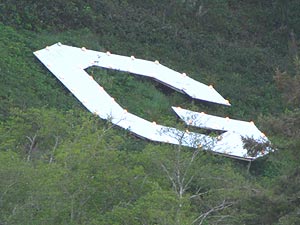 Garibaldi
In Cannon Beach, Kristine Gottsch of The Ocean Lodge said they had handed out blankets and other goodies to evacuees of that oceanfront hotel.
Many higher spots along the coast were in voluntary evacuations. Portlander Jordan Oakes was at a rental home with a group of friends in Lincoln City and they elected to stay, since they were high up on a cliff in the Road's End area.
In Depoe Bay, there was considerably more drama – albeit rather unexpected, since the town is close to 50 feet above sea level. Still, bullhorns and evacuations began around 4 a.m.
At one point in the early daylight hours, storm-like surges did hit the coast. One unruly surge was funneled tightly through the small channel of Depoe Bay and wreaked some amount of havoc, breaking several docks apart.
Peg Leoni, owner Troller's Lodge in Depoe Bay, witnessed some of this unusual tide action, but not the worst.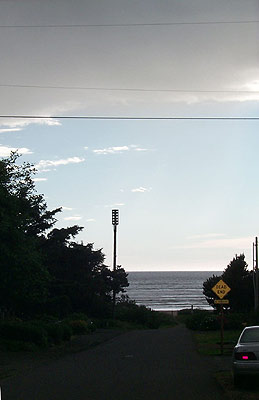 Tsunami siren in Cannon Beach
"The water level change was noticeable in the harbor and in the entrance to the harbor," Leoni said. "The harbor looked like an exceptionally low tide, but I did stop next to the bridge around 9 a.m. and saw the water flowing out of the harbor and into the ocean like a fast moving river. That was really weird. I hear there was more activity but did not get to see it."
On the not-so-bright side, one man was photographed by the Newport News-Times in Newport standing on a rock structure in Nye Beach, talking on his cell phone and hoping to photograph anything coming his way. It was a case of "be careful what you wish for," as one of those surge-like tsunami waves came in abruptly and washed over him, nearly knocking him down.
The important thing authorities came away with from the entire mix of chaos and order was the relative smoothness and efficiency of the evacuations – while the general population of Oregon itself breathed a major sigh of relief, with social media over and over repeating "we dodged the bullet this time."
More About Oregon Coast hotels, lodging.....
More About Oregon Coast Restaurants, Dining.....
LATEST OREGON COAST NEWS STORIES