A Different Side of Common Oregon Coast Landmarks
Published 10/04/2010
By Oregon Coast Beach Connection staff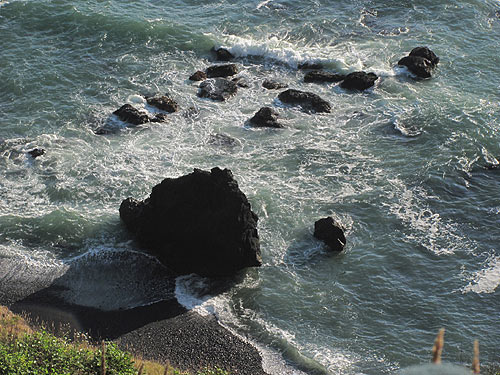 (Oregon Coast) - Many times, the coast is filled with instances of secrets hiding in plain sight. Sometimes it's wild and hidden beaches. Sometimes it's familiar places that take on a whole new look if you move around. Other times, it's just a matter of using a zoom lens, or walking somewhere new.
The places you know well still hold odd surprises: whether you're a first time visitor or a jaded regular. You just have to know how to look for them.
Forbidden Beach Near Depoe Bay (above)
Near Depoe Bay and just north of Newport, there's the Otter Crest Road, a one-lane hidden street that runs just below Highway 101. As it skirts along the edge of sweeping cliffs and round tight corners, inspiring views spring in front of your car.
You can only head south here, eventually meeting up with Cape Foulweather. Along the way, you encounter a host of other secret cliffs below you, some of which have even more secretive entrances. But one mysterious beach comes into view, just a tad north of Foulweather, a forbidden beach which no one can ever walk.
There is no way to access it, except by boat, and even then conditions would likely almost never be conducive to that. So this small patch of rough, rather large stones remains untouched – probably forever. In fact, you can't even see it unless you trudge precariously close to the cliff's edge. So it's forbidden even to the eyes of most humans as well.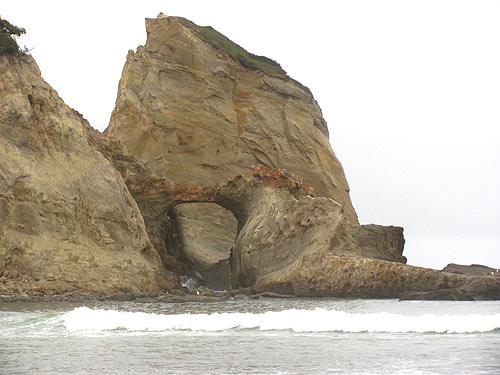 Another Face of Cape Kiwanda
Everyone knows Cape Kiwanda and its wind-sculpted cliffs, which become a startling gold color when the sun hits it just right. But everyone knows it from its southern face, and how it looks from the northern side is a bit of a mystery.
If you trudge the top of the structure and head to its northern end, you see a variety of structures and shapes. From the beach perspective, this end shows off the complex design, carved out by interesting erosion, waves slamming against the sandstone for millennia and wind tearing at it.
There's a small canyon of sorts, where the sea sprays upward as it slams into one rockface or another – and an arch overhead seems to provide a rather grandiose entrance to the area. You can see vegetation atop the forward chunk of cliff, similar to the vegetation atop the rest of the cliff behind it. So it appears as if somewhere in the last millennia or two a whole section was eroded away, leaving two different cliffs, divided by this canyon and a kind of channel of raging ocean.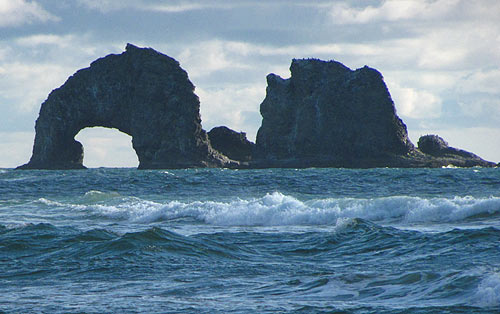 Rockaway's Twin Rocks In Your Face
While Rockaway Beach – the town – began around 1909, the big landmark we all know as Twin Rocks started out about 15 million years ago, with lava flows so enormous they seared their way hundreds of miles until they reached the Pacific Ocean, which was then some distance east of where it is now.
Here is Twin Rocks up close, in a way you don't normally get to see the structure. It's really two sea stacks, one with an arch, and many of their nooks and crannies become clearer upon closer inspection. Indeed, if you were millions of years old, you'd need lots of botox as well.
The stranger truth about the geology of the formation, however, is that it was likely (according to Seaside geologist Tom Horning) the same oddball lava action that created Cannon Beach's famed Haystack Rock to the north: the product of a mini-eruption, or re-eruption of a lava flow. The lava flow coming from the east was so massive that parts of it plunged into softer sediment, burned its way downwards, and then back up and out of the earth again in a kind of re-eruption.
So like Cannon Beach's photogenic formation, the Rockaway Beach one is likely the same kind of basalt rock from one of those gargantuan volcanic catastrophes.
Later, it's quite likely erosion took its toll on whatever shape the basalt originally was, and it was whittled into a giant sea stack with an arch in the middle. Eventually, that arch fell, leaving two rocks. Further on, erosion ate a hole in the southern rock of the formation. Eventually, it too will crumble and form a third rock.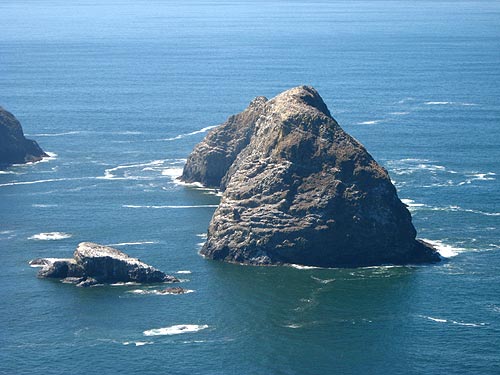 Looking Down on Oceanside's Towering Rocks
Three massive sea stacks easily mark the location of Oceanside, the tiny town that doesn't even have a gas station or a store. They are currently part of a national bird refuge, so designated early in the last century by President Theodore Roosevelt, but at one time the famed Three Arch Rocks was part of a fiery inferno that created the basalt cliffs you see of Maxwell Point and Cape Meares. It's likely they were a part of numerous eruptions that formed these cliffs.
Whatever their history back in prehistoric times, when the Earth was a bubbling cauldron of nasty lava action, Three Arch Rocks are now simply lovely landmarks – and instantaneously recognizable ones, too. No matter where you are, they are imposing structures. No matter how far away, they clearly are towering and looming.
But head to one secret spot above Oceanside and the whole view changes. Their shapes change. They seem almost insignificant in stature.
Sometimes the Oregon coast is just a matter of perspective.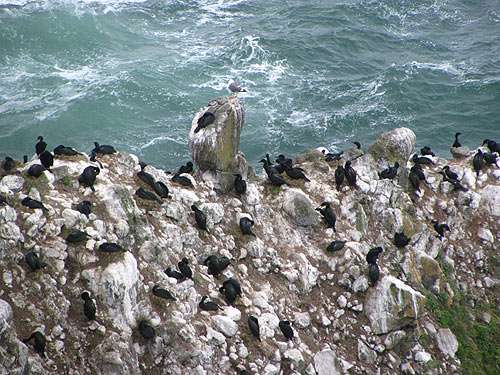 Nesting Spot Beneath Florence-Area Cliffs
Those famously dramatic cliffs just north of Florence and just south of Sea Lion Caves spell danger and awe at the same time, and the area is filled with sights that are especially photogenic. Nearby is the Heceta Head Lighthouse, one of the most photographed lighthouses in the entire world. Just below the cliffs, along the black stone-bordered viewpoints that dot these winding curves, massive waves crash with consistent intensity and might, even in calmer conditions.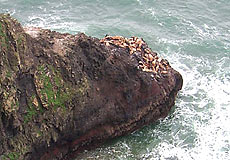 A wider view of these cliffs.
Also just below, along oddly sloped outcroppings that jut from these cliffs, there are more precarious ledges near the crazed surf, where another world apart from Mankind exists. All kinds of wildlife loiters there, some 500 feet below, far from the intervention of annoying humans, allowed to sit and sun themselves in peace – next to an always raging sea.
On some ledges carouse bundles of sea lions – different kinds, depending on the time of year. On others, there are huge flocks of birds, often several species. This is all well out of reach from the viewpoints and from humans, so seeing them this close takes much use of the zoom feature on your camera.
Periodically, hungry pods of Orcas wander through here, circling for a bite to eat in one of the sea lions. This group of sea lions is not used to the Killer Whales, so they often don't appear scared of them when they show up.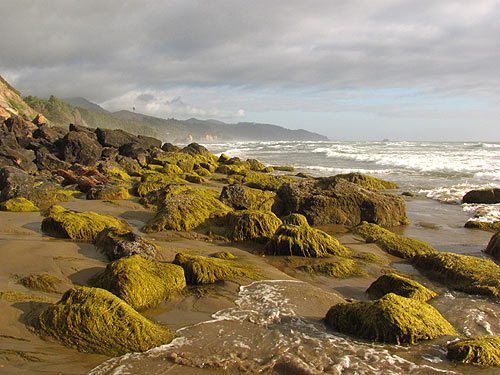 Mystery Beach of Goo Beneath Cannon Beach
You know this area by a viewpoint some 200 feet above the world, one of the well known pullover spots just south of Cannon Beach. But if you take the time to walk from one of the secret entrances at the very southern end of town, it's not even a half mile before you encounter a strange little beach covered with boulders that are in turn covered in green sea goo.
Silver Point is the name of the viewpoint above, where a grand, well manicured stone wall and interpretive signs allow you to take in the sights. From here, a large sea stack and some smaller ones protrude from the ocean, and next to it a peculiar wave action is common place, the result of a small reef that causes the waves to splash in a south to north direction, looking a bit like a creature wandering back and forth.
Down on the beach, however, these slime-covered boulders look like mythical, whimsical creatures all their own: like super slow moving goblins in the sand – or an army of Cousin It's (from the Adams Family show) – plodding their way to the sea. Oregon Coast Hotels for this - Where to eat - Maps - Virtual Tours
More About Oregon Coast hotels, lodging.....
More About Oregon Coast Restaurants, Dining.....