Oregon Coast Science Experts: What is Sea Foam?
Published 10/06/2013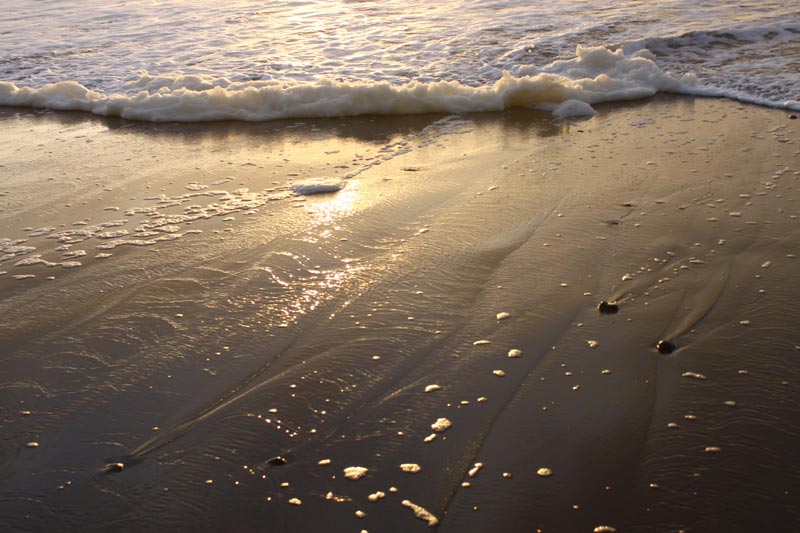 (Oregon Coast) – It's been the talk of the town lately – or talk of the towns - along the Oregon coast. Huge amounts of sea foam have made quite the splash around the region, especially during and just after the recent storms. (Above: foamy Lincoln City).
But just what is sea foam?
What it isn't is a form of pollution – it's exactly the opposite, in fact. It does create a kind of shocked reaction in people that haven't seen sea foam before, and this in turn causes them to ask locals about something the locals don't understand is even being questioned in the first place. Oregonians are very used to it.
Dr. Bill Hanshumaker, with the Hatfield Marine Science Center in Newport, said that essentially foam in the ocean is created by tiny little phytoplankton that have died and how their skeletons change the surface tension of the water. The more phytoplankton, the more dead ones you have. The more skeletons of phytoplankton you have out there, the more surface tension and the more bubbles you have in the form of sea foam.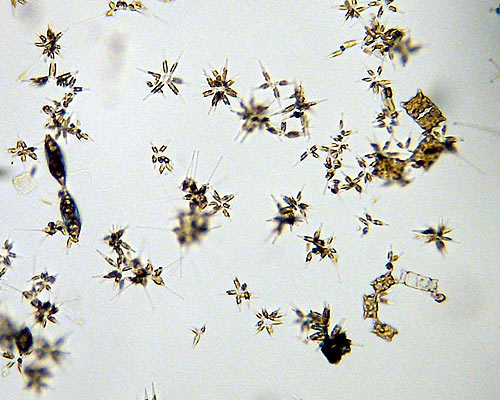 Phytoplankton are tiny one-celled organisms that are essentially the bottom of the food chain, kind of like microscopic plants. Whales eat gobs of them, and they also in turn create all that sea foam the Oregon coast is known for. (Above: photo of diatoms under a microscope courtesy Seaside Aquarium).
It's a lot like soap bubbles, Hanshumaker explains. In fact, just like it – except the materials are different, and almost as clean.
"It's very much the way that soap bubbles are created by changing surface tension and allowing air to be trapped between layers of fluid," Hanshumaker said.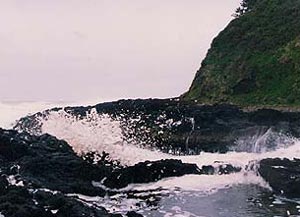 The critical ingredient in foam – on an even tinier level - is the cytoplasm of phytoplankton, a kind of fatty material that holds them together.This is inside the phytoplankton cell. These cytoplasm bits wind up gluing the skeletons together, forming layers that trap the air inside the fluid known as the ocean, and thus creating the bubbles. (Photo: Really thick foam near Yachats - so heavy it started to float upwards, looking like snow going the wrong direction.)
This is the cause of all the foam you see on the Oregon coast – and other beaches around the world – whether it's a lot of foam or just a little bit. Almost all the time, except for unusually calm days, you'll see sea foam.
In stormy weather, however, that's when it can get really spectacular, showing up in huge masses of sudsy stuff that can look like snow.
The more wind, however, the more foam you're apt to see. But a few other elements can send these big phytoplankton events into overdrive, like a phytoplankton bloom – which is sort of a mass birth of the little critters.
"First you have upwelling, which is cold water causing a lot of nutrients coming up," Hanshumaker said. "When there's a lot nutrients in the water, you have a phytoplankton bloom, diatoms, dinoflagellates – a huge population. Then you have the wind and storms which breaks apart cells, the cell fat tends to glue the skeletons together and trap the air, causing them to pile up in suds-like masses."
Upwellings in the ocean can change their habits from year to year, causing foam to be a bit different each year. Last year, for instance, winds shifted back and forth from southwest to northwest. This causes foam clumps and spectacular foam events to be rather episodic – meaning on and off. If you have winds more continually from the northwest, this keeps the upwellings around and thus the sea foam sightings as well, Hanshumaker said.
Diatoms tend to be more prevalent in this part of the Pacific Ocean than dinoflagellates. Dinoflagellates are actually the form of phytoplankton that cause glowing sand to happen on the beaches at night (more about glowing sand here). So if you see a lot of sea foam happening, and there hasn't been any rain in the last 24 hours to kill off the dinoflagellates, you're chances of seeing glowing sand is increased some.

Diatoms tend to really let you know when there's a lot of them. All of a sudden, especially in winter and spring, you start to see brown foam in the surf, often on the beaches too. This is caused by huge amounts of diatoms.
This tends to happen up around Seaside, Gearhart and Warrenton in such a heavy-handed way it alarms tourists. Because of the Columbia River, nutrient levels can be so good for diatoms they appear in such large, dark clumps of brown foam that it looks like oil on the beaches, or some brown sludge even. The waves in Seaside can be quite brown at times.
But it's a good thing. In fact, it's the sign of a healthy ocean. The Seaside Aquarium and local tourism officials are forced to field lots of questions about it from tourists and post many signs on the subject as it really freaks people out.
In fact, on many occasions on beaches you'll see dark, brown streaks or spots, or even black spots. That usually is not oil – except maybe on some of the few beaches where driving is allowed, like Pacific City, Gearhart or Warrenton.
Another interesting factoid about these forms of sea foam: what they look like under a microscope.
"Dinoflagellates look like a soap bubble with a tail, or a hook," Hanshumaker said. "Diatoms have a more symmetrical structure."
Below, more Oregon coast and photos of sea foam. Oregon Coast Lodgings in this area - Where to eat - Maps - Virtual Tours
Brown waves at Seaside.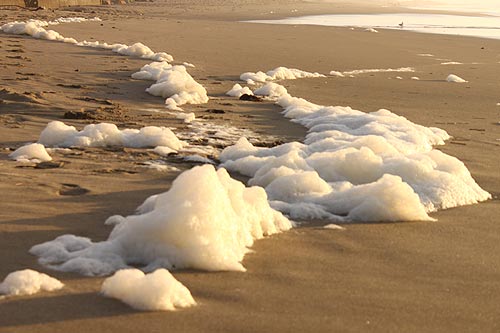 More About Oregon Coast hotels, lodging.....
More About Oregon Coast Restaurants, Dining.....
LATEST Related Oregon Coast Articles
Back to Oregon Coast
Contact Advertise on BeachConnection.net
All Content, unless otherwise attributed, copyright BeachConnection.net Unauthorized use or publication is not permitted