Mysterious Step Formations of Central Oregon Coast
Published 09/25/2011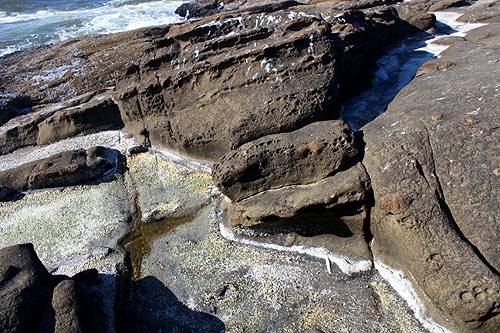 (Yachats, Oregon) – There are times when nature seems to imitate Man – if it could've done so millions of years before the appearance of the species. There are even moments when humans have created their own remarkable structures and blended them with nature in interesting ways.
Along the central Oregon coast – mostly between Yachats and Florence – stairways, of all things, can become one of the more fascinating details to gaze and gawk at. Yachats city limits has a handful that are engaging in their own ways, but Mother Nature has inadvertently created some stairway-like structures that boggle the mind.
Starting at the very northern edge of town, where the rocky landscape begins to change to a sandy one, and where the 804 Trail starts, the bulbous basalt blobs that meander around here create mini-coves and odd shapes to climb on. Among them: you'll find this eccentricity that looks like a staircase gone wrong, embedded in the rocks (above).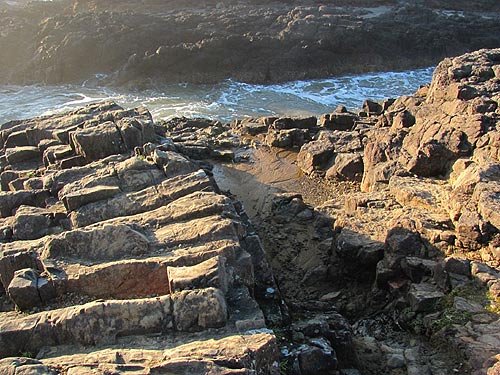 Several miles south of town, at Strawberry Hill Wayside, there's a small cove that's populated by a labyrinth of rocky shapes and craggy dollops of basalt, along with plenty of tide pools and wild wave action. It's quite the variety show of Oregon coast environments. But look a bit closer at some of the basalt structures and you'll see things like this: what looks like a larger staircase, again at a screwed up angle.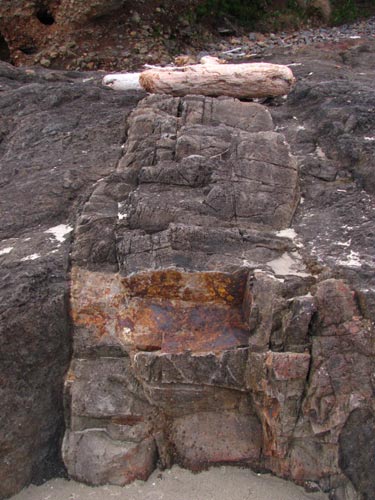 At Neptune State Park, at an unnamed beach access right at the Lane County / Lincoln County border, this kooky little construction lurks (at right).
What are these?
They are what geologists called "cordwood joints," because they look a bit like stacked cordwood. They come from the huge lava flows that created this area millions of years ago, specifically about 45 million years ago or so. The Yachats area is really the remnant of numerous volcanoes and their lava flows. These flows happened numerous times over this period, meaning one lava flow covered over another pre-existing one that had already hardened into basalt, maybe millions of years before that one.
Sometimes, there were sizable cracks in this basalt and lava squeezed its way into there, literally injecting itself. But when it did so, it would push at and break the confines of this area. Once the lava cools, it shrinks, leaving odd formations like these inside.
"Those are columnar joints in dikes," said Tom Horning, a geologist who studies the Seaside and Cannon Beach areas frequently. "Dikes are cooled lavas that formed where lavas injected up joints or faults in pre-existing rock. As the lava cooled, it shrank and developed cracks and cooling joints that started at the edge of the dike and propagated inward to the heart of the dike. Some geologists call these 'cordwood' joints, because they look like someone stacked firewood on the hillside. They are common wherever lavas were being erupted. They can form within erupted material of the volcano or in rock that pre-existed the eruption entirely."
Eventually, for whatever reason, these get exposed by erosion. They are then flattened and beveled by the sea many times.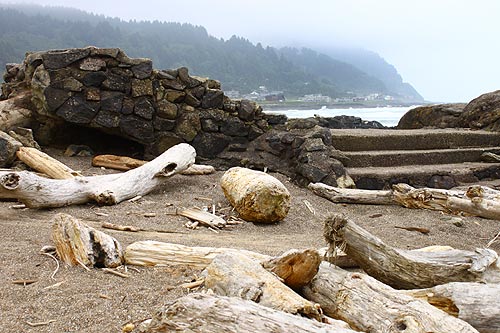 But then there are the curious steps made by Man that inhabit much of Yacahts. Those other structures have their explanations in science and geology, but the manmade stairways simply look mysterious, especially given the context of their placement and their look, after years after being battered by the sea.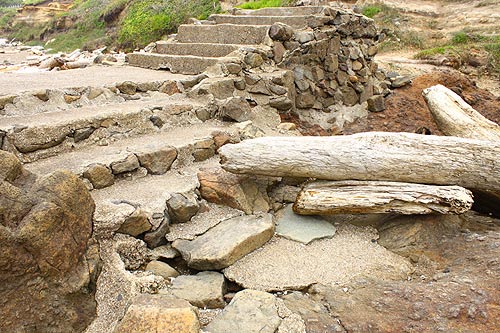 This one now looks like some remnant from an ancient civilization. But it is in fact the main staircase down to the main access at Yachats – at least it was through the 90's and some of the early 2000's. The sea took its toll on this one eventually. A new one has been built a ways back, and possibly a little more resistant to weather and ocean.
There is also another sea-battered staircase just inside the bay here, which at times looked a little like something out of a Tolkien novel – at least before it was chipped away by the tides.
Below: the area around Cook's Chasm is filled with such structures.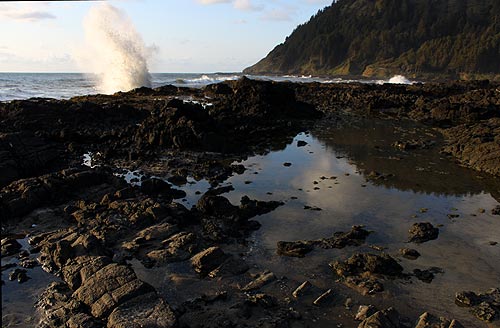 More About Yachats Lodging.....
More About Waldport, Yachats Restaurants, Dining.....
LATEST OREGON COAST NEWS STORIES
Oregon Coast Whale License Plate Appears to be a Go
The initiative reached its goal of selling 3,000 vouchers for the plate. Sciences
Meteor Showers Look Good for Oregon Coast, Portland, Valley
The meteor showers peak on April 22 but they're still around until April 25. Sciences
Oregon Coast Safety: Helpful Tricks to Spotting Sneaker Waves
Strangely, there is a little trick to spotting them. Weather
Oregon Coast Scenery That Makes a Scene: Manzanita's Overlooks; Video
They're called the Neahkahnie Overlooks and it's a non-stop supply of oceanic eye candy. Travel tips
N. Oregon Coast Concerts Include America's Got Talent Singer
Cannon Beach History Center and Museum pull together two gigs of an interesting nature
Famous Oregon Native Returns to Coast for Comedy Festival
First annual Undertow Comedy Festival, held in Lincoln City from April 26 to 28. Lincoln City events
Curious Near Cannon Beach: What Causes This Odd Wave Action on N. Oregon Coast?
Just south of Cannon Beach, at Silver Point, there may be a sea monster. Science, geology, Manzanita, Silver Point
N. Oregon Coast History Events Bring Startling Facts to Light and Life
Two particularly engaging history talks are coming up on the north Oregon coast which are guaranteed to be riveting. Cannon Beach events, Seaside, Manzanita events

Back to Oregon Coast
Contact Advertise on BeachConnection.net