Newport, Oregon Dining Guide: A Look at Newport Restaurants
Updated 06/07/2013
(Newport, Oregon) – Along Oregon's coast, Newport sports something different in the way of eateries. There are more restaurants with outdoor eating areas than anywhere along these shores. And there's a unique mix of places to eat along the bay, with a beachfront view or in especially handsome interiors.
Plus, some major coastal staples got their start here and remain as culinary examples of living history. While other new, cutting edge restaurants around the Newport area blaze stellar paths via your palate. Also: Oregon Coast Seafood Restaurant Guide -
Looking for? Newport, Oregon seafood restaurants, family dining, steaks, upscale, ocean view dining, burgers in Newport, espresso, steaks, pasta, tacos in Newport.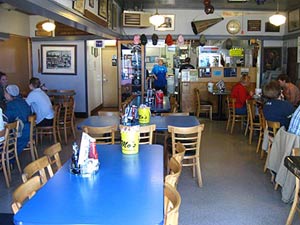 Mo's Newport. The iconic original, with an open wall to the bayfront. Appetizers are large and serve a family, ($5 - $26), including a wide variety of deep friend seafoods, onion rings, zucchini, chicken strips, or cheese breads. Entrees ($10 - $14) come with the signature Mo's clam chowder, salad and choice of rice pilaf, garlic mashed potatoes, garlic green beans or fries, which accompany large dishes of halibut, local oysters, calamari, prawns, cod, clam strips or massive combo plates. There's a filling cioppino, fish tacos and of course fish 'n' chips. Seafood sandwiches ($7 - $13) include shrimp, halibut, a tuna melt, shrimp melt or cod. A luscious pasta alfredo offers cod, shrimp, salmon or chicken. Their famous clam chowder comes in various styles: New England, slumgullion, oyster stew and even chili. Burgers, chicken, hot dogs and more for the landlubbers as well. 622 SW Bay Blvd. Newport, Oregon. 541-265-2979. www.moschowder.com. (family, seafood, steaks, lunch, dinner)
Café Stephanie. This tiny wonder in the Nye Beach district specializes in gourmet, rather legendary, lunches, with hot sandwiches around $7 for a full one and $3.95 for half. There is the French Dip, the BBQ ham, Reuben, Club and a roasted veggie with gobs of greens inside. The Grilled Salmon comes with roma tomatoes, a pesto mayonnaise and pickled red onions. The Tuna Melt arrives with bacon in the mix.
Cold sandwiches ($3.95 & $5.95) include delicacies in the ham, salami, roast beef and veggie categories, often with a variety of lovely additions such as Dijon mustard, herbed cream cheese and premium vegetables. They have an intriguing fish taco recipe, and a turkey wrap that comes with a curried cucumber/mango slaw.
There's a kids' menu including hot dogs, PB&J or a cheese sandwich. Meanwhile, breakfast specials change daily, and they also have espresso and salads. 411 Coast St. Newport, Oregon. (541) 265-8082. (Newport restaurant dining, family, seafood, breakfast, lunch)
Dining, Restaurants Near Newport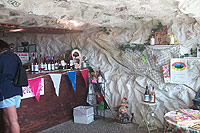 Depoe Bay Winery. Inside the "cave de vin" as they termed it, there's more quirky fun from the folks who bring you the Nehalem Bay Winery. Like their north coast sister winery, enjoy a large variety of reds and whites, as well as dessert wines. Guests can enjoy year round tasting, every day. The fun never stops at this varietal merry-go-round. Write your name on the cave walls as well. Highway 101, downtown Depoe Bay, Oregon. (541) 765-3311. www.depoebaywinery.com (15 minutes from Newport)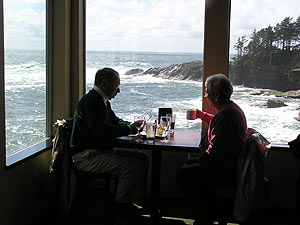 Tidal Raves. Upscale yet casual dining, with massive windows to wowing views. Specializes in seafood and more. Large menu caters to different tastes and budgets. Dinner entrees include seared sea scallops, salmon or rib eye char grilled, crab casserole, Thai-spiced barbecued shrimp or a fancy pasta with various seafood (around $20). Breaded halibut or pacific cod, char grilled top sirloin, panko breaded razor clams. Lunch menu features some of the same but smaller and less cost. Fanciful homemade desserts. 279 NW Hwy 101. Depoe Bay, Oregon. 541-765-2995. www.tidalraves.com (family, upscale, seafood, steaks, lunch, dinner)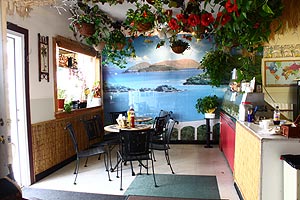 Baywalk Café. Along the bustling bay front and bridge of Depoe Bay, it's a cozy charmer of homemade deliciousness. No dish is over $8. Legendary clam chowder made from scratch daily - and gluten-free. Settle down to a variety of fish n chips to a view of the ocean, including clam strips and shrimp choices (around $7). Chicken nuggets, chicken strips and a fried chicken sandwich also around $7. Burgers include cheeseburger or a massive chili and cheese burger or veggie burger - a la carte $4.50 or around $7 with fries. Six-inch hoagie roll sandwiches come with chips, choice of cheeses: ham, pulled pork, turkey, tuna, roast beef or grilled cheese around $6. Garlic fries, cheese fries, chili cheese fries and beer batter onion rings under $3. Small pizzas, taquitos, nachos, egg rolls, even hot dogs - all under $5. Plenty of coffee and espresso selections. 16 flavors of Tillamook ice cream ($1.75 - $5.50). Milkshakes too. Wi-fi. 16 S Highway 101, Depoe Bay, Oregon. (541) 765-7674.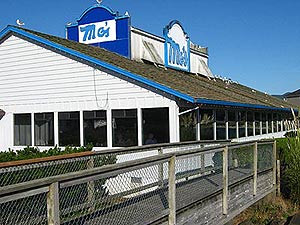 Mo's Lincoln City. On Lincoln City's Siletz Bay, where seals and other marine life play. Appetizers like oyster shooters or in the half shell, skewers, seafood cocktails, fries ($3 - $10). Salads. Sandwiches (around $7): tuna melt, cod, sole, deep fried shrimp, clam fritter, or various hamburgers. Mo's famous clam chowder in various sizes; plus chili and a scrumptious slumgullion (chowder w/ shrimp). BBQ ribs, chicken strips, grilled chicken and country fried steak. Large seafood dinners. 860 SW 51st Street. Lincoln City, Oregon (30 mins north of Newport). 541-996-2535. www.moschowder.com.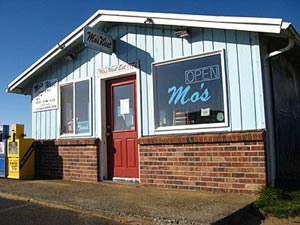 Mo's West. Astounding views of dramatic vistas, Otter Rock and the Devil's Punchbowl. Appetizers, like baked oysters or shrimp cocktail. Major dinners w/ signature Mo's Chowder, and include grilled scalloped oysters in butter and cream, grilled oysters, a monster cioppino or shrimp casserole ($9 - $15). Seafood sandwiches (about $7) feature grilled oyster, shrimp, clam fritter or tuna. Sizable menu of non-ocean goodies like grilled chicken sandwich, chilli dog, hamburgers or quesadilla and vegetarian specialties ($5 - $9). Enormous stews. Open seasonally. 122 1st Street. Otter Rock (10 mins north of Newport, Oregon). 541-765-2442. www.moschowder.com.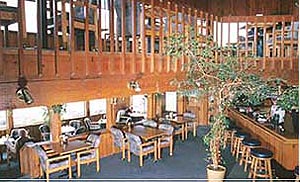 Adobe Restaurant and Lounge. Views of the area's dramatic ocean available from every seat. Breakfast: French toast selections $8.50. Waffles, biscuits and gravy. Numerous egg dishes, seafood. Lunch: salads, fish n' chips, club steak, crab cakes, pastas and burgers. For dinner, appetizers around $8. Seafood entrees $17 - $24: fettuccine with bay shrimp, shrimp in corn tortilla, large crab pot in cheeses, massive captain's platter. Vegetarian specialties; chicken and beef. Early bird specials from 5 to 6 p.m. 1555 Hwy 101. Yachats (30 mins from Newport). 800-522-3623. (541) 547-3141. www.adoberesort.com/dining.htm (upscale, seafood, steaks, lunch, dinner, breakfast)
Also: Oregon Coast Seafood Restaurant Guide -
CONTACT / ADVERTISE ON BEACH CONNECTION
Special Announcements, Alerts