N. Oregon Coast's Rockaway Beach Has a Geologic, Land-Altering Surprise
Published 03/27/2015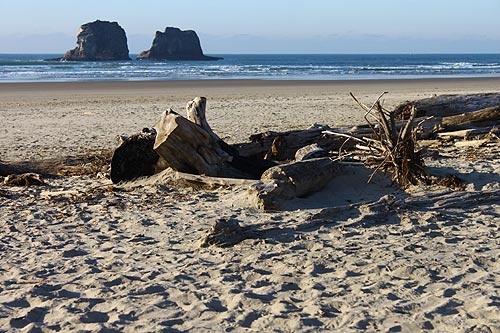 (Rockaway Beach, Oregon) – There are some truly amazing secrets about the Oregon coast simply hiding in plain sight. People look at it all them all the time, in many cases, but never see the unusual detail right in front of them because they don't have the right kind of trained eye. But even the trained eyes sometimes don't see them. (Photo above: you can see a slight curve beginning here in front of Twin Rocks).
Case in point: those famed Twin Rocks at Rockaway Beach are doing something interesting to the landscape no one has noticed. Until, this week, anyway. Oregon Coast Beach Connection brought a seemingly insignificant detail to the attention of Seaside geologist Tom Horning – of Horning Geosciences – and he saw something he'd never seen before.
It turns out, that pair of sea stacks is creating a structure we can't see, and bending the beach around it.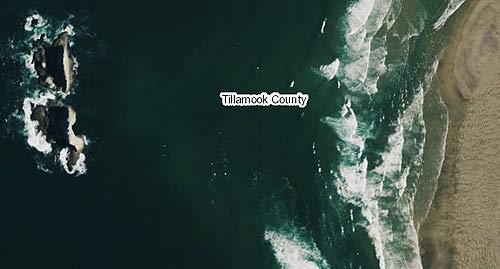 Photo above courtesy ormap.net: the curve of Rockaway's Beach is larger than you can see from the ground, but while on the ground you can a sizable bump in front of the rocks as well.

Head to down to Minehaha Street in Rockaway Beach, and you'll find yourself the closest to Twin Rocks that you can get. The sea stacks are a mere half mile away from you – maybe less. Look closely at the beach directly in front of the stacks. Notice anything different?
The tide line curves outward here, away from the beach. There's a large chunk of sand that's maybe 20 – 30 feet closer to the rocks directly in front of them. This stretch is almost as long as the rocks are as well. On top of that, the curve is much bigger than you can see while on the beach.
It's as if Twin Rocks are pulling at the sand. That's not too far off.
Horning was surprised by the observation, and confirmed via aerial photographs the sand does indeed project out quite a ways at that spot. It comes down to the rock formation breaking up the power of the waves and then creating some kind of land mass underwater, which in turn builds more sand in that spot.
"When the waves hit a rock or sea stack like that, they warp around it and they lose energy," Horning said. "So it dumps sand directly behind the sea stack."
Then there's one of two things happening here, Horning said, resulting in what is called atombolo – the term for a tract of land connecting two areas that are in the water. Or, in this case, something is connecting the rocks to the shore.
If the tide was for some reason low enough, you might actually see a bridge of sand between the beach and the formations. Or, it could be made of gravel. Whatever it is, it's underwater.
"It's pretty far out and pretty deep," Horning said. "Since the bar is high, at low tide it makes the shoreline appear to stick farther out into the ocean."
It's possible it's made of gravel as well, which could be erosion of rock coming off the Twins. The structure is about 45 million years old, having been created by a super lava flow that trudged this way from some three hundred miles to the east, from the same crack in the Earth that now fuels Yellowstone National Park. (Tectonic plate movement over those millions of years caused the land to shift well to the west, while the crack at Yellowstone stayed in the same place.)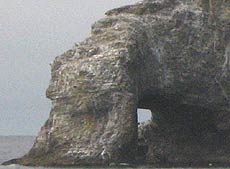 Twin Rocks was once part of something much bigger, but millions upon millions of years of geologic movement and then wave action whittled it away into its current form.
What's eroding from the rocks may be creating this tombolo.
"It's hard for waves to move gravel," Horning said. "So it forms a long, skinny ridge of rock maybe a quarter mile to half a mile long that connects the sea stack to the beach. So maybe what we're looking at there is part of the tombolo we can't see. The rest is under water." Manzanita Hotels in this area - Where to eat - Maps and Virtual Tours
Whatever is exactly going on there, it has a reach far beyond just this little stretch of beach. And it's been around for a long, long time. Horning noticed the property lines of the oceanfront homes here jut further out to the west than the rest of Rockaway Beach as well. It's created conditions favorable to building construction a bit closer to the beach, another intresting fact on top of the hard-to-see curiosities of this beach's layout.
More on Rockaway Beach below and at the Rockaway Beach, Manzanita Virtual Tour, Map.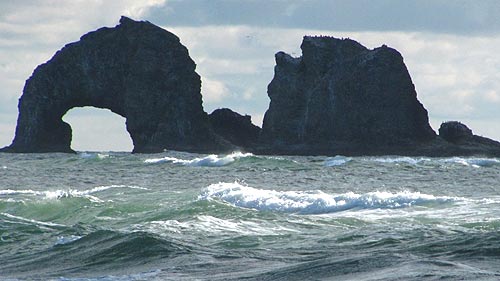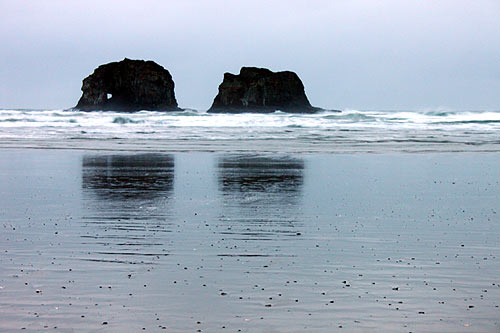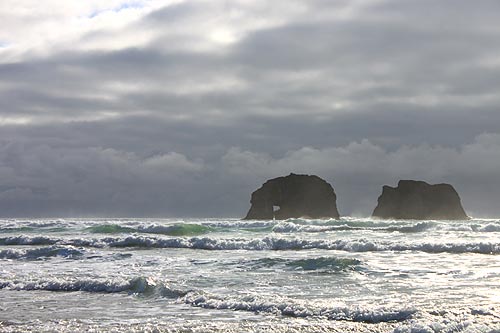 More About Manzanita, Rockaway, Wheeler Lodging.....
More About Oregon Coast Restaurants, Dining.....
LATEST Related Oregon Coast Articles
Back to Oregon Coast
Contact Advertise on BeachConnection.net
All Content, unless otherwise attributed, copyright BeachConnection.net Unauthorized use or publication is not permitted