Updated: Weekly
Seaside, Oregon - Complete Travel Guide to Seaside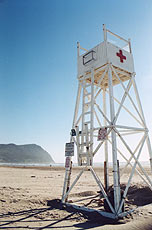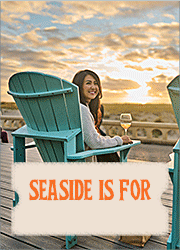 (Seaside, Oregon) – Six generations of tourists can't be wrong.
With its beautiful promenade (built in the 20s), a long stretch of wind-sheltered beach, its charming streets, its family/carnival atmosphere and a lengthy history of being one heck of a party town for the over 21 set, Seaside has something for just about anyone.
Portlanders have vacationed here for more than six generations, creating a history that is rich and colorful for over 100 years. The promenade – more than a mile long - is proof of this, as are the visits to this area by explorers Lewis and Clark. Well, sort of, anyway. There is a monument to the pair sitting in the middle of the picturesque and famed turnaround.
Seaside often gets maligned for its commercial vibe. And while the crazed, frenetic atmosphere of the downtown area isn't for everyone, there is much more to Seaside than that. This is something that's always overlooked by travel writers.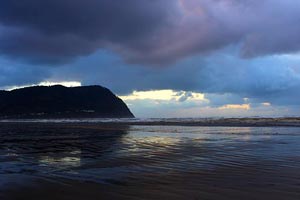 There are hidden chunks of nature to explore, an upscale neighborhood with a gourmet slant, and history to get lost in – all away from the hustle and bustle of the more family-oriented Broadway area. A recent shift towards more affluent residents - part time and full time - is changing many areas of Seaside, most notably the Gilbert District. And if that still doesn't appeal to you, stick to the colorful but quiet, upscale vibe of Gearhart, a couple miles away.
The town has all the amenities you could ask for: scrumptious, sometimes innovative cuisine, major grocery stores, a liquor store, a large movie theater complex and an outlet mall filled to the brim with 60 stores.
Seaside is notorious for kicking into high gear around Spring Break, so be prepared for massive crowds of collegiates, high schoolers and their families. Summer, too, brings at least as many young folks as it does families, giving the town an interesting dose of youthful madness. In August, as everyone heads to the beach for a last minute vacation, even weekdays acquire a buzzing, crowded state, and late at night, the beach is often dotted with bonfires surrounded by younger folks until dawn.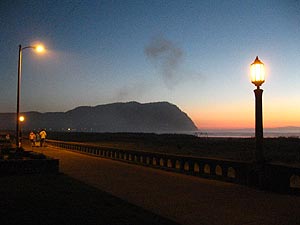 While some will find this energy slightly refreshing compared to other coastal towns, the youthful element in Seaside seems to have taken its toll on the town, and the conservative nature of many small towns like this is sometimes accentuated by the occasional problems created by crazed late-teens and early twentysomethings. When looking for lodging, you may find some motels and hotels with policies which won't allow renting to folks under the age of 25 years old.
For those over 21, the town's kooky bar scene provides amusement on a variety of levels. The other tourists and some of the locals are true, oddball characters, with the out-of-towners often getting a bit looser than they normally would at home. Both categories provide lots of inadvertent humor. The locals - colorful or otherwise - are simply exceptionally cool people.
This tour actually begins just south of Warrenton, in the area surrounding Gearhart.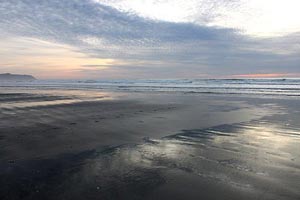 Sunset Beach
Sunset Beach Park
Access to this popular area is about a half mile west of the highway, lying about a half mile south of MP 13. Look for signs to Sunset Beach and the Astoria Golf and Country Club. There's also a freshwater lake here which is known for its swimming possibilities.
Sunset Beach
Just like the park above, access to this popular area is about one mile west of the highway along the same road. Vehicles are legal on the beach here as well.
As you drive along Highway 101 in this area between Seaside and Warrenton, be on the lookout for small roadside stands selling the wares of local farmers. Everything from flowers, eggs, honey and produce seem to pop up now and then.
Cullaby Lake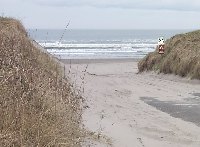 Del Rey Beach - part of a horror movie based on a Lovecraft novel was filmed here in 2006
Cullaby Lake comes complete with picnic tables, boat ramps, a swimming area, stoves and other amenities. Access to the popular lake and a nearby park is via an eastward access, just a tiny bit north of the Del Rey Beach access.
Del Rey Beach
Take Highlands Lane, about a mile and a half north of Pacific Way. Down this road lie numerous beautiful homes and lanes – all part of a community development area.
At the end of the street lays the Del Rey Beach access and a giant ramp down to the beach. Driving on the beach here is legal. Much of the sand is dark and dirtied because of the vehicles here, so it's not the prettiest beach you'll see.
Next to the ramp is a fair sized parking lot area with numerous trails bounding over the foredunes.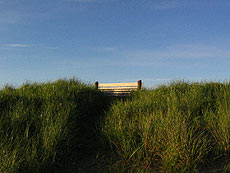 Gearhart
Several streets in this staggeringly chi-chi village end in beach accesses. If you're driving the back roads between it and Seaside, it's often hard to tell you're in another town. The transition is so smooth it seems like you've entered a suburb of Seaside in many ways.
From here northward to Warrenton – just shy of Fort Stevens State Park – are beach accesses where driving your car on the beach is legal. Camping on the beach is not, however, partially for the obvious reasons involving cars and people lying around sleeping. These drivable beaches go on for about ten miles.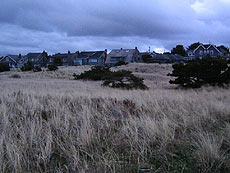 Gearhart is worth taking a bit of time to ogle the highborn homes along the backroads near the beach. Some are true mansions; one is a bit reminiscent of that sprawling complex on The Eagles' "Hotel California" album cover. Many are grandiose but laidback bits of architectural royalty made of large polished stones – which look as if they came from the beaches themselves. Coveting thy neighbor's home is probably a pastime here.
The beaches of Gearhart are typified by large dunes covered in grass, with meandering paths worn through them to get to the beach. The beaches themselves are long, sandy stretches unbroken by any structure at all.
Often, you'll find benches placed near the beach accesses where one can sit and enjoy the scenery. Many of these have small plaques with dedications on them.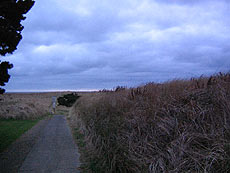 Pathway at Gearhart
Quite a few of the beach paths are accessible from the streets here, and have small, cracked paved walkways leading down to the sandy paths. These appear quite old, and fire up the imagination to conjure images of girls in flapper dresses treading these at their beginnings.
A warning here: don't walk these pathways barefoot, as small, prickly plants line these dunes in many places. And ouch, do they hurt when you step on them.
Beach Access at Pacific Way
Take this to go to Gearhart's tiny "downtown" district or to one of the town's beach accesses. You'll find it at the big stop light along Highway 101, where an attractively decorated gallery sits.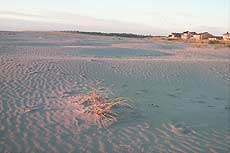 Near the mouth of the Necanicum
Necanicum River and Estuary Walking Trail
You can see part of this from Highway 101, where hordes of rugged dunes cover both sides of the Necanicum River as it winds its way out to sea.
The river is popular for all sorts of activities like boating, crabbing and fishing (although the sand bar at its mouth is not navigable).
The walking trail is accessible from the parking lot at 12th Avenue. It winds on for about a mile as you enter more and more unspoiled territory, eventually winding up at a slightly rocky area near the bay mouth.
North Promenade Beach Access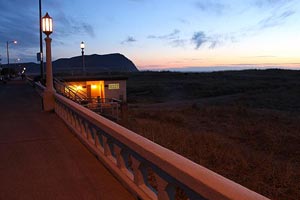 Head west down 12th Avenue, across the river, and you'll end up at the northernmost end of the Seaside Promenade. Here, a huge parking lot allows access to this beach from many different pathways, as well as restrooms and a foot wash to get rid of all that sand.
To the north, there are sizable dunes, plenty of Seaside's typically sandy beaches and the Estuary Trail (see above).
From here until the river mouth is a bit of a weird but heavily guarded secret: there are the most unbroken sand dollars on this beach than anywhere else on the Oregon coast. A combination of the terrain just beneath the breakers and the nutrients coming here from this river and the Columbia have created ideal conditions for sand dollars to thrive. So in the quarter mile stretch between the parking lot and the river, as well as on the Gearhart side, certain times of the year and certain tidal conditions mean an explosion of sand dollars. It's truly amazing.
Seaside Historical Museum
Check out beautiful photographs of the area's past, artifacts from ancient Indian tribes (some going back almost 1000 years), and the Victorian era Butterfield Cottage. The cottage sometimes hosts special events like tea gatherings or tours. 570 Necanicum Drive. Call: (503) 738-7065.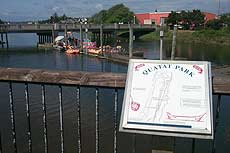 Quatat Park
Seaside Convention Center
Right on 1st Street, next to downtown and the Carousel Mall, is one of Seaside's bigger attractions. The annual Dorchester Conference (Republican meeting) is held here, as is the crowning of Miss Oregon every August. In winter, there is a barbershop quartet festival, Dixieland jazz festival and a big chocolate-lovers event. Call: 800-394-3303.
Quatat Marine Park
It's part of downtown, right along the river, coming complete with picnic tables and a boat ramp. Concerts are held here in the summer.
Seaside Turnaround and Promenade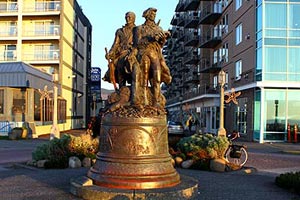 Once again, history takes the front seat on your journey through Seaside. The Promenade was built in the 20's, first as a wooden construct, then made of concrete. These days, it stretches a little more than a mile and a half, taking you past beautiful motel fronts and charming beach cottages – many of them quite old.
If the Promenade whispers of history, then the Turnaround shouts it. Its centerpiece is the statue of Lewis & Clark (who never actually stopped in this spot, although it gives you that erroneous impression.)
Nearby, the Seaside Aquarium is a famous bit of indoor fun. Located right on the Promenade, it features plenty of fish tanks, a touch tank, and a chance to feed the frolicking family of Harbor seals. Plus the 1937 drawing proclaiming a "hideous octopus" is quite an eye-catcher. Call: (503) 738-6211.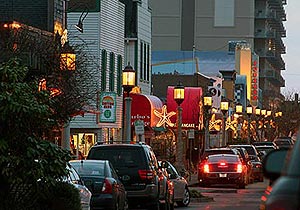 Broadway
Broadway St.
The streets of Seaside feature an abundance of goofy or fun things - depending on your point of view. Arcades, beautiful historical buildings, scrumptious eateries or kitschy, silly stuff thrive in this North Coast hotspot. Here, a man hawks taffee on Broadway St., often the center focus of this diverse and sometimes inadvertently wacky town.
Broadway, however, is known as the "Million Dollar Walk." This moniker is aided by the many lights strung along the trees on the street. Here, an abundance of arcades, restaurants, bars and shops populate the place, as well as a mall with an antique carousel. You can smack your friends around with bumper cars, grab a slice of pizza, play video games or buy kiting supplies.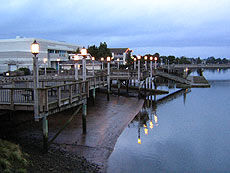 At night, and especially around Spring Break, bars become centerpiece of fun for many in the Seaside area. Girtle's (on Broadway) will rock your world with a plethora of fun, often live, entertainment. Check out the cover bands on weekends, or engage in karaoke during the week to satisfy your cravings for stardom.
Nearby, the Shilo Inn parties through the night in its lounge with DJ'd dance music, which always brings massive crowds each year. They're at the top of Broadway at the Turnaround.
Seaside Beachfront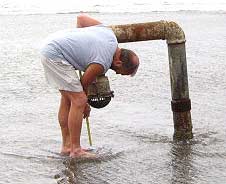 You'll notice the pipe sometimes changes shape and configuration. That's because aquarium staff have to move it around to keep it in the water or out of the sand. Here, manager Keith Chandler checks the pipe.
The beach contains some interesting remnants of the town's past. At a low tide, you can see an elbow-shaped pipe sitting at the tide line. This is what remains of Seaside's natatorium - or hot salt-water bath. These were popular in coastal resorts like Seaside, Bayocean and Newport back at the turn of the century, and this pipe pumped seawater into the facility up on the bluffs where the promenade now sits.
It still does. Although now it shoots water into the Seaside Aquarium. If the tide is extremely low, the occasional sea life surprise can jump out at you and then scurry away when you peek inside.
At one time - as you'll notice from various historical photographs - this beach was comprised of large stones and fine sand. Presently, it's covered only with sand and dunes. The face of the beach was changed by the construction of the jetties at Astoria to the north, which altered the tidal action in the area and thus the distribution of sand.
More on this later.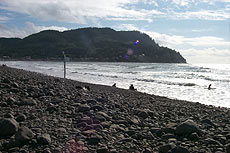 Stony beach typical of the southern end - and what Seaside used to look like all over
During busier times of the year, you can rent various pedal power-driven vehicles (called surreys) for fun on the beach or on the street. These consist of small, easily maneuverable bikes for one person, to larger, four wheel, pedal-driven vehicles designed to accommodate four.
Also notable here is the playground equipment, which is inviting for kids during the day - or adults on a nocturnal beach walk who want their inner child to remain a secret.
Lewis and Clark Salt Works
Near the southern end of the promenade sits a replica of the kind of salt cairn the Corps of Discovery used. Some members of the troop were sent south from their Fort Clatsop (near the Columbia River) to boil sea water for salt in late December of 1805. They returned in late February with over three bushels of salt for the return home.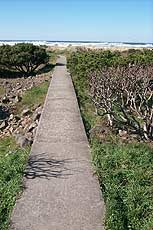 Walkway to beach
You can find this replica along Lewis & Clark Way, off Downing Avenue.
South Promenade Accesses
More beaches and more cottages occupy the southern half of the Promenade. But here it's a little less populated than near the Turnaround, and eventually the wall stops altogether and gives way to a pleasant beachside sidewalk.
Between here and the beach are some interesting groves, however. These can be fun for hiding in the trees. Lots of little accesses dot the area, many of them with concrete walkways heading to the beach.
Ocean Vista Drive and Cove Beach
Take Avenue U to find this nice little beachside drive past interesting, old cottages and motels, and watch the beach change from sandy strand to larger, bulkier cobblestones. It ends up at the "Cove," which is a surfer's paradise.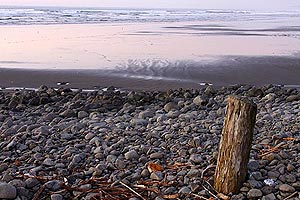 Cove area at Seaside
This area has an interesting, even freaky history. Much of it didn't exist until the 80's, actually. The shoreline here was about 100 feet shorter than it is now. But when a massive landslide on Tillamook Head dumped tons of debris into the ocean, lots of it began building on to the beach here. For a while, there was a rather smelly pool of sea water, as the rocks built a jetty that was eventually surrounded by more land. By the 90's, the beach was extended to where it is now and the pool of water filled in by more stones and stuff.
This beach, and the southern end of the town, are more what this town looked like back before the jetties at Astoria changed the dune building dynamics of Seaside, covered in stones and rounded, polished rocks. The jetties there changed the northern end to a landscape dominated by fluffy tufts of sand.
Tillamook Head North Trailhead
Tillamook Head has hiking trails throughout it, which are accessible from both the Seaside and the Cannon Beach sides (it's a six-mile hike either way, however.) This is highly recommended for exploration with numerous breathtaking views to be found on this cliff structure, and in such places there are always hidden spots in the brush and forest. Indeed, there are the remnants of an old army bunker in the brush at some point along this magnificent trail.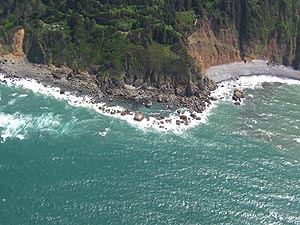 Above Tillamook Head
Even if you don't have the stamina to make the walk up this pathway very far (and the Seaside end has the nastiest incline), the trailhead parking lot provides some small glimpses of the ocean and of Seaside's beach slowly changing in landscape from loose sand to rocky shore. It's also a fun neighborhood tour, with some stunning homes to ogle and covet.
From the Seaside side, it's four miles to the point of Tillamook Head. Along the way, you'll encounter a summit and a point Merewether Lewis wrote about, as well as breathtaking views of the ocean and the infamous Tillamook Rock Lighthouse. Round that point to see the bunker and find a primitive camping spot for hikers.
From here, it's another 1.5 miles to the parking lot at Indian Beach, and another 1.5 miles to Cannon Beach's Ecola Point.
If you take the Seaside trailhead, that side has a much steeper incline.
To get to the trailhead on the Seaside side, take Avenue U to the end, then follow Ocean Vista Way up the hill to the trailhead.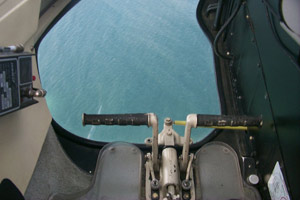 Seaside Helicopters above the ocean
Southern Seaside Business District
If you're entering Seaside from the south, you'll encounter a host of businesses – both fun and practical. Eateries with funky, whimsical themes, the odd tavern or two, the landing pad for Seaside Helicopters as well as its amusement rides occupy this part of Highway 101. To the west, you'll spot what's essentially the "backside" of Tillamook Head, typified by big, rolling green hills and a huge chunk of a cliff that looks as if it's slowly eroding and being flattened out.
Highway 26
There's a decent helping of stuff along this route to distract you on the way to the coast.
It's the main road to and from Portland, taking an hour to 1 ½ hours to get there (about 74 miles). A few little towns dot the way, interspersed with some amazing scenic viewpoint turnouts and a lot of lush forest surrounding you pretty much the whole way.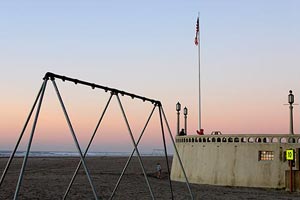 One major attraction is the Saddle Mt. Trail, which is the highest point in northwest Oregon and a 5.2-mile roundtrip hike. Another big one is the Giant Sitka Spruce, just a few miles inland along Highway 26.
At the Highway 101 junction, it's three miles to Seaside or three miles to Cannon Beach.
Ecola Historical Marker and Cannon
About two miles south of the junction and a tad bit north of Cannon Beach you'll find this pleasant little turnout. A beautiful forest view spreads out behind the historical marker, which commemorates the Lewis and Clark Corps of Discovery's place in the history of the area.
The cannon is one of two reproductions of the original that Cannon Beach is named after. That cannon actually washed up in what is now Arch Cape, but at one point the town to the north was named after the cannon.
Big Hotel Makeovers as Oregon Coast Lodging Company Expands, Makes Waves
It's beginning to change things in other areas as it has expanded its operations to the central coast. Seaside, Depoe Bay, Lincoln City, travel
What is Beneath N. Oregon Coast's Seaside? Trippy Geologic Answer
The answer is a little mind-boggling, especially when compared to other beaches. Science
Seeing Stars on the Oregon Coast Above - and Below - This Week
A star party, a tour of tidepools in Oceanside, and a tour of oyster-growing facilities. Oceanside events, Seaside events
Events Look at Wildly Colored Critters, Mysterious N. Oregon Coast Lighthouse
A tour of strange yet wildly beautiful tidepool creatures and of Tillamook Rock Lighthouse. Seaside events
The Delights and the Dangers of N. Oregon Coast Elk
When can you see them around Cannon Beach, Seaside and Warrenton? What are the dangers?
The Mysterious World War II Bunker Atop Oregon Coast's Tillamook Head
What was the bunker for? Who manned it? Fascinating history. Cannon Beach, Seaside, Astoria, Mananita
N. Oregon Coast History Events Bring Startling Facts to Light and Life
Two particularly engaging history talks are coming up on the north Oregon coast which are guaranteed to be riveting. Cannon Beach events, Seaside, Manzanita events
This N. Oregon Coast Hotspot Hides a Spooky, Historical Attraction Upstairs
You can never visit, but we can show what's there. Seaside Aquarium, Cannon Beach, Astoria
Finding the Unpopulated Oregon Coast During Spring Break's Madness
Hints for Seaside, Pacific City, Neskowin, Yachats, Depoe Bay and Cannon Beach