Updated Monthly
Complete Guide to Cannon Beach, on the Oregon Coast - Every Beach Access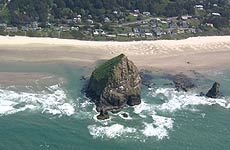 (Cannon Beach, Oregon) - It's home to many artists on the coast, and a few national celebrities have cabins nearby as well. It's an arty vibe that shows, partially in the city council's rule that most buildings be dressed up in cedar shingles, giving the whole town a sense of the rustic yet refined.
This artiness is also apparent in the abundance of quaint businesses around Cannon Beach, from whimsical shops selling kites, clothes and gifts, to its galleries, fine cuisine in a variety of price ranges and the many flowerpots hanging everywhere. Some of the restaurants and bars even have outdoor seating – a daring, if not very urban-thinking move on the coast.

Next to Newport, Cannon Beach has the most outdoor restaurant seating on the entire Oregon coast.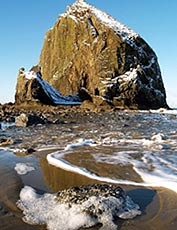 Strange, rare sight: Haystack Rock covered in snow, during 2007 storm (photo Seaside Aquarium)
Sure, it's touristy in some ways and certainly packed with tourists most of the time. But there's a coziness and beauty to this place that's hard to forget.
There are annual festivals during the year that shouldn't be missed, including various kite festivals in summer, the Haystack arts program and the grand sand sculpturing contest every June. In November, Cannon Beach goes bonkers with the Stormy Weather Arts Festival, where galleries, artists and musicians flood the town all weekend. There's a similar event in spring. Also in the fall, one of the hotels hosts a massive a dog appreciation festival, with all sorts of wacky contests for mutts.
This guide takes you north to south, beginning at Tillamook Head. It takes you through almost every possible beach access and viewpoint, from Cannon Beach's downtown area, through famous beach spots like Arcadia, Hug Point and Arch Cape, and deep into the forests and sands of Oswald West State Park, its hiking possibilities, and the freaky hidden spots you'll find all along the way.
For more details on Cannon Beach and tons of pictures, see the Cannon Beach Virtual Tour, Map.
For tons of Cannon Beach Lodging, click here.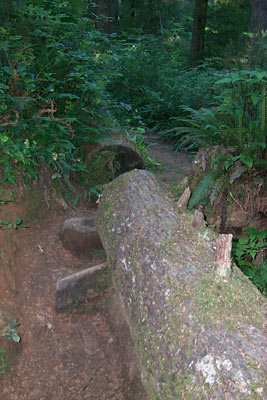 Tillamook Head
It's the vast, rugged headland that separates Seaside from Cannon Beach, including a six-mile-long hike either way. But en route, you'll find incredible views of the ocean and Tillamook Head Lighthouse, remnants of an old army bunker and some spots that made history because of Lewis and Clark.
If you start on the Seaside side, take Avenue U to the end, then follow Ocean Vista Way up the hill to the trailhead. The view here is breathtaking as well.
This trail is notoriously slippery, so be sure to wear boots. It ends up at Indian Beach, near Cannon Beach. About 4 miles down, you'll find the bunker, a primitive campsite and a view of the Pacific and the lighthouse nearby that will knock your socks off. Along the way, there's a viewpoint noted by William Clark in his journals and so designated.
For a shorter walk to the bunker, it's only a 3.4-mile roundtrip from Indian Beach.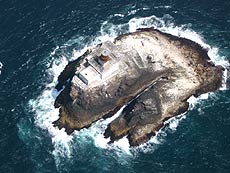 Tillamook Rock Lighthouse
This baby has captured the imaginations of tourists for generations, starting back in 1880 when it was constructed.
From the beaches of either Cannon Beach or Seaside, you can see this bit of history: the Tillamook Rock Lighthouse, nicknamed "Terrible Tilly." This mysterious beauty lies about a mile and a half offshore and was decommissioned in the 50's. But during its lifetime, it claimed many lives, especially during its construction.
Back then, the workers hopped on the treacherous basalt rock by boat, which usually meant doing so in insane conditions. So many died doing this and while constructing it that workers housed on shore who were waiting to be put to work were cloistered from the locals, all in an attempt to keep them from hearing how dangerous the work really was.
Storms frequently wrecked the lighthouse, sometimes sending great boulders crashing into it. Those who occupied it in shifts lasting several months sometimes went a little koo koo because of the solitude.
These days, it's a wildlife refuge and a place that holds urns of ashes of the deceased. It's now run by an outfit called "Eternity At Sea," which maintains it and takes the reservations for the urns. For more on this Oregon lighthouse, you can purchase a video here.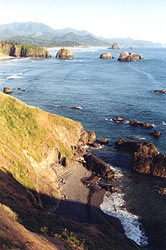 Ecola State Park
This day-use area is just north of the city limits, after a mile and a half drive through a thick forest - after the signs proclaiming the park's entrance.
The main section of the park is Ecola Point, where numerous viewpoints offer you glimpses of Cannon Beach, Haystack Rock and the lighthouse. It's a popular spot for whale watching during the twice-yearly migrations.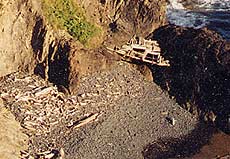 Closeup of hidden cove at right - with structure apparently built into rocks
There is also a trailhead leading over another bluff to Indian Beach – another mile away.
The view shows off a bundle of hidden wonders, if you pay close attention. Just below the cliffs is a rugged, forbidden cove, not reachable by humans. Or is it? Sometimes, it appears as if someone has boated over to that diminutive boulder-covered beach and built a small structure there.
Also visible from the cliffs is the secret Crescent Beach, which is only accessible via a mile-long trail that begins along the road going into Ecola State Park. This pristine little oddity features a clump of prehistoric-looking sandstone and almost a quarter mile of deserted, Gilligan's Island-like fun.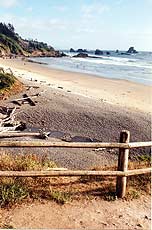 Indian Beach
At the northern end of Ecola State Park, another 1.5 miles after the main part of the park, you'll find a crescent-shaped beach filled with cobblestones, where a there's a lovely view of Tillamook Rock Lighthouse and where numerous rocky shapes stand and get slammed by large waves. At the cove's southernmost end, you can amble over some large boulders and reach more rock slabs to sit on, perfect for watching the water rage against other wedges that dare stand against it.
This rocky semi-circle is enclosed by two headland areas, with maybe a quarter mile worth of walking area. Granted, it's mostly covered with stones and doesn't have much in the way of flat sandy areas, so it's not the best spot for lying around. But it is undeniably beautiful, with a viewpoint and a picnic table sitting above its northern end.
At the parking lot for Indian Beach is the main trailhead going over Tillamook Head. It's another six miles to Seaside from there (see Tillamook Head listing above.)
To get to Indian Beach, drive into Ecola State Park and follow the signs.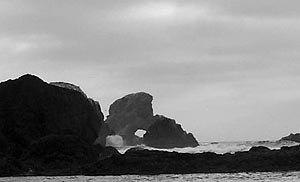 Famed Goonies Rock
Indian Beach is famous for its Hollywood connection. Parts of the cult film "Goonies" was filmed here. The offshore rock structure with the oval hole in it was used at the end of the film, and is now called "Goonies Rock."
Les Shirley Park
You'll find this quaint park at the north of the bridge, next to Ecola Creek. Phones, restrooms and picnic tables are just some of the amenities here.
But more importantly, it's known as the southernmost place visited by Lewis & Clark back in 1806. There's a plaque designating it as such. Also, you can access the beach and walk towards Chapman Point, which houses the secretive Crescent Beach (which can be seen from above on the cliffs of Ecola).
Whale Park
This one too neighbors Ecola Creek, but is on the other side, part of downtown. It's mostly a grassy spot with benches, but there's access to the beach here, with Haystack Rock a few minutes walk away.
It's also the locale where William Clark saw natives cutting up a whale for blubber.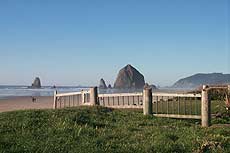 One of dozens of tiny beach accesses from side streets
Downtown Cannon Beach
Numerous beach accesses dot the downtown and midtown area. One of the more interesting is at the end of 2nd, with a concrete wall and viewing area where dozens line up on sunny days to witness the splash and spectacle of the sunsets. It's a short walk to the creek here.
Other little accesses are found along the small neighborhood streets, where parking is a problem. It's best to find a place along the main drag, Hemlock.
Haystack Rock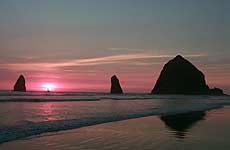 It's the big recognizable landmark of Cannon Beach, and one of the most photographed beach spots in the world – certainly in the state of Oregon, anyway. It is actually the third largest monolith in the world. The main seastack is called Haystack Rock (not to be confused with the Haystack Rock at Pacific City, some 70 miles south), and the two accompanying rocks are called the "needles."
Head into "midtown" Cannon Beach and you'll find the shortest walk to these remarkable seastacks at the Ecola Beach Ramp, just off Sunset Boulevard.
At low tide, Haystack is accessible and a lot of fun for tide pool viewing. It's famous for its plentiful marine gardens. There's even the Haystack Awareness Program, where naturalists hang out around the rock on summer weekend mornings, showing off the area's points of interest to eager public eyes.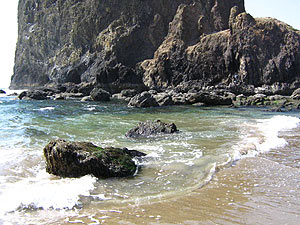 Marine gardens at bottom of Haystack Rock
The main part of the rock is a bird refuge, so make sure you pay attention to the signs telling where not to go.
An odd bit of local lore that some like to tell to uninitiated newcomers is that Haystack was manmade. Usually, these folks are quite drunk when they bring up with this weirdo tale – even if they don't show it. Watch for that tale if you're hanging out at the local bars.
Haystack Rock is a bit of a walk from the best-known access. So locals have set up a small parking area on the east side of the street, near a lengthy but convenient stairway that's almost directly in front of Haystack.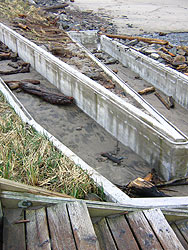 Storm-stuffed handicap access at Tolovana
Tolovana Beach State Recreation Site
There's yet another beach access here, which in many ways doesn't mean much – except that you can see Haystack and its Needles from a different viewpoint. But what is notable here is the nearby presence of several beautiful resort hotels, restaurants and a slightly less density of crowds.
Wheelchair access to the beach is provided at this wayside. During big winter storms, it's often the recipient of major floods of logs and debris, and thus completely unusable until the city gets a chance to clear it away. In the meantime, it's an interesting and rather spooky reminder of the power of the sea.
You can still walk to Haystack Rock from here.
South Cannon Beach Park
You'll find it at the southernmost end of the Tolovana area, featuring picnic tables and a cannon replica.
There are more beach accesses south of the Tolovana area, but they lie at the end of neighborhood streets occupied by a myriad of private homes - so you'll want to be courteous and cautious when parking along here.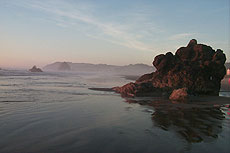 Interesting landmarks at the southern end of Cannon Beach
From these, you're perhaps a mile from Arcadia Beach, and you can see that park's sea stacks from their northern side.
These accesses provide some of Cannon Beach's most interesting beach experiences, however. At this extreme southern end, there are far less people than on the rest of the town's buzzing sands, even on days packed with tourists.
After this area, you can head south from town by intersecting Highway 101 nearby.
Viewpoints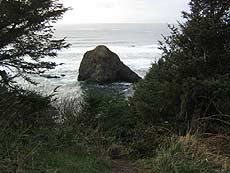 After a few winding turns in the road and some forestland that blocks the ocean view, you'll come to a couple of pullouts featuring dramatic views. The northern one is huge and comes in three sections, allowing views north and south. The second one, only 3/10's of a mile away, provides beautiful views of interesting sea stacks offshore and a sandy beach below.
Arcadia Beach
Not far south of MP 32 – perhaps two miles from Cannon Beach - this tree-smothered parking lot appears. Take the small path down and you'll find a sandy beach covered in cobblestones near the tide line, as well as cliffs and rock structures that some have whimsically claimed look like a dragon and its young turned to stone.
Walk this beach to find agates, and you may also hear the legendary "singing sands." This is a rare phenomenon where, under the right conditions, the sand makes squeaking or violin-like noises.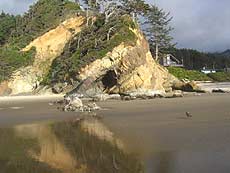 Hug Point
A waterfall, several sea caves and a raised, grotto-like tide pool within another cave are all just a precursor to one of the coast's most fascinating spots.
There is a road carved out of the rocky headland here, which was created in the early part of the century to allow Model T's and horse-drawn carriages around the point at medium tides. Back at that time, there was no Highway 101 (it wasn't built until the 30's), and the beaches were Oregon's coastal highways.
Most of the road is worn away and barnacle-covered now, but there are bits of the concrete left, as well as a remnant of the old traffic light which kept these ancient vehicles from smacking into each other.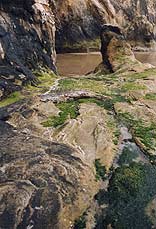 There's also an interesting detail sitting right across from this traffic light, on the north side of the "road" – one that's obviously out of place in such a rugged setting. Look for a small, metallic knob here, apparently quite old and indicating the presence of an electrical line of some sort at one point.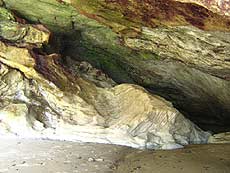 Incredibly cool cave at Hug Point
At a low tide, this always-amazing road shows a new side: what could be described as its underside. All of a sudden, the small, once-paved road is taller, revealing that it's about ten feet off the sand, with a grouping of boulders huddled at its base - as if they had gathered in reverence to it.
Around its north side, where the water is deeper, sunnier days reveal mysterious looking basalt slabs lying in the water, somehow reminiscent of ancient Greek ruins. A few hundred feet south of the road, a giant mushroom-shaped boulder pokes out from the sand, covered with barnacles and with a small cluster of tide pools at its base. And around the next two points you'll find giant crevices in the cliff face and those telltale green lines of algae running around the rocks - signs that this is where the tide usually sits.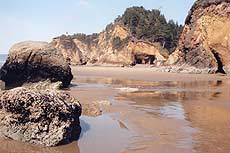 On the southern end of this beach there's a point that's normally not crossable unless the tide is sufficiently far enough. In such a case, you'll find another cove with more rock slabs to play around on, many of which are surrounded by rich tide pools.
There's also another sea cave tucked away in here, with some beautiful tide pools as well.
Hidden Beach View
Almost a mile south of Hug Point you'll start heading over a small bridge, and you'll spot a blob of a hill on the westward side of the highway. Take a good look: there are two discreet pathways on either side of this hill. Park nearby (either in front of an entrance or across the road), and as you walk up the path you'll find a small, clandestine bluff that provides a stunning aerial view of the road going around Hug Point.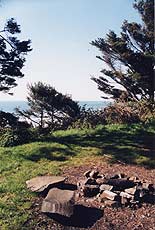 Hidden viewpoint above Hug Point
But it's a serious hidden spot, so, shhhhhhhh: don't tell anyone. The pathways straddle two the north and south sides of MP 34.
Historical Marker
Not far south of Hug Point lays the historical marker featuring a replica of the cannon which landed nearby when the Navy vessel Shark crashed in the late 1800's. The cannon actually came aground where Arch Cape is now, and that community had the name Cannon Beach for a time.
Arch Cape
A couple of miles south of Hug Point you'll encounter the lovely little beach interlude known as Arch Cape. It's a tiny community that consists of a few homes and one or two businesses right on 101. But mostly it's a couple of beach accesses hidden behind some neighborhood streets.
This small, sandy beach reaches north all the way to near Hug Point (which is totally accessible after this two-mile walk if it's low tide.) But on its south side you'll find a small grouping of rock structures hugging a basalt point. At lower tides, you can walk between these and the cliffs and explore a rocky beach full of boulders and dramatic structures.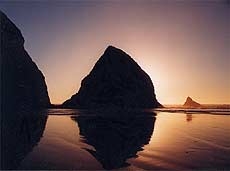 Arch Cape
The beach at Arch Cape has a preponderance of large cobblestones. During some of the winter months, it's almost entirely that, because stormy wave action tears away sand levels like crazy. In recent years, this kind of erosion has meant the appearance of a "ghost forest,": odd, tortured-looking tree parts that are part of a prehistoric forest that is thousands of years old, perhaps has much as 80,000 years old.
Arch Cape Tunnel and Viewpoints
The tunnel appears simultaneously as Arch Cape pops into view (if you're coming from the north). On its southern side lay some spectacular viewpoints looking south.
Hidden Beach Access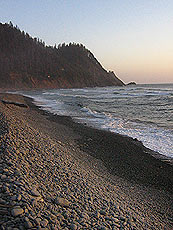 "Magic Rocks" beach, at Falcon Cove, s. of Cannon Beach
Immediately after some of these viewpoints you'll find Falcon Cove Road, which is a residential district. So you'll want to be respectful here as you park near a somewhat slippery, muddy beach access.
But once on the beach, you'll find one of the more unusual spots on the coast. Here, the beach is mostly comprised of large, polished cobblestones. It's a strange place: essentially you're walking on a huge pile of rocks, sometimes carved into odd tiers, making it hard to traverse in places. The water crashes loudly on the steep shore, dissipates quickly, then it makes a weird noise as the waves recede and pull on the rocks.
Because of that, it's nicknamed "Magic Rocks Beach" by some of the locals.
On the south side, things are covered in large boulders and you can sometimes make it around another, intriguing and secretive point.
Follow this hidden beach to the north and you'll run into the point bordering the other side of Arch Cape (see Arch Cape listing).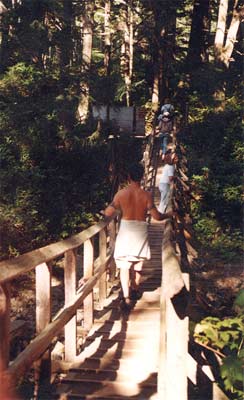 Suspension footbridge at Oswald West
Oswald West State Park
This sprawling, forested oasis runs along the highway for over five miles, encompassing trails through thick rainforests, headlands, viewpoints, campgrounds and some beautiful beach spots.
There are day-use areas about MP 39 on both sides of the highway. These allow you access to the campgrounds, trails to Short Sand Beach and the 5-mile roundtrip hike to Cape Falcon and its viewpoints. More pictures of Oswald State Park here
The Cape Falcon hike is part of the Oregon Coast Trail system, and allows you the option of continuing on to Arch Cape – making a total of an 8-mile-long hike. You begin at a tunnel going under the highway, then wind towards the campground and Short Sand Beach. Instead of taking the beach trail, continue north and keep left, eventually – 2.5 miles later – ending up atop the headland of Cape Falcon and its various dramatic ocean viewpoints.
Or, you can keep going north along the cape, past three cliff-edge viewpoints, and eventually the trail veers inland to meet up with the Arch Cape suspension footbridge – about a half-mile from Highway 101, outside of the tiny community.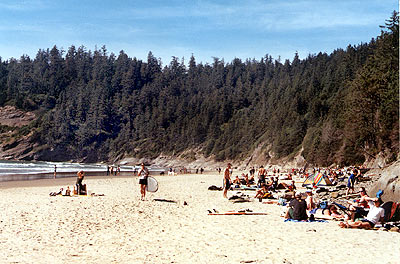 Short Sand Beach
This one's a major favorite with surfers, beach bums and families alike. In fact, this beach can appear very unOregon-like in really nice weather, with crowds flooding this crescent cove (also called Smuggler's Cove), and a host of bikini-clad surfer groupies lending this place a Southern California air.
There's also a pleasant picnic spot above it all, overlooking the park. And a rustic suspension footbridge provides some amount of excitement as you cross to access the southern part of the beach - if you're trying to avoid having to wade through the creek.
Former Primitive Campgrounds
About a third of a mile into the forest lay what used to be the 29 primitive campsites. State officials shut down this down in the mid 2000s after trees became rather precarious. But when it was around the state would actually provide you with wheelbarrows to haul in your camping gear with, and there were fireplaces and firewood as well.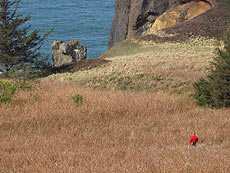 Short Sand Beach Trailhead
Soon, you've exited the thick canopy of trees and, as you're heading south, you begin to see more dramatic ocean views open up in front of you. Immediately, look for MP 40 and a turnout that overlooks Short Sand Beach and Cape Falcon. Here is another trail descending to Short Sand Beach. It's steep in spots, and gets you there after about a little over a mile.
To discover some truly freaky places, take the path to the left, rather than the trail to Short Sand. A set of forbidden cliffs sits here – verboten because they are extremely dangerous and even slippery at times. Do not take children here ever, and do not tread this area when it's rainy or wet. But some unforgettable sights lurk here, with jagged cliffs looking like something post-apocalyptic from the "Planet of the Apes" films.
For more details on Cannon Beach and tons of pictures, see the Cannon Beach Virtual Tour, Map.
For tons of Cannon Beach Lodging, click here.