Oregon Coast UFO Boxes Hoax Heats Up, Disrupts Lives
Published 2012
By Oregon Coast Beach Connection staff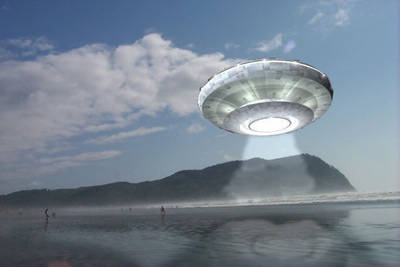 (Florence, Oregon) – A rash of outrageous and hilariously odd stories about beach junk on the central Oregon coast turned a slightly dark corner last week when the claims about "mysterious metal boxes," caused such a stir on the Net that various entities and individuals were forced to waste resources, man hours and money to either look for these objects or answer an irritatingly large tsunami of questions from over-excited media outlets. Still even less reputable websites engaged in a disturbing display of spreading unfounded claims, as some further embellished the original tale with even more preposterous yarns about a cover up, men in black on the beaches, secret ops helicopters and much more.
It could've been the latest bad movie from the Sy-Fy network, but instead it was all spawned by area resident Dave Masko on a citizen journalism site called Huliq.com, Citizen journalism sites are not actual news outlets but websites where anyone can post an article and claim it be a news item.
Masko himself has a sketchy reputation for creating outlandish articles, often quite untrue, and is called a "serial fabricator" by central coast residents.
The "mysterious metal boxes" turned out to be made of wood, and were merely parts of a float system for a dock that had been destroyed upstream in a recent flood. See pictures here.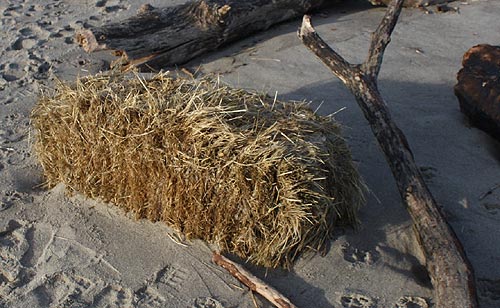 Above: an actual oddity found on the beach: a "whale burp" at Lincoln City.
The series of hoaxes all began February 9 as Huliq contributor Masko posted a story about "mysterious metal boxes" in the Florence area and just south of Yachats, showing pictures of the debris, and making claims about strange auras and noises emanating from them. He quickly began asserting they had something to do with alleged UFO sightings in the area.
Almost immediately, a host of other websites picked up the story, usually with varying degrees of skepticism, and the story went viral. Readers seemed in awe of the subject, which to the UFO nutjob community seemed to provide proof of the paranormal.
Almost none of these re-postings can be found now, replaced by rather angry and irritated debunkings of the surreal series of stories.
Quickly, a host of more traditional media from towns as far away as Boston and Miami began calling around the Oregon coast to find out more. A handful of people, including Earthfiles.com, contacted numerous state agencies seeking more information on the mystery boxes. Oregon Coast Beach Connection and other media contacted CoastWatch – an organization of volunteers that keep on an eye on beach conditions and human impact.
This is where it began to be problematic. Bill Hanshumaker, a spokesman for the Hatfield Marine Science Center in Newport, was quoted in Masko's original article as saying very simply he did not know what the objects were. This created a barrage of goofy calls to Hanshumaker from curious media – the only actual person quoted there. He complained of not being able to get work done and had to stop answering his phone. Hanshumaker said he received so many calls and emails he completely lost count.
Then, man hours were wasted by looking for chunks of beach debris, forced to do so by an unreasonably pushy and suspicious demographic. Luckily, no tax dollars were wasted.
"Actually, I did not send anyone but volunteers out looking for the boxes reported at Brays Point," Hanshumaker said. "However I spoke with someone from the state parks, whose job it is to be out on the beaches anyways. Nobody wants to waste tax payers dollars, but if I hadn't looked into it, some people would declare governmental coverup."
At the Oregon Department of Parks and Recreation, spokesman Chris Havel said the agency only spent a few extra hours on this incident. Much of their work entails being out on the beaches anyway. They were not hounded by media as Hanshumaker was.
A variety of other people hit the beaches, from residents, members of Coastwatch to various paranormal investigators, including those from the high profile Ground Zero Radio show.
No one found a thing – at least at first. Eventually some state workers found a box or two and made the determination.
Skepticism mounted, and the public posted comments on the websites providing the stories, displaying mostly dismay at the outrageous claims, with the overwhelming reaction being "this was a hoax."
Media outlets scrambled to contact Mr. Masko about the growing informational scandal. Neither did he respond to like-thinking paranormal investigators. One member of the Ground Zero-associated crew asked Oregon Coast Beach Connection if Masko "was for real," complaining he had refused to meet with them or talk to them.
This added to the skepticism and finally most of the re-posts of Masko's story were removed.
Masko half responded to Oregon Coast Beach Connection questions about how he felt about the hoax label and other inquiries about his finds. He deferred to his latest article on the subject, which only addressed the explanation of the boxes' origin with more questions like "what of the other boxes on the west coast?"
Addressing the idea of it being a hoax, Masko made little sense. He (allegedly) quotes other individuals with nebulous sentiments like "What is a hoax?" and then proceeds to decry the scientific method over the hazy belief system of the UFO enthusiast.
In the end, Masko only dodged these questions about the credibility of his story.
Still, Havel said there was a bit of silver lining to this hoax.
"If curiosity brings a few more people out of their winter hibernation to enjoy the beach and take a walk, that's a good thing," Havel said.
Masko has been known to either fabricate stories or misinterpret quotes from random people on the street and then post them in high profile sites on the Internet. He received some major rebukes from Oregon film office officials and those connected with the movie "Twilight" for having erroneously claimed a Twilight sequel was being filmed on the Oregon coast (you can see the documentation of this at the bottom of this story).
After the 2011 tsunami alert on the Oregon coast, Masko upset a host of businesses and officials by falsely claiming more tsunami alerts had hit Newport, and flirted with legal action over false claims that local officials had warned about Japanese radiation affecting Newport gardens, dogs and Florence beaches, as well as flagrantly misquoted OSU scientists on the subject.
Masko continues to write about the boxes subject, even with the public ridicule, lack of evidence, and in spite of firm explanations about their true origin.
Oregon Coast Lodgings for this - Where to eat - Maps - Virtual Tours
More About Oregon Coast hotels, lodging.....
More About Oregon Coast Restaurants, Dining.....
LATEST Related Oregon Coast Articles
Back to Oregon Coast
Contact Advertise on BeachConnection.net
All Content, unless otherwise attributed, copyright BeachConnection.net Unauthorized use or publication is not permitted