11 Reasons To Hit the Oregon Coast in Winter
Published 01/21/2011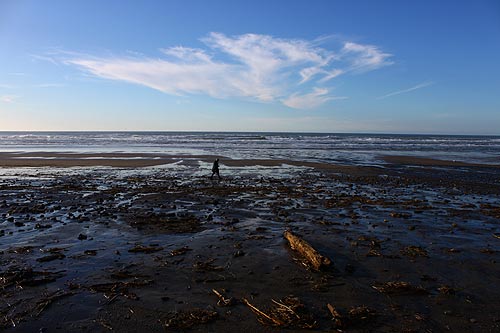 (Oregon Coast) – From one end of the coast to the other, there's something really different about the winter along these beaches. It's not just the well known aspects like storms and lodging deals, but the hidden pleasures like glass floats, weird beach finds, and the glorious mini-spring that's coming that people know nothing of (above: a lovely day in January at Tierra Del Mar, near Pacific City, where agate hunting is prime).
It's impossible to compact these into a "top ten best reasons to hit the coast" situation, as there are technically many more than that. Between the seasonal festivals, wild surprises of nature and other activities, there's really a top 11.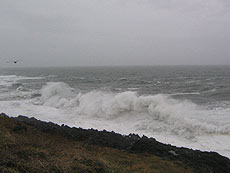 Startling storm waves at Rodea Point, near Depoe Bay
Storm Watch Season. It is the obvious pleasure along the length of the coastline. Massive waves roll in with tremendous, unforgiving force, and they essentially detonate in front of you rather than splash. Winds howl in banshee-like screeches, and the rain gets diagonal and especially rough.
But it's all spectacular and thoroughly mesmerizing. Many times, the waves are simply gargantuan even in otherwise calm, dry conditions, allowing you take it all in with complete comfort.
The best storm watching spots are areas with lots of rocky ledges and structures, and where you can watch from afar – like a parking lot. These include Seal Rock, Ecola State Park, Depoe Bay, much of Yachats, many beaches between there and Florence, Oceanside and numerous others. But the most awesome of storms cause even broad, sandy beaches like those in Seaside or Lincoln City to become a crazy show.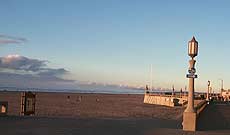 A warm day in February, Seaside
Spring-Like February. The big shocker about Oregon coast weather is that it can be spring-like in February. Many years – but not every year – February sees about 9 to 14 days of exceptionally warm weather that's clear, windless and often in the low 60's. It's been nicknamed the "hidden spring" on the coast, and it's often warmer at this point than during spring break.
It's not something you can depend on, as some years February can be as full of dreary downpours as any winter month, but some Februarys have seen temps near the 70's on the beaches for a few days at a time, scattered throughout the month.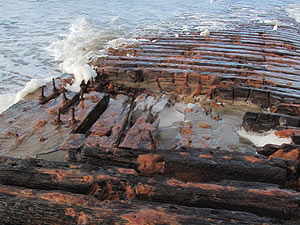 Shipwreck in Rockaway Beach seen last month - it has since been covered back up.
Low Sand Surprises. Up for stumbling over a bit of Oregon coast history, like a pair of cannon from the 19th century? An old shipwreck? Bedrock beneath the beach that's millions and millions of years old?
Crazed wave action scours out sand levels around the beaches, although this differs greatly from beach to beach. The result is stunning finds like the 100-year-old shipwreck that appeared briefly in Rockaway Beach last month, ghost forest stumps some 4,000 years old that can make an appearance around Seal Rock or Newport, and then there's those freaky "red towers" that sometimes show up south of Cannon Beach.
Keep hitting the beaches and keep looking. If nothing else, you'll often notice rock structures showing you hadn't seen before.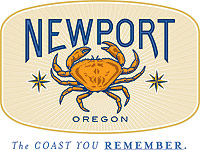 Newport is known as the Dungeness Crab Capital of the World.
Crabbing and Thick Crab Meat. This time of year is when crabmeat is typically at its best, as they are plump and full of meat after filling their new shells with body mass since the molting season that happened earlier this year. These juicy conditions last until around spring.
Catching the coveted crustaceans is open year round in the numerous Oregon coast bays and estuaries, but only during commercial crabbing season can members of the public snag them from the deep.
Whales. Whale Watch Week may have passed, but the giant watery beasts are still wandering past in great numbers until late January, when the migration generally ceases like clockwork. Then, around the end of February, they start making their way back again, and early March is again a stellar time to look for whales.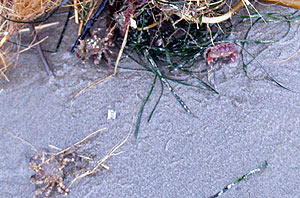 Little crabs lurk in a ball of beach stuff found in winter (photo Seaside Aquarium)
Bizarre Beachcombing Finds. While low sand levels can reveal some crazy stuff, winter's wave actions toss some even stranger objects onto the beach. You may find glass floats from Japan, or oddities with even odder names like ocean burps or whale burps.
Glass floats were for decades a steady and yet treasured find along the coast, but they largely disappeared in the 80's. A little known fact, however, is that January through March conditions are good for these to show up again. Early 2010 proved a banner year for these – an unusually exceptional year. But if you know what to look for and how to look, plus you need a bit of patience, you can make some awesome discoveries on your own.
Then there's "ocean burps." The technical term is detritus, and it means the ocean is casting some interesting objects from the depths onto the shores – things you don't normally find on the beaches.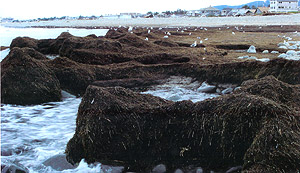 Whale burp in Seaisde (photo Seaside Aquarium)
Keith Chandler, with the Seaside Aquarium, said these ocean burps happen under some very exact conditions, when the right mix of storms happen along with the right kind of ocean currents.
"It's an upwelling of stuff from the ocean floor," Chandler said.
Beachcombers will spot a brownish mass of wood and grassy matter from afar, but up close is a small treasure chest of natural oddities like cockleshells, hermit crabs, squid eggs, casings from other eggs, moon snail shells and somewhat rare rock finds.
"If you see a patch of dark brown on the beach, go look through it because you'll find some cool stuff," Chandler said.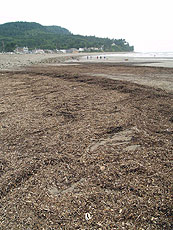 A massive ocean burp in Seaside (photo Seaside Aquarium)
One episode of this detritus occurred in February 2006, where Chandler found 30 live cockleshells – a form of clam. He also found numerous squid egg casings and some live squid eggs, which were incubated at the aquarium and hatched after six months.
"Whale burps" are chunks of compacted beach grass that are so closely bound they're nearly rock hard.
Wait until storm conditions are over to hit the beach, as this is an insanely dangerous time to go beachcombing.
Lodging Prices. It's a bargain hunters dream out on the beaches, with extremely low prices at most lodgings and vacation rentals. The less expensive the lodging, the less it drops in price. But happily, the more spendy spots drop considerably more during the winters to reveal treasure-like deals. So, you can wind up with a pretty upscale hotel room for a steal sometimes. Many hotels and rentals are eager enough to fill a spot as to make further deals when you walk in. See more Oregon coast lodgings here.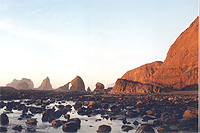 Oceanside in a state of prime agate hunting conditions
Agate Hunting Galore. All this winter wave action scours out sand to reveal gravel beds, which are often chock full of agates and other remarkable treasures. Newport agate shop Facets said some archaeological finds have been discovered in recent months, like tribal objects 100 to 200 years old.
Shop owner K.T. Meyers said there have been hotspots found, but it's impossible to relay these to the public as conditions can change rapidly, even within the same day. Gravel beds that are revealed by low sand can suddenly shift, sometimes within the space of six hours.
Meyers said you absolutely have to hit the beach and look for yourself. "But then look 100 yards to the north and 100 yards to the south of you," Meyers said. "They've been finding hotspots anywhere from Yachats to Otis. They've been finding some interesting pieces; some artifacts have been found."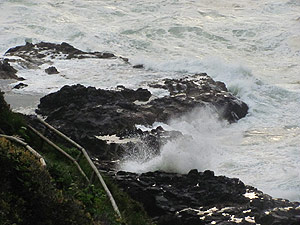 Few things spell romance more than the beach (Cape Perpetua and the Devil's Churn, near Yachats)
Valentine's Day. Few things spell romance more than taking your relevant other to the beach. Romance specials abound at hotels and restaurants, and fancy dinners are the best precursor to some hand-holding walk on the beach – especially if the weather cooperates as it often does in mid-February.
See the Oregon Coast Romance – Valentine's Day section for further information and suggestions.
Newport Seafood Wine Fest. It's the biggie of the season, where the town's population swells by almost 20,000 over the course of the weekend, and hotel rooms are booked in a 30-mile radius. This year it's February 25 – 27. A few hundred eateries, wineries, crafts and breweries from around the west coast get together over the course of the weekend. Over 21 only. Advance tickets are available online. Friday from 2 to 9 p.m. Saturday from 10 a.m. to 6 p.m. Sunday from 10 a.m. to 4 p.m. The South Beach Marina Parking Lot, near the Rogue Ales Warehouse, 2320 OSU Drive, just south of downtown Newport. www.newportchamber.org. 541-265-8801.
Antique Week, Lincoln City. It's more like ten days than a week, but who's doing the math? It happens February 11 – 21 throughout Lincoln City. It's grown into one of the largest festivals of its kind in the U.S. City-wide antique sales, glass drops on the beaches, classic car, electric car show, museum exhibits, celebrity appearances by Harry Rinker of HGTV Collector Inspector and more. This year's festival focuses on Oregon coast's past, including The Pixie Kitchen and Pixieland. Themed events include free historical tours, a special showing of Peter Pan at The Bijou, Pick-A-Pixie promotion to win gift certificates plus Pixie Kitchen antiques and memorabilia. There is currently a "Remembering Pixieland" essay contest. Various Harry Rinker workshops take place, including , "How to be a Smart Antiques and Collectibles Buyer" on February 13 at The Little Antique Mall from 3 – 5 p.m., and an Appraisal Clinic at the Lincoln City Cultural Center on February 14. www.oregoncoast.org. Lincoln City, Oregon. 800-452-2151
More About Oregon Coast hotels, lodging.....
LATEST OREGON COAST NEWS STORIES
Cannon Beach Sandcastle Fest This Coming Weekend: N. Oregon Coast Favorite Re...
Saturday, June 10 for more celebratory creations. Cannon Beach events
For International Travelers to U.S., South Oregon Coast Provides Bold, Rugged...
The wild outdoors awaits in Coos and Curry counties. Coos Bay, Bandon, Langlois, Gold Beach, Brookings
Where Were the '20 Miracle Miles?' Quirky to Cool Central Oregon Coast History
A stretch from Otis, Lincoln City to Depoe Bay, sort of
Not THAT South Beach: Newport's South Beach Mix of Oregon Coast Whimsical to ...
What if there was a lot more to the place. Travel tips
Majority of Central Oregon Coast Back Open to Razor Clamming
Reopened from Florence's Siuslaw River to Seal Rock
Garibaldi on the Water's Edge: Sights and Sites on Oregon Coast's Tillamook Bay
Numerous marvel-filled lookouts, crabbing, clamming and adventure
Oregon Coast By Numbers: List of Every Lincoln City Beach Access Along Its Dr...
All beach accesses in the central Oregon coast town
Why the Moon is Bigger Right Now on Oregon Coast / Washington Coast - and Con...
Full moon that's coming up is called the Strawberry Moon. Sciences

Back to Oregon Coast
Contact Advertise on BeachConnection.net