10 Reasons New Star Trek Series Should Film on Oregon Coast
Published 01/11/2016 at 6:33 PM PDT
By Oregon Coast Beach Connection staff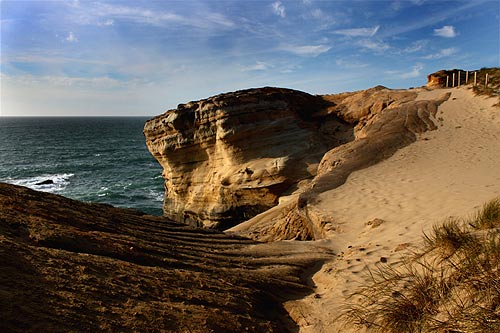 By Andre' Hagestedt
(Oregon Coast) – The veils of secrecy around the new Star Trek series coming on CBS next year are thick. Or perhaps they just don't know enough yet to leak anything. Now, in this post-Nimoy and post-JJ Abrams Trek world, we do know the network is launching yet another installment in the famed franchise, which will apparently only be available online after the pilot airs on the actual airwaves. (Photo above: Cape Kiwanda).
One thing producers of the new series should know: you really need to do some filming on the Oregon coast. Aside from the gloriously otherworldly looks some locales have, Oregon gives some inviting tax breaks to filmmakers.
Here's the top ten reasons the new Star Trek needs to check the region out. The links provide many more photos of these spots.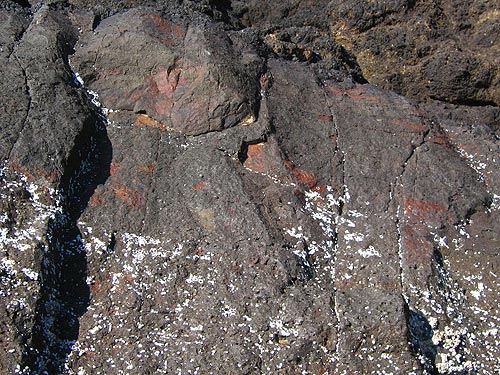 Alien Landscapes: Yachats. It's almost impossible not to picture these jagged, blackened rocky ledges as part of another world. Or, head south a bit and you'll find surreal labyrinth-like beaches of spots like Strawberry Hill, which almost have a Roger Dean vibe (the artist who did most of the Yes album covers).
In fact, when I was just under ten years old – in the late 60's, when the original Star Trek was still airing – my brother and I would play act Star Trek along Yachats' strangely-shaped shores.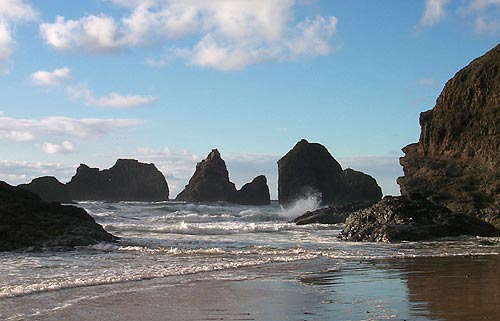 Alien Landscapes: Oceanside. Behind the tunnel at Oceanside is a beach actually nicknamed Star Trek Beach because of the funky shapes that reside here (some even resemble moments from TOS, such as the former arch that looked a lot like the time portal from City on the Edge of Forever). Nearby Short Beach should also provide some stunningly extraterrestrial sights.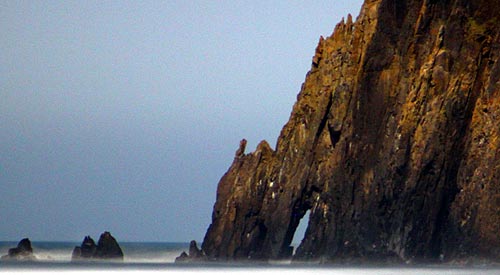 Hidden Parts of Manzanita. On a set of rather hidden (and dangerous) cliffs just north of Manzanita, you'll find these bizarre basalts. There's also the striking Cube Rock not far from here, which looks like some gigantic ancient remnant of an advanced civilization.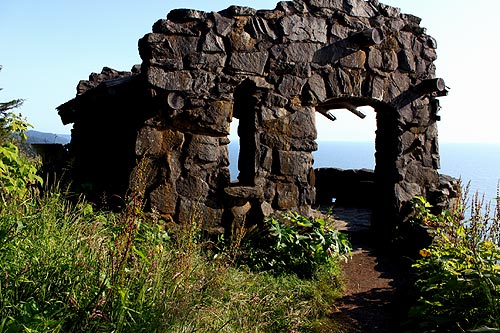 Forests of Another World: The coastal rainforests in this area are similar to those in British Columbia, which hosted plenty of scenes of interplanetary exploration for both Stargate series, along with lots of encounters in X Files and Continuum. Some, like atop Cape Perpetua or Tillamook Head, have strange buildings, like the abandoned bunker at Tillamook Head.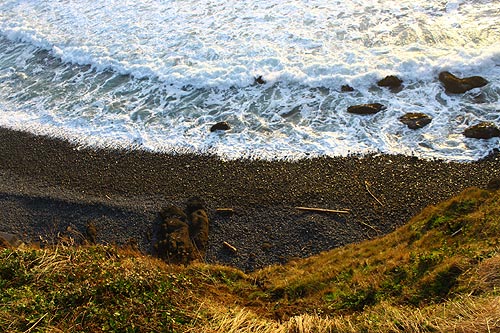 Weird Quarry Desolation: Yaquina Head. Newport's Yaquina Head hosts at least one old quarry, along with soaring, angular rock walls that simply scream "strange new world." Or, there's that freaky black beach below where the sands are unusually large and the rocks make that wowing chattering sound.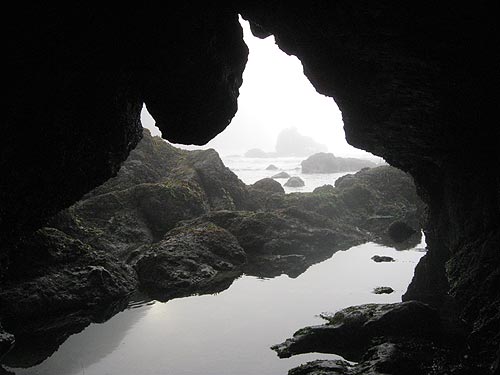 Alien Landscapes: Beneath Yaquina Head. On the northern face of this headland at Newport, a host of truly alien objects abound. It's a very hidden spot, where a weird arch and bizarre zig-zag features in the cliffs and ground reside. All of it not unlike that TOS episode where the Galileo shuttle craft was stuck with those giant, hairy Sasquatch dudes throwing spears at Spock.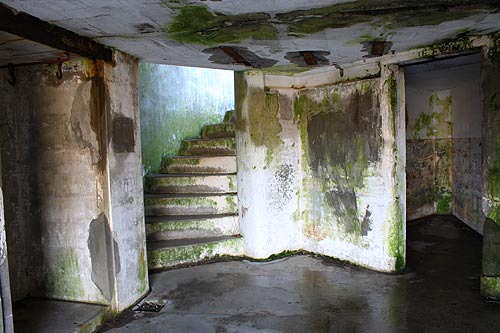 Post Apocalyptic in Warrenton. The gutted, concrete ruins of an old battery from World War 2, a crusty shipwreck and the jetty at Fort Stevens State Park are just the beginning of a series of sights and sites that evoke one kind of post-apocalyptic destruction or another. Be it the remnants of Earth or some other unfortunate race, framing these places in just the right way can give you the chills.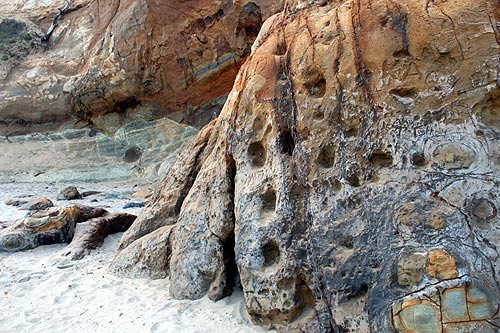 Alien Landscapes: Top of Kiwanda. From the Mad Max-like dune at the top and its barren, weather-ravaged trees, to the pockmarked and Dr. Suess-like surreal-scapes of the headland, Pacific City's Cape Kiwanda really feels out of this world.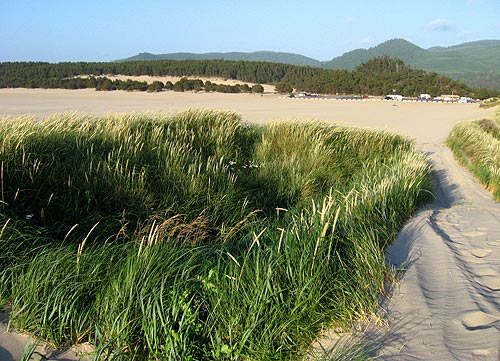 The Desolation of Dunes. Desert scenes are often the staple of Sci-Fi, and the Sand Lake Recreation Area near Tillamook or the 80 miles of Oregon Dunes National Recreation Area near Florence definitely fit the bill here. Especially the latter, with towering dunes rising up and eclipsing everything else. Weird plants in the area also assist the alien vibe.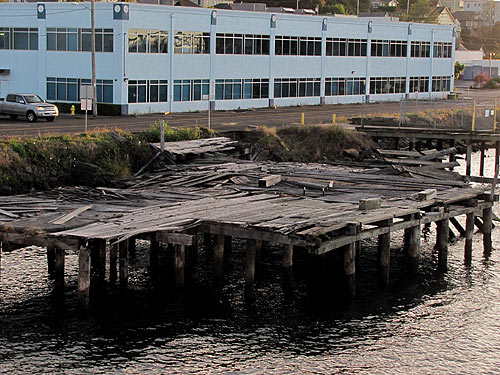 Time Travel Moments: Astoria. What if this new crew has to time travel back to 1930's America? Or late 60's small town Americana? Astoria has already been popular in other movie sets for Goonies, Kindergarten Cop, The Ring II and more. Not only are parts of it serious leftovers from various time periods, there are pockets of surrealistic rusted and crusty delights as well. (Oregon Coast Beach Connection already touted our reasons that Doctor Who should film here - see those). Oregon Coast Lodging in this area - Where to eat - Maps - Virtual Tours