A Dozen Unique, Gorgeous Lodgings at Lincoln City, Oregon Coast
Published 10/30/2017 at 6:37 PM PDT - Updated 10/30/2017 at 6:47 PM PDT
By Oregon Coast Beach Connection staff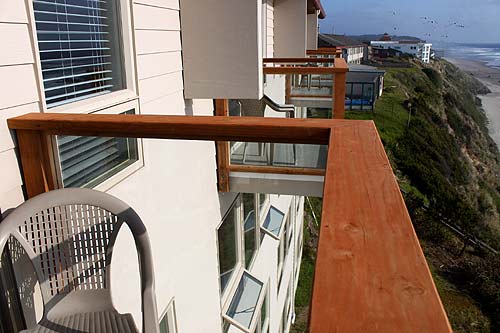 (Lincoln City, Oregon) – Some lodgings on the central Oregon coast are so distinctive and engaging they have to be shouted about. There are definitely a handful of hotels, motels and rentals in Lincoln City you should not miss. (Above: Sea Horse Oceanfront Lodging).
For something a little different in the Lincoln City area, here's a look at about a dozen lodgings that you need to know about. Sure, you can't stay at them all. But you may want to try after reading what these have to offer. (More Lincoln City Lodging here, including exclusive listings not found anywere else and bulletins on Lincoln City lodging deals, specials).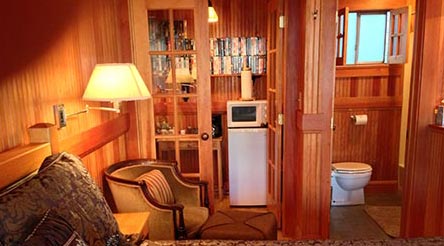 If any lodging along the entire shoreline screams "old Oregon coast road trip" it would be Whistling Winds Motel, which is tucked away in an area sort of close to the casino. Woodsy chic and the feel of an old beach bungalow: the woodwork in these rooms is stunning. It's also quite inexpensive. Coolest, most unusual feature: there's a palm tree in their garden. 866-384-9346 3264 NW Jetty Ave, Lincoln City, Oregon. www.whistlingwindsmotel.com.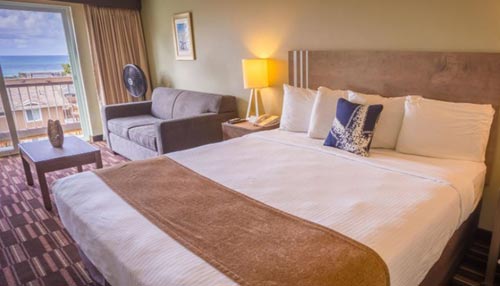 Along Highway 101 there's the grand Inn at Wecoma, with some beautiful sweeping lines. What they call contemporary retro almost nails it: it's chic, sleek and retro in that there's a hip and cool '60s vibe in the mix. Some partial ocean views and a year-round pool – plus that hot breakfast – are thoroughly cajoling. 541-994-2984. www.innatwecoma.com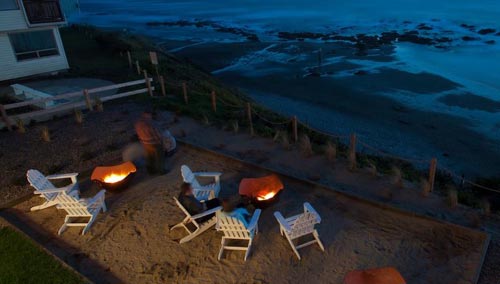 The Coho Inn sits right on the ocean, a place that's sleek and modern but elegant enough to give you the warm 'n fuzzies. That coastal ideal of sitting by a fireplace watching a storm? Indeed, you can do that here. Looking out over the beach, you get nothing but an eyeful of ocean vista. 800 848 7006. www.thecoholodge.com.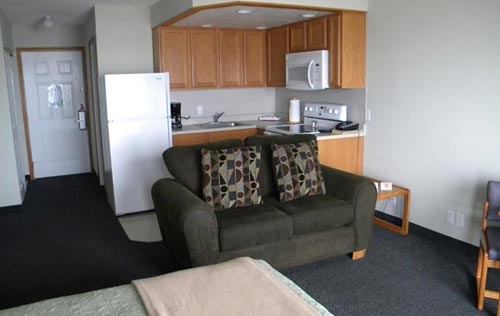 Affordable and awesome are the two terms best describing the D Sands Condominium Hotel. Right up on that beach, you're privy to great storm action here, should the weather descend upon this central Oregon coast town. They light the beach at night so you can see those waves. There's a heated pool and spa, 24-hour desk service and yet a homey touch to the whole thing. 800-527-3925. www.dsandsmotel.com.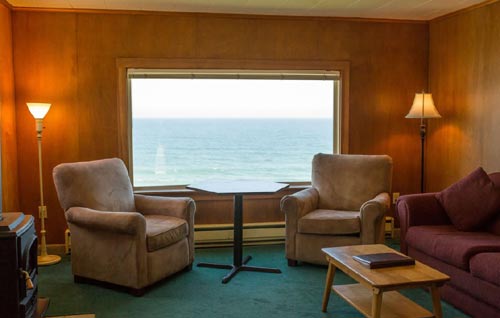 Just before Taft (and a short distance from the Inn at Spanish Head) you'll find the majestic beauty of the Ester Lee Motel. The place is a historical charmer and kind of an architectural highlight in Lincoln City. The lobby is stunning with its huge, maritime-theme windows. While it may ooze charm and a sense of yesteryear, inside it's cozily contemporary. They also have some endearing cottages of varying sizes. 541-996-3606. www.esterlee.com/.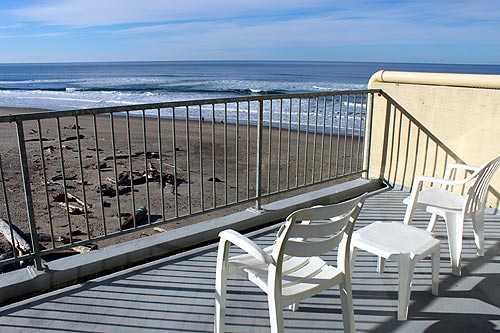 The Inn at Spanish Head has been a landmark along the Oregon coast for decades, and it's the only hotel built into the side of cliff in this manner. The lobby begins the experience: stunning views from the top floor. A pool and beautiful oceanfront decks round out the fun at this Lincoln City must-see. 800-452-8127 or 541-996-2161. www.spanishhead.com.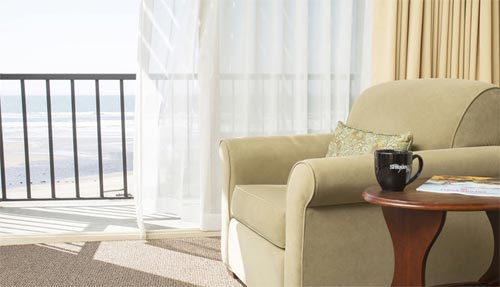 Close to the famed D River access sits the upscale Shearwater Inn, a grand hotel for Lincoln City if there ever was one. It's thoroughly modern but with a classical European sense, and the rooms are almost futuristic at times yet with hints of the historic. Really big rooms and a beautiful garden area are other highlights. (541) 994-4121. 800-869-8069. www.theshearwaterinn.com.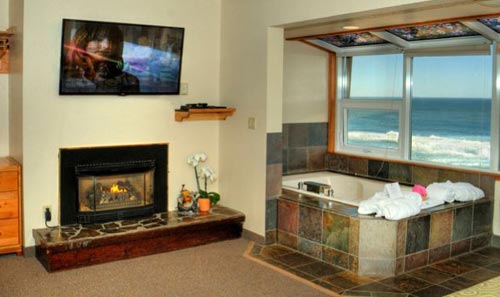 Perched atop another fascinating area of Lincoln City beaches, the Nordic Oceanfront Inn has a woodsy and brick exterior that at once evokes modern times and the coast trips of yesteryear. Balconies or patios are directly over the waves, and in some rooms you can get a sauna, fireplace or a kitchen. There's a large sundeck to enjoy the views, be it stormy or calm. 800-243-3558 (Canada. 800 848 7006). www.nordicoceanfrontinn.com.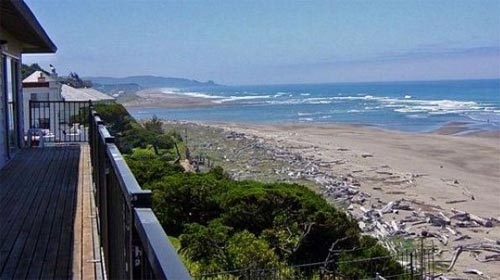 Ocean Terrace Condominiums, sitting atop a majestic cliff top, is another time-tripping wonder in Lincoln City, with a retro '60s or '70s vibe. You're above that engaging chunk of beach that's just around the corner from Taft, where less people tend to hang out. Agate hunting is often good in this area. Most rooms can be used as extended stay units, coming with full kitchens. There are two saunas and an outdoor heated pool. (541) 996-3623. www.oceanterrace.com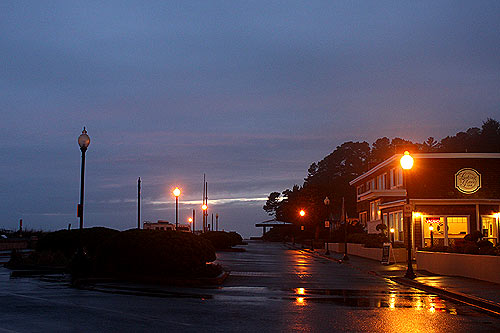 The Looking Glass Inn is at the very end of Taft, just across from the beach access. Watch the seals carouse on the island across the way, or splash around yourself in your inn-room Whirlpool tub. Rather awe-inspiring interiors are all around here - sometimes with a white brick that feels like a trip back in time. Some units have decks from which to check out the splendor, and there's an outdoor crab cooking station in case you snagged any crustaceans from Siletz Bay. 800-843-4940. www.lookingglass-inn.com.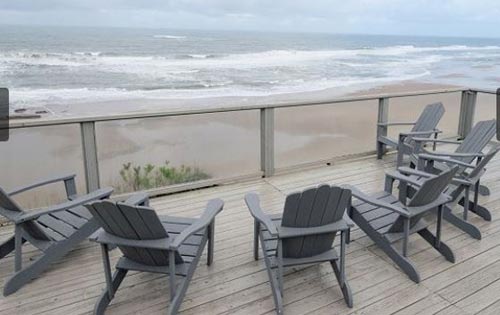 Lincoln City boasts A1 Beach Rentals comes with a huge variety of homes for all kinds of tastes and budgets. Highlights include some of the historical wonders (such as one that was a submarine lookout during WW2) and nice array of finds in the coveted Road's End neighborhood. You'll also find some in Depoe Bay. (503) 232-5984. www.a1beachrentals.com.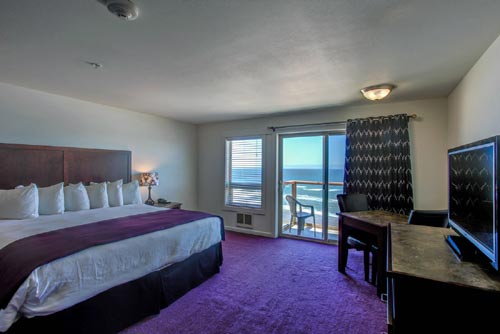 Vibrant colors and cheery palettes dominate the scenery inside and out at Sea Horse Oceanfront Lodging, which sits high on a bluff and provides non-stop incredible views. A heated indoor pool and spa also share that view, and the Sea Horse has a set of incredibly charming vacation rentals. (800) 662-2101. www.seahorsemotel.com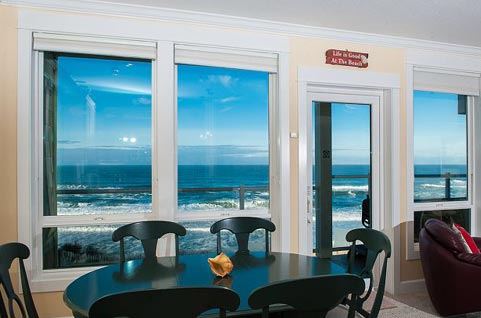 Keystone Vacation Rentals. If you've ever walked along the beach in Lincoln City and wondered how awesome it would be to stay in one of those beachfront condos – this is how you can. Keystone has numerous condos in Lincoln City and in Depoe Bay, especially at the gorgeous Pacific Winds complex. These beachfront beauties have a classic vibe with their earthy river rock fireplaces. From a sleek modern kitchen to eye-popping bedroom details, the amenities are many. (503) 443-1414. www.KeystoneVacationsOregon.com.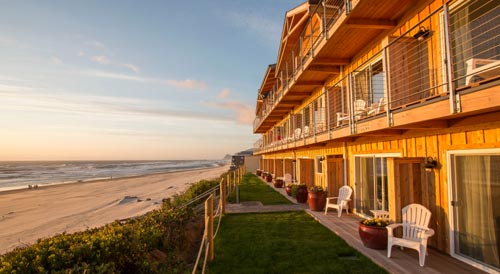 Near the slightly hidden but fascinating NW 26th St., the Pelican Shores Inn sits high on a scenic bluff that guarantees excellent views. The Pelican has that weathered wood exterior that gives it that sense of eternal coastal charm. It's quaint yet upscale and cheerily painted. You get a private beach accessway, lighted surf at night and a complimentary continental breakfast. 800-705-5505. www.pelicanshores.com.
Also of note is Oregon Beach Vacations, essentially the undisputed king along the Oregon coast. They have an office in Lincoln City, but host well over 200 rentals on essentially the entire upper half. The farthest north is Gearhart and the southernmost is around Yachats, encompassing almost 150 miles. All this means an incredible array of choices. 1-800-723-2383. www.oregonbeachvacations.com.