How Did the Oregon Coast Come to Be - and When?
Published 08/03/2018 at 5:11 AM PDT
By Oregon Coast Beach Connection Staff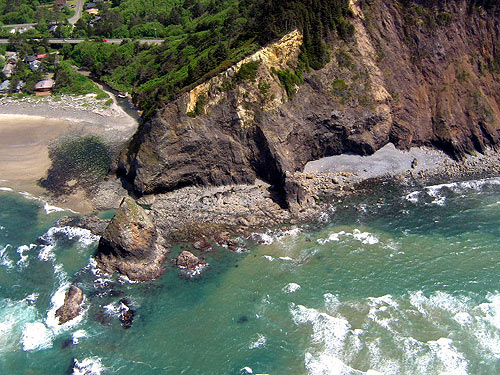 (Manzanita, Oregon) – Look around the Oregon coast and you may wonder: how did all this come to be? Or for that matter: when? (Above: aerial view of Arch Cape).
It's an insanely complex answer. But the shortest answer, arrived at by skipping over whole gobs of important stuff: probably about ten million years ago the shoreline that we know as the Oregon coast started to exist.
But wait, there's more: ice ages came later and changed the ocean levels, drastically shifting things even more. Back and forth the coastline went.
Before that, the continental plates had this coastline much farther east.
Trying to figure out when the Oregon coast as we see it came to be is really quite the rabbit hole. There were times it looked similar to now. Then it shifted its look and layout quite a bit. Then it came back. Then it changed again.
It's enough to even give Dr. Who a headache even with his/her time machine. Still, it's fascinating beyond belief.
Tom Horning, Seaside geologist and resident, points to a huge array of things going on. The continental plates shifted westward, just as a massive hole in the Earth's crust (the same one that powers Yellowstone National Park) poured out lava flow after flow over some 300 miles and created the Columbia River and many of the headlands we now know. Places like Tillamook Head or Neahkahnie Mountain were of this origin. Parts of Oregon rose and fell, then rose again, including the Coast Range.
If you really want to trace the origin of this shoreline all the way back, you have to go as far as at least 270 million years ago when there were no continents. There was one massive continent known as Pangea, which began breaking up 200 million years ago. And that's only the most recent of such super continents. Yes, there were others.
Horning said the earliest most recognizable version of the Oregon coast started happening about 190 million years later, after all the big lava flows had finished rampaging across the area. That was about 14 million years ago. Also around that time, the mudstones that make up the bottom of the beaches at places from Yachats up to Astoria came to be.
"Probably around 10 million years ago, the Coast Range as we know it had again become emergent and was rising faster than erosion was destroying it," Horning said. "From then to the present, the shoreline has been approximately at its present position, except during pronounced Ice Age sea level changes of as much as 400 to 500 ft."
Horning said that for much of the last two million years the continental shelf was getting flooded now and again, but mostly it was a "coastal plain covered with spruce forests, lakes, and migrating sand dunes."
The tricky, trippy part: the continental shelf he's referring to is the area where the water depths are now around 500 to 600 feet. We're technically living in a time that may be a bit unusual in the grand scheme of things. Ocean levels now are so high they cover the stretch of the continent some 500 feet down where shorelines and beaches normally were.
500 feet is the difference in height between Cape Foulweather's top point and the ocean, if you need to visualize it.
"But for the past 2 million years, sea level has been lower than it is now and the shoreline has typically been very close to the edge of the continental shelf, or where water depths are near 500 to 600 ft.," Horning said.
There's a lot more than this that went on to form what we know today, but continental drift is probably the largest factor. For instance, 70 million years ago the shoreline was around where Silver Creek Falls State Park is now. Horning said around 41 million years ago the great, big, nasty subduction zone (where all the earthquakes come from) finally arrived at its current spot some 200 miles or more off this coast. Before then it was much farther inland.
Meanwhile, the prehistoric coastline kept marching westward.
At 30 million years ago, the continental slope was lifted up above sea level and then sank back down about 18 million years ago or so. By about 15 million years ago – only three million years later – a whole lot of mudstones accumulated beneath the waves and built so high the shoreline retreated back inland about 20 miles or more.
Fast forward back again to two million years ago and – as Horning previously said – things began to look the way we know it.

To sum it up: the shoreline itself was in approximately this spot about ten million years ago, whereas it had been farther east before that. But it was two million years ago before things might've become recognizable to human eyes, if they could see then and now.
Even so, lots has changed in 10,000 years and less. Ice ages came and went. Back about that time, a massive ice damn broke in what is now Montana and with it came hundreds of feet of water that carved out many of the landmarks we see in the Gorge, the valley, the Coast Range and even some of the beaches.
As little as 3,000 years ago, there were massive dunes covering spots like Newport's Yaquina Head which are now gone. 300 short years ago the location of the Necanicum River in Seaside was almost overnight shifted a half mile to the north by the great tsunami that struck back then.
If you went back in time and tried to recognize landmarks, you might find it difficult. Never mind the lack of good morning coffee two million years ago.
To add even more craziness to all this geologic haziness: the north Oregon coast is understood much more than the central and southern Oregon coast. Up north, much of the basalt rock and mudstones have been better preserved. From Lincoln County southward, scientists can't really be sure about every thing that happened.
"As for other parts of the coast, the actual position of the shoreline is not so clearly understood, as uplift and erosion have destroyed the rocks that contain the evidence we need to interpret the environment of deposition," Horning said. "Presumably, the shoreline was somewhere between the summit of the Coast Range and 20 miles west of the modern beach. Still a bit of a mystery." Oregon Coast Lodgings in this area - Where to eat - Maps - Virtual Tours = More Oregon Coast Geology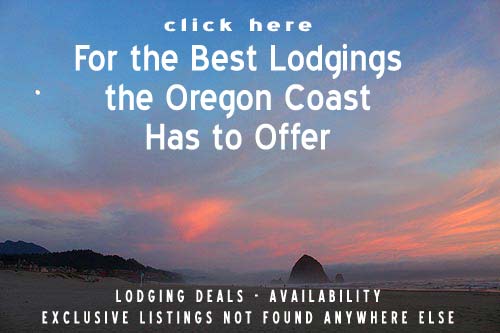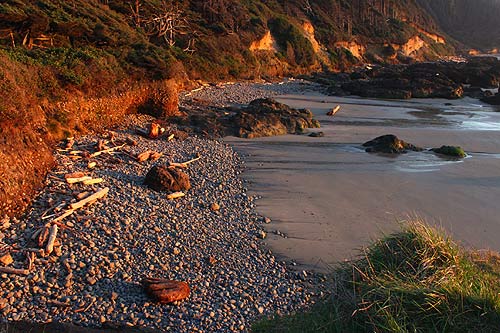 More About Oregon Coast hotels, lodging.....
More About Oregon Coast Restaurants, Dining.....
LATEST Related Oregon Coast Articles
Back to Oregon Coast
Contact Advertise on BeachConnection.net
All Content, unless otherwise attributed, copyright BeachConnection.net Unauthorized use or publication is not permitted