Restaurants and Dining in Seaside, Oregon
Dive into scrumptious homemade ice cream - plus they make their own fudge. Of note is their take on chocolate with malted milk balls in it. It's quite a mouthful. Or the powerful fresh fruit taste of the marionberry, using real Marion County berries. Also spectacular are the other fruit flavors, such as the tangy (and very real) strawberry, and the seriously wowing (but only periodically available) mango. All the fruity ones have chunks of the real thing inside, waiting to surprise. Sugar free and diabetic options are available, but mostly Zinger's specializes in frozen excess. Singles are actually the size of two scoops and doubles - well, they're twice as large. 210 Broadway. (503) 738-3939. www.zingersicecream.com (Family Restaurant)
Bell Buoy of Seaside/ Buoy's Best Fish House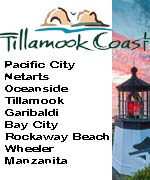 That ancient sign - that quaint bit of old time Americana on the roadside of 101 in Seaside - is also a sign of great grub. It's famous as a fresh seafood market, but last year Bell Buoy added a much-lauded restaurant: Bell Buoy's Best Fish House. There, you can grab all manner of seafood melts, cocktails, shooters and baskets of yummy stuff. Let your tummy bask in the warm glow of excellent melts with local Dungeness crab, shrimp, smoked salmon and oysters, as well as delicious seafood cocktails of a large variety. All is quite reasonably priced. And whatever you do, DON'T miss their tuna melts! 1800 S. Roosevelt Dr., Seaside. (503) 738-6348. You can order this yummy stuff online as well, at www.bellbuoyofseaside.com.
CANNON BEACH Dining, Restaurants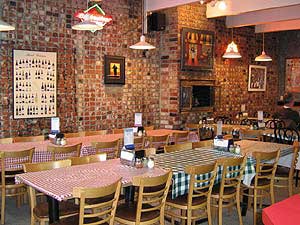 Fultano's Pizza Cannon Beach
Gourmet Italian and a Family Price. This one delivers to local hotels, and they feature slices for lunch. There's a special thin crust recipe that's especially tasty, crunchy and yet still tender in a way that manages to combine both those latter qualities seamlessly.
There are many of the standbys, as well as gourmet varieties like the Margherita (garlic and herb olive oil, three cheeses, red onion and more), a Greek-themed specialty, a Goat Cheese pizza, and specialties with Teriyaki Chicken, Linguica, BBQ Chicken and a variety of seafood selections. One item features a distinctive sausage with mashed grapes for the sauce, providing a subtle, sweet tang. The sausage is spicy and zippy, making a nice balance to the slight sweetness.
One must-try is their pasta (about $10). They have a homemade tomato sauce that stacks up against anything Europe could dish out. This is one stunning, mother-of-all sauces, and their penne pasta with meatballs is a seriously addictive dish. 200 N. Hemlock and Second Street. www.CBfultanos.com (503) 436-9717. (Family Restaurant)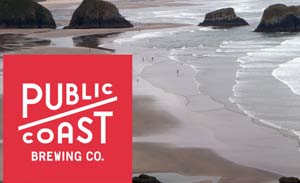 The Lumberyard Rotisserie & Grill. Soaring ceilings and polished wood surroundings make for classy but beachy laid back, with a lovely bar and yet very family friendly. Lunch boasts plenty of soups and salads, including chili, clam chowder, BBQ Rotisserie Chicken Salad. Main entrees are often around $10 to $16, and include rotisserie pot pie, a rib-eye chili dog, ribs 'n' fries. Seafood includes a spicy prawn quesadilla, halibut or salmon fish 'n' chips. Sandwiches like pork sliders or rib-eye philly are around $10. Large burgers chicken, chili, halibut or sirloin are around $10 - $15. 10-inch gourmet hearthstone pizzas. For dinner there are many of the same dishes, burgers and pizzas, and they also feature rotisserie chicken, rotisserie turkey, steak, top sirloin, fettuccine alfredo, baby back ribs or a herb-infused turkey whole breast. Child's menu, and many drink specials. Patio dining. $14 - $28. 264 Third Street. Cannon Beach, Oregon (503) 436-0285. www.thelumberyardgrill.com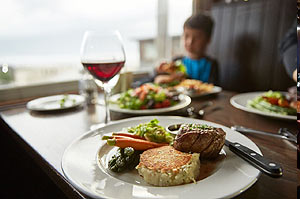 The Wayfarer Restaurant & Lounge. A timeless and upscale classic, it's the only dining view of Haystack Rock. Breakfast features various styles of eggs, omelettes, hash browns and more with special touches like seafood, wild mushrooms, marionberry butter, local hazelnuts and Rogue River blue cheese, in the $6 to $15 range. Lunch features a large selection of appetizers from $10 - $15, like avocado with blue cheese, Dungeness crab cakes or a smoked salmon arancini. Large sandwiches include meats, seafoods and burgers around $13, with unique touches like a jalapeno lime jelly. There are tacos from local rockfish, prawns, clams, or a wild forest mushroom and cheese ravioli, among others. Dinner becomes even larger with dishes like potato crusted halibut cranberry and brown butter sauce, a cedar planked honey mustard salmon, or steamer clams - most $25 to $30. Also filet mignon, porterhouse steak, wild mushroom chicken, and chicken and crab. Award-winning wine list in Wine Spectator. 1190 Pacific Drive. Cannon Beach, Oregon. 503-436-1108. www.wayfarer-restaurant.com/ or Online reservations.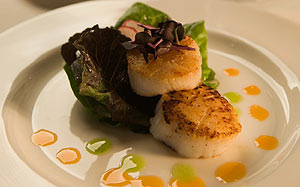 Stephanie Inn Dining Room. A four-star restaurant inside an equally stunning hotel. A soaring wood ceiling is accentuated by a chandelier, with a historic atmosphere like a classic lodge from bygone days. Seating times and days change seasonally and reservations are required. $59 per person for a masterful four-course prix fixe dinner in an innovative Northwest cuisine style, featuring fresh, seasonal and local ingredients. Their wine list has numerous awards from Wine Spectator Magazine. The menu changes nightly. A sample menu could be: Butternut Squash Risotto with toasted pine nuts, brown butter and aged balsamic vinegar. Tomato Basil Soup with gorgonzola cream. Seared Beef Tenderloin with Duchess potatoes, grilled onions and peppercorn reduction sauce. Cedar Plank Roasted Salmon with snow peas and béarnaise sauce. Savory Duck Confit with spiced lentils. For dessert you may find a Meyer Lemon Curd Tart. Complimentary breakfasts for those staying at the hotel. 2740 South Pacific. Cannon Beach, Oregon. 800-633-3466. www.stephanieinn.com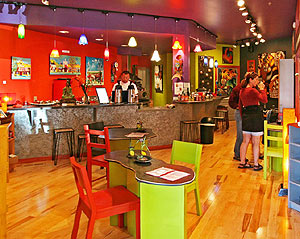 Inspired! Café. A café inside an art gallery creates more than a place to simply sit, sip and down truly inspired cuisine, with bright colors, a multitude of levels of things to look at and intriguing furniture. All this comes with a green slant and emphasis on local organic ingredients, including fair trade, shade-grown coffee. Munch on handcrafted flatbreads (about $7), like the Italian (herb infused mozzarella, goat cheese, parmesan and sundried tomatoes), or the Southwestern (spiced beans, corn salsa, pepper jack cheese), or the savory Indian (curried sweet potato, mango, goat cheese). On-site baked goods include Gorgonzola walnut bread (half loaf, $7; full loaf $12), as well as other fine breads and muffins. Fruit plates available too. To drink you'll find a large menu of gourmet teas, as well as fine wines, imported beers and Oregon-made, organic sakes. At the corner of 1st and Hemlock in Cannon Beach. 503-436-1533. www.DragonFireStudio.com. (Family Restaurant)
Or see the Cannon Beach Dining, Restaurant Guide
Manzanita Dining, Restaurants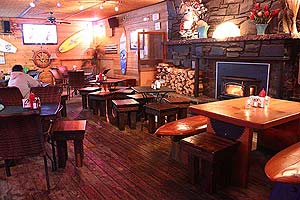 San Dune Pub.With a historical, even slight maritime vibe, the San Dune Pub is a classy staple among locals, regulars and tourists alike. A super friendly staff serves up fine microbrews as well as scrumptious grub in the American and seafood vein with homemade sauces. Appetizers in the $3 - $9 range include hummus, cheese bread, various tots/fries, hot wings or calamari. Plenty of burgers in varied incarnations like chili, bacon, cheese, teriyaki, BBQ, chipotle, veggie or chicken come with tons of interesting additions. Got seafood? There's strips, chips, burgers, tacos and more with fishies or oysters. Wraps and ciabatta sandwiches around $8 include chicken, Caesar, pesto, turkey and bacon/swiss, among others. Soups and salads abound. Less than ten minutes from the surfing paradise of Short Sands, weekends abound with live music frivolity. 127 Laneda Ave., Manzanita, Oregon. 503-386-5080. www.sandunepub.com
See more Manzanita, Wheeler, Nehalem and Rockaway Dining Here
Dining in Nehalem, Wheeler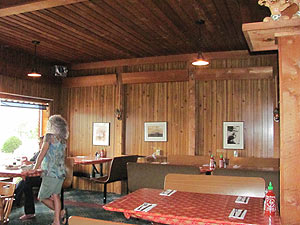 Tsunami Bar & Grill. Sandwiches, burgers, fish 'n' chips and a large variety of Asian cuisine with a view of Nehalem Bay. Set in a cozy, wood-themed interior, this very reasonably priced family dining favorite specializes in tasty delights from Korea, Japan and Thailand. Spring rolls, curry chicken, char grilled pork, Korean short ribs and bentos are some of the highlights. Most large dishes around $9.50. Stir fry yakisoba noodles come with chicken beef or tofu. Hot wings are Asian-style. Fish 'n' chips baskets are enormous and legendary among locals ($8 - $12). Full compliment of sides like tots, fries, steamed or fried rice and more. Cheeseburgers come in interesting varieties like BBQ bacon, mushrooms, chipotle black bean, gardenburger, chicken sandwich with honey Dijon, and others – all around $8. Full bar in back has one of the coolest retro interiors in Oregon. 380 S Marine Dr. Wheeler, Oregon. . 503-368-3778. www.beachconnection.net/tsunami_grill_wheeler/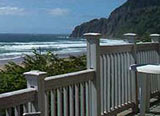 Sunset Vacation Rentals. About 70 homes to choose from in north Oregon coast hotspots like Manzanita, Neah-Kah-Nie, Rockaway Beach, Nedonna Beach and the secretive Falcon Cove. These beauties sleep anywhere from two to 20 and many are pet friendly. Cozy bungalows to large homes with vaulted ceilings – beach funk to cutting edge. Huge array of amenities, such as vintage appliances, woodstove, DSL, wraparound deck, fireplace, soaker tub or wet bar and more – depending on home. 186 Laneda Ave., Manzanita, Oregon. 503-368-7969. 800-883-7784. www.ssvr.com.
See more Manzanita, Wheeler, Nehalem and Rockaway Dining Here
ROCKAWAY BEACH Dining, Restaurants
See Manzanita above
See more Manzanita, Wheeler, Nehalem and Rockaway Dining Here
Bay City Dining, Restaurants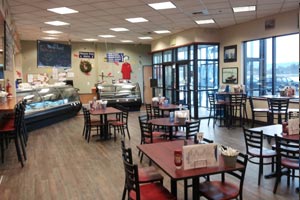 Pacific Oyster, Bay City
It's hard to get fish fresher than this, as it's processed right here after coming in from the sea. At the end of the dock here, it's probably Bay City's only recognizable feature, with piles of shells near the landward side. But it's also a famous little family eatery, where the seafood practically gets shuffled from the sea straight into your mouth. Soups and salads include many seafood specialties, of course, including cioppino, chowders, crab Louie and cheese breads (from $3 to $14). Fish 'n' chips come in various incarnations, like oysters, halibut, cod, rock fish, prawns or chicken strips (about $8). Find seafood sandwiches with shrimp, tuna or crab, as well as burgers, around $9. Finally, a small but tempting selection of dinners includes pan fried oysters, fillets of salmon or halibut, sautéed scallops and other goodies around $12. Stunning views of the bay - during the summer you can sit outside and take in the sea air. All sorts of fresh seafood and flavorings on sale to take home. Also visit their Portland and Newport locations. 5150 Oyster Drive, Bay City, Oregon. (503) 377-2323. www.pacseafood.com. (Family Restaurant)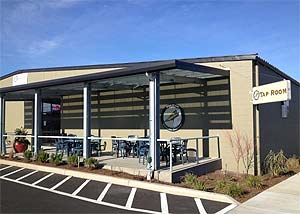 Pelican Tillamook Tap Room. Inside a soaring family-friendly facility, you are dining with a view of the tap room, where much of the Pelican Brewery action happens. Deep in the heart of inland Highway 101 and the area's green, rolling hills, about 12 miles from the beaches. Indulge in a more downhome version of the Pelican's favorite cuisine, with specialties for kids as well. Start with appetizers like fries, a hummus based on their beer that comes veggies and chips, oyster shooters or fried cheese curds. Big sandwiches and burgers on tap such as various burgers, including one very spicy one with chipotle and fried jalapenos. Take to the ocean with the oyster basket (local Netarts oysters) or their famed fish and chips. A scrumptious Reuben is literally piled high with corned beef, while the elk burger will intrigue you. 1708 First Street. Tillamook, Oregon. 503-842-7007. Website here
Pacific City, Oceanside, Neskowin Dining, Restaurants, Eateries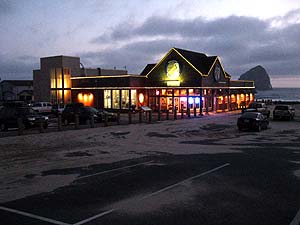 Pelican Pub & Brewery. Breakfast, lunch, dinner and microbrews – all in a family restaurant with an amazing ocean view. It all begins with breakfast (generally around $10), that includes a large menu of egg concoctions, omelets, pancakes and surprises like breakfast burritos and benedict a la Florentine. Lunch ($9 - $11) has bundles of salads, seafood, chowder, sandwiches, fish and chips, and interesting morsels like wings, calamari, bangers and mash and even shark. Plenty of pizzas dominate. Amidst the usual toppings you can find chicken, spinach or even a barbecue sauce. Calzones as well. Dinner ($10 - $20) brings a fancier slant to the gourmet vibe, including salmon, beef brisket, prime rib, beef medallions, chicken and other seafood specialties dishes. Many pastas and a kids menu rounds out the culinary action. 33180 Cape Kiwanda Drive. Pacific City, Oregon. 503-965-7007. www.pelicanbrewery.com.
See more Oceanside, Pacific City Restaurants, Dining and Menus Here
Lincoln City Dining, Restaurants, Eateries
Dine to one of the most breathtaking views on the entire coast, several stories above the surf, inside the Inn at Spanish Head. Breakfast features various griddle classics like pancakes, waffles, French toast to pigs in a blanket around $7, along with a large array of omelets in the worlds of seafood, veggies and meats around $10 - $13, or build your own. A choice of more elaborate breakfast skillet dishes is available too. For lunch, there's plenty of seafood specialties, pastas, salads and sandwiches. At dinner, steaks, clams, fish, chorizo, pastas and dozens of intricate, gourmet dishes grace the menu, made with extravagant flair and creativity, often in the $20 - $30 range. Find delicacies like Surf 'n' Turf, Blackened Ahi, Wild Mushroom Risotto, Lobster Tails and chicken dishes, featuring interesting additions like stuffed mushrooms or Thai-influenced aspects, all creating the many layers of delirium. 4009 SW Highway 101. Lincoln City, Oregon. 541-994-1601 or 800-452-8127. www.spanishhead.com/site/restaurant.html (Fine dining, family, lounge)
| | | |
| --- | --- | --- |
| | | |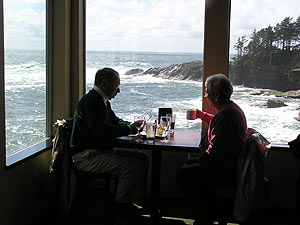 Tidal Raves. Upscale yet casual dining, with massive windows to a raging surf that often provides views of cavorting whales and their young. Tidal Raves specializes in seafood and more. Varied menu caters to different tastes and budget. Appetizers include much seafood as well as a goat cheese tart; lots of salads. Smaller items: Halibut tacos, green curry halibut, flat iron steak, fish 'n' chips or a hearty cioppino are about $12. Dinner entrees includes seared sea scallops, salmon or rib eye char grilled, crab casserole, Thai-spiced barbecued shrimp or a fancy pasta with various seafood (around $20). Breaded halibut or pacific cod, tiger shrimp with grape tomatoes and mushrooms, char grilled top sirloin, panko breaded razor clams or a wild salmon and shrimp with basil salsa – all around $20. Nice details like crab cakes that come with Basmati pilaf; some dishes available Cajun-style or Asian. Lunch menu features some of the same but smaller and less cost. Fanciful homemade desserts. 279 NW Hwy 101. Depoe Bay, Oregon. 541-765-2995. www.tidalraves.com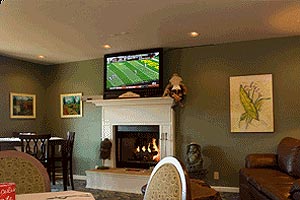 The Bistro at Harbor Lights. An engaging, awesome bay view of inner Depoe Bay gives way to comforting woods and light colors. Limited hours: from 4 – 8 p.m., Monday through Saturday, but worth it. Appetizers range from $2 5o $12 and include a pound of steamer clams, crab raviolit, meatballs, prawns and Italian garlic bread. Main entrees include a Dungeness Crab cocktail, Angus beef steak, 12-ounce Ribeye, top sirloin, a massive shrimp scampi served on linguini or a chicken sauteed with onions in a lemon and white wine sauce. All steaks come with potato and choice of soup or salad. Huge burgers ($9 - $10) are all of certified Angus beef as well, coming in incarnations of avocado cheeseburger, mushroom Swiss burger, a bleu cheeseburger or a pepperjack burger. These come with potato beer battered French Fries. Some interesting pastas. Linguini marinara, a four-layer meat lasagna, a linquini with meat sause and maybe meatballs – all about $10 or so. Pulled pork or meatball sandwiches as well. 235 S.E. Bay View Ave. Depoe Bay, Oregon. 800-228-0448. www.theharborlightsinn.com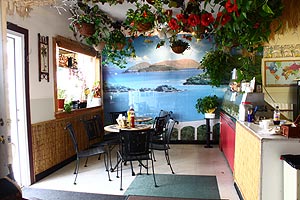 Baywalk Café. Along the bustling bay front and bridge of Depoe Bay, it's a cozy charmer of homemade deliciousness. No dish is over $8. Legendary clam chowder made from scratch daily - and gluten-free. Settle down to a variety of fish n chips to a view of the ocean, including clam strips and shrimp choices (around $7). Chicken nuggets, chicken strips and a fried chicken sandwich also around $7. Burgers include cheeseburger or a massive chili and cheese burger or veggie burger - a la carte $4.50 or around $7 with fries. Six-inch hoagie roll sandwiches come with chips, choice of cheeses: ham, pulled pork, turkey, tuna, roast beef or grilled cheese around $6. Garlic fries, cheese fries, chili cheese fries and beer batter onion rings under $3. Small pizzas, taquitos, nachos, egg rolls, even hot dogs - all under $5. Plenty of coffee and espresso selections. 16 flavors of Tillamook ice cream ($1.75 - $5.50). Milkshakes too. Wi-fi. 16 S Highway 101, Depoe Bay, Oregon. (541) 765-7674.
See more Depoe Bay Dining, Restaurants and Depoe Bay Menus here

Dining in Newport, Oregon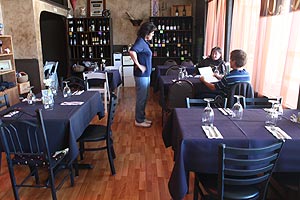 Stone Crest Wine Tasting Room and Italian Bistro. An uplifting little wine bar and shop, located inside a beautiful bistro setting. Located on the corner of Highway 101 and Hurbert, in the historic Deco District of Newport, you'll find an upscale yet woodsy setting in this lovely section of town. A huge selection of international wines are coupled with the tasty delights of a hidden culinary gem. Most dishes are between $10 and $13. Highlights include: steamed mussels with garlic, tomato and cream; Sausage and peppers with polenta; Gnocchi with mozzarella, tomatoes and herbs; or a tube pasta with proscuitto. Seafood includes prawns with gnocchi, a smoked salmon pasta with lemon butter, and more. Try the Chicken Milanese with mozzarella, spinach and angel hair pasta. Also notable is the sauteed pork, sage and proscuitto in an asparagus and tomato glaze. Salads are creative and include dishes with goat cheese or filet of beef. 715 Suite D. Hwy 101 and SW Hurbert St. Newport, Oregon. (541) 867-6621. Website here.
See more Newport Dining, Restaurants and Menus here
Yachats Dining, Restaurants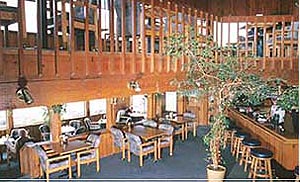 Adobe Restaurant and Lounge. Views of the area's dramatic ocean are available from every seat. For breakfast French toast selections are about $8.50, and can include a variety of toppings. Waffles, biscuits and gravy; eggs done with a Mexican flair, or with oysters, diced ham, mushrooms and even grilled top sirloin. Numerous egg dishes and seafood. Lunch includes lots of salads, large entrees to fish n' chips, club steak, crab cakes, pastas and burgers. For dinner, appetizers around $8, like oysters, escargots in burgundy. Seafood entrees are $17 - $24, such as grilled local oysters rolled in bread crumbs, fettuccine with bay shrimp, shrimp in a corn tortilla (Mexican style), a large crab pot in various cheeses and a massive captain's platter. Numerous vegetarian specialties are also available. Lots of chicken and beef, including pepper steak, filet mignon, New York steak, chicken teriyaki, stir-fry chicken and a seven-ounce chicken breast baked or broiled ($18 - $27). Early bird specials from 5 to 6 p.m. 1555 Hwy 101. Yachats, Oregon. 800-522-3623. (541) 547-3141. www.adoberesort.com/dining.htm
See more Yachats Menus, Dining and Yachats Restaurants Here
Florence Dining, Restaurants
See the Oregon Coast Seafood Restaurant Guide
Also: Oregon Coast Seafood Restaurant Guide -
Search This Site's over 4,500 Pages...