Trippy Tidbits of N. Oregon Coast History You Didn't Know
Published 05/30/2018 at 5:35 AM PDT
By Oregon Coast Beach Connection Staff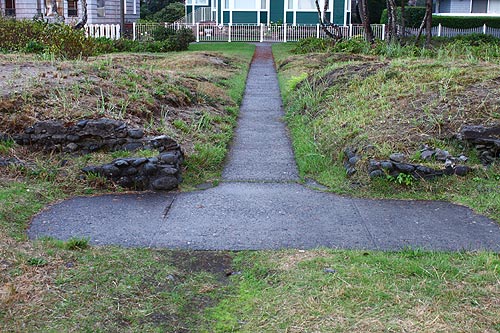 (Seaside, Oregon) – The darnedest things can be revealed by the tiniest details. In the case of the north Oregon coast resort town of Seaside, that's bound to be the case. It's been a tourist hotspot since the 1880s.
Three funky finds in the town are a particularly delightful, if not quirky, trip back in time.
The first: Head down to the Prom where it meets Lewis and Clark Way (and the Saltworks memorial site), and you may find something a little head-scratching (above). The Prom itself has opened up to a pleasant stroll past grassy, shrubbery-filled areas and little groves between the concrete and the dunes, and there are various pathways darting off towards the beach. Some are paved. Some are not.
One of those, right near the Lewis and Clark historical marker, simply dead-ends in an odd way. There's a narrow paved path, a small circle at the end of it, and that's it. Plus, even more eye-catching – if you bother to notice – there are hints of a stone wall here. Something was here. But what was it?
It looks as if there was once a home here, and this might've been its doorway. In a spot like this one on the north Oregon coast, where history weaves in and out of half of what you see, this one has gotten history buffs intrigued.
If it looks like the ruins of something, it is. And it was the product of an overreach by a homeowner decades ago. According to City of Seaside's Dale McDowell, it's the remnants of someone's patio area they built where they shouldn't have.
"They constructed the sidewalk and retaining wall as a patio area to sit in the sun," McDowell said. "The original property was surrounded by Shore Pines, giving the house considerable shade. At the time the patio was built, permits were not issued. Currently, this would not be allowed by ordinance."
Essentially, it was built on this public land without permission, by the owners of a home that existed directly across from it. That original home is no longer there, but it was constructed in 1928. Exactly when the sidewalk and patio were created is unknown. McDowell also said he had no access to information about what happened to that original house.
A quirky mystery solved.
Another surprising bit of north Oregon coast history exists around this area as well, although there are no remnants of it.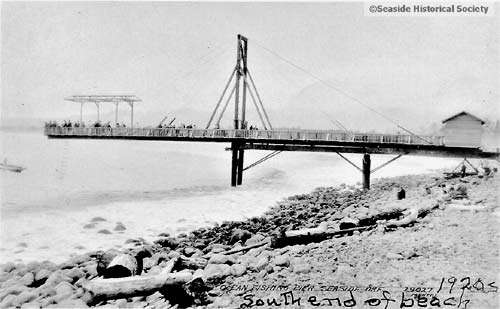 Local historian Nate Burke has uncovered another remnant of the town that no one knows about: there used to be a big fishing pier here. It was called a cantilever fishing pier because of the way it was anchored to the ground but had cables that allowed it some movement with the tides.
Burke said it was located somewhere near the pavement curiosity, but a bit closer to the Cove. Keep in mind, this was the 1920s, and Seaside's beach was not quite the same as it is now. Certainly the Cove was very different: over 1000 feet of the very southern section of town did not exist until 1987, when a landslide create yards of extra beach.
So this fishing pier served its purpose – for a short period. A very short period.
"There used to be an old cantilever fishing pier down by the south end of town right before the cove started," Burke said.
Burke said if the photo makes it look like a recipe for disaster – that's because it was.
"Apparently there was a traditional fishing pier out there in the '20s," Burke said. "It lasted a few years, but got pounded into sand during the winter. A short time later, this second attempt was made using this cantilever pier approach – where the majority of the load bearing was on the cables that were affixed to a point on land (thereby avoiding the need for pilings set further out in the larger surf)."
Burke did a bit of research and discovered just how short-lived this wacky contraption was.
"What I found was this cantilever pier didn't even last a full year," Burke said. "It looked like this cantilever pier was constructed in spring of 1930 - and was promptly destroyed by surf in late Winter 1931."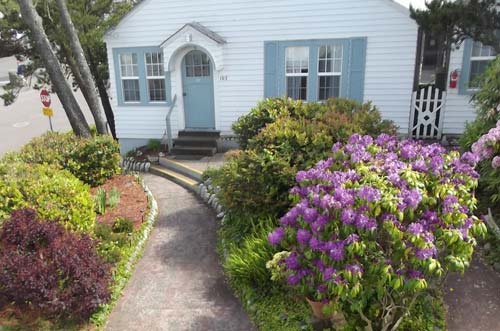 Another quaint of example of history in Seaside you don't know is the Hillcrest Inn and Hillcrest House. Manager Ruth Swensen said one part of the building goes back to 1931, while another part all the way back to 1921.
Part of this lodging biz is the Hillcrest House, a vacation rental with a major historic vibe. And for good reason. It was built in '21 by a Colonel Dunne, who was a merchant marine stationed in Astoria.
Later, the family sold it and it became a boarding house with the different rooms being rented out. Somewhere down the line it became a vacation rental, somewhere after when the biz first began operating as a motel.
Parts of the motel were built in 1931: a series of eight cottages. In 1989, two were torn down to make motel rooms, and a year later two were razed to add to the motel. That still leaves four cottages, which retain that old Oregon coast vibe.

It's become a tradition with numerous families.
"We have a family staying with us that's been doing that since at least the '50s," Swensen said. "Every August for a week. The great grandma is in her '90s now, but she was four years old when they first started coming. It's the very same week, every year. I just think that's the coolest thing." 118 North Columbia. Seaside, Oregon. (503) 738-6273.  www.seasidehillcrest.com -------- Lodging in Astoria/Seaside - Where to eat - Map and Virtual Tour
More About Oregon Coast hotels, lodging.....
More About Oregon Coast Restaurants, Dining.....
LATEST Related Oregon Coast Articles
Back to Oregon Coast
Contact Advertise on BeachConnection.net
All Content, unless otherwise attributed, copyright BeachConnection.net Unauthorized use or publication is not permitted