The Science Behind Oregon Coast's Recent Treasures
Published 2008
By Oregon Coast Beach Connection staff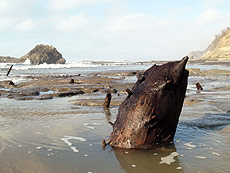 Ghost forest at Arch Cape in February 2008 (photo Tiffany Boothe, Seaside Aquarium)
(Oregon Coast) - A shipwreck suddenly appears in the sand near Coos Bay. Historically significant cannon show up a few miles south of Cannon Beach, apparently the missing armaments from a ship 150 years old whose first cannon gave the town its name. Strange reddish rock formations pop up that look like something from a sci-fi film. A mail truck nearly 100 years old appears near Waldport. A creek changes direction. Dozens of fossils, millions of years old, begin to reemerge in the sand. And the list goes on.
Oregon's coast has become a laundry list of weird finds on its beaches recently. Good beachcombing conditions after a rather tumultuous run of winter storms has made a lot of the finds possible. First, the stormy waves scour out the sand. Then, when stormy conditions subside and the weather gets better, more people hit the beaches, more eyes are on the sand, and more wacky stuff gets spotted.
The cause of it all is the storm action of this past season. Storms bring enormous waves that are powerful beyond imagining, known to crunch sturdy basalt structures or move boulders, as well as toss gargantuan logs of timber as if they were toys in a kid's bathtub. All this action churns up sand beneath the waves, and sand gets sucked back out into the ocean.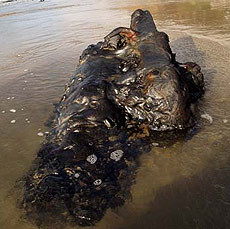 Cannon found at Arch Cape (photo Boothe)
Then, when the season calms down a bit, the sand levels return, because the waves are not very big and the wind blows the grains around. By the end of March, maybe sooner, you'll see these ancient treasures covered up and beach sand levels close to normal.
Sand Levels' Many Surprises
It all began in the late fall, when geologists started noticing sand levels getting much lower rather quickly. By November, weird stumps began showing in the sand of Cape Lookout State Park. These are 1000-year-old remnants of what many call a "ghost forest." Their appearance is practically a yearly occurrence, and fall's storms were what geomorphologist Jonathan Allan said was their debut this season.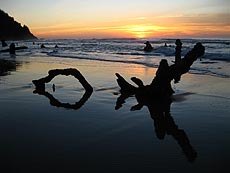 Neskowin's ghost forest
These oddities look like twisted, tortured shapes, sticking out of the sand, or like leftovers of pilings made by humans. Looking for these was interrupted in December by the massive windstorm and its aftermath. Nobody was very interested. But by the end of the month, more of these forests showed up near Waldport, in the Thiel Creek area.
These ancient stumps on the central coast, say Allan and colleague Roger Hart, are more like 4,000 years old.
Cape Kiwanda's beaches and dunes began showing a different side in late fall. And Seaside's dunes were getting increasingly undercut, so that roots from beach grass were showing.
"Dune erosion in some places has been 10 feet," Allan said back in December. "It's normal to have one to two meters over a season. And in some winters with bigger sea levels, you get three to four meters."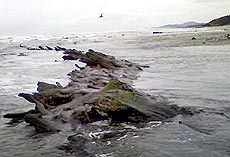 Waldport-area stumps (photo Guy DiTorrice)
Meanwhile, Neskowin shows those eerie ghost forests off year round, and Allan and Hart say that is one of numerous areas on the Oregon coast where sand levels seem to keep dropping.
"That kind of erosion has increased a lot in the last decade," Allan said.
There are plenty who believe global warming is causing greater wave action, if not higher sea levels in general. Either way, Allan's office does note the decreasing sand levels in many spots on the coast.
Then, in recent weeks, Arch Cape and Hug Point – both just south of Cannon Beach – were the recipients of more of the ghost forests. Seaside geologist Tom Horning (from the Gateway to Discovery Center) said sand levels are down about ten feet below normal in this area, much like last year.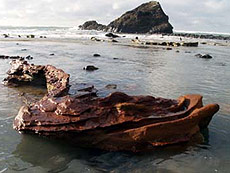 Red Tower at Arch Cape (photo Boothe)
Last year, as this year, Horning was delighted to find strange, surreal structures appearing at Hug Point. This year they've shown up at Arch Cape and Hug Point. They're called "red towers," and they come in odd, indefinable shapes. Normally, these sit way beneath the sand, beyond our view, which is what allows them to form.
When it comes to the now-famous pair of cannons found on the strand of Arch Cape, Horning doubts the cries of locals that the sands are lower than they've ever been. "They've been this low before a few years ago, but maybe just not in this spot," Horning said. "That was down south, closer to the headland. If the sands had been that low further north, where they are now, the cannons would have been spotted then."
In Waldport, where an old mail truck was found by a pair of locals, the action is much the same. It too will be covered up again.
Until the 30's, Oregon's beaches were the highways. So it is believed the mail truck comes from a period when it had to traverse the sands between Yachats and Newport to deliver mail.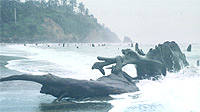 Major chunk of a 4,000-year-old tree at Neskowin. Note the prolific tree stumps in the surf in the background
How to Freeze a Forest in Time
What's the origin of those freaky-looking, rather mournful ghost forests? It is a somewhat slow process - by our standards - that entombed these things, preserving them from deterioration. It's rather quick in geologic terms.
These things have to be first engulfed by something else, often sand or mud, and then stuck there for millennia to be preserved this long.
"To preserve a tree, you have to bury it away from oxygen," said Horning. "Subsidence can do it if the tree drops below the water table. Advancing sand dunes can block rivers and raise the water table and erosional base level by up to 20 ft, killing and entombing acres of forest. Meandering streams can create ponds and bogs into which trees can topple. Landslides can bury forests. Forests can slide into bays, etc."
The key is keeping them away from oxygen, so they don't decay like wood normally does.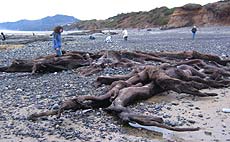 Major root systems left over from 4,000-year-old stumps at Moolack Beach, Newport: these were likely preserved by major dune movement 4,000 years ago.
Entombed Forests of the Central Coast
The process for entombing these forests is different for each area. Until recently, experts like Hart, Horning and Allan believed they were the victim of a dramatic, wild geologic upheaval of some sort. Maybe a tsunami buried these forests, and / or a massive earthquake dropped the forestland abruptly, perhaps as much as 25 feet.
But that theory has given way to slower means of demise.
In the case of the ancient stumps at Moolack Beach, just north of Newport, there's one idea.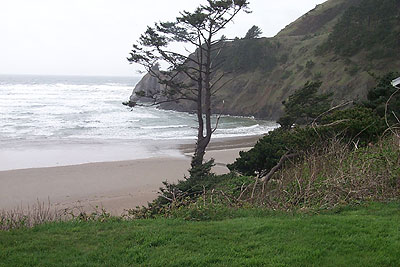 Newport's Yaquina Head: this enormous headland was once covered by massive dunes
Hart said they've discovered strong evidence that Newport's Yaquina Head – a rather towering headland – was covered by sand and dunes beginning some 4,000 years ago. They've discovered shell middens dating almost that far back. That and other finds are leading experts to believe native tribes people walked down a fairly gradual slope to the shore to collect shellfish.
This brings Hart and his colleagues to believe that when the sand dunes began forming around Yaquina Head some 4,000 years ago, they also swallowed the forest there.
In Neskowin, it could also be gradually encroaching dunes or the geography simply changed in such a way as to let a variety of materials engulf the trees over a manner of decades.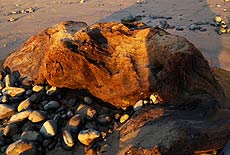 Ancient stumps at Hug Point in 2007
North Coast Ghost Forests and Their Beginnings
On the north coast, it's yet a different story, and how the stumps at Arch Cape happened and how those at Hug Point occurred – only a few miles north – are different tales as well.
Horning described the possibilities for the Hug Point ghost forest.
"It is possible that there was a baymouth bar coming off Neahkahnie Mountain," he said. "Such bars are along Netarts Bay and Tillamook Bay presently. It is reasonable to assume that a similar bar could have formed at some point in the past, depending on sand supply and shoreline position. The edge of the bay, once established, should have filled in with marshes fairly rapidly, after which the wedge of forest soils would advance out over it. If dunes close off the bay, water tables will rise quickly, drowning the trees. If the bars break down, the swamps disappear, leaving no way for future trees to be entombed, so it is a one-time-only situation.
"Considering that sea levels oscillate, bay mouth bars should be regarded as ephemeral. Also, marshes tend to develop near meandering streams, which are only present on low-gradient, low-sloping land, like terraces. If the river meanders away, the swamps can fill and never form again. And if sea level rises rapidly during this time and rates of sedimentation are high, you can end up rapidly accumulating sediments along flood plains, for example, without developing peaty swamps and bogs - just silt layers."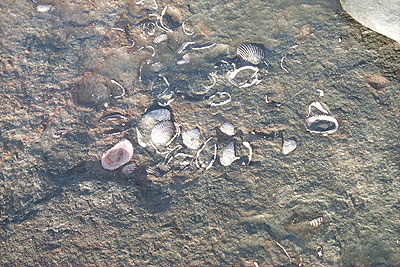 Moolack Beach, Newport: the soft, grayish material seen here is similar to the clay stuff that has entombed the forest at Arch Cape
For the Arch Cape stumps, the answer seems a little clearer. Horning said you can tell by the material you're walking on: a strangely soft, grayish material that is basically clay. These forests were entombed in clay from a swamp, Horning said, as clay is the only material that doesn't get washed out of swamp water. It simply builds. At one point, it builds so much in the swamp water it surrounds the trees, kills them, and then preserves them when it dries.
Dr. Seuss Would Have a Field Day
Those iron towers at Hug Point and Arch Cape seem straight out of a surreal kid's book, or from those trippy album covers done by Roger Dean in the 70's for the prog rock band Yes.
The origin of the red towers is about as strange as their look.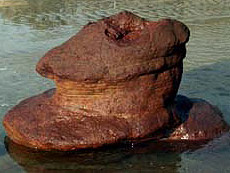 Red tower at Arch Cape (photo Boothe)
"The sand towers consist of modern beach sand that is cemented by red iron oxide," Horning said. "The structures at Hug Point are reasonably strong, inferred because they have not been destroyed by the surf and its entrained gravels and rocks. Minerals cement the sands together to form reinforced irregular bodies within and under the beach, which are then exposed to the casual observer when the beach is washed away. Not uncommonly, the tops of the towers are exposed first, and rocks will wear these away, creating little pot-hole craters that make attractive landforms for photographers."
Horning said the Hug Point structures rest directly on coarse pebbly sandstone bedrock of the Miocene Angora Peak member of the Astoria Formation, a distinctly different type of sand from that of the modern beach.
The Arch Cape structures are a different story.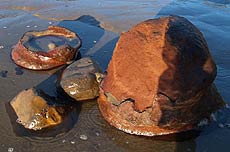 Red tower at Hug Point in 2007 (photo Tom Horning)
He said there's a lot going on beneath the sands we don't know about until levels get low enough for us to glimpse them.
"At Hug Point, it appears that springs have been issuing from the bedrock, carrying fresh water into the overlying beach sands, which usually rest on the bedrock for long periods before storms move them. The spring water is deficient in oxygen, possibly because the bedrock contains bits of wood that oxidizes and consumes any available free oxygen. The absence of oxygen in the water allows iron to exist in a dissolved ferrous state. But when the spring water mixes with oxygenated seawater in the beach sands, the iron immediately is oxidized to its ferric state, making it insoluble, and it precipitates either as red hematite (iron oxide) or as brownish red goethite (hydrous iron oxide). Possibly, this process is facilitated by iron-fixing bacteria, but geologists often don't know much about biology, so we shrug and move on."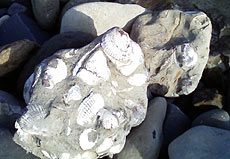 Example of fossil blocks eroding out of walls north of Seal Rock and Moolack Beach (photo Guy DiTorrice)
What Else to Look For
Agate hunting and fossil hunting are extremely good about now on the coast, said Newport beach expert and fossil tour guide Guy DiTorrice.
"There are some agate-containing beaches open north and south of Lost Creek State Park and further north at Thiel Creek, with many collectors reporting nice picking especially for the 'Newport blues,' " he said. Hunting for that stuff has gotten quite good in a lot of central coast spots, including Ona Beach.
Sand levels have also shifted the creek at Agate Beach, DiTorrice said. "The channel has shortened its hard northerly track this past winter, opting for some wider sections closer to Agate Beach State Park."
For fossils, look on the beaches as well as cliff walls that are eroding, DiTorrice said. He took the above picture of large fossil blocks eroding out of walls north of Seal Rock and Moolack Beach.
Do not break these up, however, if you find such large blocks. It is illegal to break them up or take them.
"Take only pictures," DiTorrice said. Oregon Coast Hotels for this - Where to eat - Maps - Virtual Tours
More About Oregon Coast hotels, lodging.....
More About Oregon Coast Restaurants, Dining.....