Oregon Coast Surrealism: a Travelogue of Night and Winter Photo Expeditions
Published 08/25/2018 at 4:37 AM PDT
By Andre' GW Hagestedt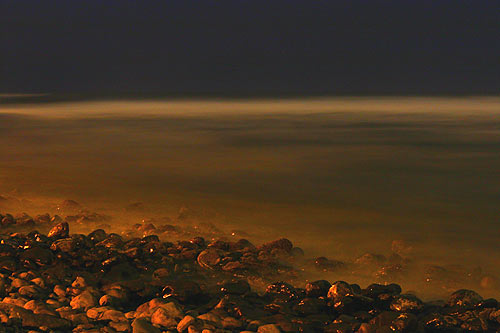 (Seaside, Oregon) – Sometimes it's more than a little engaging to reminisce. At times, it's a serious joy.
Running Oregon Coast Beach Connection has resulted in all sorts of little adventures over the years, and recently I came across this travelogue from late 2010. A lot of discoveries and subtleties were still new to me then, where the tiniest things could be surprising. These days, it's often about getting the best shot instead of simply trying to photograph what I see. Still, I haven't lost that awe and wonder for it all, and this little nugget simply takes me back to some first impressions I'd forgotten.
This whole photo expedition started in late fall on the north Oregon coast, at the tail end of November of 2010. However, it easily could've been straight up winter. Storms were already kicking around the shoreline. As usual, however, I'm out traipsing around the beaches at night: often my favorite time on the beaches. There's no one around, everything looks different, and it's just a bit of a thrill because you know the tides could be a little more dangerous and you have to be on your guard.
Around 10 p.m., I'm in Seaside. There's a brief break in the rain, not long before an enormous squall is predicted to come barreling through the north coast.
The "cove" area, seen above, is a bit on the magical and very much on the surreal side, as this extreme southern end of town experiences greater and greater waves. They pummel the large rocks here, and these stones sometimes make a loud crackling noise as they get bounced around by the tide. It actually startles you at times and makes you switch on your flashlight to make sure no sneaker wave is headed your direction.
At this time of night, however, with just a tiny hint left of moonlight in the sky, it requires a very long exposure to capture anything. The sky manages to get an eerie post-daylight look to it, and the sea is so fuzzy from the shutter being open so long it becomes a freaky mist, more like some primordial soup. In fact, in real life, it's raging like crazy. Meanwhile, the lights of the street paint the rocks and ocean an incandescent orange.
Within a minute of this photograph, the rain starts to smack the lens.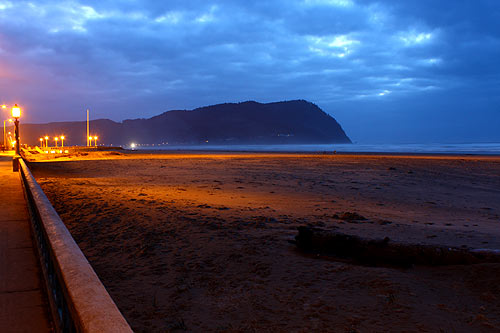 Earlier in the day, however, around 5:30 p.m., the Seaside Aquarium is closing up and the Promenade is still fairly bustling with folks checking out the last, faint remaining rays of light filtered through thick clouds. The Turnaround is already lit up, and casts a warm glow on the surrounding beach, as Tillamook Head keeps a watchful eye in the distance. It's freezing out here at this moment in late November, but there's still something about this visage that's like visual comfort food – somehow warming just to look at.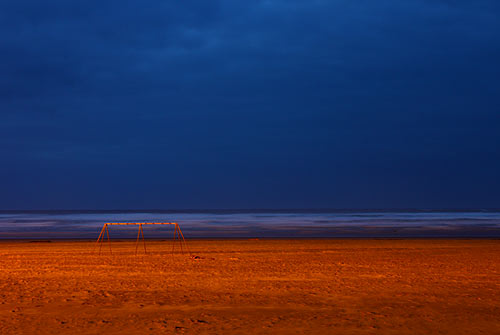 Straight out to sea, the clouds have this fascinating, bluish squiggle running throughout them. This is balanced by that strange orange glow the city lights put out, cast onto the beach in an interesting manner and even hitting the waves a tad. Then there's that lone playground set out there: frozen metal in the cold, bare of any swing set seats. It's waiting for winter storms to stop so the swings can return, but now they're gone so they don't get torn off in a big gust or two. Its shape juts up out of this minimalist shot with odd colors, all of which makes it reminiscent of those old ECM label album covers from the likes of former Oregonian Ralph Towner or Terje Rypdal.
If there was a soundtrack to these scenes, Ralph's ethereal strumming and piano would be perfect right about now.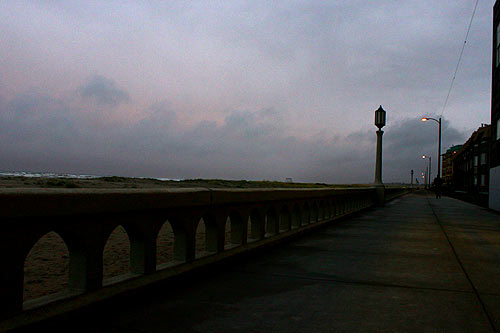 Going back in time yet again, to the day before, the Promenade looks like this just after sunset, as a rainsquall had varnished the pavement and some pinks and blues still hovered in the sky during the remnants of twilight.

That's the thing about the Oregon coast you learn pretty quickly, it never looks the same day to day - much less during the night. More About Seaside lodging, hotels.....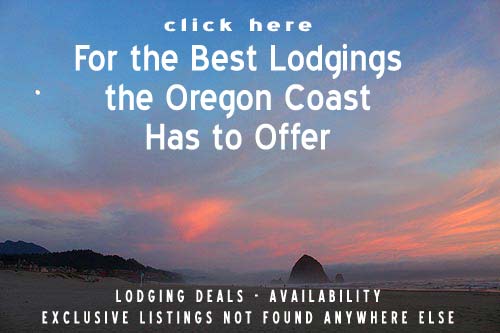 More About Oregon Coast hotels, lodging.....
More About Oregon Coast Restaurants, Dining.....
LATEST Related Oregon Coast Articles
Back to Oregon Coast
Contact Advertise on BeachConnection.net
All Content, unless otherwise attributed, copyright BeachConnection.net Unauthorized use or publication is not permitted