Haunting History of Native Shell Middens on Oregon Coast: Ghosts in the Roads
Published 03/03/2016 at 9:01 PM PDT
By Oregon Coast Beach Connection staff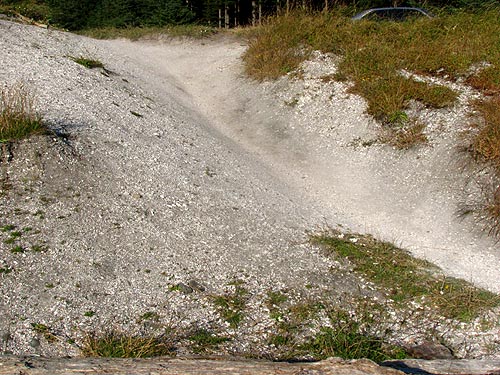 (Oregon Coast) – Sometimes, ancient history of the Oregon coast is staring right at you along Highway 101, in surprising ways. At other times, sadly, it's looking up at you from under a layer of pavement, where the remnants of indigenous people – as old as a few thousand years – were carelessly covered over by a burgeoning tourism industry in the last century. (Photo: the access at Bob Creek Wayside is an actual shell midden).
Periodically along these shores, an out-of-place blob of white stands out here or there. If you look more closely, you'll see it's made up of tiny, bleached-white bits. These are often shell middens: piles of discarded shells from edible seafood, left behind by native coastal-dwelling tribes. Sometimes they are thousands of years old.
Mostly, however, they're out of view. There are many of them around the coast. And if they are within view, it is very illegal to go through them. The State of Oregon views this as a Class C Misdemeanor, which carries a possible 30-day jail term and a fine over $1000. If the midden site is part of an archaeological site already (and the hitch is you don't know), it's a Class C Felony, which carries much stiffer penalties of up to five years in prison and fines over $100,000.
Still, their existence is a fascinating glimpse into ancient history, as well as the not-so-pleasant mistakes white settlers made here 100 years ago when it came to preserving that.
What Are Shell Middens? They are essentially piles of garbage left behind by natives. Mostly comprised of various shells, they can also hold non-organic materials such as coal, soil, artifacts – and sometimes even human remains. That's where some of the major legalities come in. Some along the coast appear to be as much as 4,000 years old – maybe even 5,000.
Others have been radiocarbon dated to 100 years old to a few hundred years old. Either way, they're a precious commodity.
On the north Oregon coast, you can't see most of them. The vast majority are either on private property or their locations are a closely guarded secret.
On the central coast, in lower Lincoln County and upper Lane County, you'll see them hiding in plain sight in a few instances. The most unusual of which is at Bob Creek beach access, halfway from Yachats to Florence. The sloping beach access is part grass and part whitish something-or-rather. This, it turns out, is the remnants of an old shell mound that was somehow just left to become part of the park.
The State of Oregon's Oregon Heritage division said even though this gets constantly trampled on, it is still illegal to go poking through it.
Another prominent set of them sit at Seal Rock, in the westward cliffs next to Highway 101. These are somewhere between 300 and 1800 years old, according to author Maxine Centala. Some go quite deep, with the oldest shells at the bottom of the heap.
Sometimes, you can spot them in the sides of cliffs or in layers of exposed and eroding soil. There are pictures below of this, but Oregon Coast Beach Connection will not reveal the exact locations.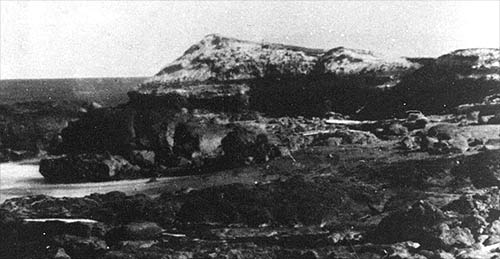 There is an engaging photo of a shell mound at Yachats in 1911 or so (see above). These objects were once referred to as mounds rather than middens, because until white settlers started raiding them for building materials, they actually had a mound shape. Many simply became middens because of 100's of years of erosion as well.
Up north, Seaside actually has some of the largest number of native American archaeological sites in the U.S. Quite a few are shell midden sites.
Seaside geologist Tom Horning said some of these can go back as far as 3,000 years.
"They record 2500 years of bay clam consumption, then 1000 years of razor clam diet," he said.
What's fascinating about that is that this shows how local tribes adapted to a changing environment. At one point, there was a bay at the Necanicum and that slowly changed into a kind of Everglades swamp situation, where the Necanicum River is now.
"Meanwhile, the sand beaches finally arrived and provided razors in lieu of bay clams," Horning said. "Nature provides."
You can see the white middens in the cliffs at times at the big viewpoint at Ecola State Park in Cannon Beach. Another such midden is actually covered over by the parking lot at Indian Beach, part of Ecola State Park.
The Tragic Latter Day History of Shell Middens. What happened at Bob Creek and at Ecola State Park is a fairly typical form of demise. According to Scott Byram of the University of California, Berkeley, and a paper he wrote in the 90's, it became common practice to destory them in the name of progress.
Sometime in the early 1900's, as Oregonians started building roads on the coast, constructors discovered something interesting while building part of the road between Newport and Siletz Bay. One new section ran over a crumbled mound of native tribe shells, and by accident they found out this made a better, stronger road.
Numerous other roads along the coastline were made using this material, which was just lying around many of the near-shore areas. These were raided in great abundance (and recklessness) and became building material for the advent of pre-World War 1 tourism. It's unknown exactly when the practice stopped.
All over the Oregon coast, there are streets bearing the names of Shell Street, because of the material used in their construction. These days, you'll find a Shell Avenue at Depoe Bay, which brings you down to the boat launch on the bay. There is a Shell Street in Yachats – a tiny, short road on the southern side of the bay.
Perhaps most hauntingly, Seaside's Broadway Avenue – the prominent, famed street of arcades and shops – was once called Shell, according to Byram's work. Oregon Coast Hotels in these areas - Where to eat - Maps and Virtual Tours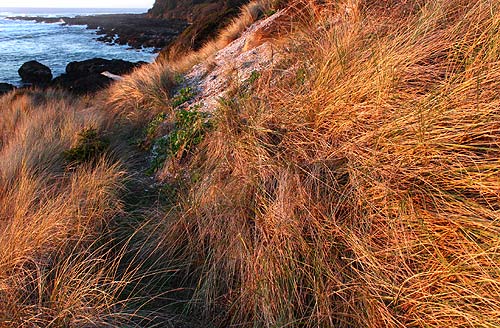 More About Oregon Coast hotels, lodging.....
More About Oregon Coast Restaurants, Dining.....
LATEST Related Oregon Coast Articles
Back to Oregon Coast
Contact Advertise on BeachConnection.net
All Content, unless otherwise attributed, copyright BeachConnection.net Unauthorized use or publication is not permitted