Oh, the Lowly Sand Flea: They Should be Exalted on the Oregon Coast
Published 06/23/2016 at 7:31 PM PDT - Updated 06/23/2016 at 7:51 PM PDT
By Oregon Coast Beach Connection staff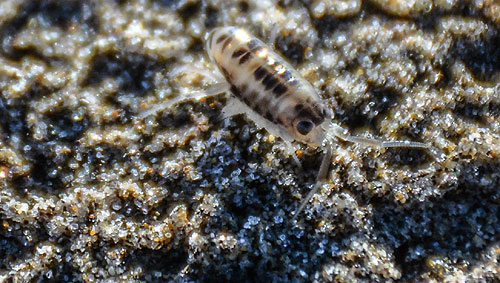 (Oregon Coast) – Fed up with the Sand Flea? Bitter about being bitten on the beaches? Scared of that which skitters away in a tiny fury? (All photos from Tiffany Boothe, Seaside Aquarium. Above: the Pale Beach Hopper, the most common of the critters on the Oregon coast).
It turns out, when it comes to the Oregon coast, you've got it all wrong about the sand flea. For one thing, you're not being bitten by anything on the sand. At least in this part of the world, according to Seaside Aquarium's Tiffany Boothe. Those tiny critters that skitter away as you wander the sands never bite you. They're kind'a "ewwww" inducing. If you feel something a tad hard on your ankles, it's just their bodies bouncing off you as they clumsily bound away.
But they don't bite. Now, in a tide pool this might be a different matter, however.
What kind of sand fleas are there on the Oregon coast and what do they do? First of all, they're technically called amphipods. They're a kind of tiny crustacean and not related to fleas.
"Locally, the most common is the Pale Beach Hopper (Megalorchestia columbiana, photo at top)," Boothe said. "When approached, the Pale Beach Hopper rapidly springs away by flexing and straightening its body. It is this jumping behavior that lends them the name sand fleas. However, these beach hoppers do not bite, and should be revered, for they eat all of the marine debris (sea weed, jellyfish etc.) that washes in daily at high tide."
In fact, we might be in trouble if not for the lowly sand flea.
"If these guys weren't around all of the debris that gathers at the tide lines would slowly pile up, rot, and stink badly," Boothe said.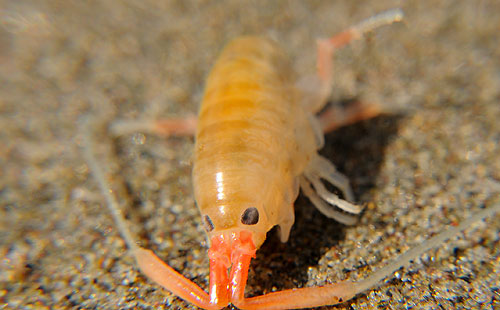 The largest amphipod on our beaches is the California Beach Hopper (Megalorchestia californiana), reaching up to a little over an inch in length. Boothe said they are not as common as the Pale Beach Hopper, but like the Pale Beach Hopper the California Beach Hopper does not bite. They tend to hide under piles of kelp or other wet marine debris that have recently washed ashore.
Then there are Pink Beach Hoppers.
"This pretty little guy also does not bite beach goers," Boothe said. "It prefers the undersides of rocks and like some other beach dwelling amphipods, The Pink Beach Hopper has a coating of wax on its body to help keep it from drying out during long periods of exposure to air. "
Now, tide pools are a different matter, Boothe said, along with pools of water left on the beach for awhile. There, you may find isopods – also related to crustaceans – and some of these nip a tiny bit.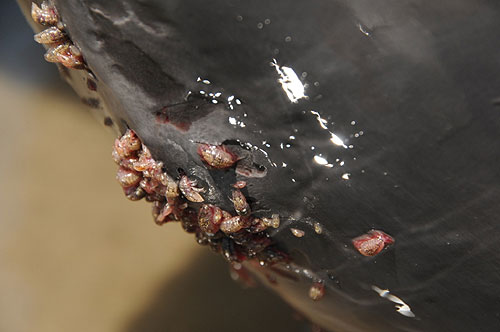 Above: Cirolanidae in the middle of eating up a porpoise corpse on the beach.
"Some are parasitic and some are scavengers, and if you are wading in the water (or have been) and something very small bites you, it is most likely some species of isopod," Boothe said. "And probably from the family Cirolanidae. Isopods from the Cirolanidae family are often seen in very large numbers either in small pools or in the surf zone."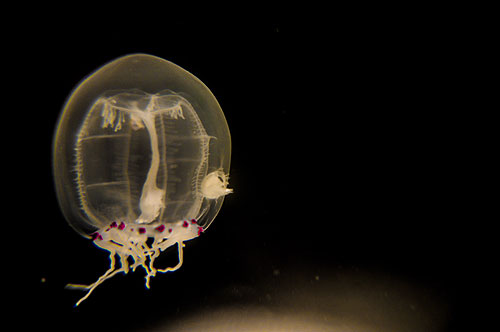 In the deeper ocean you start to find some "hitchhiking" amphipods and isopods (above). Most notable are the large amphipods that attach to gray whales, called Gray Whale Lice (Cyamus kessleri). Rather large and disgusting to look at, these amphipods have adapted beautifully in their role as an external parasite.

"Studies have suggested that gray whale lice may actually benefit the gray whales because the lice target areas of tissue damaged by parasitic barnacles and initiate the healing process," Boothe said. "Most hitchhiking amphipods and isopods are often overlooked."
You don't see these ever on the beaches, but sometimes – and not always – they show up on the dead bodies of whales that have washed up on the beaches.
See more sea and beach creatures at the Seaside Aquarium, on the Prom in Seaside, Oregon. Oregon Coast Lodgings for this - Where to eat - Maps - Virtual Tours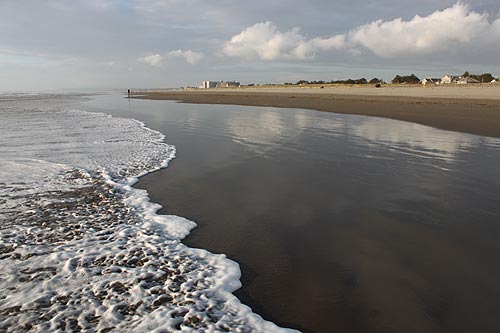 More About Oregon Coast hotels, lodging.....
More About Oregon Coast Restaurants, Dining.....
LATEST Related Oregon Coast Articles
Back to Oregon Coast
Contact Advertise on BeachConnection.net
All Content, unless otherwise attributed, copyright BeachConnection.net Unauthorized use or publication is not permitted