N. Oregon Coast's Rockaway Beach, Nedonna Beach: Where History, Logs, Geology Meet
Published 11/14/2017 at 11:07 PM PDT - Updated 11/14/2017 at 11:27 PM PDT
By Oregon Coast Beach Connection staff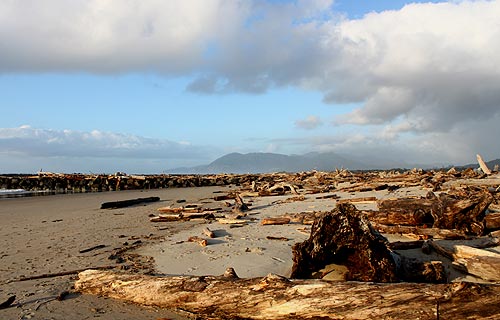 (Rockaway Beach, Oregon) – Have you wondered why some Oregon coast beaches have a lot more driftwood logs than others? Have you, by any chance, seen the downright massive amount of them on one Rockaway Beach stretch?
A mystery some north Oregon coast locals and regulars alike have been wondering about may have an answer. MAY is the keyword.
If you head to the very northern edge of Rockaway Beach, past the Nedonna Beach signs and walk all the way to the southern jetty of the Nehalem Bay, you should notice an astounding number of large logs sitting quite a ways back. The beach is generally about 50 feet worth of sand from tide line to vegetation line, and then behind all that is a gargantuan field of driftwood logs. It goes on for about 800 to 900 feet.
How did they get all the way back there? And why so many?
North coast geologist Tom Horning thinks he might have an answer, and he was surprised to see this for himself after Oregon Coast Beach Connection asked him about it last year. He admits it's speculation and opinion at this point: no one has ever really looked into why this part of Rockaway Beach almost seems to grow the chunky beach finds.
His answers show how insanely complex and interconnected the landscape is with the ocean and the rivers around here.
Horning said there two big possibilities. One is that the logs come tumbling into the Nehalem River and get deposited next to the jetty.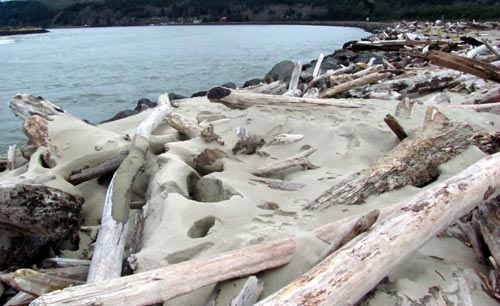 The bigger possibility – especially since the logs seem fairly old and weathered – is that they took a long, long trip through oceanic and geologic forces. And quite a trip through time.
In a brief nutshell, Horning thinks the logs originated from various sources around here – mostly the logging country that surrounds Tillamook Bay and Nehalem Bay. They made their way into the ocean from the rivers, got trapped in sand during an interesting geologic event decades ago, and then simply got shuttled up the beach during massive storms.
Yet the deeper story is much more interesting.
A lot of it probably began back 100 years ago when the jetties were first built at Tillamook Bay, which further pushed the extinction of a budding resort town called Bayocean (where the Bayocean Spit is now and the village of Cape Meares). The resort hit troubled times quickly and started failing financially, but the building of the jetties caused the sand in the area to drastically shift, which caused the spit to erode much faster. By the '30s this was causing the buildings to fall apart. By the end of the decade, some had completely disappeared, and in the '50s a storm actually breached the spit and cut it in half for a time.
Horning said a lot of logs got caught in what he called "shadow zones" of sand next to the jetties. Since sand couldn't get out of these spots it built up into larger and larger piles of sand. This disturbed the way sand distributes in the section of coastline from Tillamook Bay to Nehalem Bay, causing heavy erosion on those beaches.
In geologic terms, that stretch between bays is called a littoral cell.
"This disturbed the equilibrium for the movement of sand in the littoral cell," Horning said. "So it caused an exceptional amount of erosion on the spit and also on the beach from the north jetty up to at least the middle of Rockaway. If you look at photos of Rockaway from the 1920s you can see a mature forest hanging over the sea cliffs with a fresh beach and very young dunes underneath it. And this indicates there had been a good amount shoreline recession and erosion."
Meanwhile, for many hundreds of years the direction of storm waves would cause the creeks in the area to shift. They'd move left or right periodically. This kind of slow movement made for a downward sloping section in the beach, called an embayment. Over time, these areas collected driftwood logs from the sea more than other areas, and these were buried in sand eventually as the equilibrium of sand movement steadied.
Then came the giant El Nino storms of '97 and '98, which scoured out and scooped up unprecedented amounts of sand all over the Oregon coast, but with exceptional effects in this area.
"It caused the ocean to rise and caused a whole lotta erosion just north of the jetties at Tillamook Bay, and eroded out a huge amount of driftwood that had been buried," Horning said.
In some sections, young forest areas got dug up and there were gobs of driftwood logs lying beneath there that were sucked into ocean currents.
If you head to the Shand Ave. beach access (southern end) and the creek near the high school (northern), you'll notice a lot of logs there as well. Especially the Shand area, where there's a massive debris field of the stuff – all not far from the looming presence of Rockaway Beach's Twin Rocks.
Creek mouths often get a lot of this debris as well, at least in this part of Tillamook County. The Shand Ave. access has a creek as well.
"These logs were still in good enough shape to float, and then they went up the beach about two or three miles to the next creek mouth, where waves and currents had swept the channel to the north and to the south," Horning said. "And all these logs went into the notch eroded by the creek that was sweeping back and forth. It creates a low spot when it does this, and that's a perfect place for driftwood to accumulate."
What causes there to be so many logs so far back on that beach next to the jetty? Horning said it's simply storm waves: a scary thought you should keep in mind if you're thinking about heading near a beach with a jetty during a storm. Waves are depositing logs as far back as a few hundred feet.
"Wave energy gets focused right next to the jetty, which may wash out some of that sand," Horning said. "Winds blow the sand back in, and drift logs get trapped."
Horning said these grassy areas get eroded periodically but sand comes back in and they get rebuilt. It's a constant cycle in that area.
Another interesting facet of this geology and topography comes to light as Horning notes the currents are apparently pushing objects from the southwest. Yet not all jetties will be the same. He points out aerial shots of the jetties at Newport's Yaquina Bay show no gathering of wood chunks on either side, which is telling. The dynamics and currents are much different there. Manzanita Hotels in this area - Where to eat - Maps and Virtual Tours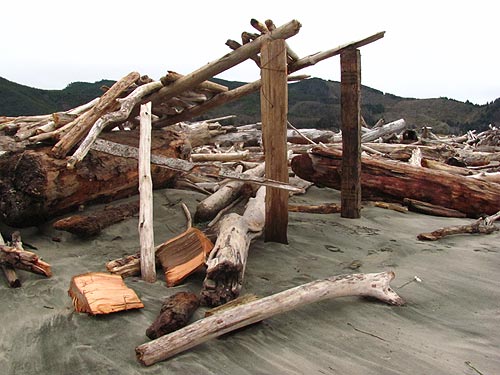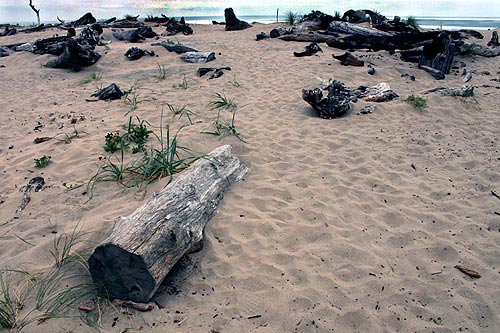 Below: the log-covered stretch at Shand Ave., on the southern end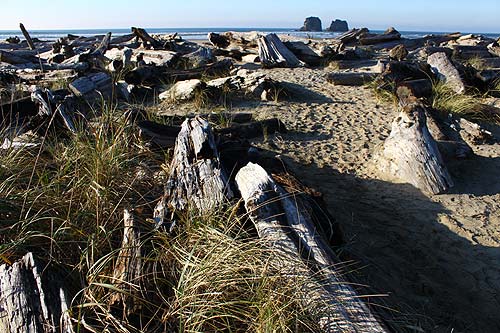 More About Oregon Coast hotels, lodging.....
More About Oregon Coast Restaurants, Dining.....

LATEST Related Oregon Coast Articles
Back to Oregon Coast
Contact Advertise on BeachConnection.net
All Content, unless otherwise attributed, copyright BeachConnection.net Unauthorized use or publication is not permitted