Just What is Cape Kiwanda on Oregon's Coast? And Why It's Falling Apart
Re-Published 12/01/2019 at 5:21 PM PDT
By Oregon Coast Beach Connection staff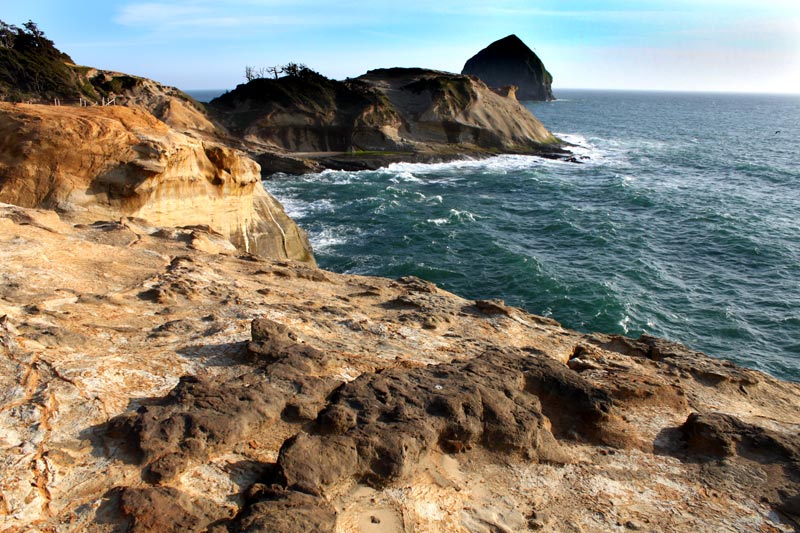 (Pacific City, Oregon) – One of the state's most popular attractions is Cape Kiwanda on the north Oregon coast. The centerpiece to Pacific City's bulging popularity and busy vibe, it's a rugged, twisting shape of many surprises and sights, along with that towering dune that's so much fun to go sliding down.
Yet have you ever wondered what it is? The answer is intriguing, and how and why it's slowly disappearing before our eyes is a big part of that.
What Cape Kiwanda isn't is basalt – like the majority of the headlands on the upper half of the Oregon coast (south coast is much different). In fact, it is probably the only headland that isn't made from ancient lava flows some 15 million years ago.
Cape Kiwanda is, however, made of sandstone, while its companion Haystack Rock is made of basalt. And there's a weird twist in the relationship between Haystack Rock and the cape, a key to why the cape is now disintegrating at a faster rate.
Its beginnings go back about 18 million years or so, while the dunes themselves at Kiwanda have been around – possibly on and off – for about 12,000 years.
At 18 million years ago, the entire western chunk of the U.S. did not exist. The continent's western edge was closer to Idaho, but this area was still ocean floor, hundreds of miles from land.
Back then, this area had already been scoured out over many millions of years by various processes of erosion, and various rubbly material started to fill it up, including sandstone and mudstone. This formed a softer basement now known as the Astoria Formation, which runs from the central Oregon coast up into at least Washington.
About 15 million years ago, a horde of huge volcanic eruptions seared their way across the landscape and into the ocean floor from all the way over in Idaho, creating the basis of a lot of landmarks you see now, like Seaside's Tillamook Head or Oceanside's Cape Meares.
Some of those volcanic flows were so strong they plunged into the softer sediment of the Astoria Formation and then re-erupted a long ways away. It's theorized the Haystack Rock at Pacific City is one of those, and scientists are pretty positive the Haystack Rock at Cannon Beach is that as well.
In the meantime, land and ocean floor levels rose and fell dramatically over the next dozen million years or so, including the headlands-to-be and Kiwanda. This caused them to erode even further, eventually whittled down into the shapes we now see.
Curiously, however, much of those lava flows left the Kiwanda area alone, allowing this sandstone headland to stay as is. But it had help beyond that.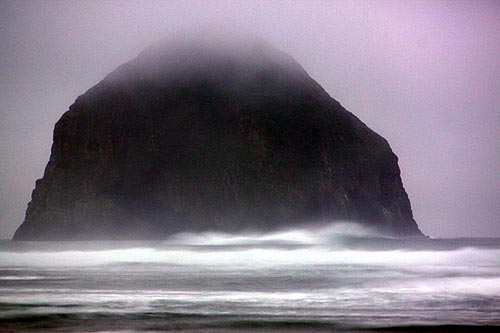 Haystack Rock was once something much larger (scientists have not studied this one much, so not much is known). Whatever that sea stack was before kept the ocean waves, especially winter storms, from eroding Cape Kiwanda away. But eventually Haystack was whittled down as well, according to Oregon geologist Ernest H. Lund back in the '70s. He said its less bulky form eventually allowed more of Kiwanda to be eroded, and in modern times this pace is quickening.
Scientists say that Cape Kiwanda should've been gone thousands of years ago. But Haystack has literally been its protector.
If you're on top of Kiwanda and look down, you can see a few chunks of headland there that are now islands: they've been separated from the larger section.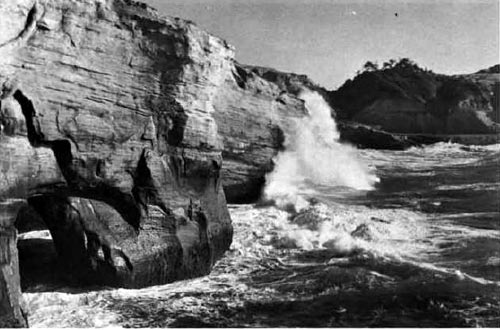 In one report he wrote in the '70s, Lund showed a photo of Cape Kiwanda at the time. You can see a large arch at one of these "islands" in front of Kiwanda (above).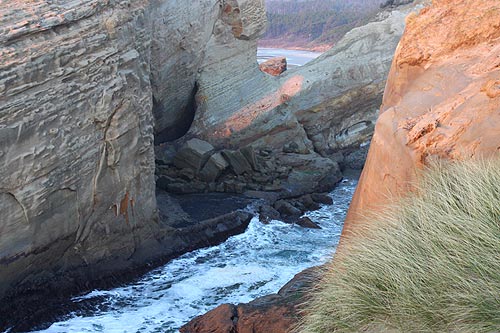 Take a close look at the backside of that section as seen from above, taken about 2012 (above). You can see where that arch has crumbled and a chunk of the formation lays on its side. You can still see part of that arch, but at a diagonal and resting against the rest of the rock. This part crumbled by the early '90s.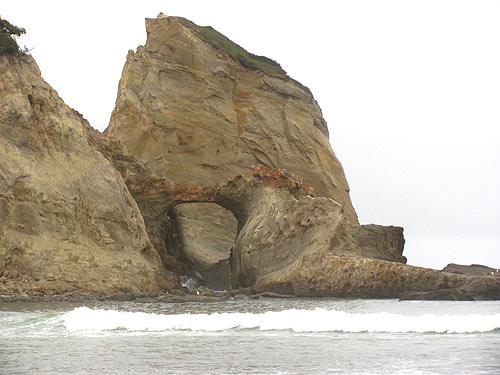 Another dramatic example: until about 2010 there was this striking arch over the northern end of Cape Kiwanda. That year it crumbled, creating a pile of rubble below that holds back the sea and sometimes allows closer access to what is essentially an "oceanic canyon" hiding at the tip of Kiwanda.
The photo below shows that canyon area now, without the arch. This one took maybe a little over 20 years to crumble completely. Pacific City Hotels, Lodging in this area - Where to eat - Map and Virtual Tour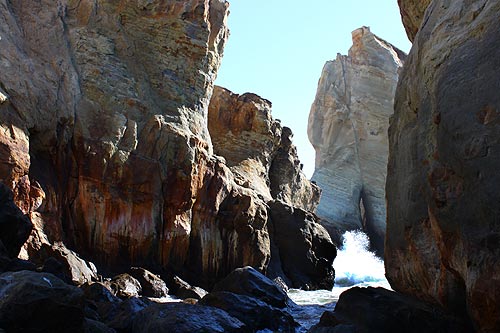 More About Pacific City, Oceanside, Netarts, Tierra Del Mar Lodging.....
More About Oregon Coast Restaurants, Dining.....
LATEST Related Oregon Coast Articles
Back to Oregon Coast
Contact Advertise on BeachConnection.net
All Content, unless otherwise attributed, copyright BeachConnection.net Unauthorized use or publication is not permitted