Hubble's Stunning New Images, Finds: Oregon Coast Astronomy Desk
Published 01/27/2016 at 12:51 AM PDT
By Oregon Coast Beach Connection staff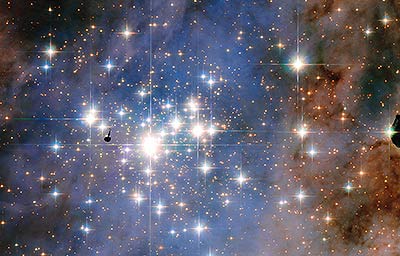 (Manzanita, Oregon) – From the Oregon coast science desk: plenty of new images from NASA's Hubble and other satellite equipment have made for startling new finds and views in deep space in the last month. The largest ever galaxy cluster, new star clusters, and even more dark matter. (Photo above: the diamond-like "celebrity stars" in the Carina Nebula).
Last week, Hubble released some new images of some of the Milky Way's "celebrity stars," as researchers named them. They are extremely bright but short-lived, located 8,000 light-years away in the Carina Nebula, a huge star-formation region in our galaxy.
The cluster is a mere 500,000 years old, and it is one of the highest concentrations of massive, luminous stars in the entire Milky Way. Scientists say within just a few million years they will burn out and explode as supernovae. However, the blast waves will trigger the formation of a new generation of stars inside the nebula in an ongoing cycle of star birth and death.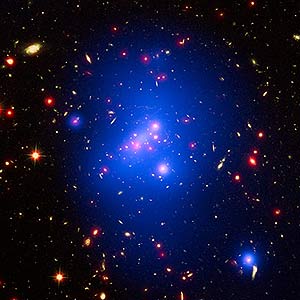 Three of NASA's Great Observatories helped astronomers make some incredibly detailed studies of an extremely massive young galaxy cluster. (Pictured at right). This rare galaxy cluster, which is located 10 billion light-years from Earth, is almost as massive as 500 trillion suns. This object has important implications for understanding how these megastructures formed and evolved early in the universe.
The galaxy cluster is so far away the light being seen now is likely from a time when the universe was about one quarter of its current age.
It's not only the most massive galaxy cluster seen so far, but IDCS J1426.5+3508 (IDCS 1426 for short), has yielded some big surprises. New data from the Chandra X-ray Observatory show that about 90 percent of the mass of the cluster is in the form of dark matter, a mysterious substance detected so far only through its gravitational pull on normal matter composed of atoms.
NASA's Spitzer and Hubble space telescopes recently helped find find incredibly intense supernovae in other galaxies which had similarities to the one and only such object known to exist in our galaxy.
Eta Carinae, the most luminous and massive stellar system within 10,000 light-years, is best known for an enormous eruption seen in the mid-19th century that hurled an amount of material at least 10 times the sun's mass into space.
Eta Carinae outshines our sun by 5 million times. The binary system consists of two massive stars in a tight 5.5-year orbit. Astronomers estimate that the more massive star has about 90 times the sun's mass, while the smaller companion may exceed 30 solar masses.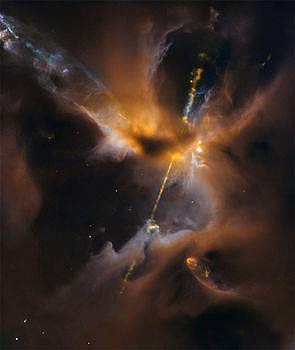 Researchers knew other similar objects were out there, but this is the first time that theory has photographic proof.
A newborn star provided a new surprise last month with recent photos from Hubble. In the center of the image, partially obscured by a dark, Jedi-like cloak of dust, a newborn star shoots twin jets out into space as a sort of birth announcement to the universe. (Pictured at right).
Gas from a surrounding disk rains down onto the dust-obscured protostar and engorges it. The material is superheated and shoots outward from the star in opposite directions along an uncluttered escape route - the star's rotation axis. Much more energetic than a science fiction lightsaber, these narrow energetic beams are blasting across space at over 100,000 miles per hour. This celestial lightsaber does not lie in a galaxy far, far away but rather inside our home galaxy, the Milky Way.
More of the Oregon coast at night below. More science from the Oregon coast.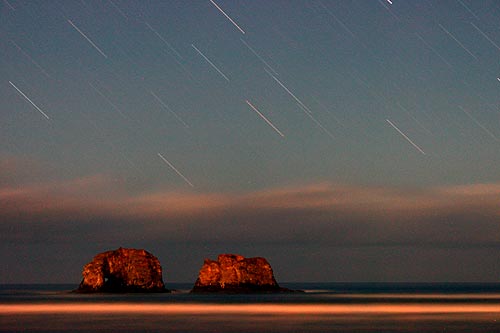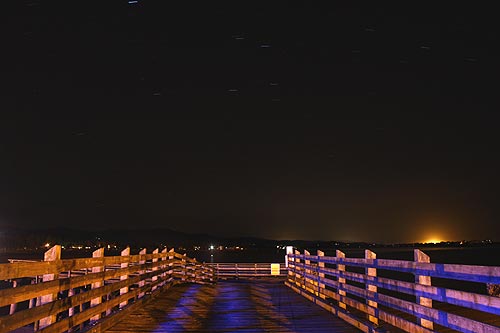 Oregon Coast Lodging in this area - Where to eat - Maps - Virtual Tours
More About Oregon Coast hotels, lodging.....
More About Oregon Coast Restaurants, Dining.....
LATEST Related Oregon Coast Articles
Back to Oregon Coast
Contact Advertise on BeachConnection.net
All Content, unless otherwise attributed, copyright BeachConnection.net Unauthorized use or publication is not permitted