Invasive Species Find Points to Disturbing 'Garbage Bridge' to Oregon Coast
Published 07/10/2018 at 07:32 PM PDT
By Oregon Coast Beach Connection Staff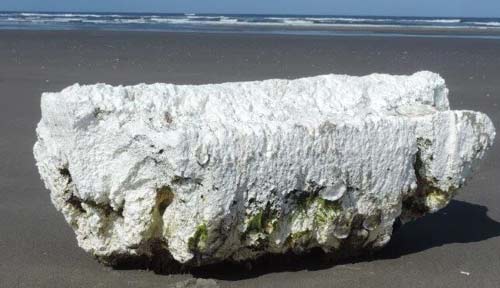 (Warrenton, Oregon) – A disturbing find on a Washington beach has some unpleasant ramifications for the Oregon coast: the fears of invasive species coming over on what is being termed a "garbage bridge." (Photo above courtesy Russ Lewis: the styrofoam float found in Washington).
Marine expert Russ Lewis made the discovery last week near Leadbetter Point when he found a chunk of styrofoam with living marine species on it, three of which are considered invasive species and could spell trouble for the Oregon coast.
The find is a double threat, according to John Chapman, a professor with Newport's Hatfield Marine Science Center. One: it's mounting evidence if not proof the Great Pacific Garbage Patch has already created what is called a "garbage bridge" between there and this coastline. And two: this will bring more invasive species that will threaten this area's marine ecosystem.
Chapman said the styrofoam piece included a sea anemone, an Asian shore crab, and a species of large barnacles that don't belong here.
"All three of these things do not occur on this coast," Chapman said.
A relative of the crab found here - Hemigrapsus sanguineas – has already created some havoc on the east coast, Chapman said. Areas of the South Pacific, like Tazmania and New Zealand, have been devastated by some species of crab or other marine life that have made it there by other means. One species of sea star that caused issues in the southern hemisphere also happened to be found on the tsunami dock that landed in Newport in 2012 (after the Japanese tsunami of 2011). However, thankfully that one did not take on these shores.
The risk is still low compared to ship ballast and even more random elements like pets or the aquarium trade, Chapman said. But the real alarming part is the fact this piece is not believed to be tsunami debris. This, he said, is part of a trail of ever-increasing stuff coming from that massive patch of plastics and debris sitting in the middle of the Pacific Ocean that is largely comprised of plastic debris from this continent and Asia.
"It's alarming because we've never seen this before," Chapman said. "So much trash is in the ocean, but these things are something we never thought would've occurred. Or maybe one in a million times. Now we're finding stuff. There's trash coming across the ocean."
Previous to 2012, ecologists didn't think this could happen - but now it is, Chapman said.
"Everything we see indicates the amount of trash coming across the ocean is increasing exponentially," he said. "There's a new bridge between here and Asia and it's called trash."
Luckily, nothing has taken hold yet. Some species, like the Green crab, have been found on tsunami debris in the past, but generally wound up stuck on a sandy beach, and usually just one, lone individual.
"If it had been two of them landing on a rocky shore, well we may have a different story," Chapman said.
Invasive species may also bring diseases that could affect ocean life in the area.
Chapman likened the situation to a bullet, especially the aspect of uncertainty here where they can't predict what will or won't happen if an invasive species takes hold. If you're hit by a bullet, you may or may not survive. Either way, people know what the outcome could be.
"OK so we keep getting bombarded by these things, and most times things that come across fail," Chapman said. "But each crossing is like flicking a match on a haystack."
Other environmental factors could greatly increase the chance of something taking a foothold here, like a drought or if the ocean gets warmer. Then, Chapman said, it's the difference between flicking a match on a wet haystack or a dry haystack.

Recent studies – like one published in Nature Magazine in March (a joint effort by numerous European universities) – show exponential increases in tons of garbage at the garbage patch over the last decade. Not just that, but the tonnage of debris just outside the patch has more than doubled in the last ten years.
"Since we've been studying trash in the ocean there's been an exponential increase in the garbage patch," Chapman said. "It's a curve – it's not in increments."
Chapman and others – through the volunteer group CoastWatch – have put out a call to keep an eye out for debris with living creatures on the beaches. More debris photos from Lewis below: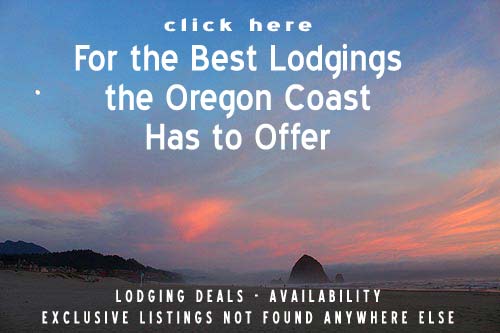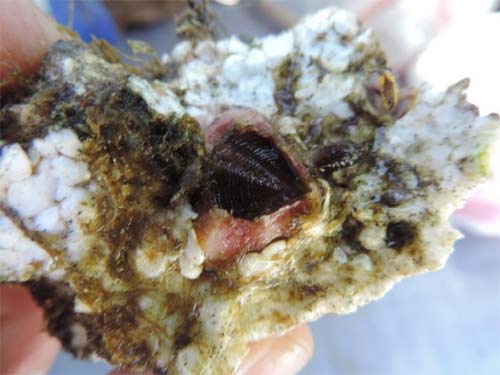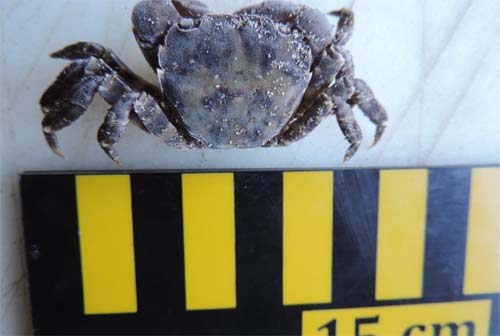 More About Oregon Coast hotels, lodging.....
More About Oregon Coast Restaurants, Dining.....
LATEST Related Oregon Coast Articles
Back to Oregon Coast
Contact Advertise on BeachConnection.net
All Content, unless otherwise attributed, copyright BeachConnection.net Unauthorized use or publication is not permitted