Trippy Facts About the Once and Future Oregon Coast
Published 09/09/2018 at 10:37 PM PDT
By Oregon Coast Beach Connection Staff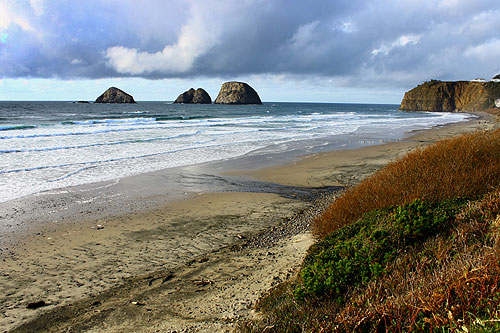 (Oregon Coast) – Geology is a trippy, even mind-bending discipline. It sounds all boring and big word-ridden, and certainly there is plenty of complex terminology that will leave you scratching your head. But if you start digging in a bit deeper (if you'll excuse the pun), and relating it to the calming yet breathtaking sights of the Oregon coast, you'll be pulling plenty of Keanu Reeve impressions: lots of the word "whoa…." (Above: Oceanside's Three Arch Rocks).
It's more than just a look into the deep past, too. Sometimes geology can tell you what the Oregon coast will look like in a few thousand to a few million years. Maybe even sooner.
Some of the wild and freaky tidbits about these beaches include:
Oceanside's Three Arch Rocks Curiosities. The massive, bulbous rock formations off Oceanside are called Three Arch Rocks. What isn't obvious from most vantage points is that all of them have giant holes in them.
Another funky fact: In 1974, UofO geologist Ernest Lund said they were once part of another larger headland that protruded from Oceanside, and quite likely Maxwell Point was a part of it as well. Again, another example of how much the ocean and weathering has worn down seriously huge prehistoric structures, shapes and features we can't even imagine today.
What Oregon Was Like Back Then. Around 20 to 40 million years ago, Oregon was a tropical place, according to Alan Niem, a retired geology professor and researcher from OSU.
"All the indications are that Oregon had a tropical climate like that of Hawaii, or Acapulco, Mexico, based on flora and plants found in coal beds found in places like Washington," Niem said.
The dinosaurs were long gone by then, so imagine the tourism industry that could've been.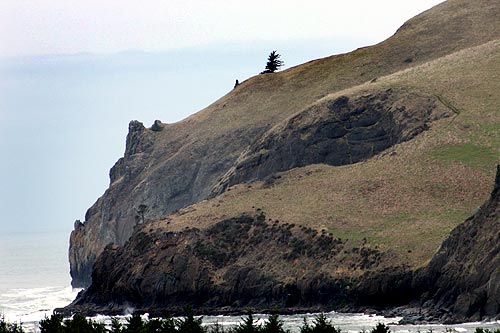 Parts of Cascade Head, Lincoln City Disappearing. A little known fact is that Cascade Head used to be a volcano.
Another little known fact is that there are a bunch of massive sea caves just north of the Road's End area of Lincoln City, between there and Three Rox Bay, where Cascade Head sits.
Once Cascade Head stopped erupting, it was soon covered by sediments from the bottom of the ocean, which later became what is called the Nestucca formation. It and the area south of it, around the tip of Lincoln City, are a mix of what is left of that formation and some basalt (cooled lava). Lund wrote back in 1974 that a lot of this is eroding quickly. Some day, those basalt chunks will be separate from the land areas known as Cascade Head and Roads End.
The Three Rocks of Three Rox Bay next to Cascade Head are what the area will look like eventually.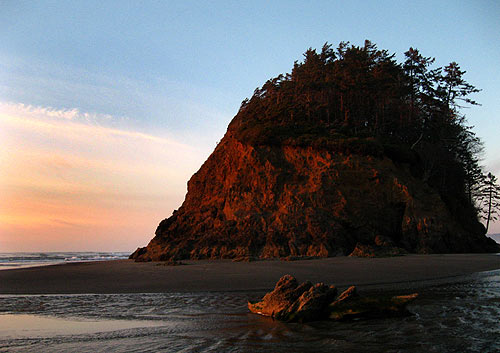 Neskowin's Proposal Rock is an Orphan. Famed Proposal Rock at Neskowin is made of the same basalt that Cascade Head is made of. It was once part of that headland, and once upon a time it was much larger than it is. Now it's separated from the headland by a quarter miles and it is a mere tiny fragment left over from the larger rock. Imagine how much time and oceanic forces it took to destroy that much of the headland?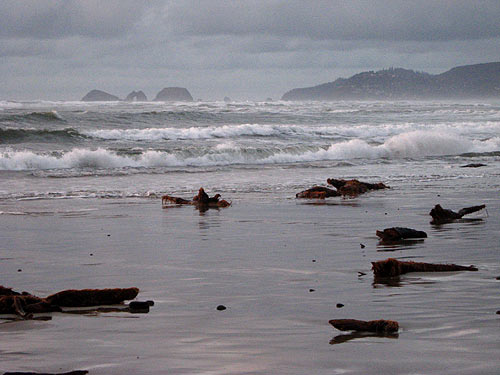 Ghost forest stumps at Cape Lookout State Park mixed with debris from other ghost forests at Neskowin that were torn out in 2008.

Weird Ghost Forest Facts of Cape Lookout. Ghost forests are a fascinating but often hidden aspect of the coast. Mostly, they only appear in winter when sand levels get scoured out by winter waves. These forests are stump remnants of trees once buried rather suddenly by geologic forces, often 2000 years to 4000 years old. Whatever buried them – either suddenly, like an earthquake, or something more gradual like a swamp – kept them from decaying by cutting off the oxygen around them.
At Cape Lookout State Park, some ghost forests sometimes appear in winter, but it seems like a few have already disappeared.
In a 1974 paper by Lund, he points out two sets of them. There are the main stretches of forest stumps, and then just above them, as the land begins to rise towards the parking lot, there is another stump or two. The higher ones are much younger, and the others below older by perhaps thousands of years.

It's quite likely those are gone now. The state park lost a lot of dunes and land in the decades since the '70s. Still, it's striking to know there is – or was - such an age difference in stumps that were mere feet apart.
What else is disappearing? A lot, actually. The ghost forests of Neskowin may be in trouble in the coming years. Erosion is taking its toll on Rockaway Beach, the Salishan Spit and Gleneden Beach. The rising waters of global warming mean more intense winter waves bashing the hell out of these shores. Then what happens when the big earthquake comes and the subsequent tsunami erases much of these beaches? Well, that's a whole other story.
You can get a further sense of what is going away with this article: Crumbling Coast of Oregon: Three Rocky Attractions That Have Gone  ----- Oregon Coast Lodgings in this area - Where to eat - Maps - Virtual Tours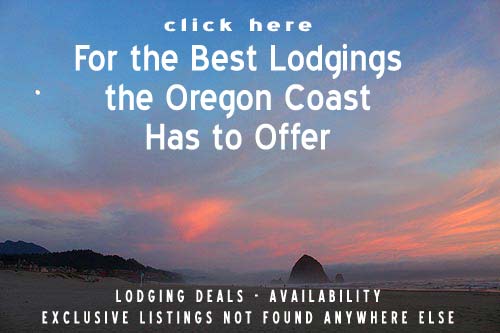 More About Oregon Coast hotels, lodging.....
More About Oregon Coast Restaurants, Dining.....
LATEST Related Oregon Coast Articles
Back to Oregon Coast
Contact Advertise on BeachConnection.net
All Content, unless otherwise attributed, copyright BeachConnection.net Unauthorized use or publication is not permitted