Five Freaky Features of Oregon Coast Winter You Didn't Know
Published 11/29/2016 at 5:33 PM PDT - Updated 11/29/2016 at 6:09 PM PDT
By Oregon Coast Beach Connection staff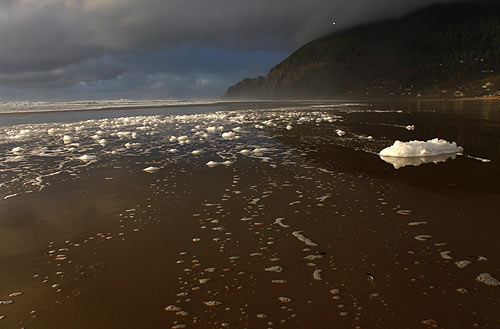 (Oregon Coast) – Winter along the coast of Oregon brings a multitude of fun and captivating aspects, not the least of which is stormwatching or holiday events. But there's much more going on here than meets the eye. (Above: massive foam at Manzanita).
Nature has some wild surprises in store for you this time of year. Foam that flies around. Weather shockers. Insanely cool objects hiding beneath the sand you've never heard of before. What frozen sand does and how ocean water can get fired up into the air like a firework. There's actually more than five discoveries in this list.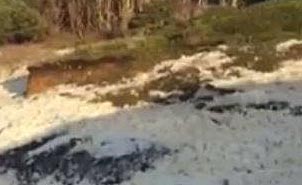 Flying Foam. The sudsy stuff from the ocean can get especially huge in winter. Strong winds and big waves from storms inject air into the ocean and create what Oregon Department of Fish and Wildlife (ODFW) call "mountains of sea foam." (At right: flying foam covering Yachats today - Nov. 29 - courtesy Sherry Smith).
This can suddenly take on a life of its own, blowing onto the highways in what look like bleached drifts of sand. Given the right conditions, you may even see it blow upwards into the air, looking like snow going the wrong direction.
"The air bubbles in the presence of dissolved organic matter is what causes sea foam to form," ODFW said. "The organic matter is mostly made of dead phytoplankton. The protein from the phytoplankton gives the water enough surface tension to form bubbles."
Surf and winds cause the bubbles to pile up in suds-like masses that are often blown up onto the beach. ODFW noted that many people visiting the Oregon coast tend to make the erroneous assumption this is some sort of pollution. It is not. In fact, it's the sign of a healthy ocean.
Wacky Frozen Sand. Everyone has experienced frozen grass in winter: that rather surprising crunch beneath your feet. But did you know sand on the Oregon coast can do this as well? It's an eyebrow-raiser.
Conditions have to be just right, however. If there is a bit of rain or the right amount of enough moisture, those below 30-degree temps on the coast will yield frozen sand. It feels packed a little harder and your footsteps form ice prints on the strand. You'll find eye-catching, angular patterns as the ice is broken in the sand as well.
It can have an unusual shimmering, even glittery look to it. After dark, with a flashlight, the beaches sparkle in a particularly dreamlike way if frozen over.
If you encounter it, it's quite a quirky little delight. Even your dog will be startled. Dogs are apparently amusingly puzzled by the phenomenon, as they're used to sand flying in the air when they walk on it.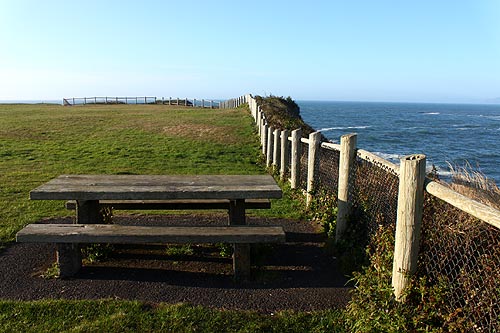 Beaches Warmer Than the Valley? It's not unusual at all for it to be warmer on the Oregon coast than inland during big cold spells. This is thanks to the warming influence of the ocean. This happens just about every year in December, January or February.
Conditions stay colder in the valley because of the east winds bringing colder air. On top of this, the coast range further blocks air dynamics from the east. Essentially, if you get a huge cold air mass in towns like Eugene, Portland or Silverton, it settles inland. It is more moderate on the beaches because it's next to the ocean, which is about 50 degrees. In the winter, more often than not the coast stays around the low 50's while the valley gets below that. It's not unusual to find the beaches downright balmy while there's a freeze inland.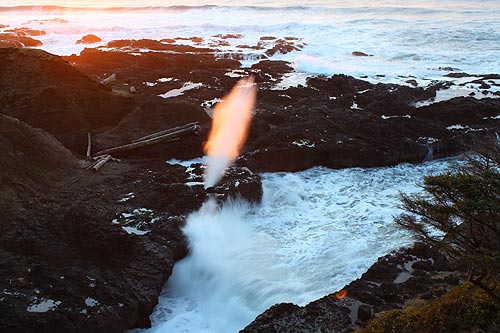 Larger Spouting Horns. One of the more spectacular sights of the entire Oregon coast are the spouting horns: essentially large holes in basalt rock where tidal action gets squeezed so tight it releases in an upward jet of sea water. Keep an eye on Depoe Bay and Cook's Chasm south of Yachats. There's also a nice little one at Ocean Drive at the southern end of Yachats.
These fire off at sufficiently large high tides anytime of the year, but they're especially wild in winter. The one at Depoe Bay often sprays across the street when it gets going, dousing traffic. At Cook's Chasm, it makes a startling hissing noise.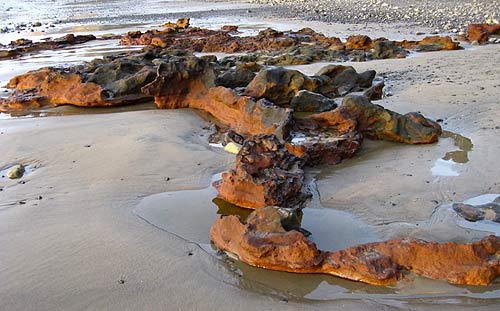 Low Sand Level Treasures. Every winter, large storms mean much erosion and the taking away of sand often reveals some fascinating finds. The best known of which is gravel beds, which are a telltale sign of lots of agates. But much stranger things lay beneath those sands, and sometimes ten feet or more can be stripped away to show you just that. (Above: red towers at Arch Cape).
Among them are ghost forests. Some are extremely rare sights, and these are the oldest ones. Ghost forests less than 2,000 years old can be seen a bit more frequently, like the ones at Neskowin, which are viewable year-round. But those around 4,000 years old don't show unless levels really sink. Keep a watch on Curtis St. north of Seal Rock, Newport's Moolack Beach and Hug Point near Cannon Beach. (Full ghost forest guide).
Ghost Forests are stumps of trees that have been buried under the sand by some sudden landscape change millennia ago. They were killed off by this, but that same process preserved them by hiding them from the air.
Also, keep an eye out for red towers: truly surreal beach objects. Only a couple feet high, if that, these are basically beach sand cemented by red iron oxide. Dreamlike in appearance, they look like something out of Dr. Suess or an album cover from the band Yes. More about Red Towers
Bedrock is quite a thrill to spot as well. Sometimes sand gets scoured so much you can see what lies beneath the beaches: often basalt rock that is 40 million years or older. In Newport, the bedrock there is a softer material than basalt and about 22 million years old or so. Oregon Coast Hotels for this - Where to eat - Maps - Virtual Tours
More About Oregon Coast hotels, lodging.....
More About Oregon Coast Restaurants, Dining.....
LATEST Related Oregon Coast Articles
Back to Oregon Coast
Contact Advertise on BeachConnection.net
All Content, unless otherwise attributed, copyright BeachConnection.net Unauthorized use or publication is not permitted