Oregon Coast Weather Brings Curiosities: Dragonflies, Bubble-like Jellyfish
Published 10/11/2017 at 3:07 PM PDT - Updated 10/11/2017 at 3:08 PM PDT
By Oregon Coast Beach Connection staff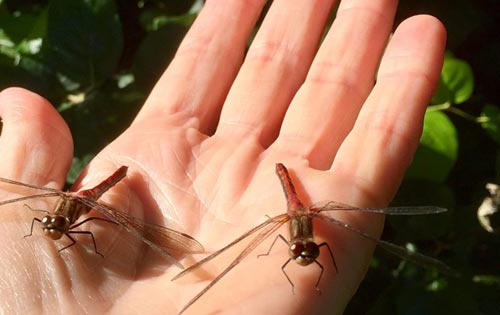 (Oregon Coast) – A host of interesting finds and sights along the Oregon coast in the last two weeks, as dragonflies made a stunning appearance and an engaging form of jellyfish started popping up on the beaches. (Dragonfly photos courtesy Leslie Leonard).
Dragonflies were almost the main attraction up and down the Oregon coast around the cusp of the month: the big show was the stellar, near-80-degree weather, which is what brought the dragonflies out in the first place. Observers in the Newport and Warrenton areas reported in, with some great photos from north coast resident Leslie Leonard. On and off, for a few days before and after October 1, the insects were seen in great numbers on their migration south.
It's something that happens almost every September on the coast: the weather conditions get just right and they appear in droves. It's unknown why they only appear during bouts of warm, sunny weather, but one possibility is that these calm conditions simply allow them to be seen, a time when the wind is not knocking them around and the sunlight glints off their wings. East winds may also be a factor, pushing them westward at times.
Nature experts from Newport like Terry Morse, Charlie Plybon and Range Bayer all witnessed one good run or another.
The dragonflies in question are called Sympetrum corruptum. Plybon said they show up in steady streams of individuals, pairs or in small groups, but not in swarms.
Plybon said he watched a bunch for an hour at the south jetty at Newport's South Beach area on one day. Others took extensive notes, including some members of a bird watching group in Newport, notes which then got passed around on email lists.
Such as the following:
"We were seeing numbers of south-moving dragonflies ranging up to 25-30 per minute," the observer reported. "We were seeing at least three kinds - ones whose size and appearance were consistent with Variegated Meadowhawks,some much smaller ones with red abdoments (maybe thorax and head too? hard to tell). And some version of darner (larger, cylindrical abdomens, thorax much larger diameter than abdomen, apparently clear wings). The meadowhawks were more than half of them and I saw only a few darners. We were mainly looking west because the sun lit up their wings and made them easier to spot, but that did not allow us to see much color. Many were flying within 1 meter off the ground, and I did not see any above three meters."
With the heavy weather moving in they will not be visible again until next year.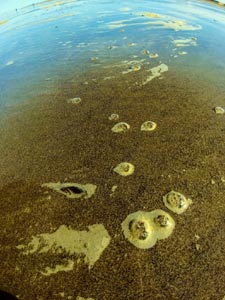 That kind of weather is starting to bring natural treasures to the beaches, however. (Gooseberry photos courtesy Tiffany Boothe, Seaside Aquarium).
The sea gooseberries are back, according to Seaside Aquarium. If you're walking the beaches this weekend (and it will be great weather for that), you may notice small bubbles in the sand. These are a type of jellyfish known as the gooseberry – or comb jelly (Pleurobrachia bachei).
Tiffany Boothe of Seaside Aquarium found bunches of them sitting around the tideline this week, and you're likely to find more.
She said there are more than 100 different species around the world.
"They are 99% water, and have no brain, heart, or blood," she said. "They move by means of cilia: minute, hair-like tendrils which line the surface of the comb jelly. They have no stinging cells. The two long branched tentacles are armed with colloblasts: specialized adhesive cells which are used to ensnare their prey."
They only live about six months. More on the gooseberries and dragonflies below:
About Staying in On the Coast This Weekend: Many hotels, motels and vacation rentals around the Oregon coast are now at low October rates and major specials are starting to show up. See the individual city lodging links or above for bulletins on this. Some rentals and even a few hotels are starting to offer free nights after a certain minimum stay. These offers differ greatly: keep checking that page for further updates.
Weather on the coast over the weekend is expected to be mostly sunny as well – still traces of the Second Summer phenomenon. Perfect for beachcombing. Check Oregon Coast Weather.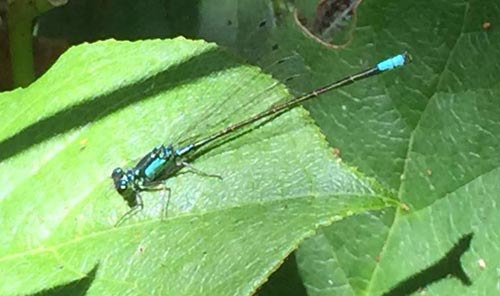 Photos below of gooseberries in and out of water, courtesy Seaside Aquarium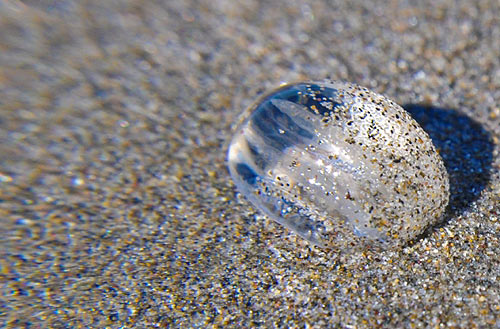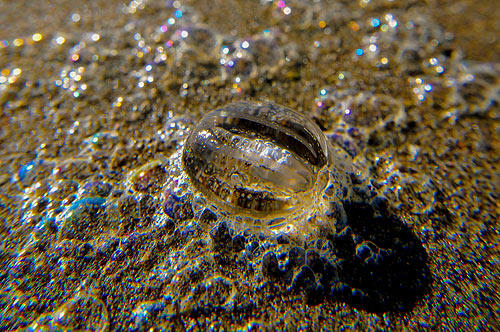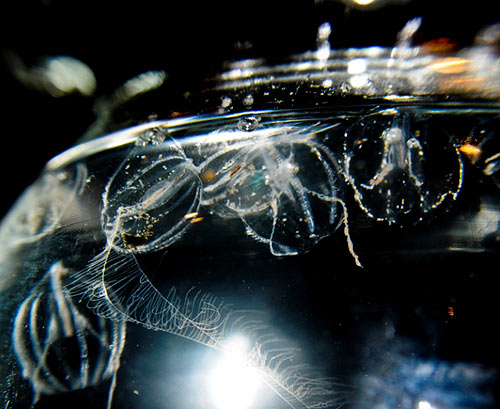 LATEST Related Oregon Coast Articles
Back to Oregon Coast
Contact Advertise on BeachConnection.net
All Content, unless otherwise attributed, copyright BeachConnection.net Unauthorized use or publication is not permitted