Pet Safety Tips for Your Dog on the Oregon Coast
Published 02/16/2012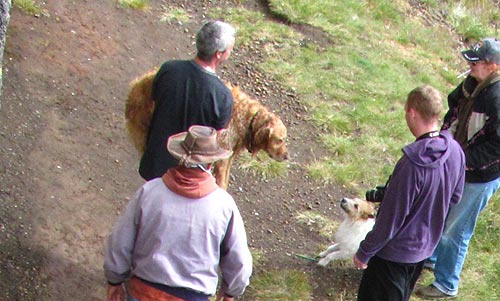 (Oregon Coast) – If you're a dog owner, taking the little beast to the beach is more than an Oregon coast tradition, it's a huge industry now along these shores. It's practically frowned upon if you don't take the dog to the dunes (above: a dog is rescued at Depoe Bay after bounding over the seawall into the rough sea).
But beach safety is something you have to not only keep in mind for yourself but for your pet as well. Irene Bailey, Animal Services Deputy with the Lincoln County Sheriff's Office, provided a bundle of tips on keeping your dog safe at the beach. While she didn't have particular stats for dog rescues or incidents in Lincoln County, she did say even near misses can be traumatic.
"I heard of a dog that chased a sea lion or seal out into the Siletz Bay and got stranded on a sand bar," Bailey said "Here in Lincoln County I would guess there are more river incidents, like the one that just occurred near the culvert on Big Creek. We have had human casualties along the Yaquina Bay jetty - very dangerous area in high waves/wind. There could easily be dogs with these folks, just rock hopping, or wave watching, or fishing. And I personally know of at least one call where a dead dog has been found washed up on the beach after a stormy night (north of the casino in the Road's End area which is predominantly vacation rentals)."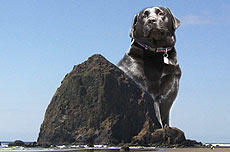 Other problems arise when people let their dog out to go potty for a while and then don't pay attention to how far they travel. This is a violation of dog-at-large laws, but a dog can get lost and wander into a beach and perhaps get washed away.
There are also bears, raccoons and other wildlife to look out for in some forested areas, such as around Cannon Beach, Yachats, Waldport or Otter Rock.
Bailey said to remember the dangers of water temperature here on the Oregon coast: the ocean is quite cold, even in warmer summer weather.
"Dogs have much less body mass than us, and once the fur is saturated and their skin is exposed to the cold water, they are susceptible to hypothermia like any of us," Bailey said.
Bailey said that first you should know your dog.
"The beach and shore areas are fun places to let your dog run free and exercise. However, that means more opportunity to get in trouble as well," Bailey said. "Your dog has traits specific to its personality and breed that affect his actions/reactions."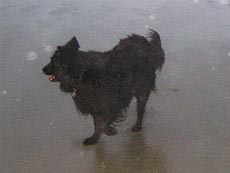 A dog may like to jump into water, go running after seagulls or charge up to other people. It may be excitable or more energetic than some. You need to know these traits and keep those in mind in the context of a beach or coastal river environment.
Bailey said various breeds react in different ways as well. Some are herding dogs, water dogs, hunters, etc.
"Breed traits play a large part in dog interaction and how they will react in particular situations," Bailey said.
Most of the rules regarding beach safety are the same for dogs as humans. If conditions are rough, there's a danger of strong currents, undertows and big sneaker waves. Keep yourself out of there as well as your pooch.
"Creeks run more swiftly, filling culverts and creating eddies against steep banks and fallen trees," Bailey said. "Undertow and currents change strength and direction , especially with higher tides. Debris is washed downstream, as well as onshore, increasing the chances of entanglement or collision. Surf crashes higher and more dramatically at sea walls and against the rocky shores. All of these things can pose danger to your pet's safety."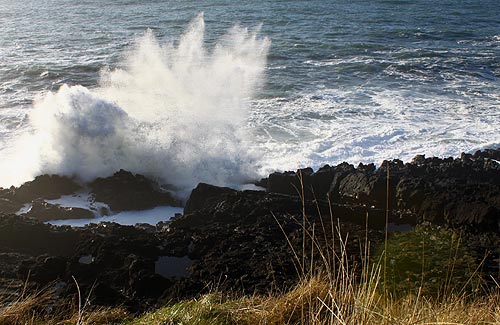 Rocky ledges like this are also a bad idea for your dog (Rodea Point, near Depoe Bay)
If a dog loves to chase birds on the beach you'll need to be doubly careful of rough surf conditions nearby. Dogs "on a mission" - as Bailey put it – can disappear out of earshot quickly and you won't be able to guide them out of danger.
Bailey also suggest to look carefully if your dog is friendly to other dogs. But what about the other dog? Is it friendly?
Also, be watchful of your dog approaching other people who, unbeknownst to you, could be afraid of dogs – or even just unduly startled. This could be problematic for someone elderly, with a handicap you can't see or if they're unstable for some reason.
Bailey also said you should be prepared, especially with leashes, harnesses, training collars and effective training.
If you're dog is addicted to the water and you have trouble controlling that, a doggie life vest may be in order.
Bailey also said to keep in mind many beaches and recreation areas are remote and help is a long ways away. Also see Oregon Coast Pet Friendly Lodging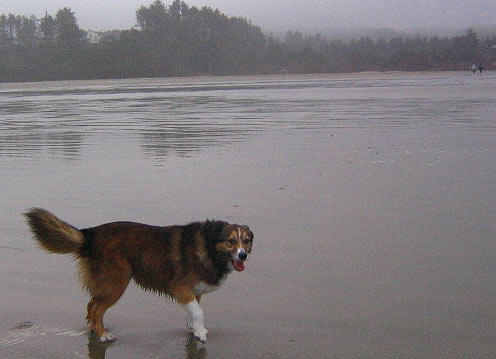 More About Oregon Coast hotels, lodging.....
More About Oregon Coast Restaurants, Dining.....
LATEST Related Oregon Coast Articles
Back to Oregon Coast
Contact Advertise on BeachConnection.net
All Content, unless otherwise attributed, copyright BeachConnection.net Unauthorized use or publication is not permitted