Five Curious Features of the Oregon Coast You Don't Know
Published 01/19/2016 at 5:53 AM PDT
By Oregon Coast Beach Connection staff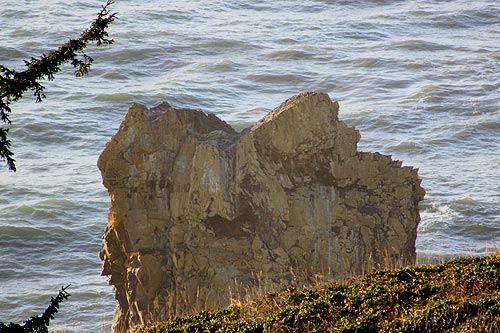 (Oregon Coast) – Sometimes, the wildest, weirdest things are right in front of your eyes on the Oregon coast, but for some reason you just don't see them. Perhaps it's hidden beneath the waves most of the year. Or you need to be at just the right angle. (Photo above: Cube Rock, near Manzanita).
The upper half of the Oregon coast hosts some slightly mind-bending features hiding in plain sight: not exactly an entire hidden beach, but a secretive aspect to a beach you've likely been to a lot. Here are five such funky features that are unforgettable once you find them. Click on the links for virtual tours and maps of these areas.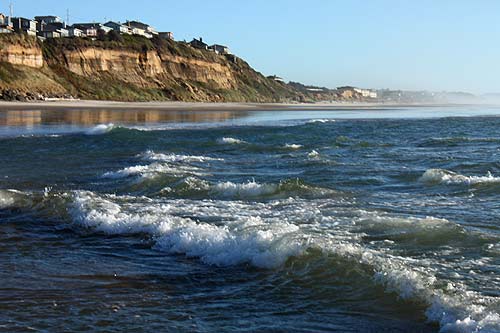 Another (Little) Bay in Lincoln City? Believe it or not, Lincoln City has a kind of second bay. At the very northern end, at Road's End State Park, visitors walk right past it without realizing it. At one small section, the sandy shoreline curves around just slightly, but just enough to form a large indentation that mimics a bay. But if you pay attention, this subtlety comes to life and suddenly you can look almost straight back over the water at the place you came from.
It seems to have a lot to do with the right sand conditions, and this may not always exist. Part of this section also has more pronounced gravel beds and tend to be good for agate hunting even in summer. Lincoln City Lodging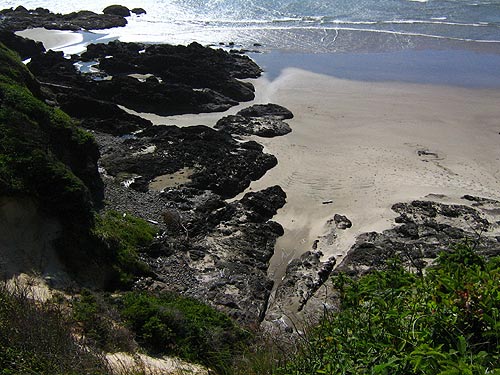 Beach Near Yachats Only Exists Half the Time. During summers, while in the Yachats area, you may well have visited Cove Beach, next to Cape Perpetua. Likely fall and parts of spring, too. But this spot does not always exist. During winters and other more tumultuous wave conditions the ocean takes it over. It's gone.
The area is only a mass of swirling, angry waves, which are admittedly awesome to watch from the bench on the southern face of Cape Perpetua, close to these wild waters. You can see from one photo the ocean goes all the way back. But in calmer times, you can walk a small trail from above (about a quarter mile south of the Perpetua entrance), and enjoy a beach full of fascinating finds.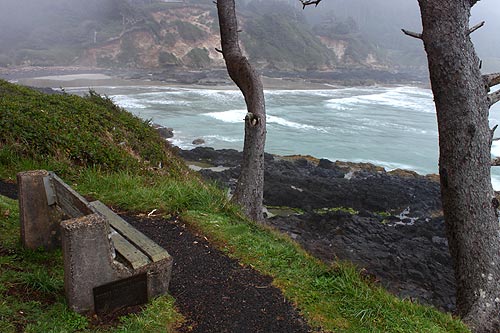 It's also a deliciously hidden spot not known by many, so now you've been handed a double secret tip. Yachats Lodging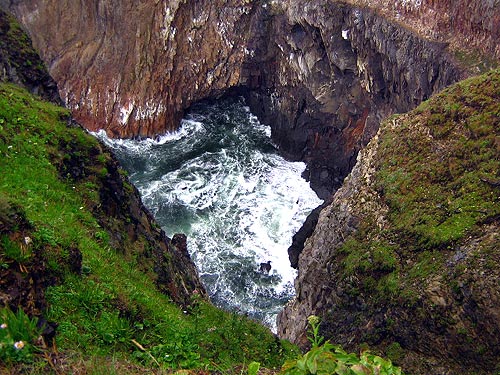 Near Manzanita: Cube Rock and the Giant Tube Cove. It's often referred to as the Forbidden Cliffs Near Manzanita. They take a bit of a hike to get to: find the gravel pullout near the Neahkahnie Overlooks, where the signage indicates a trail heading down to the surfer's paradise of Short Sands Beach.
Take the trail to the left and go straight towards the cliffs, and you'll immediately spot a strange structure popping its head up from the edge. A massive, column-like shape called Cube Rock rises up from the ocean, looking almost like something an ancient race of giants left behind.
At the cliff's edge, you can see its entirety, and the curious, craggy feature below it called Pulpit Rock. Most dramatic, however, is what looks like a giant hole in the cliff that plunges down a few hundred feet to the ocean and the cliffs of Cape Falcon. Actually, the basalt here curves around in a unique way that makes it appear like a huge tube. Manzanita, Rockaway, Wheeler Lodging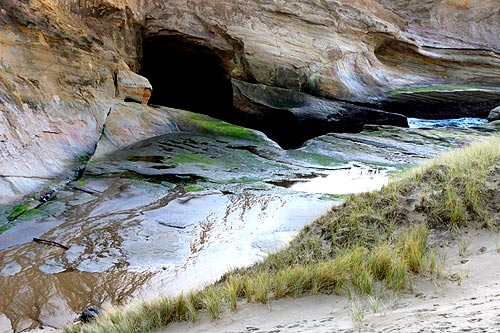 Squirting Secret at Kiwanda. At Pacific City's Cape Kiwanda, there is much here that is full of grandeur and eye-popping beauty. But there are also numerous hidden pockets of fun stuff lurking on this soaring dune. Not far from the walk up to the top, you'll encounter a small fence and a kind of half-circle of a mini-cove sitting below.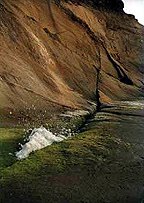 At its bottom, you'll notice a large crevice where the sea water comes crashing in, not unlike many chunks of the Yachats area. Between you and that crevice is a sizable flat area with large cracks running through it. One of these sometimes fires water up into the air a few inches to a foot or so.
This is rather rare, actually, and not as spectacular when compared to the other spouting horns of the Oregon coast. It's more of a squirt than a spout – a squirting horn, if you will. Still, it's a funky little surprise. Though you're technically not supposed to go down there, some of the locals have talked about putting small objects onto it and watching the little squirt-of-sea-water launch the object into the air. Warning: Do Not Hop the Fence here to gain access. As of 2016, seven people have died here since 2009. Pacific City, Oceanside, Netarts, Tierra Del Mar Lodging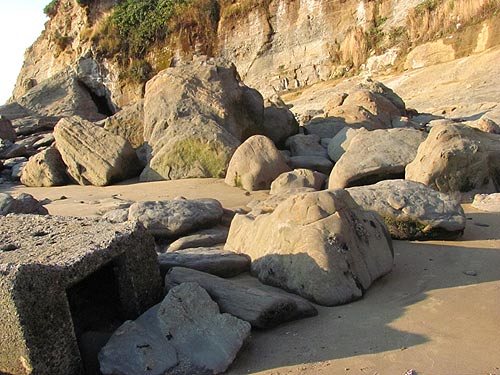 At the Devil's Punchbowl near Depoe Bay, there are a series of things you can only rarely see. It takes an extremely low tide event at this normally raging, crazy spot that allows you to actually enter this caved-in cave in sandstone. Although the region has been lucky enough in recent years that summers have made for exceptionally high sand levels that have allowed you to do so.
Be warned: don't even attempt this unless tide conditions allow you even near the structure.
If these conditions are right, however, getting inside the Devil's Punchbowl is only half the freaky delight. There is a small cave that leads all the way out to the ocean, tucked away near the entrance to the Punchbowl. There are a couple of small caves just around the southern corner (closer to the Inn at Otter Crest) as well, although these are largely inaccessible because of the slippery stuff that covers the rocky slabs here.
There is also a mysterious cement object half-buried in the sand here. No one seems to know what it is or where it came from, but it almost looks like the remnants of a small entrance to some sort of building – as if it once led underground. Or perhaps it's just a chunk of concrete building material that somehow arrive here, either falling from the cliffs once or miraculously managing to arrive here by sea. Depoe Bay Lodging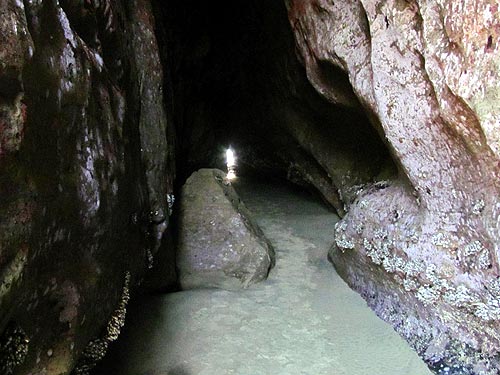 LATEST Related Oregon Coast Articles
Back to Oregon Coast
Contact Advertise on BeachConnection.net
All Content, unless otherwise attributed, copyright BeachConnection.net Unauthorized use or publication is not permitted