5 Craziest Natural Events on Oregon Coast of the Last Decade
Published 11/27/2015 at 4:45 AM PDT
By Oregon Coast Beach Connection staff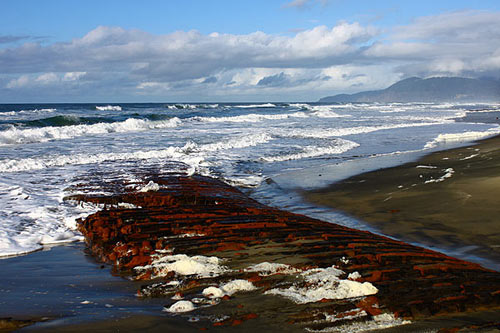 (Oregon Coast) – The entrancing, mesmerizing thing about these beaches is that it's always a constantly changing environment. Ironically, surprises are what is to be expected. (Above: the wreck of the Emily G. Reed in Rockaway Beach appeared briefly after a 35-year absence).
Sometimes here, natural history is being written right in front of you. Case in point: here are five of the biggest curveballs of the last decade that these beaches have dished out.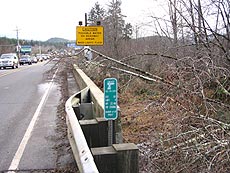 The Great Coastal Gale of 2007 came out of the blue – quite literally, too – and rocked the Oregon coast to the tune of over 100 miles per hour. On December 2 and 3, it brought it massive flooding that still has some scars to this day, and shut down power to some places for as long as a week.
The Gale leveled hordes of trees along highways to the coast, and Highway 26 was closed for a few days. Once reopened, you could explore a north coast that was ripped apart, with downed trees and signs everywhere, and numerous buildings having sustained plenty of damage.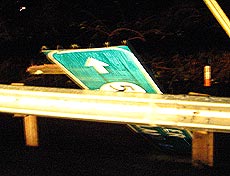 One woman talked about her small dog being lifted upwards when it went out to take a nature break. Employees of Seaside Aquarium actually tried to hold onto their front signage by hand and nearly got swept out of the window.
Yet, as the aftermath video shows, people were in good spirits. Even those who hadn't taken a hot shower in days.
Interestingly enough, the Gale was partially responsible for another amazing natural event a little over a month later.
Extremely Low Sand Levels and Weird Finds, 2008. Aside from the Great Gale, this particular winter was especially raucous, with bigger-than-usual wave action for a lot of the season. The Great Coastal Gale, in particular, took some hefty chunks out of sand levels that winter.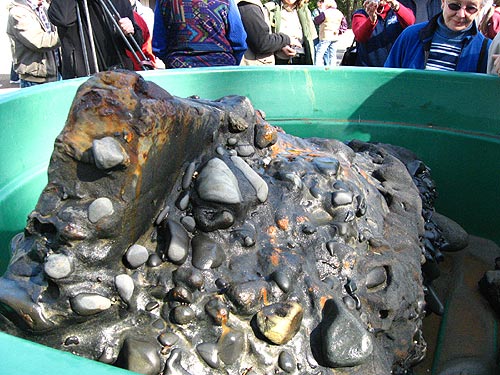 Consequently, by January of 2008, sand levels were at some of the lowest they had been in perhaps decades along the coast. This created a bevy of wild finds that had been covered up, including the two historic cannon that helped give Cannon Beach its name, found in Arch Cape by a Lake Oswego family (above).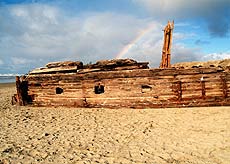 Other objects found confounded visitors and brought them out in droves: oddities called Red Towers (strange formations often lurking below the sand), an old mail truck in Waldport, and a hidden shipwreck on the south coast (pictured at right, photo courtesy Tiffany Boothe, Seaside Aquarium.)
The Massive Velella Velella of 2015. One of the largest inundations of a jellyfish called a velella velella (or Purple Sails) happened just this past spring. Enormous strandings of these were more common about ten years ago, then they slacked off for several years. This spring's event is regarded as one of the largest ever.
For a couple of weeks, the little creatures were literally covering all of the Oregon coast. It was difficult to step on any part of a beach without stepping on them. Reports came in from everywhere, and often described massive patches of them, sometimes 50 or more yards wide or long. Even the space between these chunks of purple critters had some amount of them. In many cases, they were piled two or three velella velella high.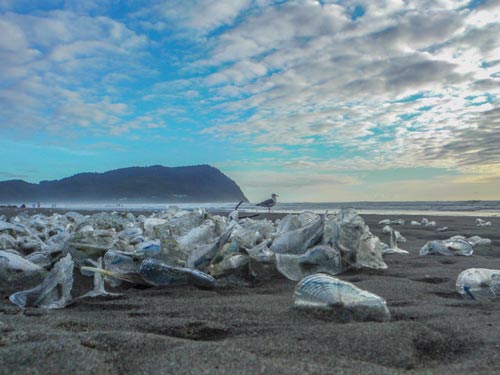 The sheer magnitude of this – coupled with the recent phenomena of social media and cell phone photographs – created such a stir that national publications like the Smithsonian even covered it. (Above: this photo by Boothe of Seaside Aquarium appeared in national publications).
Such large-scale events also took place from 2000 to 2004, but these were much smellier. Those strandings were accompanied by longer stretches of warm weather, so the little purple guys really started to emit a nasty, inescapable fishy odor.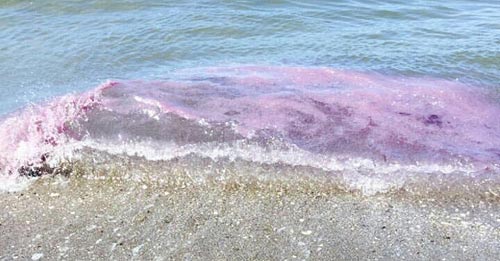 Mysterious Purple Waves of 2015. The weird stuff seems to come in groups along the coastline, and this one was a real head scratcher.
During the early summer, some people started reporting seeing a rash of strange purple waves. They smelled a little, some reported, but the cause was clearly not the velella velella of the previous months. It seemed to pop in and out of existence, and showed up in only fairly small patches of sea water – usually no more than 20 to 50 feet wide.
Whatever it was, it caused a significant stir with the local scientific community and other naturalists, with many expert thinking it was a hoax of sorts caused by dye. All echoed the sentiment of Dr. Bill Hanshumaker of the Hatfield Marine Science Center, when he said he'd never "seen anything like it."
Finally, it began to be identified. There is some slight disagreement, however.
One member of ODFW obtained a sample and said it was salps – a small creature related to jellyfish. Why they turned so purple is still a mystery.
Others, like Hanshumaker, said it was an equally-as-tiny creature called Doliolids, which have a muscle band encircling their entire body. Both salps and Doliolids are Urochordata (pelagic tunicates), which means they are tunicates that live closer to the surface of the water.
There were some similar incidents regarding extremely pink salps a few years ago, covering many beaches in thick, pink layers, not unlike the velella velella and its purple. These salps are much larger, however, about half to a quarter the size of your palm.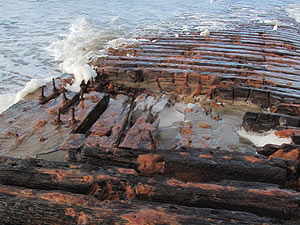 The Elusive, Hidden Shipwreck of Rockaway Beach. Like a ghost, a shipwreck from 100 years ago disappeared in the 70's and then suddenly reappeared in the 2000's.
The wreck of the Emily G. Reed was unearthed by winter wave action in 2010, which had cut a wedge out of the sandy slope towards the waves as much as four or five feet deep. It was a treasure hunter's dream of sorts, with around 100 feet of the ribcage-like structure visible – the most in decades.
While it made a brief appearance about 2007, it was visible for about two weeks in 2010. Then it disappeared again beneath the sands of Rockway Beach and it hasn't been seen since.
The Reed hit the mouth of the Nehalem River in 1908, back when there was no jetty. Apparently, the Reed was looking for the Tillamook Rock Lighthouse to guide its way, and for some reason made a wrong turn and grounded itself. It snapped in half, and most of one half wound up in Rockaway Beach. It was visible constantly until about the 50's.
A smaller piece still sits in the town's Nedonna Creek.
Oregon Coast Lodging in this area - Where to eat - Maps - Virtual Tours
More About Oregon Coast hotels, lodging.....
More About Oregon Coast Restaurants, Dining.....
LATEST Related Oregon Coast Articles
Back to Oregon Coast
Contact Advertise on BeachConnection.net
All Content, unless otherwise attributed, copyright BeachConnection.net Unauthorized use or publication is not permitted