Update: More Masses of Purple Sails on Oregon Coast: Sign of Something Else Rare, Too
Updated 04/29/2015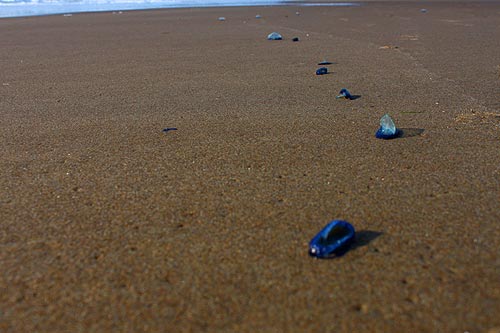 (Oregon Coast) – Another massive wave of velella velella (or Purple Sails) has hit the Oregon coast in the last two days, after taking a little more than a week off. There's more than meets the eye here, say experts, who offer up not just a small health warning but also hint this is a sign you could find something much more valuable.
Seaside was again just smothered in them, as seen in the below photo taken yesterday by resident Angi Wildt. The tiny critters created a national stir with their enormous numbers two weeks ago - more than usual, when compared to many past inundations. Reports are coming in about heavy masses of them all around, including Nehalem Bay State Park, and it appears it just happened in the last two days.
Velella velella are also known as By-the-wind Sailors and are sort of related to jellyfish. They show up because west winds push them along onshore. That dorsal fin-like structure on their top is how they get around, completely at the mercy of winds. If there happens to be a lot of them in the vicinity and the winds are right, you get masses of them hitting the beach, and soon smelling things up with a fishy stink.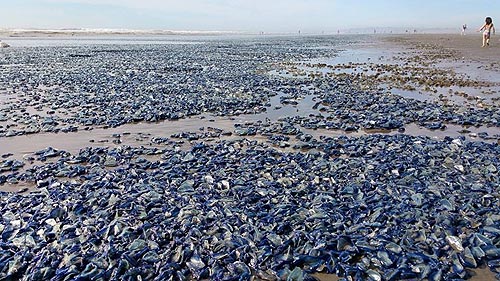 Photo: Angi Wildt. Hordes of velella velella in Seaside this week.
While these semi-jellies cannot sting you, Oregon coast officials urge you to not walk on them with bare feet or touch your eyes or mouth after touching them. This can cause pain or illness.
What's behind the huge numbers lately?
Biologists aren't sure why this is so, but they don't necessarily think there is that much more than usual, either. While it's true the huge numbers of strandings backed off for a few years in the late 2000's, then returned last year, the biggest factor in all these beachings is simply a matter of perspective.
The perspective of technology, to be specific.
Keith Chandler, manager at Seaside Aquarium, said these kinds of inundations have occurred forever along the Oregon coast. It's just that now there are cellphones everywhere.
"You're getting so many reports because these days everyone and their four-year-old has a cellphone with a camera," Chandler said. "So they're out there when it first happens and spreading pictures around instantly. There are just more reports out there."
Another factor is that they are often covered up quickly by sand from south winds. The west winds stop blowing, and they stop coming in. But this also frequently means the wind is now coming from the south, which causes sand to blow over them and hide them.
"People think they just disappeared," Chandler said. "But they didn't. They just went back into the ecosystem."
Chandler is glad to see all the publicity this has generated. Seaside Aquarium photos made it into numerous international articles on the subject, including Smithsonian and National Geographic. But he thinks it's all a bit hyped.
"I'm getting emails from people thinking it's the end of the world or Fukushima radiation or something," Chandler. "It's ridiculous. It's not. This has always happened."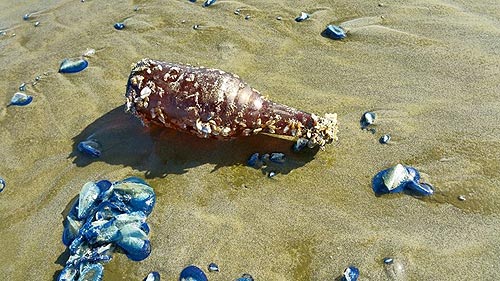 When west winds blow, you get a lot of interesting things coming onto beaches. Another example is this bottle covered in sea life that Wildt found. It's a good time to keep an eye out for all sorts of oddities, including tsunami debris. See the full article on Oregon coast oddities washing up.
However, Chandler gave a nice insider's tip about one very coveted, rare object to look for.
"This is a good time to go look for glass floats," he said. "I usually get word about someone finding a Japanese glass float around these times. They usually don't tell me until about two weeks after, though. But would you?"
Photos below by Tiffany Boothe, Seaside Aquarium.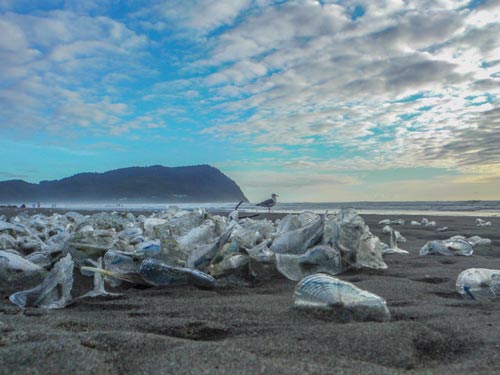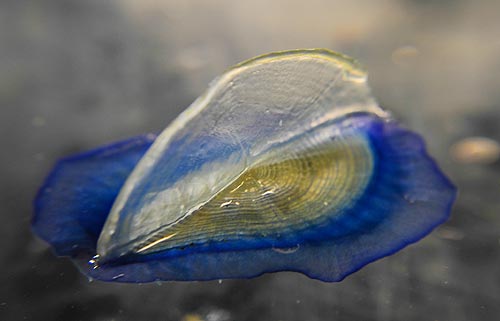 More About Oregon Coast hotels, lodging.....
More About Oregon Coast Restaurants, Dining.....
LATEST Related Oregon Coast Articles
Back to Oregon Coast
Contact Advertise on BeachConnection.net
All Content, unless otherwise attributed, copyright BeachConnection.net Unauthorized use or publication is not permitted