The Crazed and Spooky Tales of One Oregon Coast Lighthouse
Published 09/26/2018 at 4:44 AM PDT
By Oregon Coast Beach Connection Staff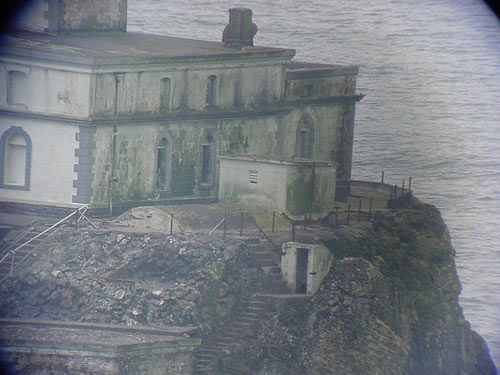 (Cannon Beach, Oregon) - The truth behind this old lighthouse off the north Oregon coast is certainly weirder than fiction itself – or any of its ghost tales, for that matter. The Tillamook Rock lighthouse has never been accessible to the public, and thus has always sparked the imagination with its mysterious silhouette lying more than a mile away. (Photos courtesy the Furnish family, circa 1970).
As the Halloween season descends upon the Oregon coast, it seems like a prime time to spin the ol' yarns.
Construction on this blob of rock began in the 1880s, after initial plans were scrapped to put it on a fog-prone, blind spot area atop Tillamook Head.
Things did not get off to a good start. The first man to step on the rock to do some surveying drowned, creating an immediate public outcry that perhaps this wasn't a good idea.
After the top was blasted, construction crews had to endure insane conditions, living under soggy tents and enormous waves that constantly knocked at them. The crews lived in rotating shifts on the rock, and there were so many casualties in these conditions that men waiting onshore to work there were actually sequestered away from the public and from talk of what went on there.
These robber barons of old in charge of the project went to incredible lengths to keep construction workers away from the truth. They were housed in various places along the southern Washington coast, away from Seaside, and for a while even on a ship anchored just offshore.
Once it was built, lightkeepers lived there in shifts too: four of them, usually a few months at a time. It was a brutal existence, and one keeper reportedly went mad from the solitude.
A giant winch was used to bring supplies and personnel from visiting ships to the rock, which was a dangerous and unwieldy endeavor under even the best conditions. They were put inside an object called a breeches buoy – which is essentially a giant pair of pants encircled by a floatation ring, attached to the cables overhead. Numerous men were lost doing this.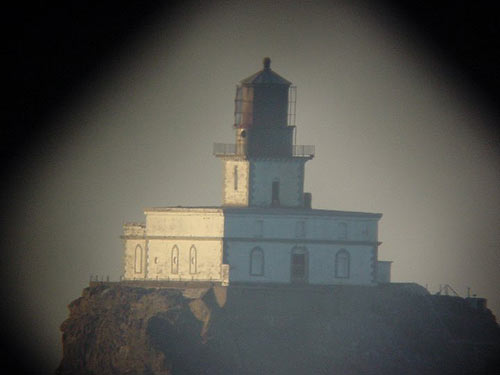 The place was ripe for ghost stories. It didn't help that local tribes purportedly said it was inhabited by evil spirits.
There are rumors of such paranormal tales over the years, including the claims of voices heard over the din of storms from the lens area and other isolated or dark parts of the lighthouse. Sometimes, stories about ghost ships appearing in the fog and drifting past are associated with the place as well, but usually these have foundations in actual events involving near misses from real ships.
Indeed, a ship called the Lupatia nearly hit the lighthouse in dense fog, but was warned away just in time. However, it did soon after slam into Tillamook Head, killing all aboard except the ship's dog.
One local legend has it that you can sometimes still hear the dog howl in the night near Tillamook Head.
Another almost spooky tale from the lighthouse comes from a keeper who felt something brush past his face in the dark while lying in bed. All of a sudden, he heard strange footsteps in the pitch black, and after a time, bolted towards the light switch, arms swinging wildly in an attempt to smack whatever trespasser was there. When he turned on the light, he found only an injured bird that had somehow made its way into his bedroom. The odd footsteps were its broken wing hitting the floor.

The lighthouse was decommissioned in 1957, with the last keeper, Oswald Allik, proclaiming "I return thee to the elements."
In the '80s, after numerous failed ownerships, a firm called Eternity at Sea bought the Tillamook Rock lighthouse property, and for a time it served as a columbarium – a place for ashes of the dead.
Rather comically, that firm ran ads in the early '90s or so offering free satellite TV for life – if you reserved your resting place early. Presumably, they figured if you were making such arrangements you wouldn't be around too long.
That firm was bankrupt and also deceased by the early 2000s, and no one – or nothing – is in charge of the old Oregon coast lighthouse now. Lodging in Cannon Beach - Where to eat - Maps and Virtual Tours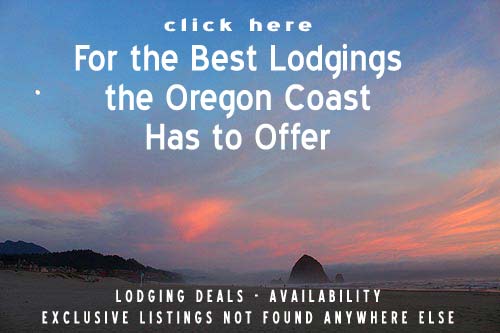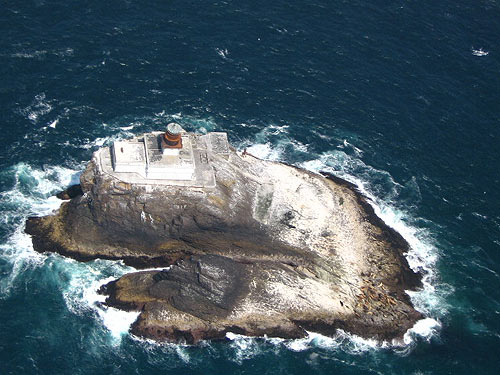 More About Oregon Coast hotels, lodging.....
More About Oregon Coast Restaurants, Dining.....
LATEST Related Oregon Coast Articles
Back to Oregon Coast
Contact Advertise on BeachConnection.net
All Content, unless otherwise attributed, copyright BeachConnection.net Unauthorized use or publication is not permitted