Fun Facts, Startling Science of Cannon Beach, Oregon Coast
Published 01/23/2016 at 10:21 PM PDT
By Oregon Coast Beach Connection staff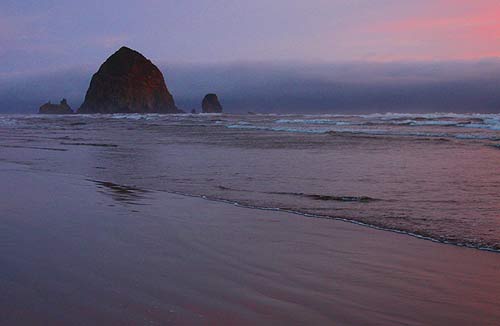 (Cannon Beach, Oregon) – As one of Oregon's top travel destinations, Cannon Beach is among its most famous features. There's plenty to gawk at here, and much that is right out in the open and obvious. But even these attractive aspects have multiple layers. Aside from the lovely lodgings and awesome eateries, the natural world in this hotspot is full of deep pockets of fascinating finds. (PHoto above: Cannon Beach's Haystack Rock).
Haystack Rock. The big, looming legend of town is one of the most photographed features in all of Oregon. How it came to be, however, is a bit of a scary tale.
Some 45 million years ago or so, there was a massive hole in the Earth's crust in what is now Idaho which created lava flows so enormous they sizzled their way across 300 miles to the ocean and beyond, sometimes tens of feet high. The coastline was then some 75 miles inland, but these lava flows were so powerful they plunged into sediment far offshore and then literally re-erupted at another location.
Called "invasives," Haystack Rock was once part of a larger structure that came from this action. The rest of it eroded away, leaving the rock and its Needles. Still creepy to this day: that same hole is where Yellowstone National Park is now, and it will likely one day erupt as a super volcano.
In case you didn't know: there are indeed three Haystack Rocks on Oregon's coast. The other biggie is in Pacific City and there's yet another in Bandon.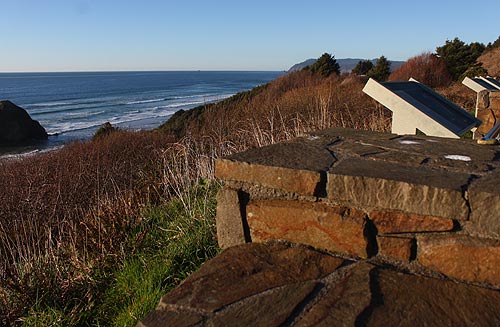 Silver Point Above and Below. One of the most famous viewpoints on the Oregon coast is that of Silver Point. Below is where the real wonders lie, however. There's a trippy sea cave inside the mini-stack of basalt found here, which is almost never accessible (although sometimes sea kayakers and surfers get inside). The reef in this places does odd things to the waves, creating a spot where the breakers will move north to south (instead of coming in towards the beach), looking like some mysterious creature darting back and forth in the ocean.
Geologically, this spot is a bit mind-blowing. Look at those huge grooves carved in the cliff face and you may think Ice Age movement. No, say local geologists. This area was once at the bottom of the sea, and those grooves come from currents ripping down it, like an underwater waterfall.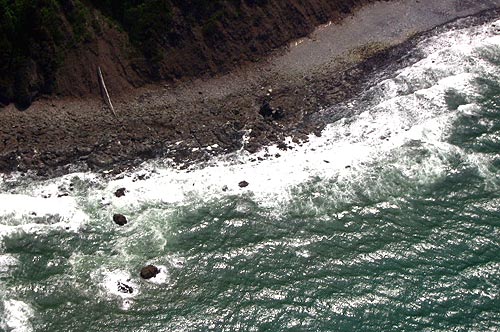 Lewis and Clark and Cannon Beach's First Review. It's fairly well known Clark and a few of the Corps of Discovery journeyed from their ruddy temporary home of Fort Clatsop down to Ecola Creek in January of 1806 to try and obtain some whale blubber from local tribes. There's a statue dedicated to this downtown at Whale Park.
What isn't so talked about is their leg cramp-inducing hike across Tillamook Head to its top, and what is now Bald Mountain. There was no trail then, and Clark had to pause for a moment to take in the scope of this march, feeling quite overwhelmed. But once he made it to the top, he was the first to document the soaring beauty of this spot that hikers for the last 100 years have relished so.
Clark raved about it, noting he could see the headland of Cape Disappointment (which the Corps named), and saying he "looked down with estonishment" at waves that crashed with ferocity. It was the Cannon Beach / Seaside area's first tourist review.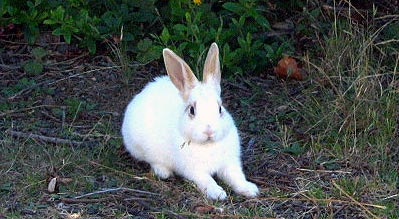 The Bunnies of Cannon Beach. One aspect noted by many visitors is that Cannon Beach has bundles of bunnies. They're everywhere. Clearly, they breed like, well, like rabbits. They're especially prolific on the southern edges of town, but also found in abundance at Arch Cape.
So, why so many bunnies in Cannon Beach? No one seems to know for sure, but one bit of lore that keeps getting passed around is that it had something to do with a local woman decades ago who apparently just let a bunch of them loose.
One thing is for sure: the city is adamant you don't feed them. They're existing fine on their own in the wild.
Some locals have made pets of them. This presents some care issues because they are all so inbred their teeth grow extra long and have to be shaved down periodically or they're unable to eat.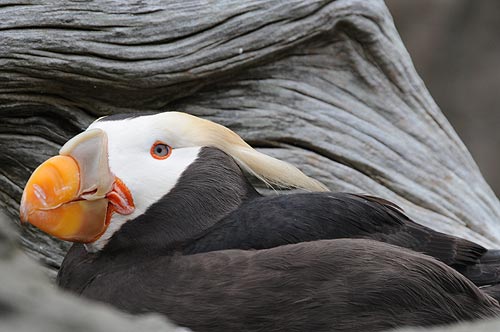 Puffins of Cannon Beach. (Photo above courtesy Seaside Aquarium). A favorite aspect of the north Oregon coast town is the yearly influx of tufted puffins. They begin their four-month stay in April, with July being a highlight because they are at their most visible after giving birth to their young. After making their nests on top of Haystack Rock, one of the pair emerges into plain sight while the other goes off hunting for food.
Before that time, it takes patience to spot one, as they're hiding in the nests with their eggs. They do come and go, however. Haystack Awareness volunteers are at the base of the rock most days of the high season to help you spot them and other fun stuff there.
The return of the puffins is the centerpiece to the Twelve Days of Earth Day celebrated every April in Cannon Beach. Because of the puffins – and the designation of Haystack Rock as a wildlife refuge in general – fireworks celebrations for Independence Day has not been allowed for decades.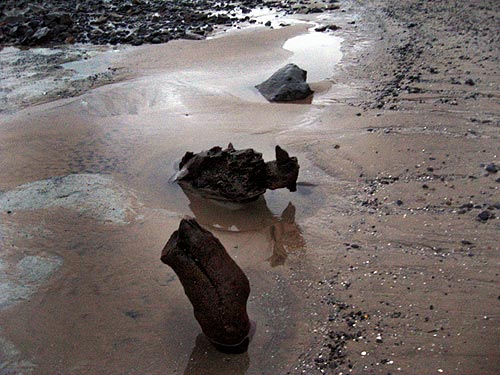 Red Towers, Ghost Forests. Some of the most amazing finds of all the Oregon coast sometimes – indeed rarely – occur at Hug Point and Arch Cape. If sand levels have been scraped low enough in winter, these spots will reveal these freaky geologic specimens.
Ghost forest stumps – about 4,000 years old – come from forest stands that were fairly suddenly immersed in sand and sediment, and thus cut off from the decaying effects of oxygen. Red Towers are wildly surreal structures that are formed when some chunks of sand harden beneath the surface and then oxidize into striking colors and shapes. They don't last long once exposed.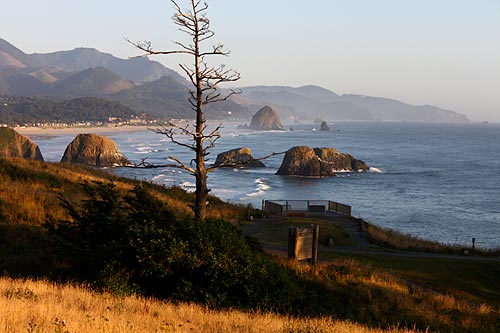 Tsunami Created the Cannon Beach Sandcastle Contest. Normally, there isn't much good that comes from a tsunami. But one of the biggest festivals on the entire Oregon coast can be traced back to the otherwise tragic tsunami of 1964, which hit some parts of these beaches harder than others. It washed out the bridge in this town (while it killed four children in Newport). This left Cannon Beach cut off from the rest of the world for a time.
Locals made do by amusing themselves with a sand castle contest. They decided to hold another the following year, and after that it snowballed quickly. By the late 60's, it was a huge attraction. You could still drive on this beach at the time, and many visitors came to the festival that way. Cannon Beach Hotels in this area - Where to eat - Map and Virtual Tour
More About Cannon Beach Lodging.....
More About Oregon Coast Restaurants, Dining.....
LATEST Related Oregon Coast Articles
Back to Oregon Coast
Contact Advertise on BeachConnection.net
All Content, unless otherwise attributed, copyright BeachConnection.net Unauthorized use or publication is not permitted