Bizarre Oregon Coast History: Crazed Chaos of the Shipwreck New Carissa
Published 01/12/2016 at 5:33 AM PDT
By Oregon Coast Beach Connection staff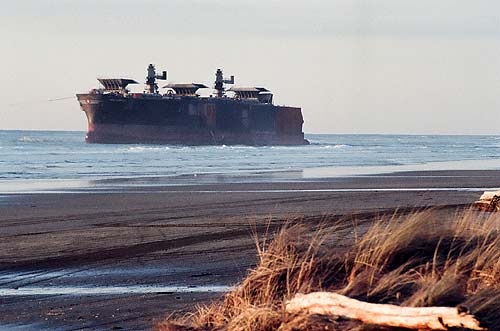 By Andre' Hagestedt
(Waldport, Oregon) – If you were around, you won't forget it. Not long after the successful and triumphant removal of Keiko the whale (of the Free Willy movie) from the Oregon Coast Aquarium, and the subsequent joyful parade of the creature through Newport as he edged his way to freedom, the next media circus would be the shipwreck chaos of the New Carissa. (Photo above by Andre' Hagestedt: the New Carissa in 1999).
The freighter New Carissa first ran aground near Coos Bay on February 4, 1999. From there, it became a tale that involved two parts of the Oregon coast, 100's of miles of ocean, millions of dollars, and almost ten years of cleaning up one wrong move after another. It became another version of Oregon's "exploding whale" debacle when attempts to burn leaking fuel started a chain reaction of bizarre, and well, goofy events that made it one of the wilder shipwreck tales in maritime history.
It's certainly one of the more interesting moments in Oregon history. One that comes with some personal, upclose observations.
A series of miscalculations caused the ship to bust its anchor during a heavy storm, and suddenly lurch its way onto the southern Oregon coast. 23 crewmen were evacuated safely the next day, but outgoing tides and calming seas meant the ship was going nowhere.
A variety of agencies responded, including the U.S. Coast Guard and the Navy. Within a few days, authorities noticed an alarming amount of fuel coming out of the 639-foot vessel, and controversial plans were made to set the stuff on fire.
On February 10, the first attempt by Navy explosive experts fails. The following day, they use heavier explosives in a dramatic explosion seen live on TV. But the whole plan takes a new, unpleasant direction when the ship breaks into two parts. It does not even burn all the fuel, and crews repeatedly try to reignite the remnants over the next few days.
If that didn't leave Oregonians aghast enough, the plan to tow the bow section of the ship out to sea and then sink it really set the public on fire. But that was nothing compared to what would come.
By February 21, there was small success pumping the fuel into hoses on land, but more storms hampered this and a full-blown environmental disaster ensued with more tons of oil hitting the beaches and ocean.
Winds knock around a helicopter trying to hook the New Carissa to the tugboat Sea Victory and the first day of that work fails in a most dramatic fashion on TV. It takes until February 28 to even inch it loose from the sandbar, and it's another two days of slowly scraping the shoreline before the section is finally towed out to sea.

However, half a day and a mere 40 miles later, the towline snaps as the operation is hit by one of the heaviest storms that season, and the bow of the Carissa is drifting free at about 6 mph, heading slightly north.
Only a day later, on March 3, this part of the ship grounds at Waldport, at Patterson State Park, causing a media and public circus. It's towed away again on March 8, and three days later it still takes two tries and one torpedo to sink the intransigent vessel.
My own memories of the wreck are still rather vivid. I was lucky enough to have been able to visit the site – or about as close as most could get. Thus, I was able to take my own photographs (although they aren't as good quality thanks to gritty 35 mm film tech of the time).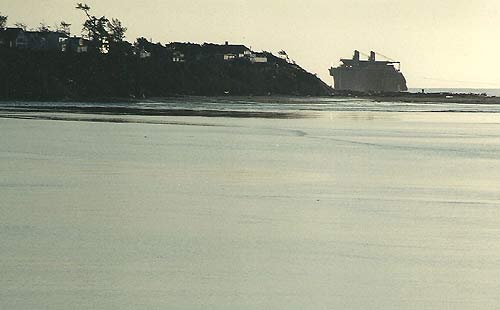 Above: the ship as seen from Waldport
The first striking memory was that of seeing the ship blown up on TV. I'd been glued to the news coverage, as I was already heavily involved in the Oregon coast, although I was making my living as a music journalist in Salem. I waited for the explosion, intensely fixated. I cheered at the fireball. Then to hear the newscasters say the blast had gone awry and separated the vessel in half was a strange mix of laughing at them (not with them) and of concern.
Later, when it arrived in Waldport, I headed down there to gawk in person. It was largely hidden behind trees and loads of cop cars and cops in brightly-colored traffic gear keeping people from pulling over. But when it did appear – it was gigantic. Pictures do not do this massive object justice.
Still amusing to this day was the house about a mile down the road from Patterson State Park and how they made a little cash on us onlookers. This oceanfront two-story home (apparently a bar just a few years before) had a sizable parking area, which they rented out for something like $20 for 20 minutes. I think I paid $30 for a little extra time.
You could then wander down the beach a ways – about a half mile – and get closer to the behemoth. This was how I could get my photos of it. Its size was even more monstrous this close. And it was still almost a mile away.

Another awe-inspiring aspect was the small fleet of black military Chinook helicopters parked at the long, grassy area in front of the Adobe Resort in Yachats. It was like something out of Call of Duty, The sight was both impressive and slightly oppressive.
Meanwhile, the stern down in Coos Bay gets slowly worked on over the spring and summer, and even that doesn't quite go as planned. A sizable chunk of it does get worked loose and towed away, but a larger portion remains until 2008.
Various environmental studies found alarming damage to the local wildlife in the meantime, and a small tsunami of lawsuits between the Japanese company that owned the New Carissa and the State of Oregon made for a kind of Jerry Springer episode in legalese.
There was talk of leaving it as a kind of tourist attraction, and unfortunately I never made it down that far to see it. Even so, the Coos Bay portion was eclipsed by the crazy times the one in Waldport generated. Oregon Coast Lodging in this area - Where to eat - Maps - Virtual Tours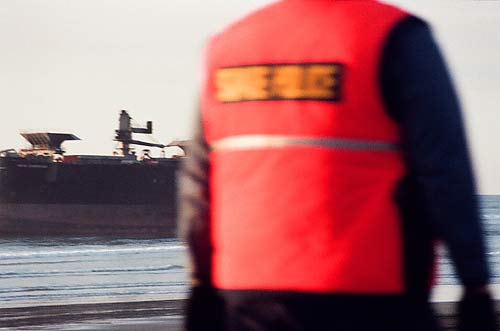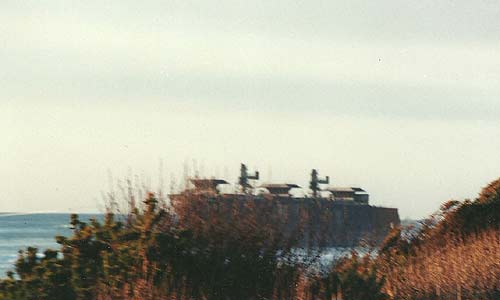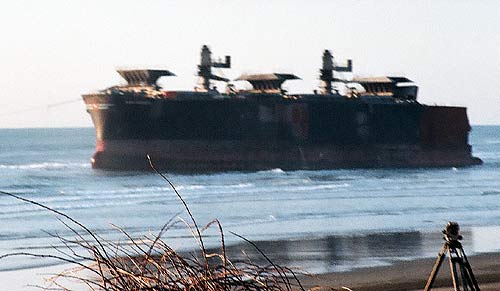 More About Oregon Coast hotels, lodging.....
More About Oregon Coast Restaurants, Dining.....
LATEST Related Oregon Coast Articles
Back to Oregon Coast
Contact Advertise on BeachConnection.net
All Content, unless otherwise attributed, copyright BeachConnection.net Unauthorized use or publication is not permitted