What Are These Curious Branch-Like Patterns on Oregon Coast Beaches?
Published 04/03/2018 at 7:15 PM PDT
By Oregon Coast Beach Connection Staff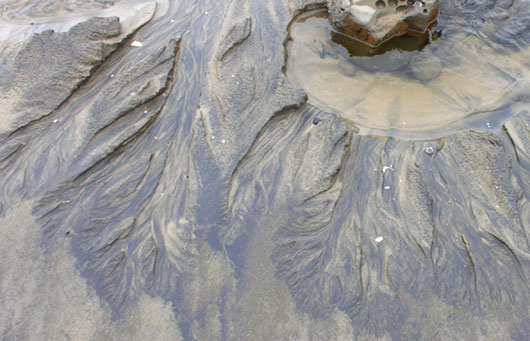 (Oregon Coast) – What does the Oregon coast have in common with Mars? The answer is something in plain sight, and it's so connected to things on both a grander and tinier scale at the same time that it's downright head-spinning. (Above: Thiel Creek near Newport).
It all started with Oregon Coast Beach Connection (OCBC) reader Brenda Vanderpool sending along a photo of some curious, intensely intricate patterns in the sand at a very hidden spot called Winema Beach (near Neskowin). It looked like a tiny set of branches in the sand, gleaming in a unique way. She asked what it could be, and when OCBC asked some experts, the first response was that it had to be frozen sand. It was not frozen, she assured us. Indeed, it turned out this was a detail from a small stream in the sand.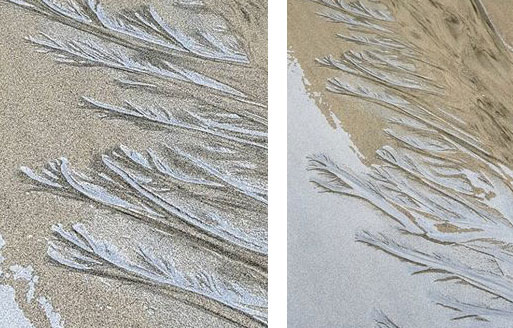 Above: photos courtesy Brenda Vanderpool. At left, showing the patterns closeup. At right, a wider view.
The final (and amazing) answer came from Seaside geologist Tom Horning: it's a very tiny drainage system at the edges of the stream. Even more amazing, it's not water draining out of a stream, but draining into it. You'd expect all those smaller branch-like ends to be where the water is coming out, but that's where the water starts.
It's called dendritic drainage, and it's an astounding microcosm for all kinds of river systems – incredibly scaleable in a way that boggles the mind.
"The photo shows small tributary streams getting started in wet saturated sand," Horning said. "The water leaks out of the sand to flow over the surface, usually soon after a wave pulls off or near a creek where ground water is in the sand. As it flows down slope, it incises a tiny channel, into which a secondary tributary channel then grows, first at the edge of the first channel and propagating up slope. If enough time allows, even a third or fourth set of tiny tributaries form. This is called a dendritic drainage formation and frequently they look like feathers or tree branches. On land, dendritic drainages can extend for miles but essentially start this way and then grow, starting a pattern that persists as long as the mountain erodes."
Indeed, take a look at rivers as seen from satellites in space. You'll see exactly the same feathered pattern. This dynamic of drainage exists on the very tiny scale of grains of sand on the Oregon coast all the way up to massive rivers around the globe. You even see it on Mars, Horning pointed out.
Horning said Vanderpool's photo must be catching the light gleaming off the water in a particular way that creates that frozen sheen look. It's more commonly seen with the look in this photo of Thiel Creek, located just south of Newport.
There's much more going on here than just that feathery pattern of water draining away. A lot of minerals in the sand help create these patterns as well, creating the different colors.
The darkest stuff is a lot of magnetite, Horning said. That's some of the heaviest materials on any beach. The next darkest stuff is the somewhat brownish, greenish patterns and that's the next heaviest materials, called pyroxene (it's formed in lava). The lighter colored sand is quartz and feldspar, the lightest of the materials.
Each has a different density, and they can coalesce together because of wind as well, creating other patterns in other areas of any given beach.
"When the sand is saturated with water it leaks out and rolls the sand grains along, and when it's rolled it washes away, leaving the black stuff," Horning said. "It just continues and leaves behind the greenish brown stuff, and when it cant reach any further it just stops eroding away."
There is an amazing amount of stuff going on in just the Newport photo, Horning explained. First, the rock you see has so many holes (see photo at bottom) in it because it once hosted lots of shelled sea creatures. You see many of these formations in the rocks around Yachats or Cape Kiwanda, all of which are millions and millions of years old.
Again, the rest of the action here is a tiny microcosm of river action.
"Those patterns you see are very subtle indicators of current velocity in just that tiny rivulet of water leaking out of the beach there," Horning said.
The rock has a moat around it with standing water, and then there's slightly deeper water around that rock.
"That's cut a channel and that's allowed little rivulets to form and drain as little tributaries into the deeper water," Horning said.
It makes your head swim a bit to look at this and realize you're looking at a microscopic version of a river. Horning added that just like rivers, these teensy tributaries are a much smaller iteration of the little landslides that happen along riverbanks as well.
"What you're looking at is a common thing worldwide," Horning said. "It's the same thing you find on Mars." More of these patterns below. Oregon Coast Hotels for this - Where to eat - Maps - Virtual Tours.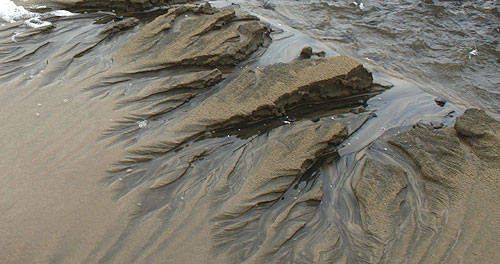 More About Oregon Coast hotels, lodging.....
More About Oregon Coast Restaurants, Dining.....
LATEST Related Oregon Coast Articles
Back to Oregon Coast
Contact Advertise on BeachConnection.net
All Content, unless otherwise attributed, copyright BeachConnection.net Unauthorized use or publication is not permitted