Updated: Weekly
Atypical Things To Do on the Oregon Coast
Large List of Oregon Coast Attractions and Spas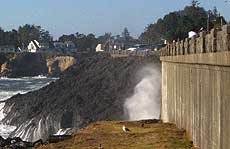 Depoe Bay's spouting horn shooting into the air
(Oregon Coast) – Another guide to things to do on the Oregon coast: build sandcastles, fly kites, walk on the beach, look for agates and drain your brain with more insipid suggestions that are so obvious you feel as you've lost a few handfuls of IQ points. (See the Virtual Tours in the righthand column for more Oregon Coast Things to Do and See)
Major DUH fest! Beachconnection.net will not insult your intelligence. This isn't that kind of guide to things to do. You already know what things there are to do on the beaches. That's why you're heading there, or thinking about it, anyway.
Lurking around each and every corner of Oregon's coastline are loads of things in the out of the ordinary category. There's much to see or experience that many miss or don't even think about, things that aren't so obvious – and thus often a much richer moment and memory to be had.
In every little beach town - or within a short drive away – there's something unusual to see, something more than just a tad out of the ordinary. You too can have a bit of the Lewis & Clark spirit in you and explore some of the area's insanely cool places.
Hint: click on the links provided here to take you to more detailed information about that particular area.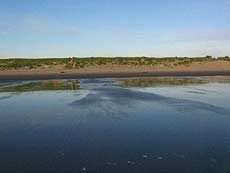 Gearhart
Like in the bustling tourist town of Seaside, where it seems it's almost impossible to get away from the crowds - even on the beaches. But head to the last beach access before the river, about a quarter mile away, and you'll discover the richest depository of unbroken sand dollars on the entire coast. The reasons for this vary, and it depends on the time of year. But it has a lot to do with the fact this area is often ignored by tourists, and thus not picked over. The reefs here are especially rich in sand dollars because of certain oceanic conditions and heavy nutrients provided by the Necanicum River and the Columbia River up north.
The southern accesses of Gearhart – on the other side of the Necanicum – are also quite flush with the finds.
Cannon Beach has a hidden hiking trail and beach that shouldn't be missed if possible. Crescent Beach is the clandestine stretch of sand you see from the tops of Ecola State Park and its famous views. It lies on the other side of a small headland you see poking out into the water from downtown Cannon Beach. In the middle of this secretive strand is a rugged, rather prehistoric looking chunk of sandstone sitting by itself. It's only accessible by a mile-long hike that begins along the road going into Ecola State Park. Occasionally, extreme low tides allow entrance from the Cannon Beach downtown area – but you have to watch that very closely or you're in for more than a mile's trek back to civilization.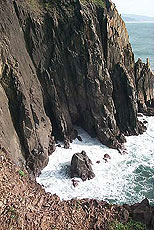 Wild hidden spot near Manzanita
Manzanita sits about 15 miles south of Cannon Beach, with mysterious Neahkahnie Mountain looming above it. Just north of town are a handful of the coast's most amazing viewpoints: long basalt rock walls overlooking vast ocean vistas a few hundred feet above the deep blue. Those are amazing enough on their own and shouldn't be missed. For the more rugged explorer – and this is a dangerous spot so don't head here in slippery weather – there are some weird, hidden treasures just north of these viewpoints that will leave you speechless.
Wild, even freakish, craggy rock structures here look like something from the old "Planet of the Apes" movies, with a post-apocalyptic feel that's awe-inspiring and tingly.
Rockaway Beach seems a rather cut and dried stretch f osand, about seven miles worth of it. But at the northern end, Manhattan Beach cloisters the rather remarkable jetty. Climbing on this one isn't always a bad idea, like other jetties on the coast, where big waves smack with injurious regularity. It's calmer than most – usually. So it is rather fun to amble around these enormous boulders and gawk at the diminutive bay mouth of the Nehalem Bay.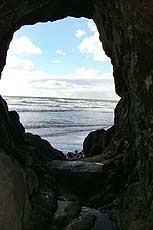 Tunnel at Oceanside
Heading further southward, you encounter the Tillamoook, just a few miles outside of Rockaway. At its other send begins a nearly endless cavalcade of fun crammed into 25 miles, known as the Three Capes Loop. Highway 101 veers inland for a while, while the Loop continues on a winding, often white-knuckled drive that skirts the craggy rocks and rugged beaches of this area.
There's the eight-mile-long Bayocean Spit, which is devoid of almost any human presence, but interestingly enough was once host to a burgeoning resort that is now completely gone. Cape Meares sits nearby, with its stubby little lighthouse and the oddball Octopus Tree – a gargantuan organism that with a candelabra shape that until the 90's boasted eight great limbs.
Down the road is quirky and surprising Oceanside, with its myriad of natural delights, including a freaky tunnel going through a massive cliff, exiting to an incredible beach of secret tidbits. Netarts is about two miles away, with its strangely calm bay waters lazily lapping at the sand.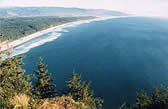 View from Cape Lookout
The enormous Cape Lookout provides a five-mile hike of insane views, as well as a plaque commemorating where a WWII bomber slammed into the headland back in the 40's. A few miles away, there's Cape Lookout State Park and its long stretch of natural wonders. A ways south of there, Pacific City boasts the labyrinth of high altitude fun known Cape Kiwanda, with some parts covered in pock-marked surreal-scapes that look like another planet. But very interesting, even secret beach sits a mile north of town down an unmarked one-lane road, where basalt columns emerge at low tide, resembling ancient Greek ruins.
About 30 minutes away from Pacific City is the tourism hub of Lincoln City, with its plenty of obvious delights. But in between is the serene and sometimes surreal village of Neskowin, with its "ghost forest" (remnants of a 2000-year-old forest that was hidden in the sand for millennia), and the unusual Proposal Rock. There's a path here that you can walk around to explore this mini-forest on top of a basalt blob. Not your average day at the beach in this tiny place.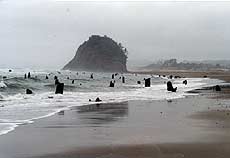 Neskowin's ghost forest and Proposal Rock
Cascade Head is also here, home to miles and miles of rugged hiking trails and hundreds of moments of uncivilized discoveries.
Between Lincoln City and Newport sits Depoe Bay, where exploring the town's Oceanside storefronts may result in seeing a massive display of water shooting thirty feet into the air, and maybe getting you a little soaked (even if you're across the street and down a ways).
The central coast capital of fun is largely regarded as Newport, with tons of touristy activities to engage in. But to explore something a little different, check out the remnants of a condo at the Jump-Off Joe rock structure, found in Nye Beach, at the end of SW 11th St. It's a bit like a castle ruin here, and almost as spooky. But being able to traverse a small ledge that juts out above the stand, about 50 feet high, is one of the town's truly engaging experiences.
Seal Rock
Between Newport and Waldport, you'll find the rocky jumble of Seal Rock, a bit like a maze of fascinating basalt wonders. There are also numerous hidden beaches along this stretch, found at unmarked accesses and gravel pull-offs, especially between Seal Rock and Newport's South Beach area.
Just south of Yachats, it's 25 miles of pure, pristine beaches and concealed spots, until you reach the slightly exploding town of Florence. It's possible to not encounter a beach access for miles, but once you do, you can sometimes walk for several miles along completely unpopulated and unknown stretches of sand.
Once you're in Florence, one of its more unusual features is the garden of insect-eating pitcher plants at the north end of town. They sit quietly and wait for bugs to get caught in their pretty colors, then slowly digest them. Yum. Look for the signs to the Darlingtonia Gardens.
Florence is, of course, gateway to the 40 miles of immaculate lakes and towering sand dunes known as the National Dunes Recreational Area. Something else unusual to do: sandboarding. It's a new sport that pretty much been given birth to around here, where people essentially use a kind of snowboard to zip down the dunes. It's also become popular at the lofty dune at Cape Kiwanda.
| | | |
| --- | --- | --- |
| | | |
Video: Five Wild, Weird Sunny Weather Sights on N. Oregon Coast
There are astounding, even bizarre sights you can catch on these beaches if you're here at the right time. Science, Cannon Beach, Seaside, Manzanita, Arch Cape, Haystack Rock
Small Section of Route to Oregon Coast Closed This Week; Delays
For those heading to the beaches from Portland there are a couple of delays in store this week
Birds, Brews and Film on N. Oregon Coast
Cannon Beach and Tillamook present some fascinating and fun aspects to the north Oregon coast in the coming week. Cannon Beach events, Tillamook events, history, science
Deep Inside Oregon Coast's Yachats State Recreational Area: Fun, Facts, Features
Right behind downtown Yachats sits one of the Oregon coast's greatest treasures. Kids, travel tips
Oregon Coast Summer, Events, Attractions, Science and Tourism Latest Summer News
Attractions - Events - Beaches - Stuff You Didn't Know. Discover Summer on the coast, including updated news and events
Small Storm to Hit Oregon Coast, Portland
Gusts along the beaches could be up to 55 mph, Portland wind in the 30s
Four Unusual Oregon Coast Weather Phenomena: What They Don't Tell You
Green flash, a double-headed sunset, beaches warmer in winter, summer in Feb. Science
May on Oregon Coast: a Rush of Food, Fun and History Rides
Newport events, Seaside events, Manzanita events, Tillamook events, Yachats events. Lincoln City events, Antique Railroad
Parade, Carnival and Historic Boat Tour on Central Oregon Coast in May
Take a boat ride through Oregon coast history in May, or indulge in three days of dazzling hometown fun. Newport events
State Seeks Input on Which Oregon Coast Beaches to Monitor
What Oregon coast beaches do you think need to be monitored for health hazards
A Proliferation of Spectacularly Puzzling Stuff Washing up on Oregon Coast
A lot of stuff keeps happening on these beaches that used to be rare, but it suddenly isn't these days. Science, Seaside Aquarium
Newport, Oregon Coast: Whales, Spring Break Fun Collide in Big Way
Newport is host to more whale watch vantage points than any other area, bundles of family-friendly attractions. Newport events

For more about Oregon Coast....