What Kind of Whales are Found on Oregon Coast: Details, Photos
Published 07/14/2014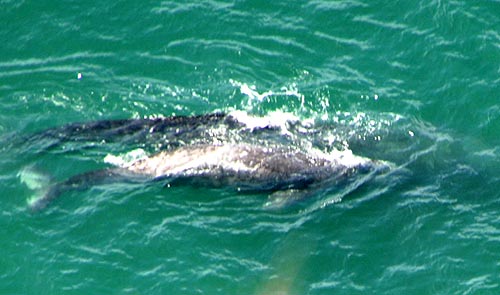 (Oregon Coast) – What kind of whales do you find along the Oregon coast? The question is asked frequently and there's very little about the subject. Here, however, is the complete guide to what whales you'll find along these shores, with some more links at the end about the best way to find them and other vital articles and guides. (Photo above: Gray whales, courtesy Tiffany Boothe of Seaside Aquarium).
Note: Boothe supplied numerous photos of deceased whales that had washed ashore, so some may find these images a bit sad. It is, however, all in the name of science reference, and these are clearer shots than you will get of them in the wild.
When it comes to spotting these gigantic and awesome fellow Earth dwellers, Tiffany Boothe of Seaside Aquarium noted some are definitely more findable than others.
"On whale watching tours you are most likely to see Grays," Boothe said. "There is a small chance to see Orcas, but since there is only one pod along the Oregon coast during the Gray Whale migration your chances are very slim. Humpacks and Minkes may also be seen on these whale watching tours, though it is also quite uncommon. Blue Whale and Sperm Whales live a little further offshore and are very rare occurrences: you will most likely not see these guys on any whale watching tour. If you do, highly cherish the experience and document it well, others will want to know."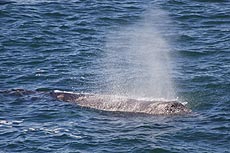 Gray Whales
Eschrichtius robustus is the most commonly seen cetacean along this coastline. They not only appear in large numbers during migration peaks at winter and spring (some 18,000 will wander past), but numerous "resident" gray whales linger much of the year, especially around the Depoe Bay area.
This allows you to see plenty during the summer and early fall months, when the ocean is at its calmest. Large waves act as a kind of trough or ditch, and hide whales. So seeing whales of any kind usually requires quiet conditions.
Gray whales grow up to 50 feet and can weigh 80,000 pounds. Newborns are about 15 feet long.
About Whale Spouts: If you're really lucky, you may get to experience a gray whale spouting through its blowhole. This sometimes happens if they're really close to shore, and there's nothing quite like being within a few hundred feet of these lovely behemoths and hearing the giant hiss of water.
Each species of whale has a different kind of spout. A gray whale reaches up to 15 feet high and is visible about five seconds. Grays dive for three to six minutes, then re-emerge to blow maybe three to five times. It is spectacular.
They eat fish, plankton and especially mysid shrimp along the central Oregon coast.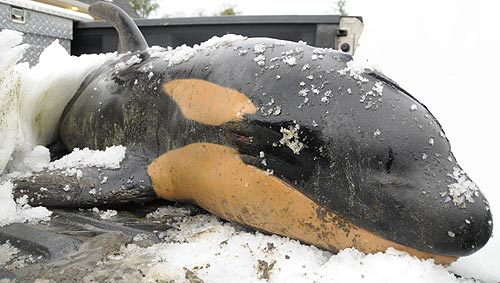 Orca Whales – Killer Whales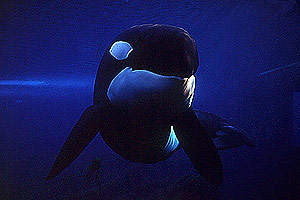 Keiko the Killer Whale at Oregon Coast Aquarium in the '90s.
Orcas are the second most commonly seen whale along the Oregon coast, but a distant second to the gray whale. They show up regularly around the central coast in April – chasing baby whales – but otherwise it's somewhat rare to spot them.
The ones that show up here are usually a transient and some mysterious form of Orca. But others sometimes arrive from the Puget Sound area. The transient whales are the ones that chase newborn grays and have a somewhat more pointed nose. The others are generally not interested in eating whales or seals as much. See more on Orcas on this coastline.
Blue Whales
Known as Balaenoptera musculus, blue whales are only periodically spotted off these waters, and only then by boats ten miles or more from shore. They are the largest animal to ever live on this planet, at 100 feet long and about 180 tons.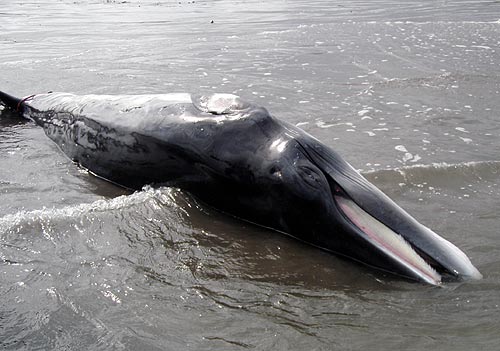 Minke Whales
Scientific name Balaenoptera acutorostrata, Minkes are a little less rare than Blue whales along this area, but still only rarely seen in the water. Periodically, the body of a deceased Minke will wash up along these beaches, and that's usually the only way they are seen.
They are found a bit more often if you head out on whale tours, and then you may encounter the impressive sight of them breaching (meaning jumping out of the water briefly).
They move very quickly along the water, can dive for up to 15 minutes and they are often mistaken for gray whales at first. They are darker and have a white underside.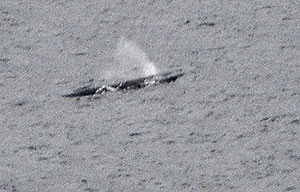 Humback Whales
Megaptera novaeangliae is about third in line for frequency, but then usually just during summer and some peak migration periods in the spring. Still, they keep about five to 15 miles offshore, which makes them almost impossible to recognize unless you've got a knowledgeable person like a Whale Watch Spoken Here volunteer nearby.
Your chances of seeing them are much better on whale tour – but still rare. They are seen a few times a year from the Whale Watch Center in Depoe Bay. Even then, Humpbacks are usually only spotted during migration times during summer. If you do see one, it's almost always at about 15 miles offshore.

Humpbacks get up to 60 feet long and eat mostly krill and small fish. You can tell it's a Humpback by the obvious hump and knobby head. Tails have black and white markings, and they are known for stunning watery acrobatics at times.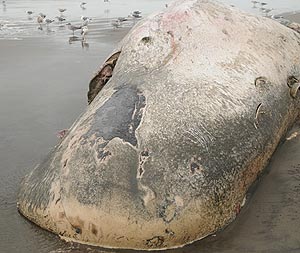 Sperm Whale
Known as Physeter catodon, if they are seeable along the Oregon coast it's usually from March through September, and then only by those in boats several miles offshore. The largest of the toothed whales also has the biggest brain of any life form on Earth. They will get up to 52 feet long and can get as deep as almost 10,000 feet deep as it looks for food.
More about spotting Oregon coast whales and About Oregon Coast Whales, Whale Watching for updated news and other guides about regional whales.
Find best places to stay for whale watching.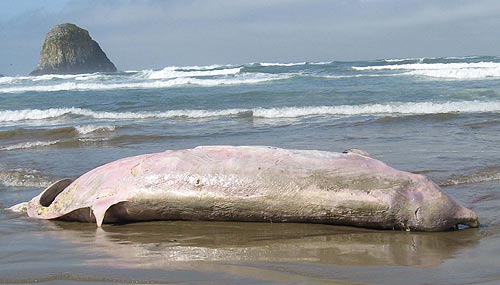 Above: body of a Beaked Whale photographed by Seaside Aquarium.
More About Oregon Coast hotels, lodging.....
More About Oregon Coast Restaurants, Dining.....
LATEST Related Oregon Coast Articles
Back to Oregon Coast
Contact Advertise on BeachConnection.net
All Content, unless otherwise attributed, copyright BeachConnection.net Unauthorized use or publication is not permitted