Updated Weekly
Oregon Coast Attractions and Spas
(Oregon Coast) – It's an ever-growing part of the Oregon coast experience, and often a necessary one when the weather gets a bit rowdy. Attractions on the coast are a longtime staple, with facilities like aquariums providing not just touristy entertainment but some brain food as well. Wineries are growing in numbers and popularity, as well as other means of indoor repose.
Then, there are the emerging spas along the Oregon coast, which create yet another layer of rest and relaxation to a region already known for its pure laidback sense.
Go directly to Man-Made and Natural Oregon Coast Attractions - or keep scrolling to see spas and attractions.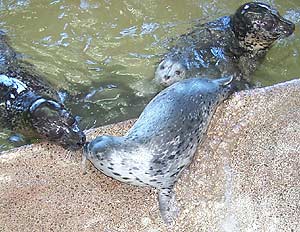 Feeding the seals at the Seaside Aquarium has been a favorite of tourists for decades.
Seaside Aquarium. For over 70 years it's been the major attraction in Seaside, cajoling generations of visitors to dig a bit more deeply into their coastal experience. Feeding the seals has been the big draw for much of that time, allowing the public to grab some small chunks of fish and tossing them to the seals – who do wacky and adorable tricks to get your attention. All manner of exotic, freaky fish roam their various tanks, many of them spiny and pointy and not resembling anything of this Earth at all. There is an octopus or two, starfish, seahorses and then seemingly the stuff of aquatic salads: funky creatures with names like sea cucumbers, sea lemons and sea lettuce.
You can see what cod or tuna look like before they become part of your fish 'n' chips, and other rather gigantic fish swimming around in their natural environments. Engage in eye-to-eye contact with moon jellyfish, the ferocious Wolf Eel or a deadly Moray eel. The roster of oceanic beasties changes with the seasons, too. A touch tank allows you to get up close and personal with all kinds of sea goo.
It's a perfect reason to head to the coast during the winter months, while the other seasons provide different kinds of entertainment for the family as well. 200 N. Prom, Seaside, Oregon. www.seasideaquarium.com (503) 738-6211.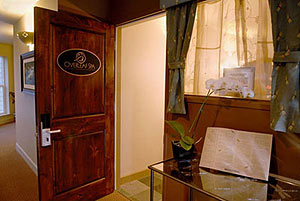 Overleaf Lodge & Spa. Indulge in serious pampering on the Oregon coast, either for yourself or a loved one. Relaxing massage or facial, then followed with a soak in a spa tub overlooking the spectacular Oregon coast.The Overleaf Spa offers a full menu of treatments and therapies designed to help you restore, refresh and rejuvenate.
Many treatments use seaweed, a healing gift from the ocean. Why seaweed? It is similar in composition to human plasma, our intracellular fluid. Seaweed helps your skin rebalance, regenerate, detoxify, oxygenate, mineralize, hydrate, purify and firm. Seaweed products are excellent for many skin conditions, and they help moisturize and defend skin against aging and ultra-violet light.
In addition to the usual amenities, such as showers and dressing areas, the men's and women's locker rooms include separate steam rooms and saunas. Surrender to the sea in a warm soaking pool that overlooks the ocean. The hypnotic waves and beautiful Oregon coast set the mood for total and complete relaxation. To soothe tired muscles, melt into the hot tub and turn up the jets.
Overleaf Spa facilities are included in the Overleaf Lodge room rates. Non-Overleaf Lodge hotel guests may use the Spa facilities only if they book a 60 minute treatment. Overleaf Lodge & Spa. 280 Overleaf Lodge Lane Yachats, Oregon 97498
(541) 547-4880 or Toll-Free (800) 338-0507. www.overleafspa.com.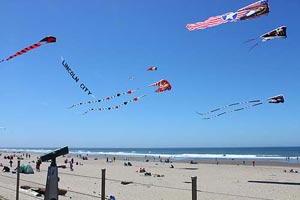 Lincoln City Visitor Center, Lincoln City. Catch up on all the extraordinary fun things to do in town, as well as find your way around dining or lodging. Do it online and plan your trip ahead, or pop into the center at 40 NE Hwy 101, Lincoln City, Oregon, to grab literature and pamphlets while you're there. Call ahead to find out about lodging availability during high-density weekends (mention BeachConnection.net when calling). Lincoln City offers a huge variety of things to do: It's a Great Place to Learn New Things. Culinary classes, blow your own glass float, museums, a casino, major festivals, and shopping opportunities are just part of what awaits you beyond the vegetation line. The beaches are miles and miles of uninterrupted pristine sands, including a stunning bay, stunning cliffs and more. 800-452-2151 www.oregoncoast.org.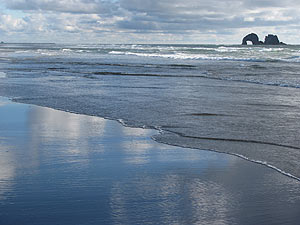 Open Everyday: Rockaway Beach, Oregon Chamber. Find local info, publications and details. Look for the big red caboose in the middle of town. Find out more about Twin Rocks, local Rockaway Beach and Tillamook County events. Explore seven miles of pristine beaches, including the south jetty of the Nehalem Bay, Manhattan Beach, Lake Lytle and the community of Twin Rocks – all the way to Barview. Take the Oregon Coast Explorer Train rides during the summer and special events in other seasons. Go fishing, beachcombing or visit some of the local nightlife. 103 1st Street, Rockaway Beach, Oregon. (503) 355-8108. Rockaway Beach Oregon Chamber.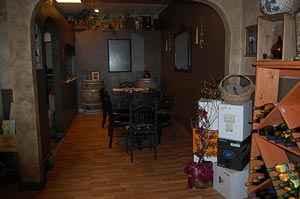 Coastal Tuscan Tasting Room - Wine Bar and Wine Shop, Newport. A kind of mini-wine bar and wine shop. It's called the Coastal Tuscan Tasting Room, featuring a small selection of wines in a lovely Oregon coast setting – right off Highway 101, near the Yaquina Bay Bridge in its historic Deco District. The tasting room will feature four to five wines for tasting from boutique and favorite wineries, which will change each month. The Coastal Tuscan Room is near Hwy 101, at 715 SW Hurbert St., Suite D – the first stop light north of the Yaquina Bay Bridge. 541-867-6621. www.stonecrestbb.com Part of Stone Crest Cellars BnB, south of Newport.
Garibaldi, North Oregon Coast Attractions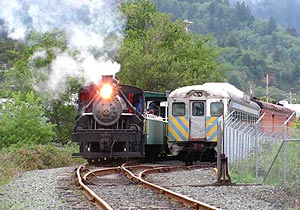 Oregon Coast Scenic Railroad Train Ride Schedules, News, Photos One of the more popular attractions along the entire Oregon coast runs out of Garibaldi these days: the Oregon Coast Scenic Railroad. The Oregon Coast Crawler and the Oregon Coast Explorer take you on an a variety of heady journeys originating in Garibaldi. It's a leisurely journey up the Oregon coast, as the train huffs and puffs along the north coast, affording big, panoramic views of both Tillamook Bay and Nehalem Bay. These vintage, antique trains stop for lunch and free time at Wheeler as well as Rockaway Beach. Also news and updates from the rail rides. Oregon Coast Explorer Train, Railrides.
Cannon Beach, N. Oregon Coast Attractions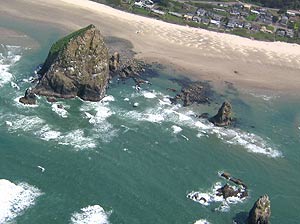 Cannon Beach's Haystack Awareness Program: N. Oregon Coast Schedule About the Haystack Awareness Program; tide pools, science, kids, Cannon Beach attractions. A sort of moving attraction on the Oregon coast, volunteers are on the beach at the Cannon Beach landmark formation helping visitors find all the interesting natural stuff. There is a larger purpose of stewardship and environmental education where the primary mission is protect the area. These marine gardens are packed full of a closely-entwined bird ecology and a intertidal habitat which require a kind of constant monitoring and vigilance. The HRAP beach schedule varies greatly and is highly dependent on weather that permits volunteers to be out on the beaches – and it must coincide with low tides. Also, news and updates from the Program.
Newport, Central Oregon Coast Attractions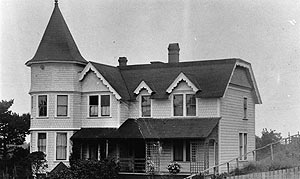 Burrows House Museum and Lincoln County Historical Society. An ancient log building and a charming Victorian mansion are part of this favorite central Oregon coast attraction. See what an actual Victorian parlor was like, witness the shipwrecks of the Newport area, see the law office of local historical figure and take in numerous hand-crafted objects from the past. There is a book store, a research library, and see the ever-changing exhibits that bring the past back to life. Burrows House Museum. 545 SW Ninth Street. Newport, Oregon. (541) 265-7509. Website here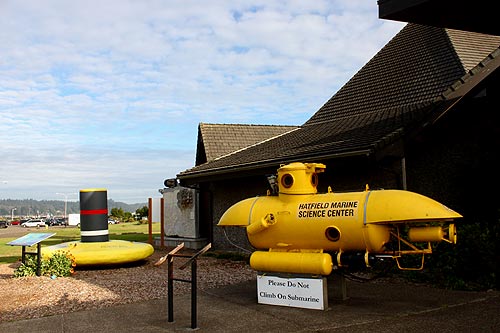 Hatfield Marine Science Center. Serious science fun in the South Beach area, next to Oregon Coast Aquarium. Admission is free. Enjoy a wide variety of science displays geared to all ages, including whales, sharks, other sea life, a live octopus in the lobby, and much Oregon coast weather and geology. Learn about the fault lines near the coast and tsunamis. See the tsunami dock that arrived here from Japan in 2011. Submarines, submersibles – and bundles of important research. Hatfield Marine Science Center is at 2030 SE Marine Science Drive. (541) 867-0226. Website, events and news here.
Man-made and Natural Attractions of Oregon Coast
This is just a sampling of the attractions and nature to be found in these areas of the Oregon coast. See their respective Virtual Tours for more.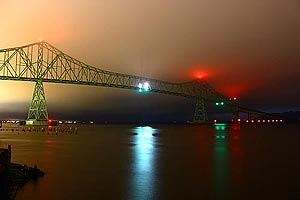 Astoria/Warrenton Attractions. See Astoria's giant bridge, and tour the many Victorian mansions and several museums. Warrenton contains the Battery Russell, a historic fort and battlement that spanned the Civil War to World War 2, as well as the wreck of the Peter Iredale, one of the world's most famous shipwrecks. See the Astoria/Warrenton Virtual Tour and Maps for more information.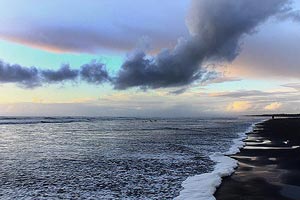 Seaside Attractions. Hiking and beachcombing are big on these soft, sandy beaches, as well as over Tillamook Head. See the Seaside, Oregon Virtual Tour and Maps for further details, or the Complete List of Seaside, Oregon Beaches.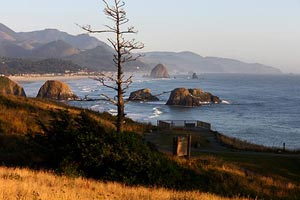 Cannon Beach, Arch Cape Attractions. Several landmarks regarding Lewis and Clark and other local history abound here, while beaches like Ecola State Park and Silver Point are good for surfing. Tillamook Head has miles of trails and viewpoints. A lighthouse sits just offshore here. See the Cannon Beach Virtual Tour, Blog and Maps for more. See the Complete Guide to Cannon Beach beach accesses as well.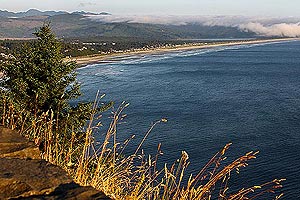 Manzanita, Nehalem Bay, Rockaway Beach Attractions. Nature attractions include the Nehalem Bay and Wheeler's many crabbing, boating and kayaking opportunities, plus the long beaches of Rockaway and Manzanita, and many spectacular viewpoints. Neahkahnie Mountain is a favorite for hiking, and Oswald West State Park includes more trails and a surfing hotspot. Man-made attractions include the docks, the jetties of the Nehalem Bay and lots of antiquing in Wheeler. See the Virtual Tour for Rockaway Beach, Manzanita, Nehalem Bay and Wheeler for full details.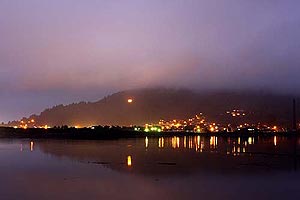 Garibaldi, Tillamook Bay, Bayocean Attractions. Fishing docks, piers, history museums, a petting zoo and a massive smokestack are the major man-made attractions for this area, but nature provides the real fun with the many pleasures of Tillamook Bay as well as the secret beaches of Cape Meares/Bayocean. See the Garibaldi, Tillamook Bay, Bayocean Virtual Tour, Maps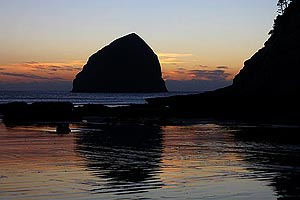 Three Capes Attractions: Oceanside, Netarts, Pacific City. In the natural realm, much is stuffed into these 25 miles, such as three massive scenic capes, miles of hidden beaches, stunning viewpoints, a tunnel through a cliff, an ATV hotspot and so much more. Man-made attractions include a lighthouse, various often unpopulated parks, bay crabbing and many campgrounds. See more details at the Three Capes, Oceanside, Netarts, Pacific City Virtual Tour and Maps.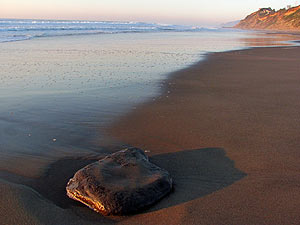 Lincoln City Attractions. Dig deep into history with a few museums, blow your own glass ball or go boating on a lake. Natural attractions include seven miles of unbelievably pristine beaches, a geologic oddity called a "ghost forest," Siletz Bay and more. See the full list and details at the Lincoln City Virtual Tour, Maps and Blog. There is also the Complete List of Beach Accesses for Lincoln City, Oregon Coast.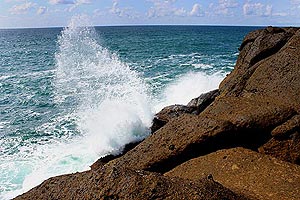 Depoe Bay, Gleneden Beach Attractions. The soft but rather dramatic sandy beaches of Gleneden Beach are part of the charm of this area, moving down to Depoe Bay's rough-and-tumble monster wave action and the soaring viewpoints of Devil's Punchbowl and Cape Foulweather. Man-made delights include many whale watching and fishing tours out of Depoe Bay, and some great whale and nature museums. See the Depoe Bay – Gleneden Beach Virtual Tours and Map for the full list and details.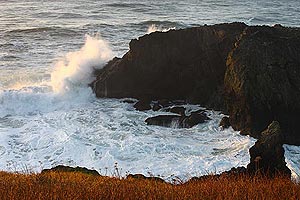 Newport, Oregon Attractions. The central Oregon coast hotspot is well known for two lighthouses, museums, intensely satisfying shopping possibilities, the unbelievably fascinating historic landmarks and the working Bayfront, along with the famed aquariums and kids' attractions. Natural must-see's include the many miles of beaches, the Yaquina Head headland and its birding possibilities, plus Yaquina Bay and its varied crabbing, fishing and whale watching opportunities. See the Newport, Oregon Virtual Tour, Blog and Maps for complete lists and details.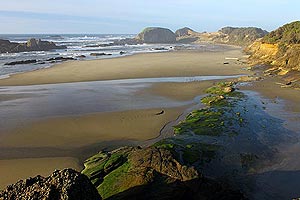 Waldport - Seal Rock Attractions. Miles and miles of soft sand surround Waldport and parts of Seal Rock, where some fascinating beaches make for a day's exploration. Seal Rock has some of the more dramatic scenery and intricate rock exploration on the entire Oregon coast. Man-made attractions include the Alsea Bay's various crabbing businesses and an engaging history museum. See the Waldport, Seal Rock Virtual Tour and Maps for details, or the Complete Guide to Waldport, Seal Rock Beach Accesses.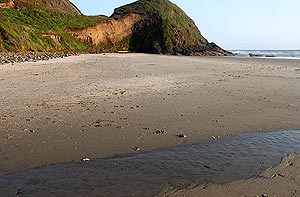 Yachats Attractions. The natural fun is too numerous to mention here, with tons of wild waves smacking miles of rocky beaches, hiking trails, the stunning viewpoints of Cape Perpetua and so much more. These can be seen at the Yachats Virtual Tour and Map, but more stunning beaches and viewpoints nearby are available at the Upper Lane County Virtual Tour and Map – including Devil's Churn, Strawberry Hill, Ocean Beach Picnic Ground, Cook's Chasm and more.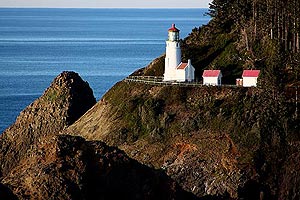 Florence Attractions. It's easy to get sucked into the beautiful lighthouse, the sea lion attractions, the atmospheric waterfront and many other details of this central Oregon coast beauty. Beachy attractions include the major sand dunes, soaring viewpoints, and miles of pristine stretches of sand. See more at the Florence, Oregon Virtual Tour.
OREGON COAST VIRTUAL TOUR
Explore Every Beach Spot in Hundreds of Oregon Coast Pictures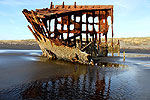 Astoria

Where the Columbia meets the Pacific, Land of Lewis & Clark and loads of atmosphere & history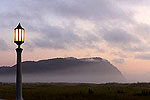 Seaside
The Promenade, Tillamook Head, family fun & broad, sandy beaches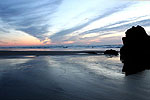 Cannon Beach
A mysterious lighthouse, upscale yet earthy, a huge monolith, fine eateries & an art mecca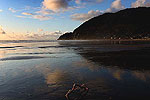 Nehalem Bay
Manzanita's beaches, Nehalem and Wheeler's quirky beauty; laid back Rockaway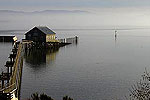 Tillamook Bay
Garibaldi, Barview, Bay City, Tillamook & an oceanfront ghost town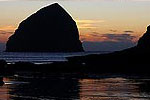 Three Cape Loop
The hidden secret of the coast: Cape Meares, a lighthouse, Oceanside, Netarts and Pacific City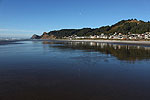 Lincoln City
& the Corridor of Mystery
Miles & miles of unbroken beaches, Cascade Head, Neskowin and manmade attractions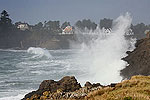 Depoe Bay
A spouting horn downtown, freaky hidden cliffs and whales, whales, whales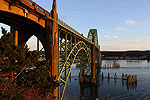 Newport
Time-tripping Nye Beach, a bustling bayfront, marine science-central and two lighthouses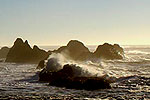 Waldport / Seal Rock
Pristine, even secretive sands and wild geologic landmarks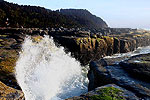 Yachats
Constantly dramatic wave action, a mix of the rugged & upscale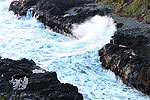 Upper Lane County
25 miles of deserted beaches & oodles of wonders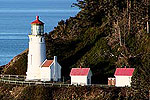 Florence
A lighthouse, ancient bayfront and miles and miles of fluffy dunes
Oregon Coast Scenic Railroad Acquires Numerous New Steam Engines, Train Parts
The Garibaldi attraction just purchased 14 steam locomotives. Pacific City, Manzanita, history
Humbug Mountain and State Park on South Oregon Coast: Varied, Intricate Attra...
A treasure trove of wilderness, trails, and cloistered beaches near Port Orford. Kids, travel tips
Warrenton / Skipanon Lighthouse Park Interpretive Center: Oregon Coast Virtua...
A (sort of) unknown lighthouse; marina attractions and history
Three Recent Deaths Around Oregon Coast: Two in Traffic, One in Surf
A fatal jump across a famed Oregon coast attraction and two traffic deaths. Sciences
Central Oregon Coast's Hatfield Marine Science Center to Reopen
Admission to the Newport attraction is by reservable $3 tickets. Newport events
Oregon Coast's Tillie the Whale History a Kooky and Dramatic One
The origin story of the old Waldport attraction is dramatic - and hints at another 'exploding whale'
Rollicking Highlights of Three Capes Route on Oregon Coast: Attractions, Oddi...
Seasonal secrets of the Tillamook Coast hotspot, Nehalem Bay
Three Awesome Manmade Attractions of S. Oregon Coast: Dinos to Rapids
Port Orford's Prehistoric Gardens, Coos Bay's Mingus Park, Gold Beach's Jerry's Rogue Jets. Travel tips, kids
Two Oregon Coast Attractions Reopen Friday | Online Lectures Resume
Since a handful of Oregon coast counties have been upgraded, some reopenings around the region will happen. Seaside, Cannon Beach events
Coos Bay, Charleston, North Bend Complete Guide: Southern Oregon Coast Travel
Every beach and attraction in the Coos Bay, Charleston, North Bend area. Travel tips