Unbelievable Sights, Visual Epiphanies of an Oregon Coast Night Sky
Published 05/30/2011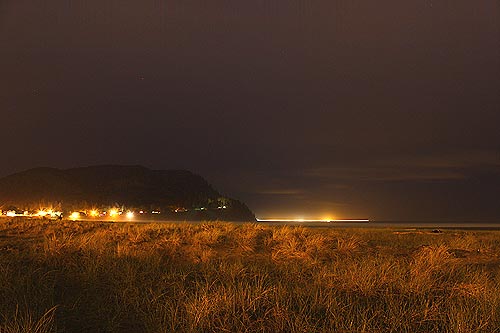 (Rockaway Beach, Oregon) - You see the most interesting things at night, if you're paying attention. Forget all the tricks your mind can play when staring into the darkness, trying to discern shapes and getting your visual bearings on things you know are there in daylight but seem murky and possibly out of place at night. That's quite the trip in itself, especially when trying to photograph late night scenes and starfields along the Oregon coast. No, it's the striking new way that things appear in the dark, especially once you get a little acclimated to it. You start to see wild colors, new shapes and remarkable new ways to look at beautiful things you've seen hundreds of times before.
After dark in the outdoors isn't always about taking away light, it's about adding a whole different kind of light to the scene.
Then, beyond that unbelievable sort of visual epiphany, there's the things you see floating around up there amidst the stars.
It's mid-spring on the north Oregon coast and the night sky has finally emerged, full of stars. They're not as bright and clear as many of the coastal nights you'll bump into, but places like Cannon Beach, Seaside, Rockaway Beach, Manzanita and Nehalem are dressed in their evening best anyway.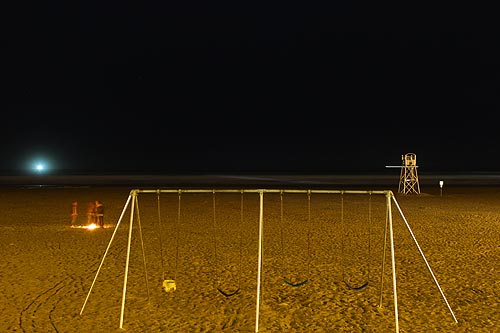 At Seaside, the stars aren't showing yet, but other surprises lurk. It's amazing what your eyes begin to see when they get used to the dark, and the shot at the top of Tillamook Head is indicative of that. This whole vista of the beach grass, the fishing boats in the distance and the shapes of the headland take on something remarkable and new once you get used to the light.
Then, because the camera sees things the human eye doesn't, and because long exposures change the appearance of some things as well, there's a whole other added dimension of colors and shapes you didn't see before.
There are definite signs of spring and impending summer season in Seaside as well. The lifeguard tower stands high, beach playground equipment is abundant, and numerous bonfires are happening in this striking scene.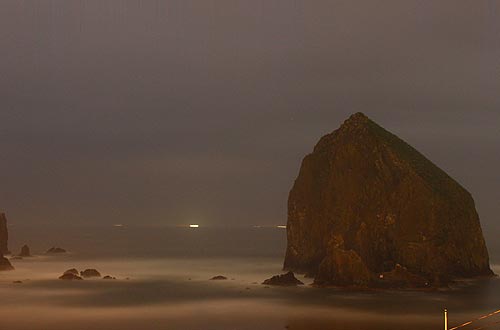 Down the road, Cannon Beach's Haystack Rock is always a favorite photographic subject for the visitor and locals alike. But with the long exposures of a night shot, that dramatic surf becomes a murky mist, and the landmark takes on a mysterious, rather ancient castle-like vibe.
That patch of foliage on one side of the rock is always a bit engaging as well, looking a bit as if a golf course had been thrown askew, at an angle.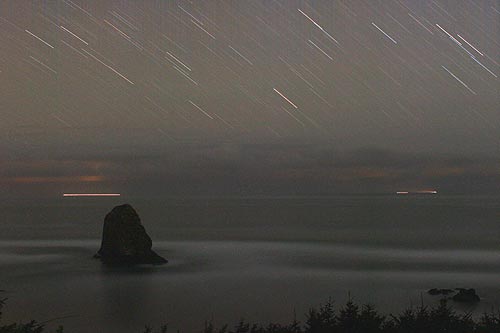 Just a few miles down, Silver Point – where the overlooks are – gets especially dramatic and mystifying. Here, the stars emerge in full force and start to look like some massive meteor shower. In fact, this area when photographed at night always looks a bit like Earth in its infant, primordial soup stage millions and millions of years ago, and those stars only add to that.
It's here where some more mysteries of the universe appear directly above. Several things are moving through the night sky: some are definitely in orbit and some are aircraft. But sometimes it's hard to tell what is what, which adds another layer of cerebral and surreal delight to the evening.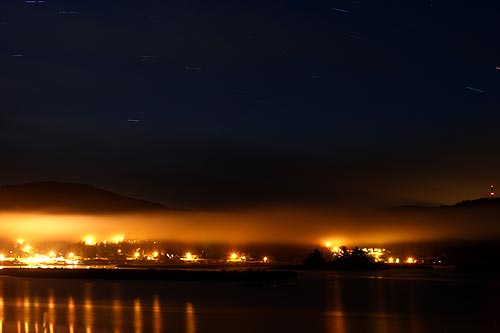 Not to be outdone, farther south, Nehalem Bay and Wheeler are a mesmerizing, wild mix of stars racing overhead and a layer of freaky fog that hovers over the bay and the town at just the right angle. While the rest of the coast has clear skies, Nehalem Bay seems to want to do things its own, truly distinctive way.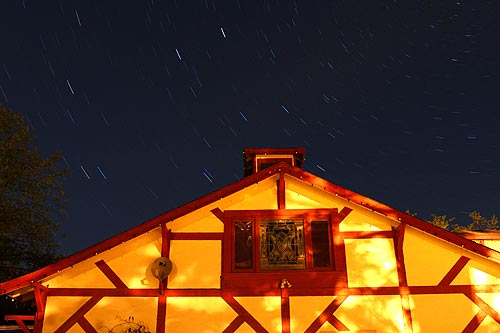 Just south of there and a bit more inland, Nehalem Bay Winery at night appears to have the entire universe dancing above it. Perhaps the stars like Oregon Pinot as well.
Then, what is probably the visual climax of the evening, the moon begin to emerge on the eastern horizon and light up the sky and rocks at Rockaway Beach's Twin Rocks.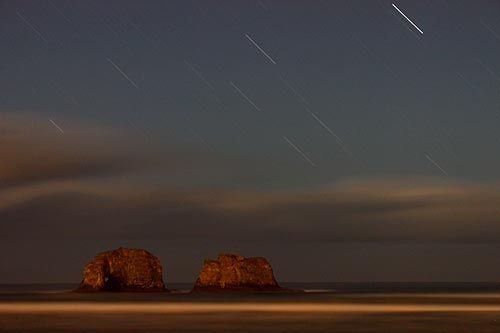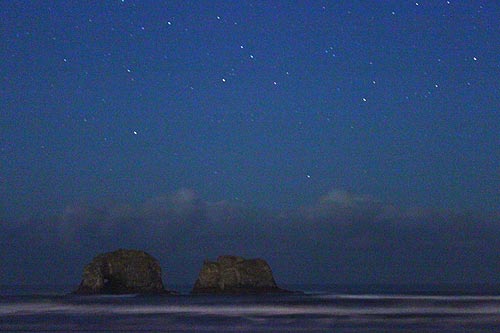 More About Oregon Coast hotels, lodging.....
More About Oregon Coast Restaurants, Dining.....
LATEST OREGON COAST NEWS STORIES
Back to Oregon Coast
Contact Advertise on BeachConnection.net