Video: Five Wild, Weird Sunny Weather Sights on N. Oregon Coast
Published 07/25/2017 at 6:23 AM PDT - Updated 07/25/2017 at 6:33 AM PDT
By Oregon Coast Beach Connection staff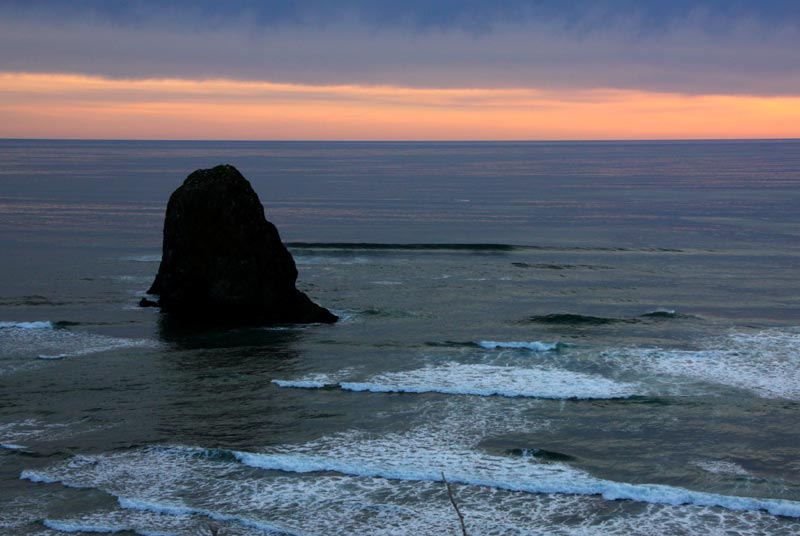 (Cannon Beach, Oregon) – In that always engaging section of shoreline between Seaside and Rockaway Beach, there is more than meets the eye. There are astounding, even bizarre sights you can catch on these beaches if you're here at the right time.
In fact, sometimes what you see is downright rare. And it all depends on the weather.
Here's five amazing instances of wild weather moments on this part of the north coast – and no, it has nothing to do with storms.
Ethereal and Eerie, Fiery Glow on the Horizon. While filming a large amount of video clips around the north coast, one day this past June became rather fiery. This was a somewhat cloudy day, but most of the clouds were hovering just offshore for the majority of the time. That kept things at least partly sunny, until near the end of the day when the sun started dipping behind those cloud layers.
Luckily, there were some breaks on the horizon, which really light up when the sun gets to those low angles, causing it to erupt in all sorts of pink, reds and oranges. In this case, the colors hovered around purple, orange and red, and they got progressively wilder as the sun lowered itself.
You can see from the video, starting out in Cannon Beach it was a fuzzy purple.Then you can see it change to a glow that's increasingly intense as you move to Silver Point and then down to Arch Cape.
Zipping down the road another ten minutes to Manzanita, much of the light has faded, but the diagonal band of color remains intense. In the final clip of the video you can see fishing boats way offshore, to the left.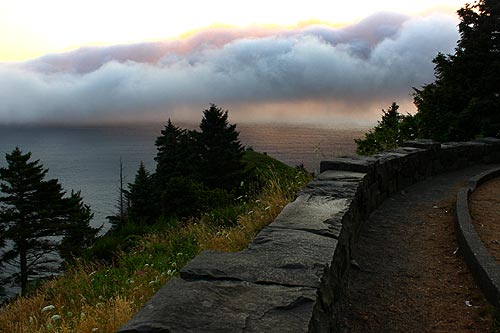 The Giant Electrified Haboob Offshore. One event that made quite a splash recently on the Oregon coast was video of what looked a giant wall of clouds off Depoe Bay. The Weather Channel even did a piece on it. It was a kind of low-lying stratus cloud that just happened to have a sharp edge.
Back in the summer of 2011, however, a much more striking example was lurking off Manzanita's shores. This massive marine layer was encroaching on the otherwise sunny beaches of that particular day, but it had an unusual puffy look to it, like a sand haboob (which are massive sand storms). Here, however, as the sun dipped ever lower, it lit up the layer's edges and fired up some otherworldly, perhaps even electric colors.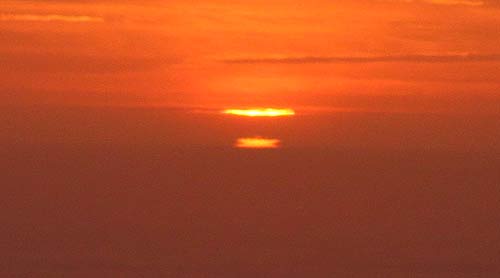 The Double Sun Mirage of the Novaya Zemlya Effect. It's apparently pretty rare throughout most of the world, but it doesn't seem to be that rare on the Oregon coast. It's called the Novaya Zemlya Effect, and it's a wild, weird sight if you pay attention.
Here, Oregon Coast Beach Connection cameras found it in June of 2016 at Arcadia State Park near Cannon Beach.
The Novaya Zemlya (named after a string of Russian islands) shows up as a kind of double-headed sunset – or even more than two. You can see the orb of the sun descending, but somehow, above it, there's another version of it sitting on top.
In the simplest terms, it's a kind of polar image mirage. The Novaya Zemlya essentially comes from the light being bent through a few inversion layers way offshore. It often shows up in slats: as if the sun is coming through slots of some sort. In fact, that's exactly what's happening, but in this case it's being bent in and through atmospheric thermoclines – which are the transition layers between warmer and cooler air.
An even stranger thing: the Novaya can often be accompanied by the famed Green Flash at Sunset, even though normally the correct conditions for that to occur are a clear sky between you and the horizon.
Shafts of Light and Neahkanie Mountain's Own Weather. Another recent video and photo sojourn to the northern coast resulted in those famous and stunning shafts of light streaming down from clouds. Except in this video taken at Manzanita, you can witness what a headland like Neahkahnie Mountain can do to weather.
These rays are called crepuscular rays, meaning "pertaining to twilight." They mostly happen around sunset or sunrise.
What's happening is the breaks in the clouds are allowing the sun to illuminate haze or particles in the atmosphere. This creates the shafts, but the angles are determined by the angle of the sun. When you see those rays shooting outward from the sky, that's essentially the same idea as when you're looking at a railroad track: they increase in angle as they get closer to you.
Here's the kicker: crepuscular rays are actually straight and parallel. Like railroad tracks, they appear to diverge because of perspective.
In the video, you see two different looks to them.
However, you also see the impressive way Neahkahnie Mountain can affect weather. Note in the first scene how the clouds are actually moving in a semi-circle around the headland.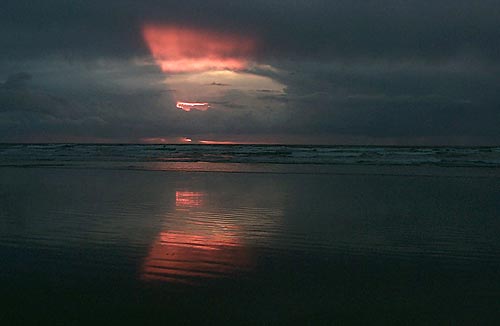 The Strange Triangular Sunset of Seaside. It's October 15, 2004. Oregon Coast Beach Connection didn't exist then. Those involved with it now caught this incredible sight in Seaside on that day. Essentially, this was another instance of crepuscular rays, except the sun is so low it causes a shaft of dusk's light to shoot upwards, and this is then reflected in the ocean. Oregon Coast Lodgings for this event - Where to eat - Maps - Virtual Tours
More About Oregon Coast hotels, lodging.....
More About Oregon Coast Restaurants, Dining.....


LATEST Related Oregon Coast Articles
Back to Oregon Coast
Contact Advertise on BeachConnection.net
All Content, unless otherwise attributed, copyright BeachConnection.net Unauthorized use or publication is not permitted