Oregon Coast Green Flash at Sunset Caught on Video
Published 2008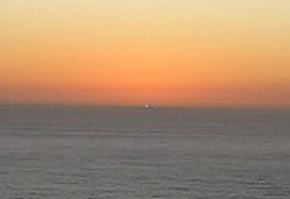 A still from the green flash video from Manzanita: it's hard to tell, but there is a slight green tint on the upper righthand corner of the tiny blob.
(Manzanita, Oregon) - One magnificent natural oddity caught twice on camera on the Oregon coast in recent weeks: the famed green flash at sunset showed up on the north coast in October and November and Oregon Coast Beach Connection was lucky enough to be in the right place in the right time. (Deeper explanation of the Green Flash).
You can see the video at the bottom of this story.
A large tradition on the coast is for crowds to gather at big vantage points, in what seems increasing numbers, to watch the setting sun – provided it's showing itself on the often hazy shoreline of Oregon. If you listen to those around you, more often than not you'll hear someone chattering about the "green flash" – an interesting phenomenon where you see a kind of green shape or blob around the sun just as it dips below the horizon.
For many decades, this oddity was ridiculed by the science world, until the 70's brought revolutions in photography and video that caught it with more frequency. Now, of course, do a search on YouTube on it and you'll encounter dozens of videos, plus much literature from science-types on the Net itself.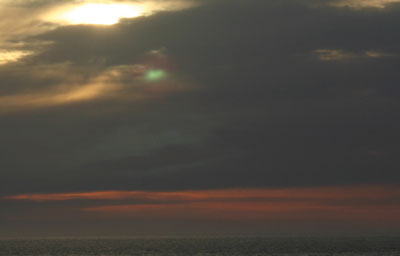 Bob Trusty's shot of the green flash is among the most spectacular and unusual: look at the upper left corner.
On the Oregon coast, spotting this awe-inspiring beauty depends on many conditions; especially needed is a clear sky between you and the horizon. But not always.
In early November, I crawled around the overlooks above Manzanita, with a small Canon digital camera with video capability, and actually caught it on video. It is, unfortunately, hard to tell with the small camera's lens technology, but there's a green tint that splashes around the dipping orb that's barely visible on the video below.
What I saw in this particular situation was a greenish blob on the upper right hand corner of the sun, about a second before it completely disappeared. On the video, it appears greenish/gray.
Then, about two weeks before this incident, I was filming a sunset at Arch Cape – just south of Cannon Beach and a few miles from the Manzanita overlooks – and caught it here as well. On video, it's much harder to tell. But what my naked eye saw was a kind of green haze around the orb, present only very briefly as it faded from sight.
The video we've included below also includes a stunning still shot from Bob Trusty, a resident of Newport. Trusty caught this extremely rare form of it in the summer of 2006, where it appeared through a break in the clouds while still fairly high in the sky. Normally, you need it to be down quite low, and it almost never appears until just before the sun disappears below the horizon.
His was quite the puzzling one.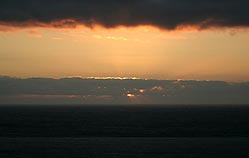 Trusty also caught another rare form of the green flash: the "green ray," where beams of greenish light appear to be shooting out from behind this cloud.
Trusty was filled with glee over the event. "That was one of the coolest things," he said. "I couldn't really believe I'd gotten it at first. It's really rare to be able to catch things like that. I was really, really lucky."
The phenomenon usually appears as a tiny tip of the sun appearing green just a few seconds or a split second before it's gone, but it can also show up on one part of the sun's sliver, or as a kind of halo around it at times. Each one is very different. There are other types of flashes that appear in slightly longer periods or other colors such as red, violet or blue.
Trusty's shot is a real rarity, however. Normally, forms of the green flashes only happen with clear and unobstructed views of the sunset.
According to one website created by Andrew Young of San Diego University, if you know what to look for, these phenomenon are not that rare at all, but it can be seen in "most sunsets," as Young put it.
This effect is the result of refraction in the atmosphere. In very simplified terms, longer bandwidths of light get knocked out by atmospheric conditions until you're left with just green – or whatever color is the result of this situation. Basically, the path between your eye and this portion of the sun are filled with just the right conditions to cut out these colors coming from the sun. (Deeper explanation of the Green Flash).
This happens almost as often with sunrises as well. Mostly what is needed is a clear, long path between you and the sunset for this mirage to appear, such as a desert or body of water like the ocean.
Keith Chandler, manager of Seaside Aquarium, said he sees it quite often. Oregon Coast Hotels for this - Where to eat - Maps - Virtual Tours
More About Oregon Coast hotels, lodging.....
More About Oregon Coast Restaurants, Dining.....
LATEST Related Oregon Coast Articles
Back to Oregon Coast
Contact Advertise on BeachConnection.net
All Content, unless otherwise attributed, copyright BeachConnection.net Unauthorized use or publication is not permitted